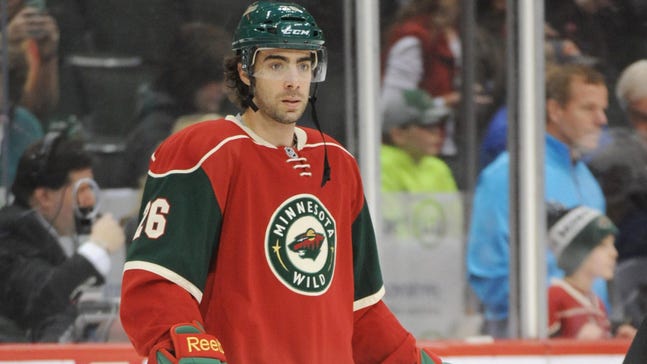 Wild forward Moulson expected to miss Game 4
Published
May. 8, 2014 4:04 p.m. ET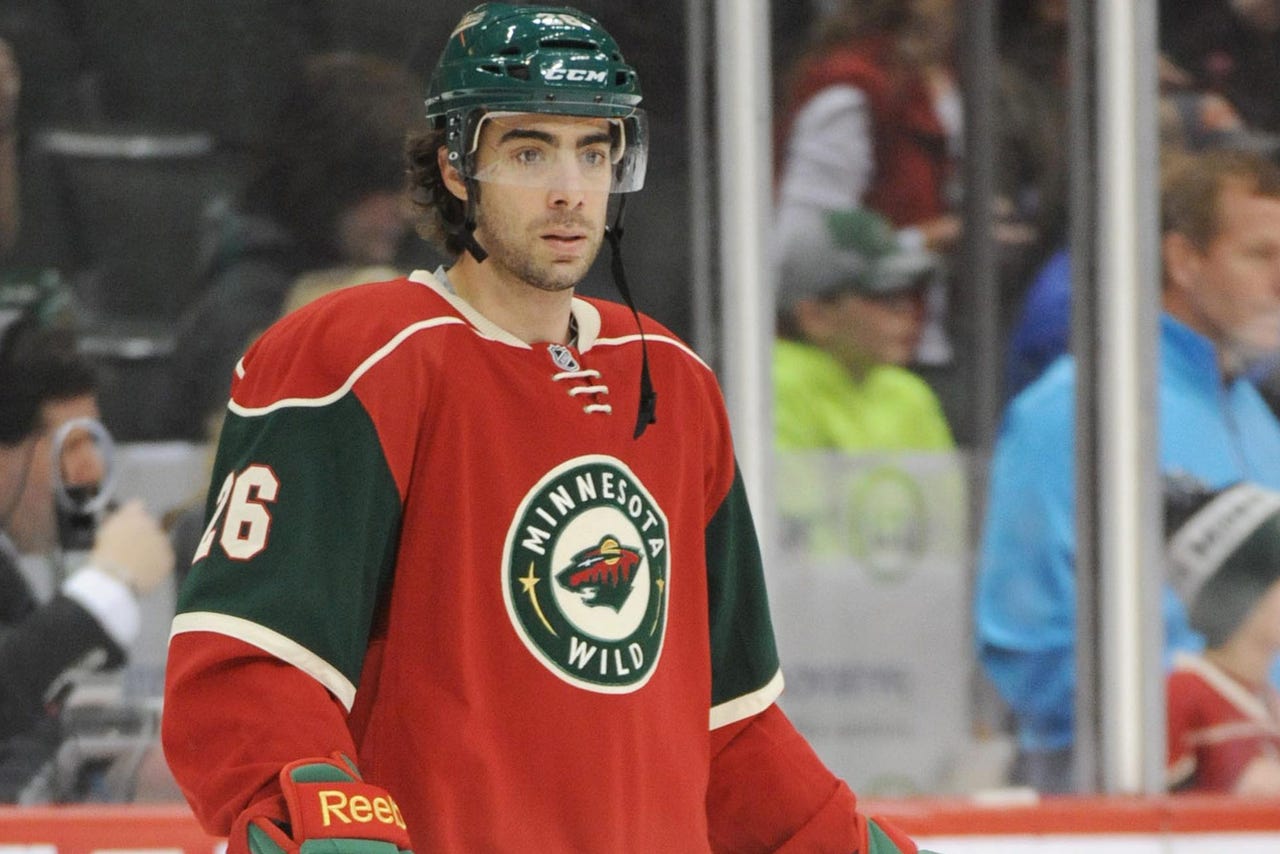 ST. PAUL, Minn. -- The Minnesota Wild are poised to get Matt Cooke back in the lineup for Friday's Game 4 against the Chicago Blackhawks. Another Matt might be out.
Minnesota head coach Mike Yeo said Matt Moulson, acquired at the trade deadline from the Buffalo Sabres, is likely to miss Game 4. Yeo revealed Moulson has been dealing with a lower-body injury.
"I don't expect him to, no," Yeo said of Moulson playing on Friday. "He's been battling this here for a little bit here and so hopefully we can use this as an opportunity to get him back."
Moulson, acquired along with Cody McCormick from Buffalo in exchange for forward Torrey Mitchell and two second-round draft picks, has a goal and two assists in 10 playoff games for the Wild. The three-time, 30-goal scorer was expected to provide added scoring punch to Minnesota's offense with an eye toward the playoffs.
Moulson wasn't on the ice for Thursday's practice.
"He's been battling through it, so it's an opportunity for us to give a couple days here, at least," Yeo said. "Not skating yesterday, keeping him off the ice today and give him a chance to get better."
Without Moulson, Cooke returned to practice on a line with Erik Haula and Justin Fontaine. The three forwards were teamed in the previous series against Colorado to be a shutdown, hard-checking line against the Avalanche's top scorers before Cooke was suspended.
Cooke has served his seven-game suspension and will return to the lineup for Game 4. Yeo doesn't believe Cooke will have any limitations in his return.
"I do, yeah," Yeo said. "He's been keeping in very good shape here, and we'll have a talk with him to make sure that his head's in the right place as far as how he has to play the game, and he's going to add, definitely, some speed. He's going to add some physicality. But with that he's a smart checker in his checking role as a defensive forward, and obviously his penalty killing, but he's also got skill and strength on the puck which is important against a team like this, too."
Indications in Thursday's practice is Yeo will keep the top two lines intact with Zach Parise playing with Mikael Granlund and Jason Pominville, and Mikko Koivu centering Nino Niederreiter and Charlie Coyle. Dany Heatley, Kyle Brodziak and McCormick skated together during Thursday's practice.
Minnesota will be looking to even the series in Game 4 after beating Chicago 4-0 in Game 3 on Tuesday.
"We're not sitting here saying that we have arrived," Yeo said. "I can't say it enough times. We're focused on getting better. We know that we can get better. But the importance of this game (is) a chance to even the series and hopefully put a little pressure on them going back to Chicago. That's our goal."
Suter feeling better: Wild defenseman Ryan Suter left the second period of Game 3 after going down hard in a collision with Chicago's Marian Hossa. Suter played the entire third period, but admitted Thursday he was initially worried after hitting the ice.
Suter said the two were tangled up and Hossa landed on him, and Suter initially felt some numbness.
"It was kind of scary, but feel good now," Suter said.
Confidence in Bryzgalov: Yeo stated after Game 2 in Chicago that goaltender Ilya Bryzgalov was "the guy" and Bryzgalov responded with a shutout in Game 3.
Yeo said getting the win in Game 3 was important for the Wild and for the netminder.
"I think mentally, and I said this after Game 2, there was a lot of questions and we believed in Bryz, we knew what he was capable of, but the questions start to grow in numbers and the attention towards that continues to grow," Yeo said. "So focus-wise for your group, I knew that it was going to be extremely important for him and our group to get a win. We did what we needed to do and he did what he needed to do.
"That's a team game, that's not on a goalie to win a game, it's not on a team to win the game for the goalie, we need him to be good and we need the team to be good in front of him. But at the same time, I think that has the potential to be a game to move things along here, to be able to help his confidence and again to alleviate some of those questions that have been coming up."
Minnesota has dealt with an unsettled goaltending situation going as far back as the playoffs last season against Chicago. But Yeo credited his team with dealing with the constant changes.
"I guess at some point the positive of it is, two things," Yeo said. "No. 1, we finally said, 'OK, enough's enough. We're just used to this and we deal with it.' No. 2, the confidence that we can get through it. It's the confidence of the guys. We have confidence of the guys coming in and knowing they can do the job. We have confidence in the game that we play, that as long as we don't allow it to be a factor, then it won't be a factor."
Follow Brian Hall on Twitter
---