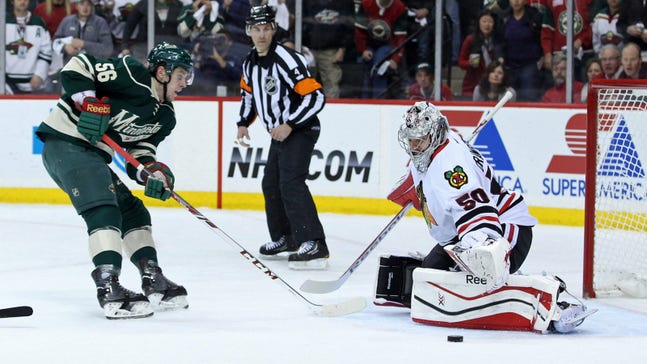 Wild finally solve Crawford to win Game 3
Published
May. 7, 2014 1:28 a.m. ET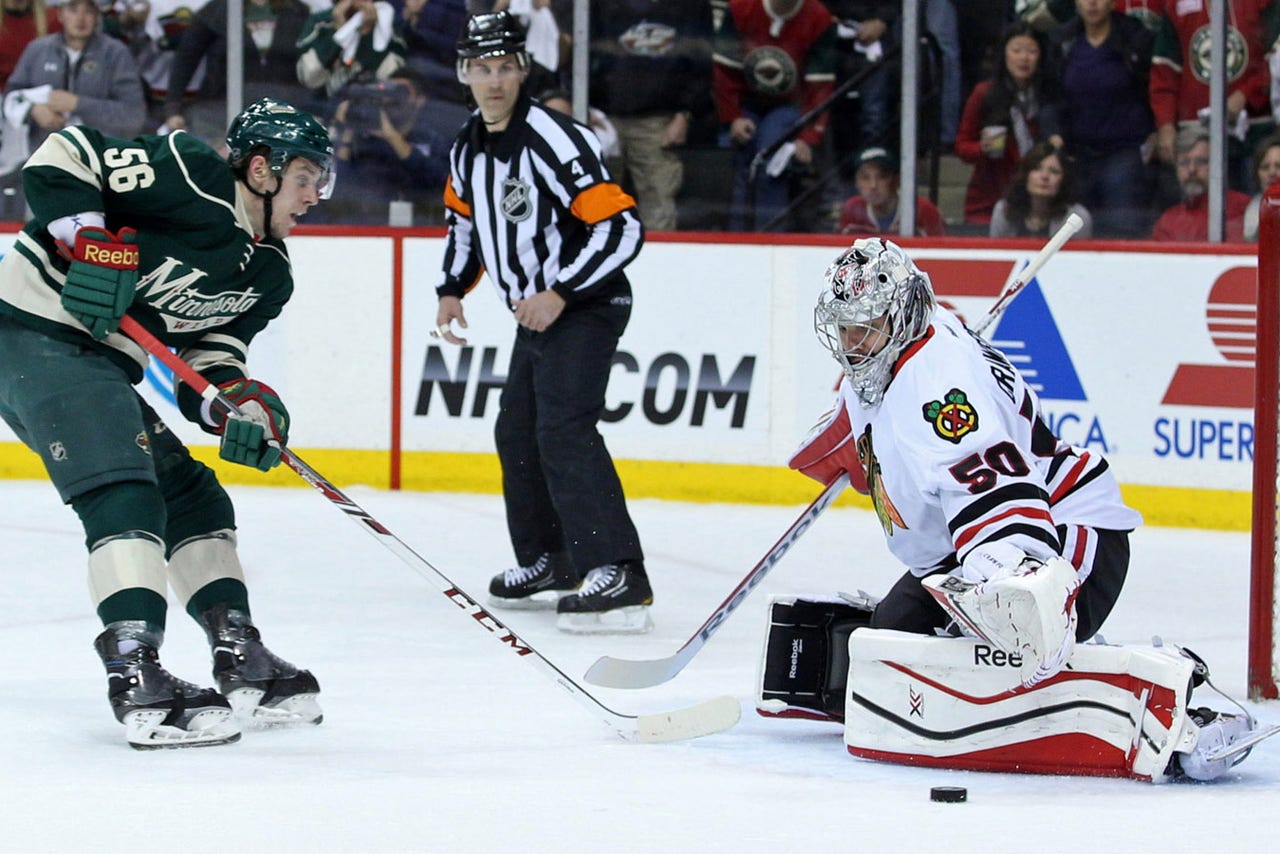 ST. PAUL, Minn. -- There was no early game, home-ice aided push for the Minnesota Wild like they used against the Colorado Avalanche in the first round. The scoring chances were few and far between, for both teams, on Tuesday night.
Minnesota entered perhaps a season-defining third period against Chicago, facing a stingy defense and, perhaps, its own mental wall against the defending Stanley Cup champion.
As they've done all throughout the playoffs, the Wild grabbed momentum in Game 3 by beating Chicago and goaltender Corey Crawford with a four-goal, third-period outburst.
"Yeah, I just kind of expect it, to be honest with you," head coach Mike Yeo said of his team responding. "That's the leadership we have. Again, the adversity through that course of the game, it might not be visible, but we knew we had to win this game. We can't fall down 3-0 against that team."
Rookie Erik Haula scored 1 minute, 41 seconds into the third. Mikael Granlund scored twice and Zach Parise scored on the power-play to push Minnesota to a 4-0 win and draw within 2-1 in the series with the Blackhawks.
The Wild had just 10 shots through two periods, and were being outshot 15-10. Crawford, who's flummoxed Minnesota in the playoffs the past two seasons, was steady with a shot-blocking defense in front of him.
With a season on the brink in a nearly must-win game, the Wild again found the resolve.
"You're zero-zero and the outcome is not what you want it to be at that time, but it's the leadership of our guys to continue to push forward and continue to stay strong," Yeo said.
The challenge was overcoming Crawford and Chicago. But Yeo also described the "mental hurdle" in overcoming the champions.
"It was definitely frustrating at times, going back to how we just felt like there was not a lot being generated," Parise said. "It did get frustrating at times. But for us, you have to have that type of approach. We needed to win that game. We were in the same situation last series. It was 0-0 and we went into overtime down 2-0 in the series. We needed to win that game, too. It was pretty familiar territory for us. We knew we had to win the game and we didn't want to give up anything."
Minnesota then scored on its first two shots of the third period. Haula deflected home a floated pass from Justin Fontaine to finally beat Crawford -- who had stopped 175 of 185 shots against the Wild in seven playoff games the past two seasons -- and take a lead for the first time in this series.
Just over two minutes later, Granlund finished a fancy display of passing from Jason Pominville and Parise to give the Minnesota a two-goal advantage.
When Parise collected his own deflection off the post and scored his fourth of the playoffs, it was the first power-play goal against Crawford by the Wild in the past two playoffs. Minnesota was 0 of 24 on the power-play against Crawford before Parise scored.
"When you're able to break through, it gives everyone a little breather," Parise said.
Pominville added: "I think we knew it was going to come eventually. I thought we made some good plays to be able to beat him. So I think we did some good things. It doesn't change from goalie to goalie that much. It's pretty simple; You need traffic. You need those second opportunities and when you have a chance to make a play, you've got to try and make it. We were able to do it for the most part tonight."
And with it, the Wild can breathe a bit easier with Game 4 on Friday night in Minnesota. The Wild won their first game of the series and maybe overcame a mental hurdle, as well.
"It's just a step," Yeo said. "I don't want to make it out to be too much. It's a step and our goal last series, and our goal through the playoffs, is to continue to get better. I think we've got better in a lot of areas. I think we're getting more confident. I think getting that first win against this team was important for us. But we do believe in ourselves and the way that we play the game, and what we're capable of. But with that, the next game is always your next challenge. We're obviously extremely happy we won this game, but like I said, we're still down."
Follow Brian Hall on Twitter
---