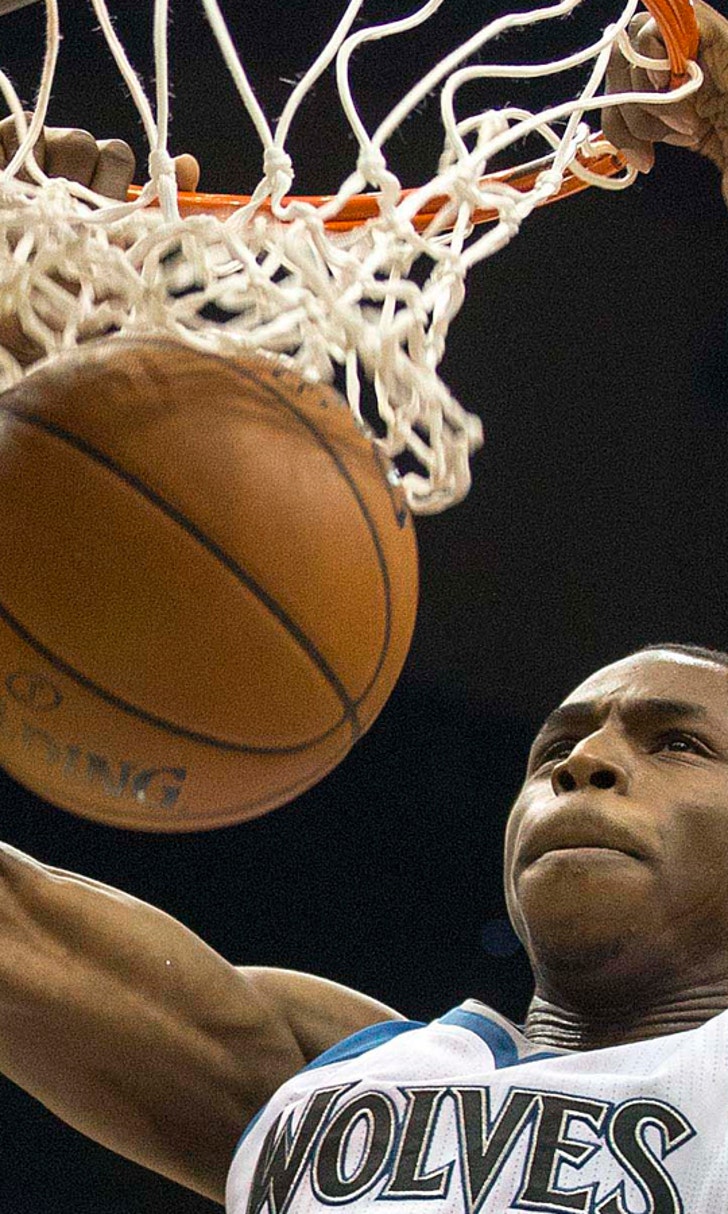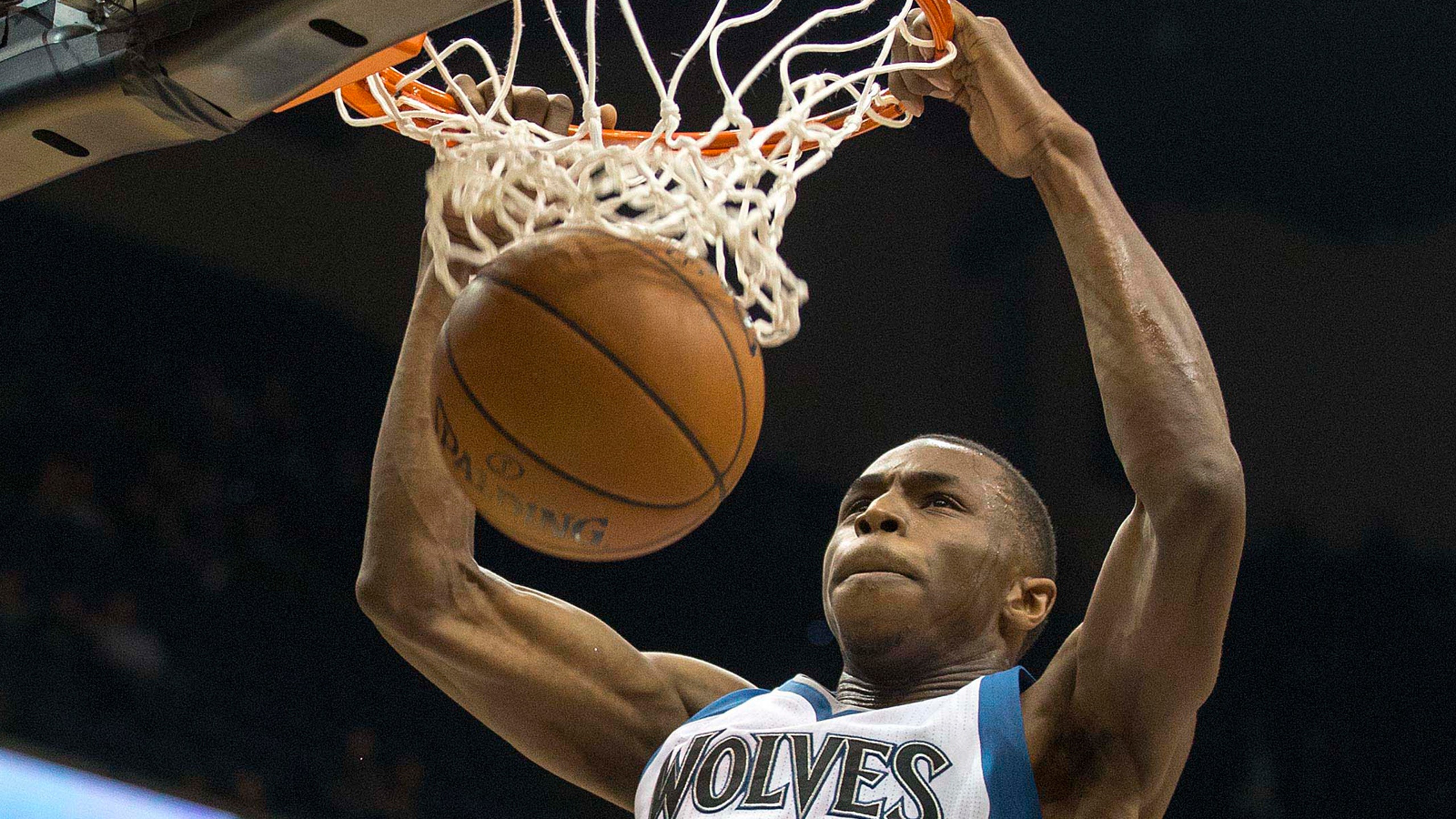 Wiggins responds to big minutes with career-best game
BY foxsports • November 23, 2014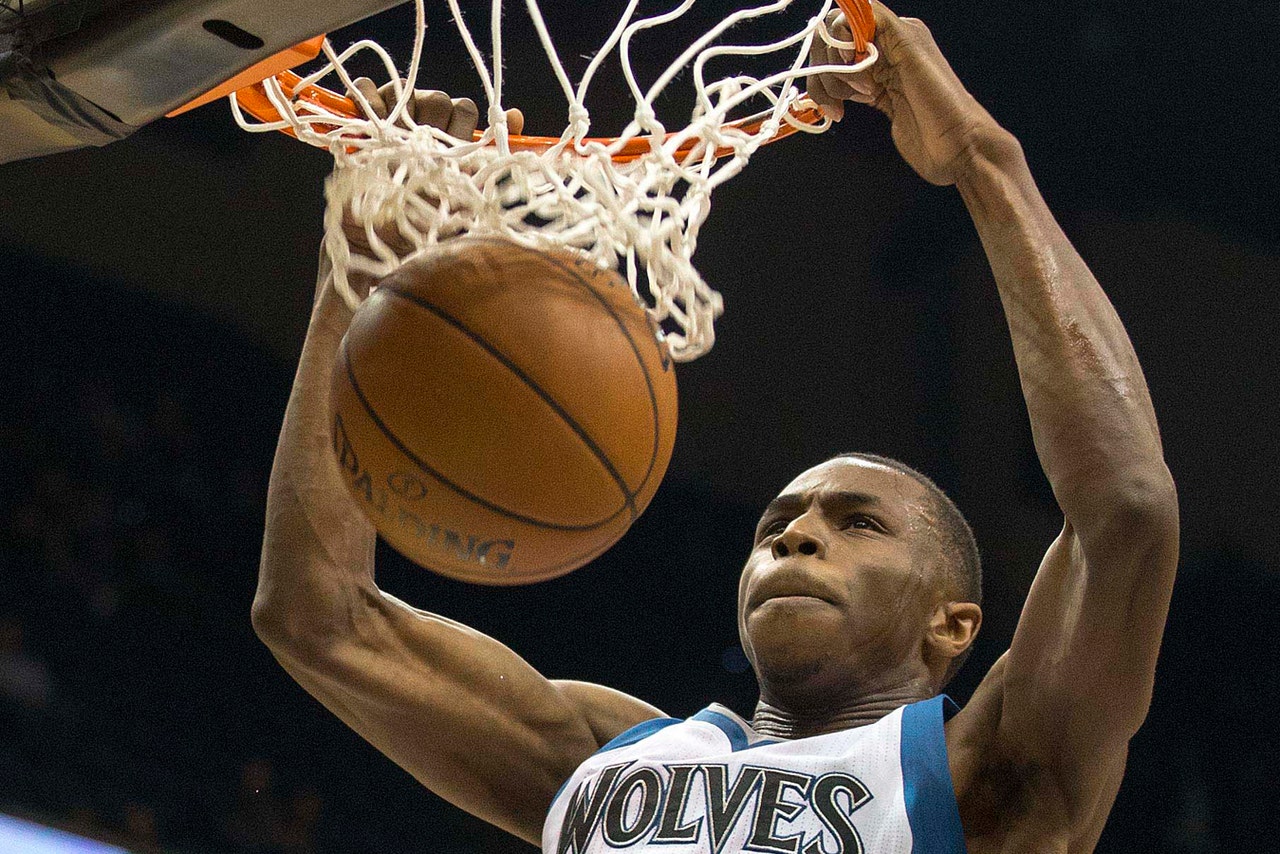 MINNEAPOLIS -- Flip Saunders was careful about making too much of Andrew Wiggins' big night.
The prized 19-year-old rookie Wiggins already carries the hopes of the Minnesota Timberwolves on his back. Saturday he carried the team, as well, with Minnesota playing its third game in four nights severely short-handed.
Wiggins scored a season-high 29 points in a season-high 41 minutes, 11 seconds. He added a season-high four steals with five rebounds and two assists, showing the all-around game and high-ceiling talent that made him the league's No. 1 overall draft pick and the asset which made the Timberwolves willing to trade Kevin Love.
"I don't want to say it was a coming-out party, but I think we saw some things that we expect out of him," Saunders said. "We force-fed him a little bit. But he took initiative. He was active, had four steals. He was active at both ends overall and did a pretty nice job overall for us."
Saunders, Minnesota's head coach and president of basketball operations, also wasn't holding back Wiggins.
A night after seeing Wiggins tire while from becoming the go-to third-quarter option -- a season-long occurrence for Wiggins -- Saunders saw his rookie push through any fatigue.
"What was good tonight about the 41 (minutes) was that we're trying to teach him to push himself," Saunders said. "That's always been something that everyone's questioned his ability to push through. Keep on pushing through it. Tonight was good to see him push through it. Trying to get steals, picking up full court, those are positives that we want to see him play well throughout the course of a game."
Wiggins long night started by playing the first 19 minutes. Saunders watched Wiggins' body language closely. Saunders said he can tell when Wiggins tires because of the way he transitions from offense to defense.
There was no lag, no laboring. Wiggins was in for the long haul. With the Timberwolves trying to claw back in the game late, Wiggins was still pressing and trying to apply defensive pressure.
"I'm in shape, so I'm good," Wiggins said. "I've got young legs."
Wiggins is the only starter left with Ricky Rubio, Nikola Pekovic and Kevin Martin injured and forward Thaddeus Young away tending to a personal matter. Minnesota was playing its eighth starting lineup in 12 games.
Anthony Bennett was the newest addition to the starting lineup. He finished with 10 points and six rebounds. Gorgui Dieng, playing against Sacramento center DeMarcus Cousins with Pekovic out, had 12 points and 10 rebounds. Mo Williams, starting at point guard for Rubio, had 11 points and 12 assists.
"I was happy with how we played with who we had," Saunders said. "I can't fault our effort on a back-to-back. I'm not into moral victories but I am into moral development of our team and our players. I thought we did some of that today."
No one more than Wiggins.
Wiggins scored 20 points in the second half on 6-of-14 shooting. Saunders has pushed for Wiggins to find his own offense. Minnesota still called plays for Wiggins, but he was more aggressive as well. His 3-pointer with 5:37 left cut the deficit to 95-90.
Like his coach looking for more, Wiggins' teammates also want to see him take control.
"There's no question that our players know the pressure that he's under being the pick that he is and the expectations," Saunders said. "They want him to be successful and they're trying to do anything they can. They're urging him as much as anybody, as much as me or more, to be aggressive offensively, to be aggressive defensively, to sustain your energy and your effort."
Saturday was another step.
"I feel comfortable," Wiggins said. "Like I say every interview, it's a learning process."
Follow Brian Hall on Twitter
---