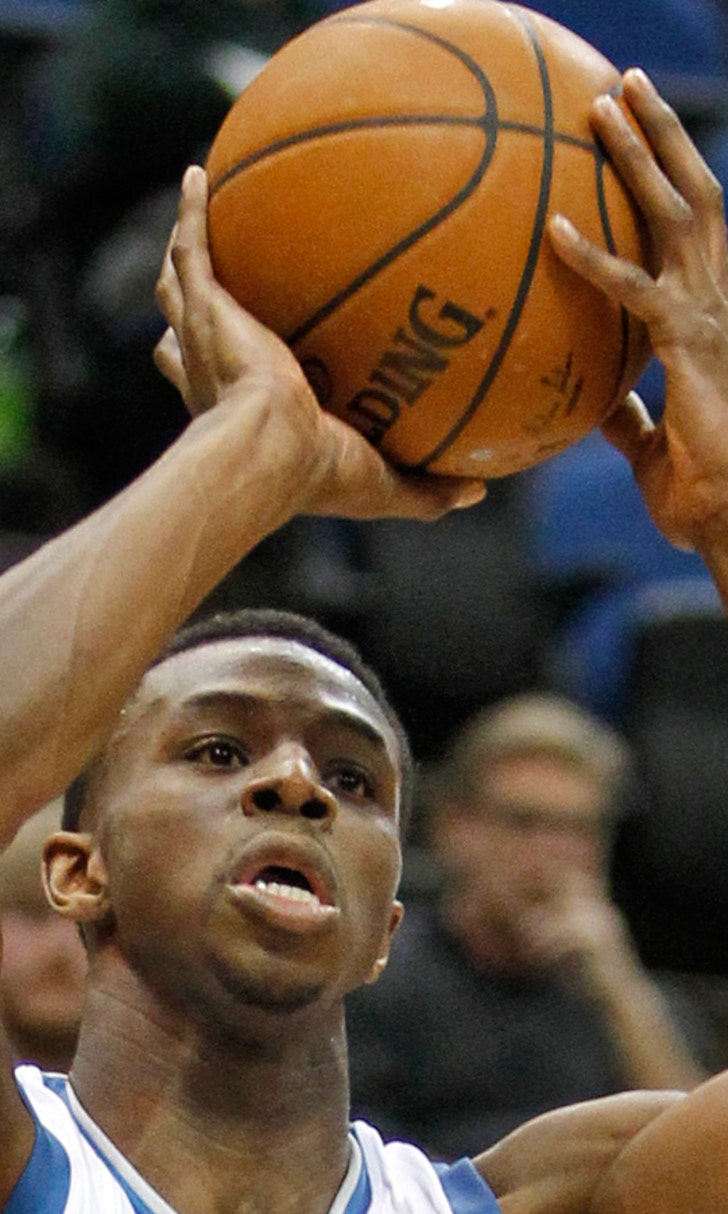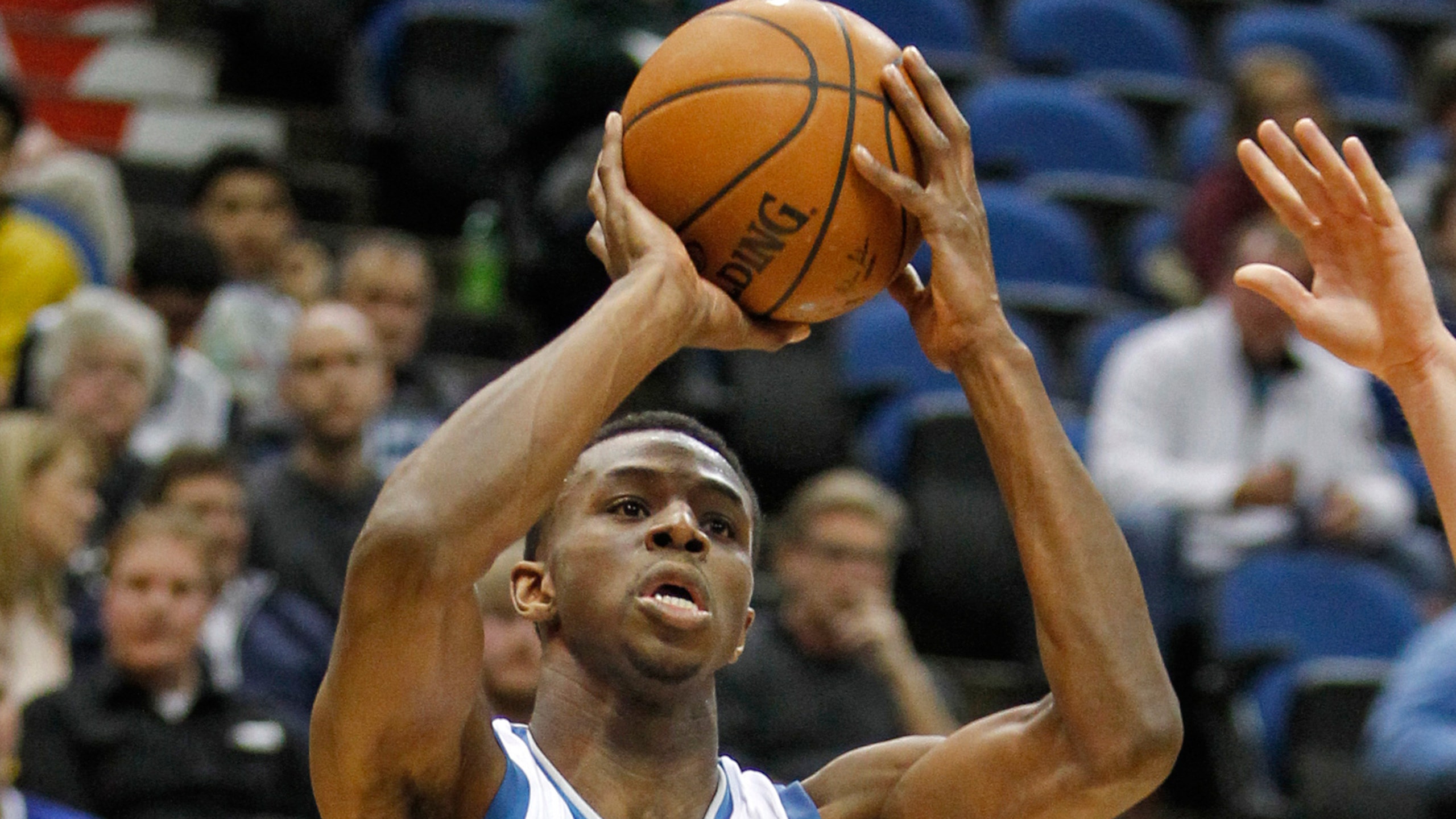 Wiggins a bright spot in Wolves' narrow loss to Suns
BY foxsports • January 8, 2015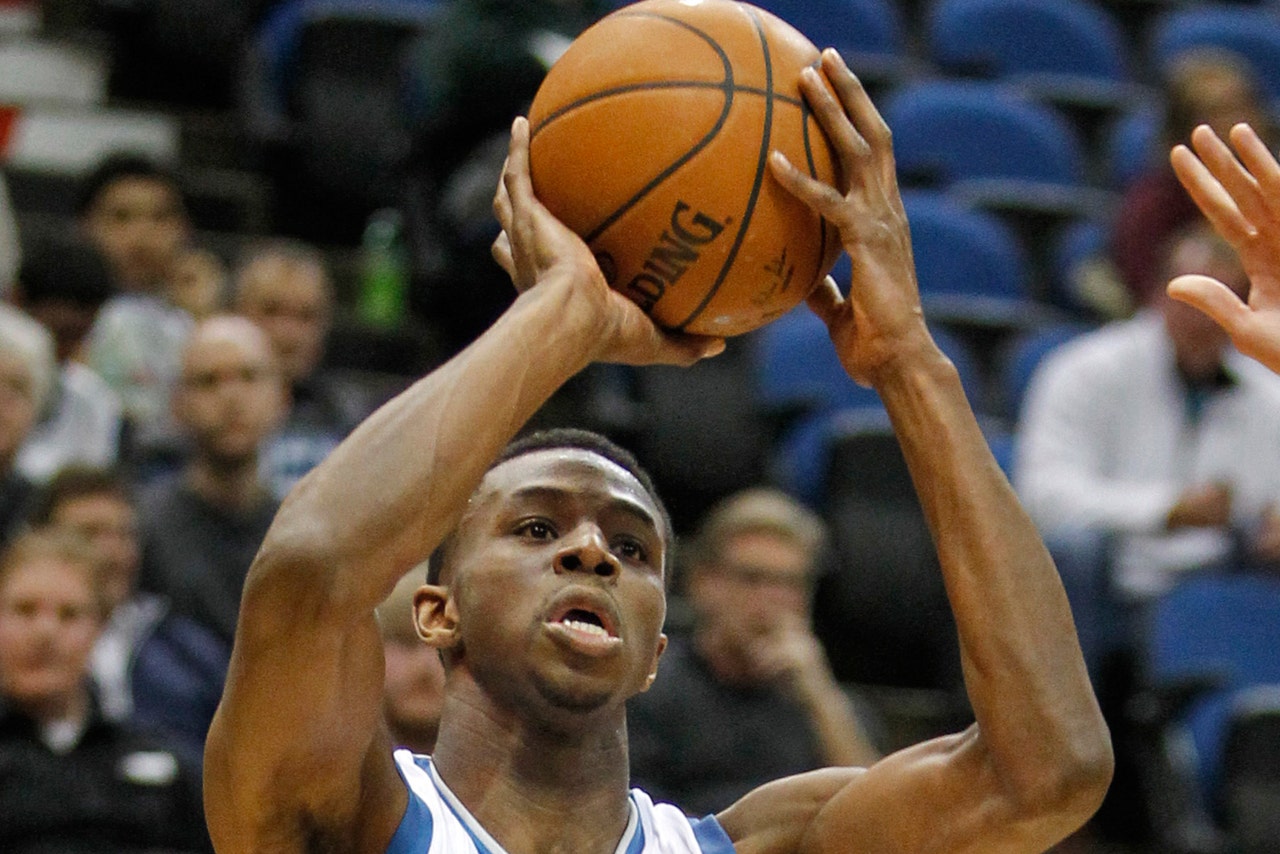 MINNEAPOLIS -- Andrew Wiggins' inaugural signature moment will have to wait.
But the fact the Timberwolves rookie took the final shot in Wednesday night's 113-111 loss to Phoenix, regardless of the result, paints a fitting picture of where Wiggins stands in the Minnesota pecking order -- and, furthermore, within the next generation of NBA stardom.
At the top.
The Wolves (5-29) were scrambling to get a last-second shot off after Isaiah Thomas missed the second of two free throws with 5.5 seconds left. Thaddeus Young swooped in for the rebound, Chase Budinger brought the ball across half court, and instead of spotting up for a 3-pointer as he has in many late-game situations throughout his career, Budinger delegated to a wide-open Wiggins on the right wing.
The ball went to him by chance, not design. Wiggins' squared-up, smoothly released look bounced off the iron.
"I thought it was going in," Wiggins said. "I was confident. I thought it was right on target. It just came up a little short."
But it's the kind of shot Wiggins will be taking again -- and again, and again -- if his career continues along its present trajectory.
And had coach and president Flip Saunders possessed a timeout, there's a good chance he would've drawn something up for Wiggins, anyway.
"I thought when it left his hands, it was going in," Saunders said. "He continues to grow and be a main focus. . . . For us and the organization, that's the most positive, because you can see the vision with that piece."
Because Wiggins, even at the age of 19, even among a losing streak that's now at 13 games, is the future. And the present.
With 25 points on 10-of-16 shooting Wednesday, he became the third Wolves rookie ever to score 20 or more points in five consecutive games. He's averaging 21.5 points over his past eight games and leads all NBA rookies in scoring at 13.9 points per game.
He's attacking, a point of emphasis for the No. 1 overall pick whom Cleveland traded in order to obtain Kevin Love. "It's very gratifying, because I think everyone in here knows, the biggest question the national media always asks me, 'Is he passive?'" Saunders said in his postgame press conference. "That was the question coming out, and he's showing more and more that he's getting more aggressive."
He's defending. Through 33 games, Wiggins ranks third among rookies in steals and fifth in blocked shots. "We need him to guard all those guys," Saunders said of the Suns' fleet of guards. "We needed him to guard (Eric) Bledsoe, we needed him to guard (Goran) Dragic, we needed him to guard (Gerald) Green, we needed him to guard Thomas. We needed him to guard all four of those guys, but we could only put him on one of them."
And most importantly, a team with fellow youngsters and wily veterans trusts him with the game on the line.
But Wiggins' latest rookie-of-the-year-like performance wasn't enough to snap the Wolves' longest losing skid since dropping 18 straight spanning the 2010-11 and 2011-12 seasons. A 15-point, fourth-quarter takeover from former Minnesota swingman Green and an errant Budinger inbounds pass -- which Bledsoe took the other way for a slam that made it 107-102 Phoenix (22-16) with 55.1 seconds left -- helped take care of that.
And while the signs from Wiggins are promising, the defeats eat at him.
"It's hard losing, obviously," Wiggins said. "We always got to think positive and towards next game, think of the things we did good."
There were plenty from Wiggins again Wednesday. But until the Wolves get healthy and execute down the stretch, it's a hollow point of pride.
At least in the present.
"I see growth in all our young guys," said point guard Mo Williams, who had his sixth double-double of the season with 23 points and 11 assists but left late in the fourth quarter with a sprained ankle. "The growth is good, it's great for you guys to write about, a good story, but we don't like losing.
"Losing sucks."
Follow Phil Ervin on Twitter
---