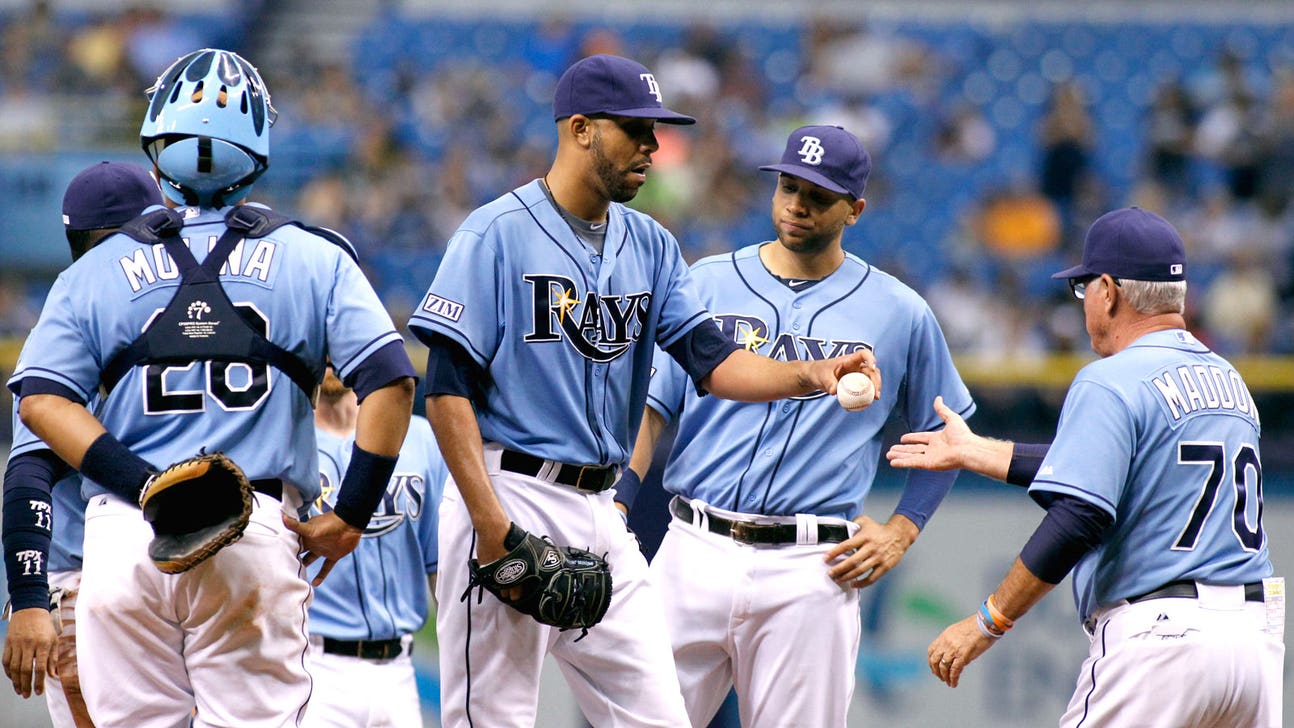 Why the Rays' seemingly small return for David Price is a good thing
Updated
Mar. 4, 2020 7:48 p.m. ET

The Rays traded David Price and people don't like it. Everyone, for the most part, accepts the position the Rays were put in. But consensus seems to be the return is underwhelming. There is no Addison Russell. Perhaps there could've been an Addison Russell. An ace was turned into non-ace-level talents, but when you're able to step back and separate yourself from the initial shock, you can see sense in the move that was made. You can see how it addresses the Rays' goal to keep winning on a budget.
When you talk about moving a player like Price, you're always looking for that key to the return. You figure he ought to be worth a top-level prospect and change, and there was talk the A's made Russell available to the Rays shortly before they shipped him to the Cubs. Russell's quite probably a top 10 prospect in the league, and you can't say that for Drew Smyly, or Nick Franklin, or Willy Adames. The Rays didn't end up trading for a potential young superstar. What they traded for instead was greater certainty, greater odds of lower ceilings. The value they got is the value of being young and major-league ready.
The most valuable asset in baseball is the young and cheap star. That's the guy who delivers a great performance for something close to the league minimum. Then you've got the high-level prospects who are knocking right on the door. This is a player like Oscar Taveras, but based on reports, the Cardinals didn't make Taveras available, and in fact they cleared the path for him to play more often by subtracting Allen Craig. After that you've got a choice to make. You can look for greater talent at a lower level, or you can take lesser and more polished talent high in the system. With the former, you've got higher ceilings and higher bust rates. With the latter, you've got safety and projectability.
For the moment, let's leave Adames aside. He's extremely young and he's holding his own in a relatively advanced league, and Jim Callis considers himself a fan, but Adames isn't the key. He's a guy who could turn heads in three or four years. As part of the Rays' business model, they want to try to win every season. As the other part of the Rays' business model, they say they can't afford to spend very much money. Smyly is already a proven starter in the major leagues, and he's under team control for years. Franklin has a good amount of big-league experience, and he's under team control for more years. If it weren't for Robinson Cano, Franklin would've presumably been a major-league regular for the last three or four months.
There's a lot of safety in Smyly. There's a belief he also has considerable upside, but even if Smyly is an average starter, he's an average starter who's looking at a few years of getting paid less than free-agent market rates. Next year he might get paid $2 million or $3 million, and last offseason the Twins gave Ricky Nolasco $49 million. Right away, the Rays can plug Smyly into their 2015 starting rotation, and he more than capably fills a hole.
There's a little less safety in Franklin, but there's more star-level upside, as he's a young middle infielder with discipline and surprising power. The ZiPS projection system figures he's about a league-average player right now over 600 plate appearances, and he's a guy who'll also be ready for 2015, and who'll get paid half of $1 million. If you combine Smyly and Franklin, then, for next season you've got two average or better players earning a combined, say, $3 million. They wouldn't cost too much more in 2016, and they wouldn't cost too much more in 2017. If you figure the Rays have to maximize every dollar they spend, they can't always go hunting for stars. Riskier stars can bust, and higher-level stars get mighty expensive.
What the Rays don't want to do is tear things down. There's a foundation in place, and still, a solid team remains somewhat counter-intuitively despite Price's departure. If the Rays wanted to blow it up, they would've moved Ben Zobrist. They would've moved Matt Joyce. What they did was move the one guy they knew they couldn't afford, but the Rays are well-positioned to make a run next season, to say nothing of their slim chances of hanging around these next two months. Smyly could and should be a major contributor. Franklin could and should be a major contributor.
Based on their actual performance in 2014, the Rays probably ought to have more wins than they do. Their record, in other words, reflects a little bit of bad luck. But, all right, you say, that includes the David Price factor. You're right! Let's look forward. The rest of this season, the Rays project as an above-average ballclub. With the players they still have, they project to win better than half of their games, and the roster you see now is a lot like the roster you could see next season.
They're locked into a couple catchers. They have their first baseman, and now they have a couple second basemen, and they've got their shortstop and franchise third baseman. There's a whole mess of outfielders, and one too many starters if Matt Moore returns healthy. The bullpen includes the greatly disappointing Grant Balfour, but it should also include guys like Joel Peralta, Jake McGee, and Brad Boxberger. The Rays are carrying over an awful lot of talent, and Smyly and Franklin give them greater flexibility, and so it might be, a year after trading David Price, the Rays are back thinking about the playoffs. The greatest challenge in baseball is building a team you think can win year in, year out. Making that all the more challenging is trying to do so with a below-average payroll. The 2015 Rays project to be pretty good and worth just over $80 million -- only a few million more than this season's payroll.
In other words, before Smyly and Franklin, next year's Rays projected to be slightly more expensive. So the Rays had to think forward and upgrade without adding much in the way of salary. Come winter time, they can see about freeing more space, but already next year's Rays might be virtually complete. They could have a healthy Wil Myers. They could have a healthy Matt Moore and Jeremy Hellickson. It's a contending team they still have, so there's sense in trading Price for pieces that can help right away. That's the type of value these Rays preferred.
I'm not saying they shouldn't have taken Russell. But for one thing, we don't know the specifics of those negotiations, and for another, you can still justify what the Rays wound up with. I'm sure they would've liked Oscar Taveras, but it seems Taveras wasn't available. I'm sure they would've loved Gregory Polanco, but there's no reason to think Polanco was available. Presumably they would've liked Corey Seager, or Julio Urias, or Joc Pederson, but the Dodgers have seemed reluctant to move those names, and the Mariners never budged on Taijuan Walker or James Paxton. The pieces people think Price should've landed -- other than Russell, I'm not sure they could've been acquired. Teams understand the value of elite, high-level prospects. The Rays had to operate within this landscape, and they got a couple young immediate contributors and a promising teenager.
Adames plays the part of the sky's-the-limit minor leaguer. Franklin's a big-league middle infielder, very soon. Smyly's a big-league starting pitcher, already. The 2015 Rays ought to win more than they lose, and Franklin and Smyly are going to play parts. There's criticism that the Rays could've landed this same sort of package in December, but that's far from certain and there's value in setting things now to see what you have. Besides, in December, there would be other starting-pitcher options. Good pitchers who might not cost $20 million for one year of service.
The Rays, presumably, could've traded Price for higher ceilings. What they did instead was trade him for higher odds of success. They're trying to pull off the almost-impossible, which is contending consistently on a fraction of the average team's payroll. Franklin and Smyly ought to help toward that end, both in 2015 and after that. Everyone knows the Rays have to make certain sacrifices in order to operate. Given their limitations and given their desires, Thursday's trade hardly seems the disappointment it's been painted as. It seems, instead, to have been perfectly reasonable. And shouldn't that be our default assumption?
---