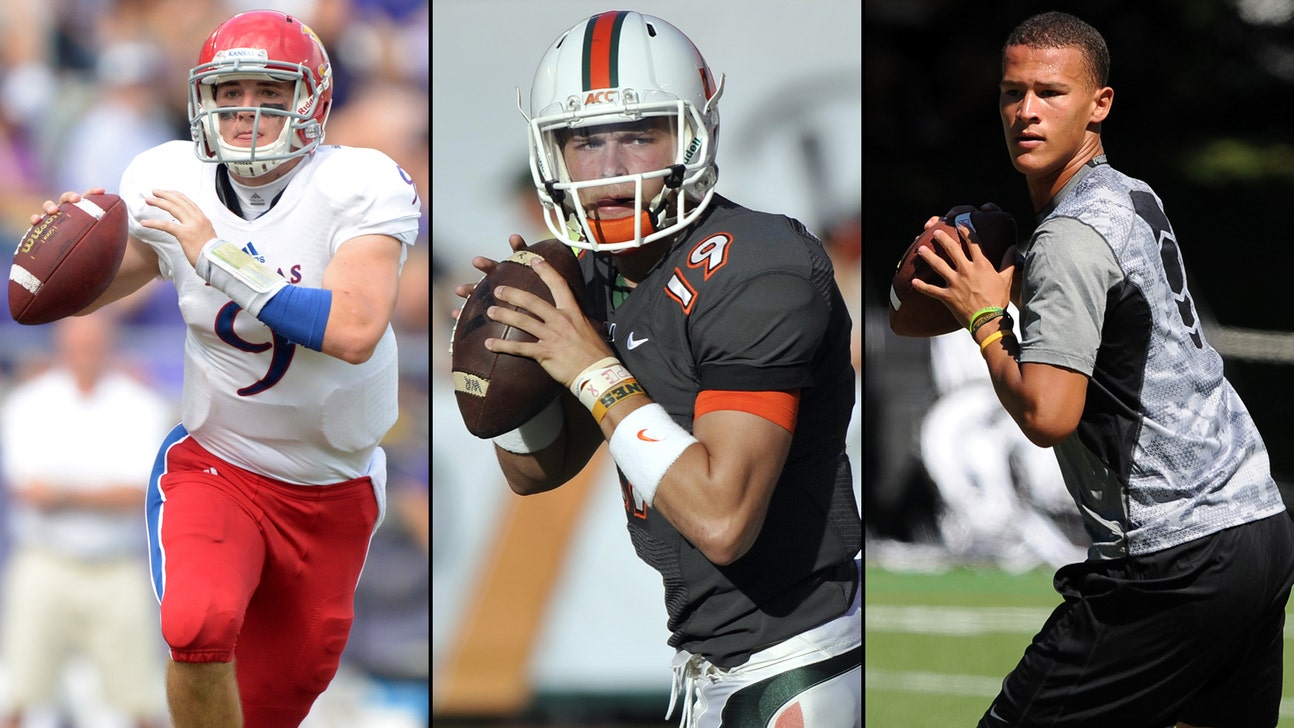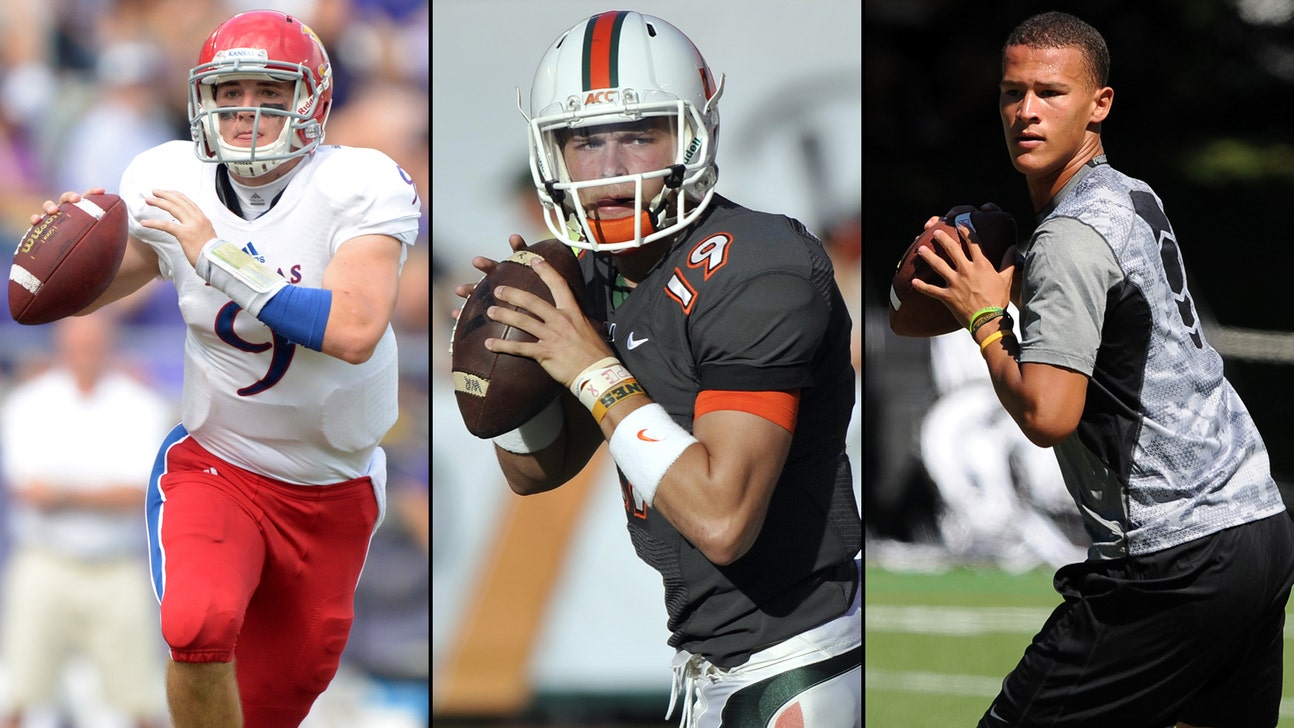 Who ya got? QB competition remains top question for Hurricanes
Published
Aug. 5, 2014 6:42 p.m. ET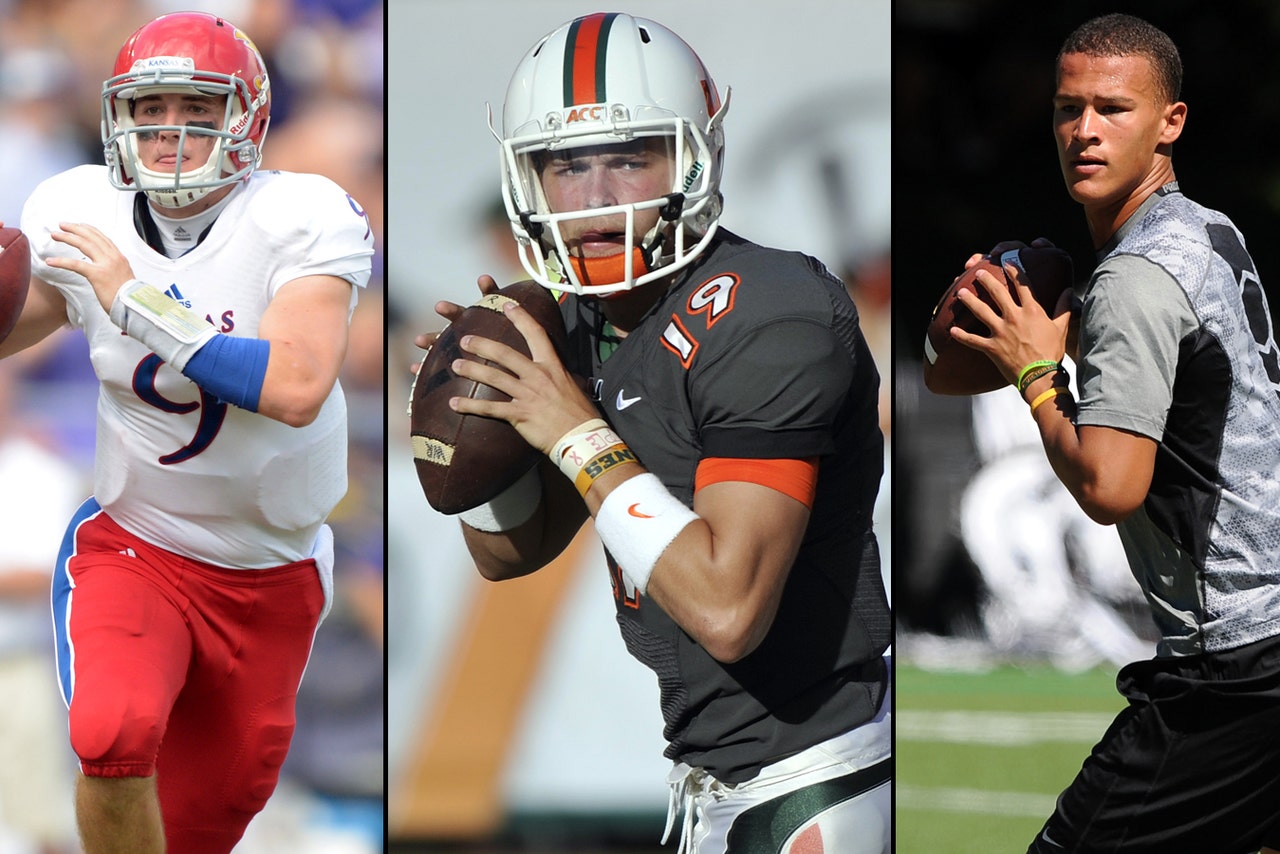 CORAL GABLES, Fla. -- "That's one! That's two!"
Senior linebacker Denzel Perryman stood in his black practice jersey providing a hard count of the number of horns going off in the distance at Greentree Practice Fields Tuesday afternoon.
When the third one blared, so began the first day of University of Miami football camp -- delayed 40 minutes by inclement weather.
The biggest question waiting to be resolved by the Sept. 1 opener in Louisville concerns the starting quarterback.
With redshirt senior Ryan Williams still limited four months after surgery on his ACL, it is a four-man race between 23-year-old transfer Jake Heaps, redshirt freshman Kevin Olsen as well as true freshmen Brad Kaaya and Malik Rosier.
Early on, offensive coordinator James Coley will be designating a guy as the No. 1 to receive the most reps. On Tuesday, Heaps and Kaaya saw more action than Rosier and Olsen, who would proceed with the other units.
Miami's formula to determine the starter is simple enough: execution.
"Watch how he handles the team and how they progress and how they execute," Coley said. "They're the one guy that day. Sometimes we'll have a 2 unit that's pretty stacked because of our personnel grouping. Everybody's competing and they're all being evaluated whether they're with the 2s or 1s. With the 1s comes the added pressure -- 'Here's your opportunity, today's your day.' "
Olsen seems to have already stumbled out of the gates, reportedly getting a one-game suspension. Although he and Coley refused to comment on the situation, junior running back Duke Johnson accidentally confirmed it.
Johnson and senior wide receiver Phillip Dorsett believe as teammates they must stay on guys to keep them in line both on and off the field.
"That's where his teammates come to play," Johnson said. "That's where we come in and help him out. Let him know he's not by himself. We just help him with his one-game suspension by being good teammates."
Despite the outside noise, Olsen said he has been able to tune it out and was "looking forward to getting another good camp under my belt." He called himself light years ahead of where he was last year and even this past spring when he received first-team reps.
What could've been a fierce rivalry and free-for-all has instead been a mutually beneficial relationship for the quartet.
"We're all learning from each other and helping each other out," Olsen said. "There's no, 'Oh, I'm not helping that guy 'cause he's my competition.' That's not good for the team as a whole anyway."
There is also the understanding that the quarterback in charge doesn't have to do it all by himself. With the talent surrounding him -- from Johnson to Dorsett to sophomore wideout Stacy Coley -- the role doesn't require otherworldliness.
Dorsett has been throwing with the quarterbacks over the summer trying to get the timing right. In the case of Williams' freak accident, he sees the chance for somebody to step up.
"We don't know who's going to start the Louisville game, but it doesn't really matter to us who it is," Dorsett said. "We just have to go out there and catch the ball. Whoever they throw the ball if it's in our vicinity just catch it. That'll help the quarterback out a lot. Make sure he just throws the ball and we've got to catch it."
Although Kaaya and Rosier are true freshmen, that wouldn't necessarily mean an automatic redshirt year for one of them, according to Coley.
Both mental and physical factors go into how ready a player is for collegiate competition.
"It's changed throughout the years," Coley said. "If you're ready to come in and play, you play. If you can handle it, if you're the best guy, then not only do you deserve to play but your talent is at an elite level where you can help your team win."
Asked whether he would consider playing multiple guys at the position over the course of the season or stick with one if he falters, Coley preferred the latter situation. Still, that doesn't mean guys couldn't go in for certain situations or plays.
Heaps, the frontrunner and final candidate, hopes to develop chemistry and rapport with his teammates at the beginning of camp. He has already impressed the Hurricanes with his work ethic and quick comprehension of the playbook.
But is this situation strange?
Williams, who should be ready to return sometime during the season, watched as Heaps threw to targets. Olsen, once considered the quarterback of the future, looks to be suspended but has put on a good face.
"I think that's a question everyone's wanted to ask," Heaps said. "I think that's a great question. It definitely could be, and it's definitely an interesting dynamic going on right now. It's gone extremely well, and I think that's a testament to the guys in that room. That quarterback group.
"All great guys that understand the situation and focused on getting better individually. As a group, if we can get better and we can push each other than that's going to make this team better. That's what we're all about. At the end of the day the best guy's going to play and we all understand that."
STARTERS VIA JERSEYS
Those named defensive starters wearing black on the first day of camp included Perryman, senior defensive end Anthony Chickillo, junior backs Tracy Howard, Antonio Crawford and Dallas Crawford, freshman end Trent Harris, junior lineman Ufomba Kamalu, junior linebacker Raphael Kirby, freshman linebacker Darrion Owens and junior lineman Earl Moore.
Offensive starters wearing orange included: Dorsett, junior wide receiver Herb Waters, Johnson, senior long snapper Ronald Regula, senior tight end Clive Walford, freshman lineman Kc McDermott, senior lineman Shane McDermott, sophomore lineman Danny Isidora, senior lineman Jon Feliciano, junior lineman Ereck Flowers and senior tight end Beau Sandland.
WILLIAMS UPDATE
Though he wore a red non-contact jersey like his fellow quarterbacks, Williams did not participate to the extent the others did Tuesday.
Wearing a brace on his right knee, Williams still remains ahead of schedule but doesn't know when he would be able to return.
Williams can do straight ahead running but nothing more complicated. He can drop back in the pool. Williams called it a "long process, long hours," nearly seven days a week.
"The knee's been good the whole rehab process," Williams said. "We still don't know what game I'll be back. Hopefully it's sooner than later. It's a week to week. Day to day."
You can follow Christina De Nicola on Twitter @CDeNicola13 or email her at cdenicola13@gmail.com.
---