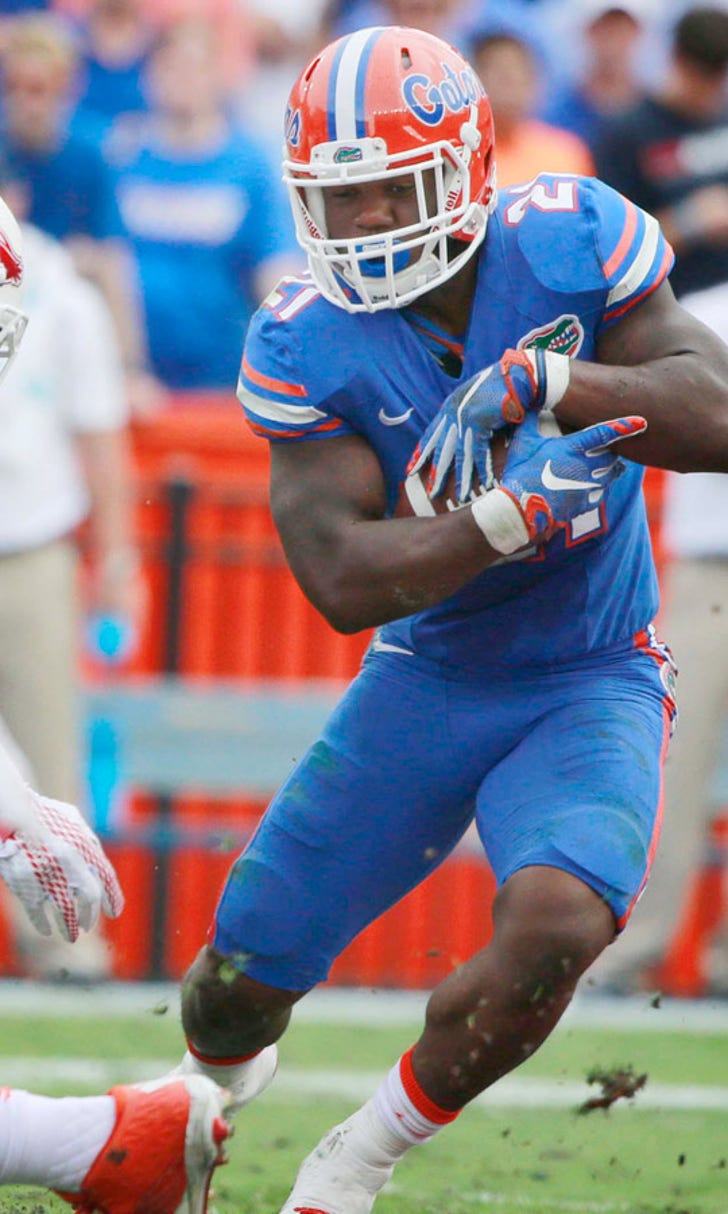 WhatIfSports college football Week 13 predictions: Gators defend home turf
BY Fox Sports • December 24, 2016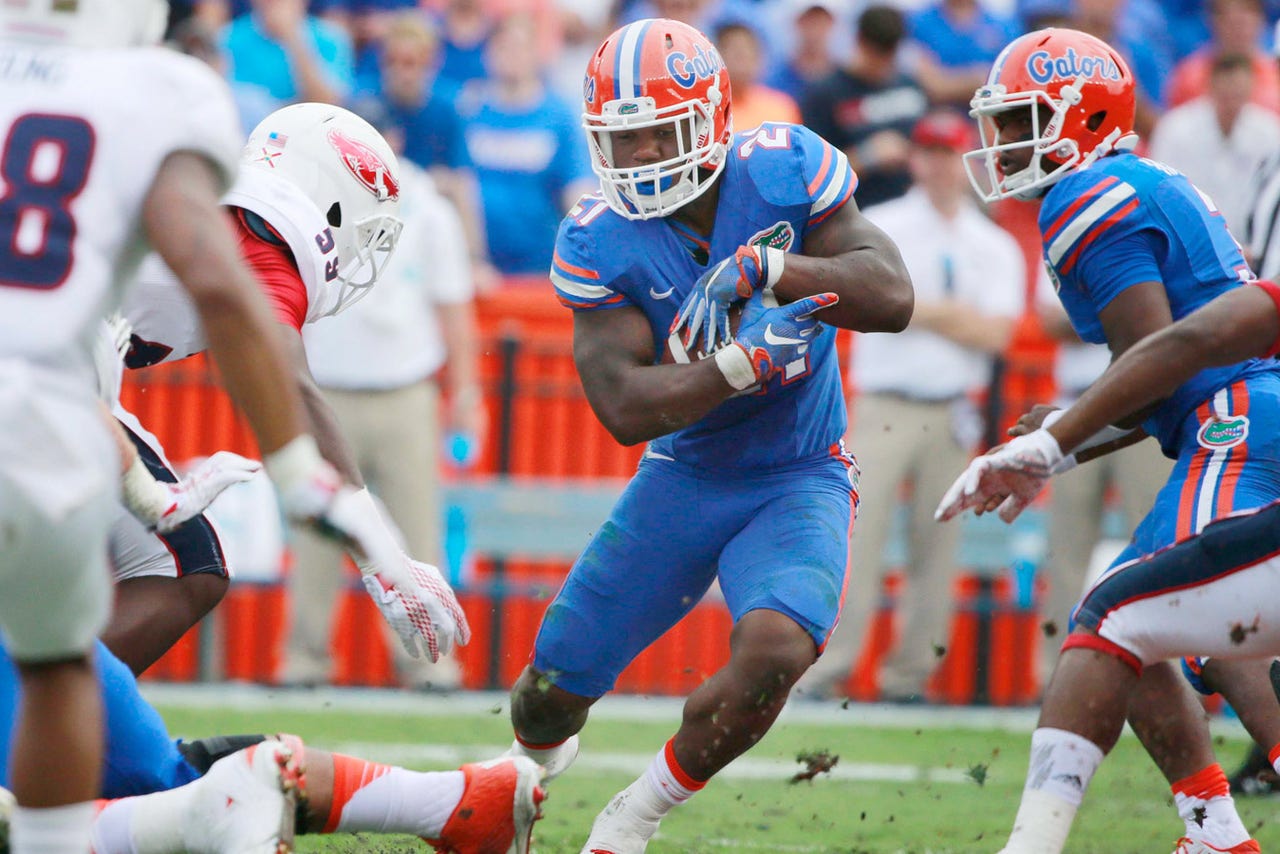 Each Monday, WhatIfSports.com's college football simulation engine generates predictions for every Division I FBS game for the coming week. Our highly sophisticated algorithms simulate every play of every game to produce each team's likelihood to win. Each matchup is simulated 101 times.
Week 12 in Review
It was a rough week for the highlighted games. We ended our winning streak on both the Game of the Week (Ohio State losing to Michigan State) and the Upset of the Week (Duke lost to Virginia). As for the AP Top 25 matchups, we only correctly predicted 68 percent of the games (17-8). Time to rebound in Week 13.
Week 12 Highlight: Oklahoma 30, TCU 29
We predicted that the Sooners would win by one point (29-28), even though they were 19-point favorites. 
Week 12 Lowlight: Virginia 42, Duke 34
We had Duke upsetting Virginia, but it was the Cavs who were victorious. Virginia's 21-point first quarter was enough to go into cruise control and defeat Duke.
Track our 2015 performance or view our accuracy last season, when we correctly picked the winner in 77.6 percent of all games involving FBS teams.
Week 13 Top 25 vs. Top 25 Matchups
No. 8 Ohio State vs. No. 12 Michigan
Well, the streak ended on Saturday night. The Buckeyes won 23 straight games and then the Spartans went into Columbus and dethroned the champs. Now, Ohio State must pick up the pieces and head into its rivalry game against the hungry Wolverines. Michigan had its game all but won when it played Connor Cook and Michigan State. Then, a botched punt on the final play swung the game in the other direction. Jim Harbaugh's boys recovered by winning four straight. Currently, Ohio State has won three consecutive contests in arguably the best rivalry in college football (Buckeyes have won 10 of the past 11). Will Urban Meyer's club right the ship or will the dream season have a nightmarish ending? Our SIM machine suggests Ohio State, the underdog, will win 56.4 percent of contests by an average score of 25.2-23.2.
No. 16 Navy vs. No. 21 Houston
The Cougars were another unbeaten team in the driver's seat of their own conference division who encountered their first stumble in Week 12. Greg Ward Jr. wasn't able to start last week against UConn, but tried to make an impact in the final quarter with his Cougs trailing by three. But he threw an interception in the final minute of the game. Houston is now 6-1 in the AAC and will battle a 7-0 Navy team that has won five straight and has lost only to Notre Dame. Keenan Reynolds leads the Midshipman with 652 passing yards and 1,009 rushing yards this season. The home Cougars are predicted to win by an average score of 30.6-28.2, coming out on top in 60.4 percent of sims.
No. 7 Baylor vs. No. 15 TCU
At the end of October, both of these teams were undefeated and had visions of competing for the national championship. Then, both teams suffered injuries to their respective quarterbacks and suffered defeats. Last week, the Horned Frogs lost a heartbreaker to the Sooners. Coach Gary Patterson decided to go for two in a scenario where they were on the road and without Trevone Boykin and Josh Doctson. It didn't end well. Foster Sawyer got the start in Boykin's absence and didn't produce. Sawyer was 8-for-18 for 107 passing yards and three interceptions. Bram Kohlhausen got his chance and made the most of his opportunity. He threw for 122 yards and two TDs while nearly overcoming a 17-point deficit. Baylor had Jarrett Stidham making his third start of the season. However, he suffered an injury just before halftime. Enter Chris Johnson. He compiled 180 total yards of offense and accounted for three touchdowns in the win against Oklahoma State. In a razor-thin margin, the Bears are projected to win by an average score of 30.4-30.2.
No. 19 Ole Miss vs. No. 23 Mississippi State
It's the Egg Bowl where these teams have exchanged wins and losses over the past four meetings. Ole Miss still owns the overall record (60-42-5). Both teams won last week after losing in prior meetings. Also, both teams scored into the 50s when playing against Arkansas. Ole Miss lost its shootout by one, while MSU won by one. Dak Prescott threw five TDs last week after producing zero TDs against Alabama. Chad Kelly has accounted for 10 total TDs in the past two games. Ole Miss is expected to win by an average of one (28.8-27.8) in 54.5 percent of the sims.
No. 14 Florida State vs. No. 10 Florida
While one team in the state of Florida devoured its "cupcake" opponent last week, the Gators needed overtime to win their matchup. Florida won 20-14 aganst lowly Florida Atlantic, earning its fourth straight win. Possibly, Florida had this week's game already in mind before the Week 12 game began. The Seminoles have won back-to-back games after losing to Clemson. However, they have lost their last two road games. This game could be a low-scoring affair. Florida State is allowing an average of 17 points per game. The Gators have the third-best defense when it comes to points allowed (14.5 ppg). Florida is favored according to the computers by an average of 27.0-26.2, winning 53.5 percent of simulations.
No. 4 Notre Dame vs. No. 13 Stanford
The Fighting Irish have one more chance to prove that they belong in one of the final four spots for the title, but they must beat the Cardinal. After losing to Northwestern in the season opener, Stanford stumbled to Oregon in Week 11. But, they are still a team in a Power 5 conference with an impressive record. Notre Dame was up by 16 against Boston College, but only won 19-16. The two-point loss to Clemson, on the road, should keep Notre Dame among the best one-loss teams seeking a playoff spot. Stanford's win in Week 12 solidified its spot in the Pac-12 title game. A win over a Top 5 program, along with the potential win in the Pac-12 Championship, might be enough to boost the Cardinal to a final-four spot. In 101 simulations, Stanford was victorious 51.0 percent of the time, winning by an average score of 28.8-28.6.
No. 5 Oklahoma vs. No. 9 Oklahoma State
It truly will be bedlam in Oklahoma, and in the Big 12, if the Sooners lose this game. A member of the Big 12 missed a spot in the College Football Playoff last year, likely because of the lack of a conference title game. Three teams have one loss in the Big 12. Oklahoma would make this easy if they win this week, since they already beat Baylor. If not, they could be in the same predicament as last season. News was released on Monday that Sooners QB Baker Mayfield passed concussion tests and could play in this game. The college football simulation engine has the Sooners winning 53.5 percent of the time by an average score of 27.8-25.8.
Week 13 Upset Pick
UCLA (+3) over USC
USC has won the majority of the games between these two teams. However, UCLA has won three straight in this rivalry. The Trojans are three-point favorites, but it is the Bruins who are projected to win by an average score of 30.7-27.8.
College Football Week 13 Predictions

Matchup
Win %
Avg. Score
 
Miami (FL) Hurricanes
49.4
29.2
Box Score
@ Pittsburgh Panthers
50.6
30.5
 
Boston College Eagles
50.5
22.6
Box Score
@ Syracuse Orange
49.5
22.1
 
Virginia Tech Hokies
53.0
24.6
Box Score
@ Virginia Cavaliers
47.0
24.5
 
Duke Blue Devils
56.4
27.3
Box Score
@ Wake Forest Demon Deacons
43.6
23.9
 
North Carolina Tar Heels
63.4
33.0
Box Score
@ North Carolina State Wolfpack
36.6
28.1
 
Georgia Bulldogs
72.3
29.1
Box Score
@ Georgia Tech Yellow Jackets
27.7
21.4
 
Penn State Nittany Lions
36.6
23.8
Box Score
@ Michigan State Spartans
63.4
28.9
 
Maryland Terrapins
49.0
27.4
Box Score
@ Rutgers Scarlet Knights
51.0
28.8
 
Indiana Hoosiers
51.5
29.1
Box Score
@ Purdue Boilermakers
48.5
28.3
 
Ohio State Buckeyes
56.4
25.2
Box Score
@ Michigan Wolverines
43.6
23.2
 
Wisconsin Badgers
58.4
27.7
Box Score
@ Minnesota Golden Gophers
41.6
26.0
 
Northwestern Wildcats
59.9
28.7
Box Score
@ Illinois Fighting Illini
40.1
23.8
 
Iowa Hawkeyes
61.4
28.6
Box Score
@ Nebraska Cornhuskers
38.6
25.5
 
Eastern Michigan Eagles
27.7
25.5
Box Score
@ Central Michigan Chippewas
72.3
32.8
 
Kent State Golden Flashes
30.7
26.9
Box Score
@ Akron Zips
69.3
33.6
 
Western Michigan Broncos
38.6
27.0
Box Score
@ Toledo Rockets
61.4
31.0
 
Ohio Bobcats
42.6
26.0
Box Score
@ Northern Illinois Huskies
57.4
27.4
 
Massachusetts Minutemen
43.6
31.7
Box Score
@ Buffalo Bulls
56.4
33.0
 
Bowling Green Falcons
58.4
33.7
Box Score
@ Ball State Cardinals
41.6
31.4
 
Oregon State Beavers
24.8
25.1
Box Score
@ Oregon Ducks
75.2
32.4
 
Colorado Buffaloes
35.6
28.1
Box Score
@ Utah Utes
64.4
33.3
 
Notre Dame Fighting Irish
49.0
28.6
Box Score
@ Stanford Cardinal
51.0
28.8
 
UCLA Bruins
53.5
30.7
Box Score
@ USC Trojans
46.5
27.8
 
Washington State Cougars
57.4
31.7
Box Score
@ Washington Huskies
42.6
30.4
 
Arizona State Sun Devils
57.8
31.9
Box Score
@ California Golden Bears
42.2
30.1
 
Vanderbilt Commodores
36.6
24.5
Box Score
@ Tennessee Volunteers
63.4
30.0
 
Missouri Tigers
43.6
25.4
Box Score
@ Arkansas Razorbacks
56.4
27.1
 
Florida State Seminoles
46.5
26.2
Box Score
@ Florida Gators
53.5
27.0
 
Texas A&M Aggies
49.5
28.9
Box Score
@ LSU Tigers
50.5
29.7
 
Ole Miss Rebels
54.5
28.8
Box Score
@ Mississippi State Bulldogs
45.5
27.8
 
Louisville Cardinals
58.9
29.6
Box Score
@ Kentucky Wildcats
41.1
25.6
 
Clemson Tigers
67.3
33.2
Box Score
@ South Carolina Gamecocks
32.7
26.3
 
Alabama Crimson Tide
67.3
29.9
Box Score
@ Auburn Tigers
32.7
23.2
 
Iowa State Cyclones
46.5
27.5
Box Score
@ West Virginia Mountaineers
53.5
28.1
 
Oklahoma Sooners
53.5
27.8
Box Score
@ Oklahoma State Cowboys
46.5
25.8
 
Baylor Bears
55.0
30.4
Box Score
@ TCU Horned Frogs
45.0
30.2
 
Texas Tech Red Raiders
64.4
32.0
Box Score
@ Texas Longhorns
35.6
25.9
 
Kansas State Wildcats
66.8
30.3
Box Score
@ Kansas Jayhawks
33.2
23.9
 
Marshall Thundering Herd
41.6
31.6
Box Score
@ Western Kentucky Hilltoppers
58.4
34.2
 
Florida Atlantic Owls
47.5
30.9
Box Score
@ Old Dominion Monarchs
52.5
32.3
 
Southern Miss Golden Eagles
47.5
30.9
Box Score
@ Louisiana Tech Bulldogs
52.5
31.5
 
Charlotte 49ers
48.5
29.2
Box Score
@ Rice Owls
51.5
30.2
 
Middle Tennessee Blue Raiders
62.4
29.2
Box Score
@ UTSA Roadrunners
37.6
25.1
 
UTEP Miners
68.3
28.7
Box Score
@ North Texas Mean Green
31.7
22.1
 
Nevada Wolf Pack
37.6
25.5
Box Score
@ San Diego State Aztecs
62.4
29.9
 
Louisiana-Monroe Warhawks
47.5
27.6
Box Score
@ Hawaii Rainbow Warriors
52.5
28.8
 
UNLV Rebels
54.5
30.7
Box Score
@ Wyoming Cowboys
45.5
30.6
 
Colorado State Rams
57.4
32.7
Box Score
@ Fresno State Bulldogs
42.6
30.2
 
Air Force Falcons
58.4
30.8
Box Score
@ New Mexico Lobos
41.6
28.7
 
Boise State Broncos
59.4
31.5
Box Score
@ San Jose State Spartans
40.6
28.4
 
BYU Cougars
65.3
29.8
Box Score
@ Utah State Aggies
34.7
25.0
 
South Alabama Jaguars
41.6
26.0
Box Score
@ Georgia Southern Eagles
58.4
28.3
 
Louisiana-Lafayette Ragin' Cajuns
41.6
29.0
Box Score
@ Appalachian State Mountaineers
58.4
31.3
 
Troy Trojans
47.4
29.3
Box Score
@ Georgia State Panthers
52.6
29.9
 
Texas State Bobcats
48.7
30.2
Box Score
@ Idaho Vandals
51.3
30.5
 
Arkansas State Red Wolves
52.5
31.3
Box Score
@ New Mexico State Aggies
47.5
30.5
 
Connecticut Huskies
31.7
23.9
Box Score
@ Temple Owls
68.3
30.8
 
SMU Mustangs
33.7
26.0
Box Score
@ Memphis Tigers
66.3
30.6
 
Navy Midshipmen
39.6
28.2
Box Score
@ Houston Cougars
60.4
30.6
 
Cincinnati Bearcats
52.2
33.3
Box Score
@ East Carolina Pirates
47.8
32.2
 
Tulsa Golden Hurricane
55.4
27.6
Box Score
@ Tulane Green Wave
44.6
26.9
 
South Florida Bulls
71.3
30.1
Box Score
@ UCF Knights
28.7
22.7
 
In addition, view our Week 13 power rankings or visit our college football archive for predictions from past weeks. For more statistics, view our weekly college football predictions.
---