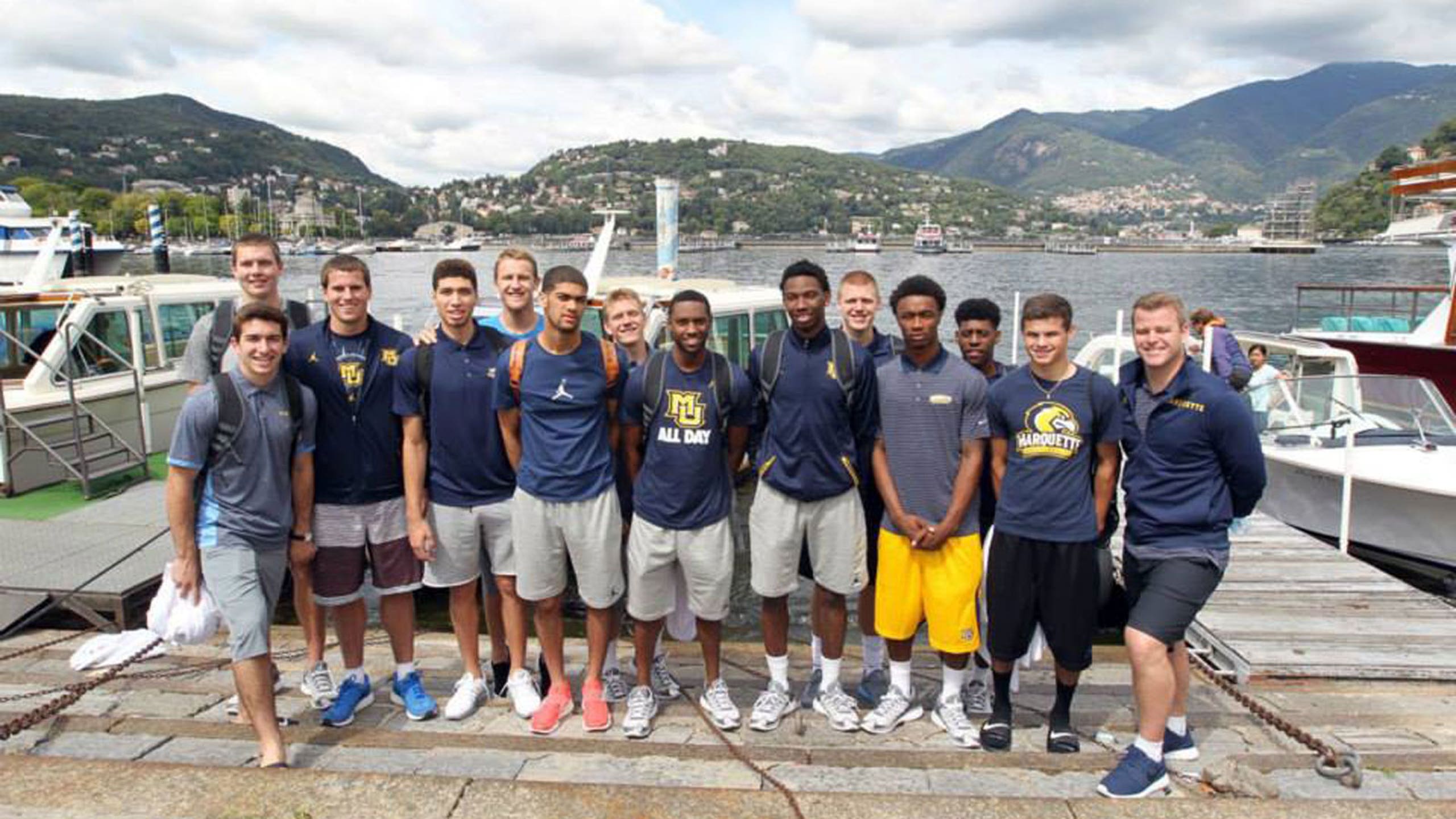 What did it mean? Marquette's preseason European tour recap
BY foxsports • August 21, 2015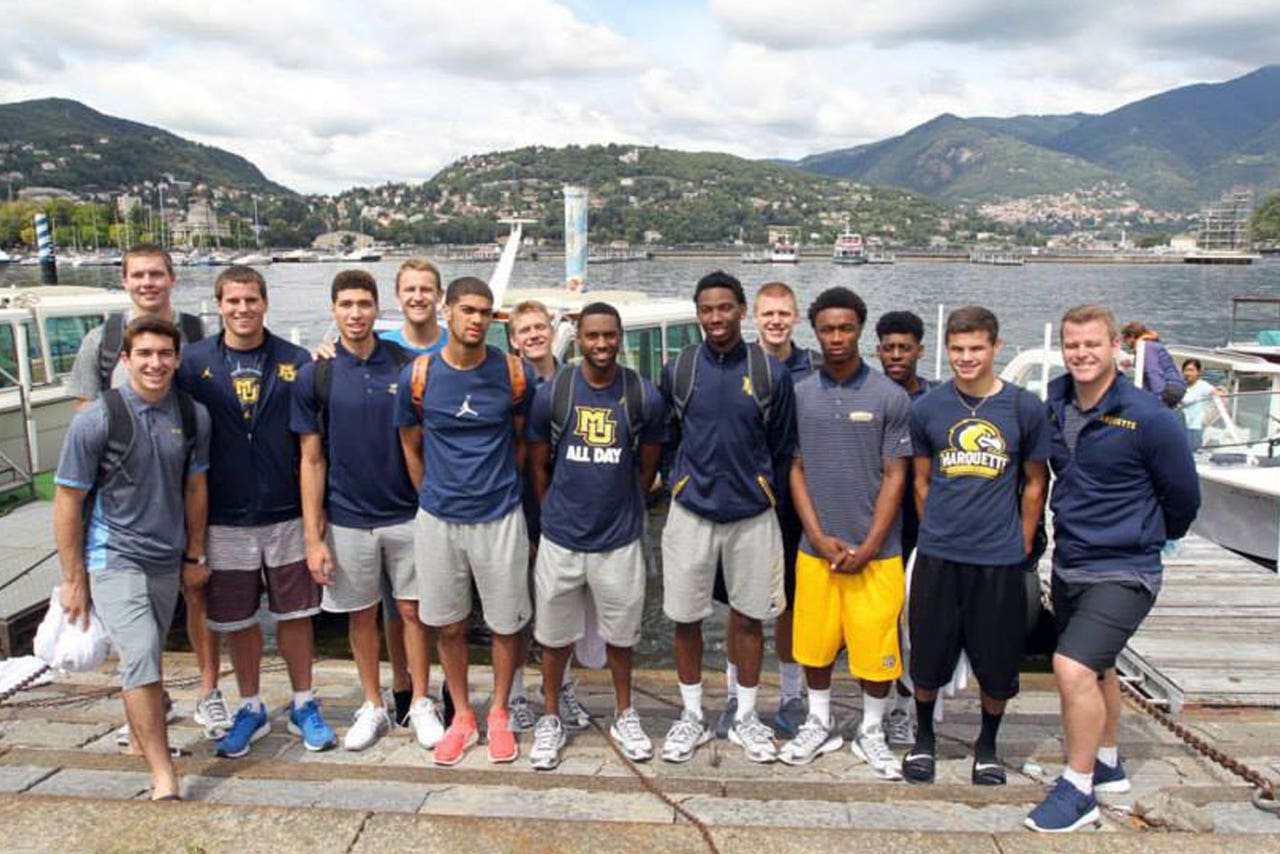 Marquette went on a preseason trip to Europe and came back undefeated in the four games on the court and culturally enriched -- or at least with plenty of tourist selfies -- off of it.
The Golden Eagles won each of the four exhibitions they played, beating the Icelandic club Haukar Basketball, the Lithuanian team LSU-Atletas and the Italian side Vicenza Select in Italy, before traveling to Switzerland to defeat the Swiss squad Sam Basket Massagno.
The competition may not have rivaled what Marquette will face in the Big East this season, but there were still plenty of important takeaways about the freshman-laden team head coach Steve Wojciechowski has in his second year.
The Golden Eagles returned to the U.S. on Thursday, so let's now find out what we might have found out from their Euro trip.
5 things we learned:
-- Highly touted freshman forward Henry Ellenson -- who is Marquette's first McDonald's All-American in more than 30 years and led the team in scoring on the trip -- is as good as advertised on offense, showing post moves and shooting touch, as well as surprising athleticism, handles and strength for a young big man.
-- Redshirt sophomore guard Duane Wilson, who is the Golden Eagles' leading returning scorer (11.9 points per game last year), is unquestionably the team's leader, a talented playmaker and a vocal, emotional and demonstrative catalyst.
-- Redshirt junior center Luke Fischer, who scored in double figures in every game and averaged 17.5 points during the tour, can be a dominant low-post player when he's healthy, which he seems to be now after recovering from several injuries last year and then offseason shoulder surgery.
-- Redshirt junior guard Wally Ellenson, the older brother of Henry who was a four-time collegiate All-American in the high jump, can definitely dunk, as a soaring, posterizing slam in the third game got everyone out of their seats.
-- Freshman guard Haanif Cheatham, a prized recruit who was able to travel with the team but not allowed to play in games, has been cleared for competition by the NCAA, an announcement made by Wojciechowski after Marquette's last game in Europe.
4 things we still don't know:
-- Against better competition, will freshman point guard Traci Carter, who at times looked sensational and dynamic but at other times was erratic and careless, be more the former or the latter player?
-- What can freshmen Matt Heldt, who had 11 rebounds in the third game but otherwise was mostly quiet, and Sacar Anim, who had 10 points in the second game but otherwise was mostly quiet, consistently give the Golden Eagles in their first college seasons?
-- Will a couple of junior guards that were solid but largely unremarkable on the tour -- Ellenson, who sat all of last year after transferring from Minnesota, and Jajuan Johnson, who averaged 7.3 points and 2.6 rebounds in 2014-15 -- be the poised, upperclassmen presences needed on such a young team?
-- Can sophomore forward Sandy Cohen (nine points, seven assists and six rebounds in the final Euro contest), who scored in double figures three times last year but each time was held scoreless the next game, become more consistent this season?
3 key stats:
-- Wilson, who averaged 2.1 assists last year, dished out 11 of them in the second game.
-- Marquette, which was last in the Big East in scoring in 2014-15 at 65.1 points per game, averaged 106.3 points in the four games in Europe.
-- Fischer, who was third on the team in rebounds last season at just 4.8 per game, almost doubled that on the trip, averaging a team-high 9.5 boards.
2 top performances:
-- In his first (non-NCAA) college game, Ellenson put up 24 points and 10 rebounds, a double-double debut.
-- In the final game, Carter filled up the stat line with 17 points, 11 assists, seven rebounds and four steals, one of the best overall performances of the tour.
1 big moment:
-- Marquette had trailed in each of the first three quarters in its opening game, looking sluggish and out of sync with each other, but Wilson stepped up and hit three consecutive 3-pointers in the fourth quarter and, soon after, a deep 2-pointer that gave Marquette the lead for good with 3:48 to play.
Next: Exhibition opener against Ellwood Ellenson and Valley City State on Friday, Nov. 9 at the BMO Harris Bradley Center.
Follow James Carlton on Twitter
---
---