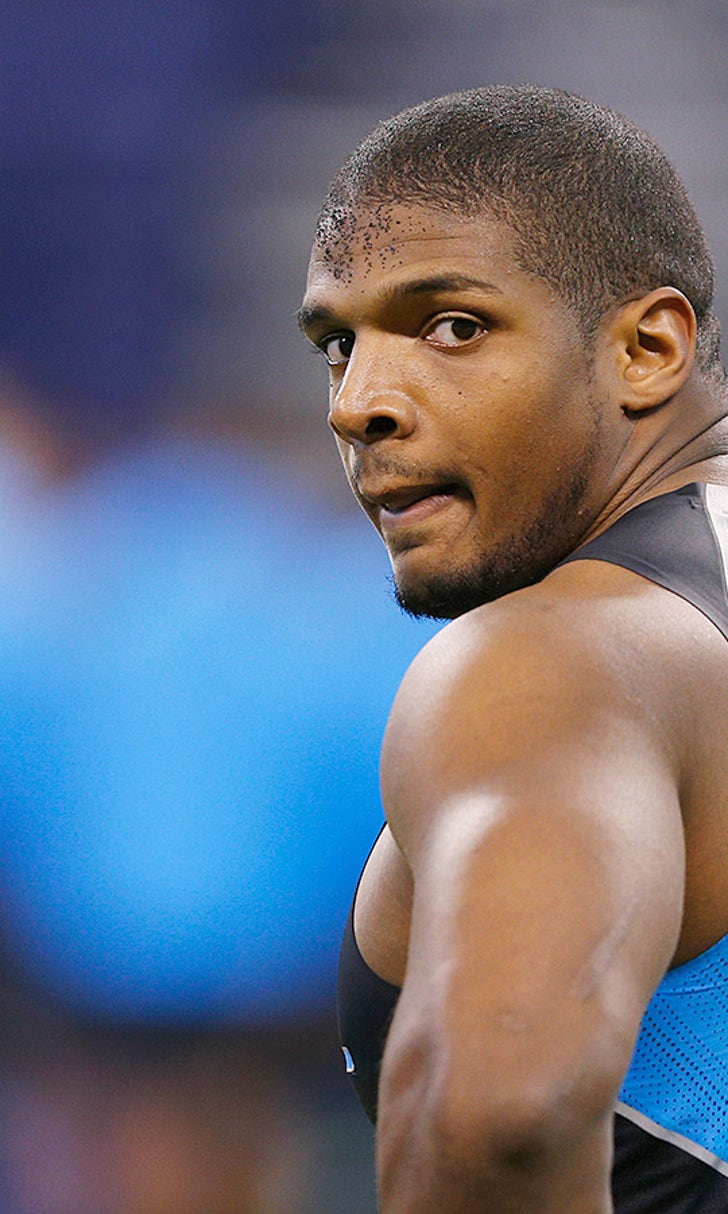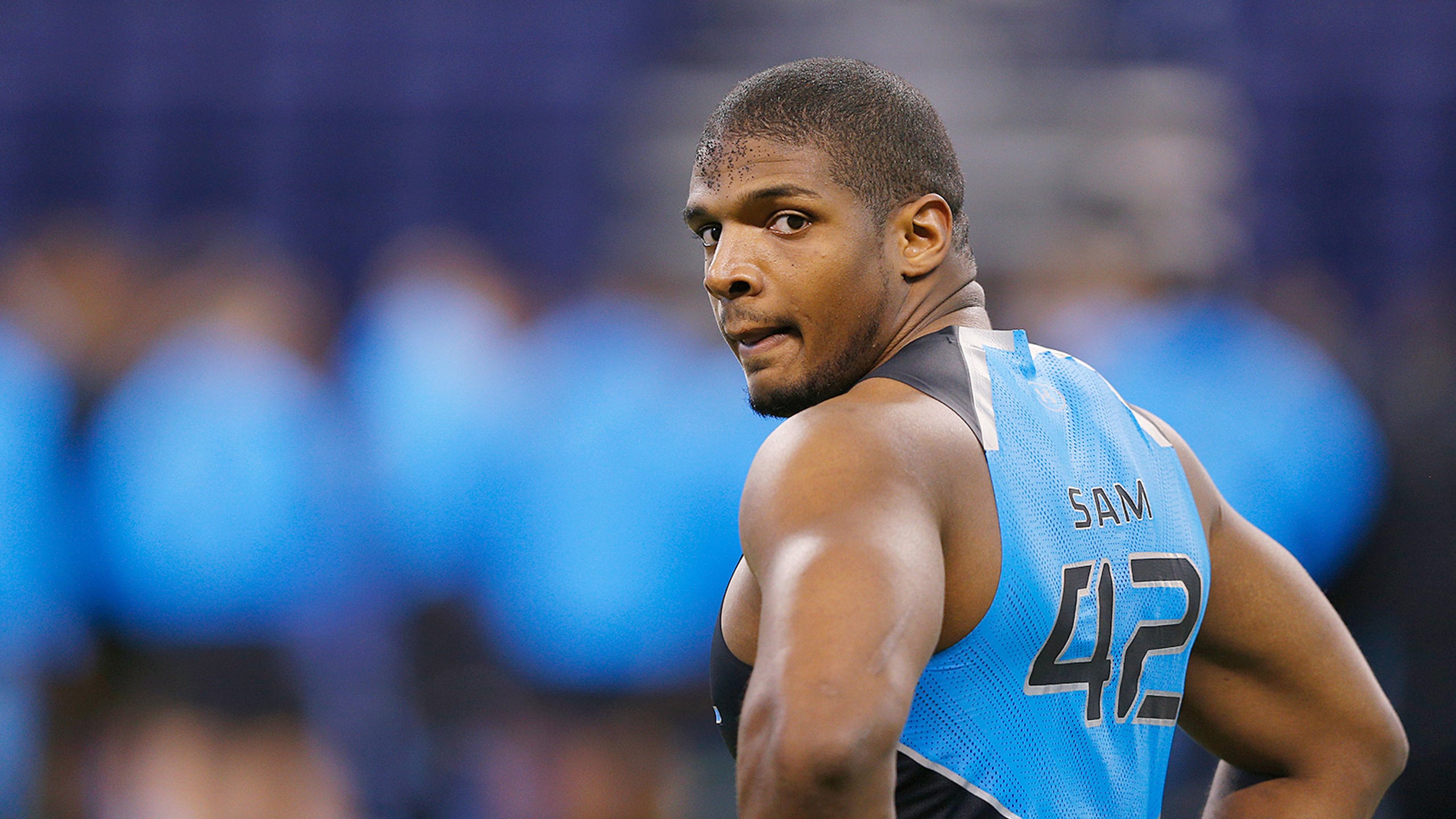 What baseball must learn from Michael Sam
BY foxsports • August 17, 2015
David Denson, a first baseman in the Brewers organization, came out on Saturday and let the world know he was gay.
That got me thinking about Michael Sam and how the media (and MLB) must handle the first openly gay professional baseball player differently than we have with the first openly gay professional football player.
Sam was a star defensive end at the University of Missouri. He was an All-American in college and earned the Defensive Player of the Year award in maybe the best conference in college football.
Sam's career even went a step further when he was selected by the St. Louis Rams in the seventh round of the 2014 draft.
Those accomplishments alone -- getting the scholarship, becoming a college star and receiving the call from the NFL -- bring great responsibility and pressure.
We forget sometimes that athletes are people and we make assumptions about how easy their life must be. 
Behind every great athlete is a work ethic that is rarely matched outside of sports. There is also adversity that had to be overcome: a bad season, an injury, maybe loss of playing time or lack of talent somewhere along the way, a coach who doubts you, media that criticize you. Maybe like Sam, your dream school wasn't interested in you. Or maybe, also like Sam, you dropped in the draft. It is a constant mental and physical struggle to reach the pinnacle of your sport, and sometimes the pressure can be too much.
Sam had to deal with all of this on top of the pressure to live up to an impossible standard.
When he came out and told the world he was gay, the headlines that followed must have felt like the weight of the world, already on his shoulders, immediately doubled. He was touted as Michael Sam, the first openly gay player to be drafted in one of the four major North American team sports.
It was a mouthful to say, and my initial thought was that it was ridiculous. I remember thinking, "Good God, this poor guy is going to try to make it in the NFL, which in and of itself is going to be tough, and now he has to do it tagged with this?"
All major media outlets not only ran with the title, but they Tebowed it. They couldn't say it enough. Every time I heard the lengthy description given to Sam, I kept thinking that it all seems like too much for him. Everybody who was anybody chimed in, capped off with a statement from the President.
Making a career in professional sports is rare. Most fail. The mental effects from falling short can be overwhelming. The struggles are hard on you, and they can be hard on your family. The pressure mounts with each bad performance. What would I do if I lost this job? What if I had to have a life outside of the game? It eventually happens to everyone, whether it is high school, college, MLB or the CFL. The dream ends, real life begins, and many are unprepared.
That weight of disappointment is heavy. Then the criticism comes: He was a bust, he was overrated, and maybe, in the case of Sam, he was only drafted because he was gay.
I'm not qualified to know if that were the case, and I'm not saying it's true. Sam was picked 249th out of 256 draft slots. He almost wasn't drafted. After failing to make the Rams roster, the Cowboys picked him up before eventually cutting him. He never played a down in the NFL. In a matter of five months, his NFL dream looked like it was over.
But his draft story is not unique for a seventh-round pick. Nineteen of the 41 seventh-round picks in 2014 didn't break camp on the active roster of the team that drafted them. Sam was not alone, but he likely felt very lonely.
As with all athletes, his failures were broadcast to the world, but for Sam there was more attention than ever paid to a seventh-round draft pick. I think people who have lost jobs can relate to that feeling of despair. Even though I made it to the big leagues, I recall being released in the middle of a season, wondering whether it was over, wondering whether everything I poured my life into was finished. I can tell you about the stress level that it brings. I had obligations, a wife and kids, and no real solid plan for life after the game. Maybe you have experienced that as well.
Now imagine what it was like experiencing all that as the first openly gay player drafted in one of the four major North American team sports. The letdown had to go deeper than it would for any other athlete. It had to be overbearing.
We should proceed with caution on news stories like this, which brings us back to Denson.
First reactions are to want to encourage Denson and let him know he is supported. That is well-intentioned. But so often, we in the media create a monster without thinking about the effect it could have on the player.
Many websites, including this one, had the story with a headlines like this:
"Brewers minor leaguer makes history, by coming out publicly as gay."  
I have often said that we will win when we get to a place where we stop counting. When we stop counting by race, by sexual orientation, and by gender. I'm pessimistic I'll see that day in my lifetime.
I'm worried about baseball's turn. "History" denotes significance. David Denson is just being himself, and that probably doesn't feel historic to him. He is also just 20 years old, a very young and tough age to bear this cross on the big stage. Major sports networks have already had the news on their nightly highlight shows, and it has run across the ticker as well. Let's do our part to make sure we don't have Michael Sam all over again.
A few days ago, Sam stepped away from his opportunity in the Canadian Football League citing concerns over his mental health. That scares me. And though I'm not ready to blame the media, I just wonder if our reaction to Sam coming out was too much and if that has already deterred others from doing the same.
I understand the importance of acknowledging when the first openly gay player enters a sport, but we should tone it down a bit this time. It's hard to make it in sports. The extra pressure that Denson is feeling will be internal.  Let's not amplify it externally.
I would be remiss if I did not finish with this: I am a Christian. I believe the Bible is the authoritative word of God and I believe that we cannot pick and choose what we like about the Bible and what we do not. I also believe that some of the most important words Jesus ever spoke were the final words He left the Apostles with the night before His death, "People will know you are with Me if you love each other."
He offered no exceptions.
---
---