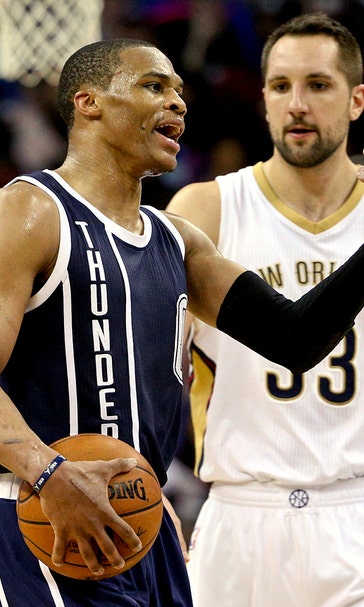 Westbrook's intensity spells win for Thunder over Pelicans
BY foxsports • February 4, 2015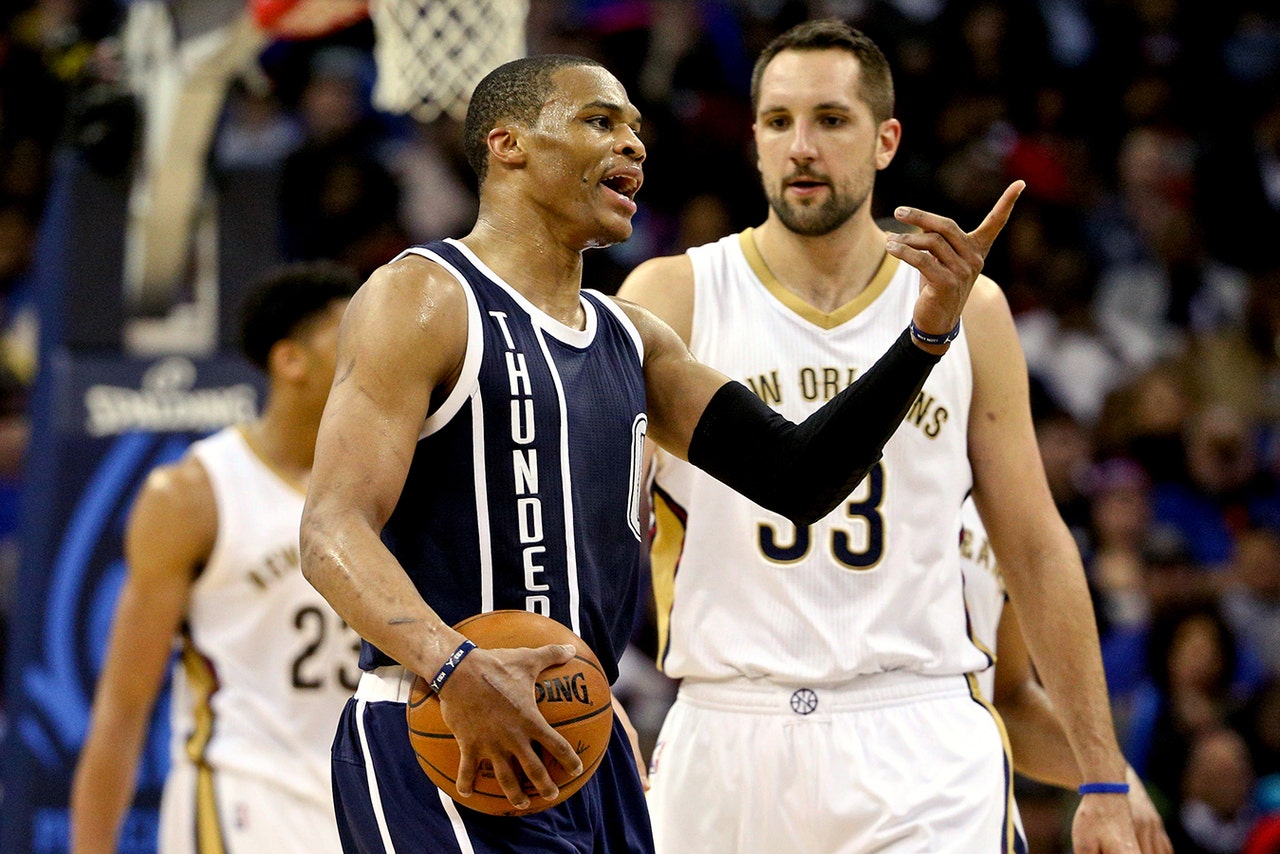 Russell Westbrook played angry Wednesday night in New Orleans.
It worked. 
And if Kevin Durant is going to continue to miss games, like he has for four of the past five with a sprained left big toe, then Westbrook might just need to stay that way if the Thunder are going to be successful.
Westbrook played with the intensity of 1,000 suns Wednesday in a 101-92 victory for the Thunder. He had a career-high 45 points and was so, so good, it looked like he won the game by himself.
It looked like he saved the season, too.
Now, just 2.5 games behind the Suns for the eighth and final playoff spot, Westbrook had a focus, an urgency and an energy that provided more than the difference for the Thunder, it provided the answer to the formula of how the Thunder will make the playoffs.
Who knows when Durant will return from his latest injury. Durant has played only 22 games this season, but who knows how far Oklahoma City can go when Westbrook attacks like he's holding a grudge against the rest of the league.
The playoffs are a possibility if Westbrook is angry. Anything less than that from Westbrook, when Durant doesn't play, means the Thunder stay home during the playoffs. Simple as that.
Despite a core roster of players that led OKC to the Western Conference Finals a season ago, the chemistry doesn't seem to be there this time around. Serge Ibaka was absent for the first half on Wednesday. Reggie Jackson was mostly invisible throughout. 
Thing is, that doesn't matter Westbrook is angry. He makes up for others. He polishes mistakes.
"KD texted me before the game and told me to lead the guys," Westbrook said to FoxSports Oklahoma. "We stuck together."
Well, that's one way to see things. Another would be Westbrook was just too good for too long. In 40 minutes, Westbrook was 18-for-31 shooting, had  six rebounds and six assists, but it was the energy that never stopped.
Anthony Morrow had 14 points. Dion Waiters had 12 and Ibaka did finish with 13, but that's not enough help. Not enough help to make the playoffs, anyway.
Unlike Durant, who seems to play with ease, Westbrook's attitude and presence is overwhelming and in your face. Impossible to ignore. If Durant is smooth, Westbrook is all knees and elbows and flailing parts, fueled by virtual RedBull and raw emotion. But sometimes there's a crash to follow.
How much pressure Westbrook puts on himself, knowing his complementary pieces are essentially crumbling around him while Durant misses game after game, is a real concern. Westbrook has played without Durant before. He's had to lead the team, but not into the unknown like this season where the Thunder have stumbled around.
In the past, the playoffs weren't in doubt. This season, it is. 
Perhaps Durant will be back Friday when the Thunder play the second half of a back-to-back against the Pelicans and he can carry some of the scoring and some of the burden. The team is saying Durant's injury is day-to-day, but it appears to be borderline chronic.
If Durant sits again, it will be up to Westbrook to gather enough energy to will the Thunder to another win.
And up to Westbrook to make the playoffs.
Follow Andrew Gilman on Twitter: @andrewgilmanOK
MORE FROM FOX SPORTS SOUTHWEST: 
- Five-star recruits who were never stars in college
- Ranking NFL quarterback salaries
- Oldest player on every NBA team
---