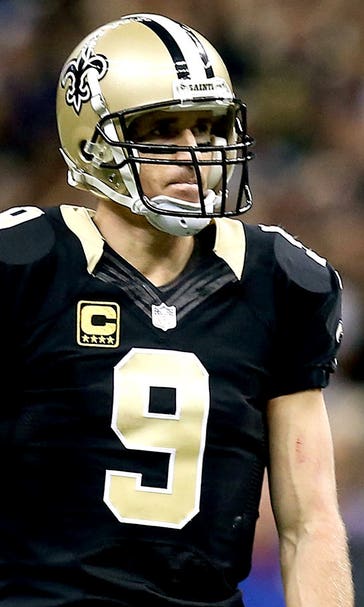 Week 8 fantasy football recap: Brees, Manning combine for 111 fantasy points
November 1, 2015

Steve Smith may have played in his last NFL game as he popped his Achilles against the Chargers. Although he will miss the rest of this season, he managed to surpass Cris Carter for 10th place all-time in NFL receiving yards. He took to Twitter after the game to thank the fans:
For fantasy football owners, Smith has been part of the annual draft strategy equation for the better part of the last decade. He's been a target machine the last two seasons in Baltimore and posted some huge numbers during his 13-year stint with the Carolina Panthers. Here are his top five career fantasy performances (no PPR):
| | | | | |
| --- | --- | --- | --- | --- |
| Season | Against | Recs/Rec Yards | TDs | Fantasy Points |
| 2005 | Dolphins | 11 / 170 | 3 | 34.8 |
| 2007 | Texans | 8 / 153 | 3 | 33.3 |
| 2015 | Bengals | 13 / 186 | 2 | 30.6 |
| 2011 | Cardinals | 8 / 178 | 2 | 29.8 |
| 2005 | Vikings | 11/ 201 | 1 | 26.1 |
Ice up, Steve. Hope to see you back out there in 2016.
Drew Brees + Eli Manning – 111.5 FP
Brees entered Week 8 ranked QB25 in fantasy football scoring with eight touchdown passes in seven games. Granted, he missed the Panthers' game due to injury, but popular opinion was Brees would finish as a Top 8 fantasy quarterback. Perhaps, the first step towards achieving the expected came against a Giants' defense which had allowed the 10th-fewest fantasy points per game to opposing quarterbacks (15.3). Brees had one six-touchdown performance and an insane eight five-touchdown performances before torching the Giants secondary to the tune of 40-50 passing for 511 yards with seven touchdowns and only one interception. He joins, fittingly, seven other NFL quarterbacks in that fraternity. Peyton Manning is on that list. He has seven touchdowns heading into Week 8.
As for the younger Manning brother, I received this question Sunday morning:
You can almost feel the emotional strain and stress Eli Manning has caused on this poor owner. He averaged 23 fantasy points per game through the first five games, but averaged less than 10 fantasy points per game the last two weeks. Here's where my answer to the question surfaces:
Manning completed 30-41 passes for 350 yards – far from a season high – with six touchdowns and no interceptions against the Saints pass defense which allowed the second-most fantasy points per game to opposing QBs (21.3). His last five-touchdown performance came late in the 2012 season.
Marques Colston – 25.4 FP vs. Giants
The eight receptions for 112+ receiving yards and a touchdown was Colston's best fantasy performance since December 2013. It's his first touchdown of the 2015 season, too.
Michael Floyd – 20.6 FP vs. Browns
Four receptions for 104 yards with a touchdown. Why is a receiver in a pass-happy offense who is averaging 13 fantasy points per game over his last five games owned in 40 percent of leagues? Why?
Malcom Floyd – 25.2 FP vs. Ravens
Even with the robust injury history, this stat surprised me. Floyd's four receptions for 92 yards with two touchdowns was only the second time in 10 seasons that the Chargers receiver scored twice in the same game.
Michael Crabtree – 23.2 FP vs. Jets
One of the waiver wire picks o' the week, Crabtree and the entire Raiders offense steamrolled the Jets defense. The receiver finished with seven receptions on a team-high 12 targets for 102 yards with a touchdown.
C.J. Anderson - 17.6 FP vs. Packers
Benjamin Watson – 29.7 FP vs. Giants
Season fantasy point totals are in and …
So much for this Saints' summer report.
Andy Dalton – 11.6 FP vs. Steelers
Fresh off the BYE, the Bengals offense found itself in an offensive quagmire. Dalton had averaged better than 27 fantasy points per game, but his first two INT performance of the season was paired with only his second game with one touchdown pass. Pretty much a "meh" fantasy effort for the "Red Rifle." He's got the Browns on the short-week, which should allow him to bounce back in a big way – unless, ya know, the lights.
Justin Forsett – 8.4 FP vs. Chargers
Against the Chargers' second-worst fantasy rush defense – 25.7 FPAPG – Forsett rushed 17 times for 69 yards. Forsett was averaging 18 fantasy points per game over his last four games.
Chris Johnson – 6.9 FP vs. Browns
Pretty incredible a fantasy running back rushed 30 times finished with less than 10 fantasy points, but when you cough up the football a few times, water reaches its level. Now about that contract extension.
Aaron Rodgers - 6.2 FP vs. Broncos
Damn, the Broncos defense is legit. Rodgers 77 passing yards were the fewest in a game he didn't exit early due to injury. He faces the Panthers defense next.
Russell Wilson - 15.6 FP vs. Cowboys
Andre Ellington – 0.0 FP vs. Browns
You hate to say it because coaches / front office comments are fantasy law, but I'm afraid Bruce Arians may have lied to us:
Ameer Abdullah – 0.3 vs. Chiefs
Lions fans and Abdullah fantasy owners should just watch this clip on repeat:
---