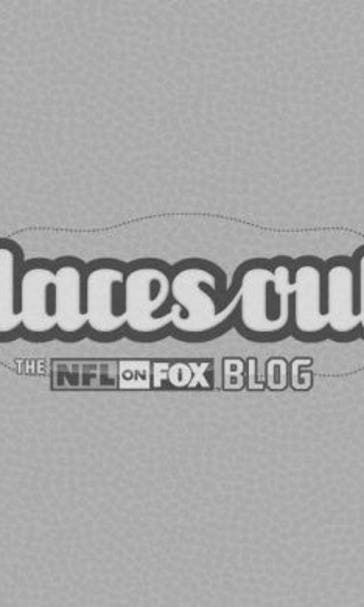 Week 7 NFL awards: Best and worst from Sunday's action
October 20, 2013

By Andy Nesbitt, FOXSports.comDumbest penalty that ruined the end of a great game: The unsportsmanlike penalty on New England's Chris Jones for pushing his own player. This rule is new this year. Apparently, you can't push a player on your own team during a field goal because the NFL is concerned about offensive linemen getting hurt. Moments after this call was made, the Jets booted a game-winning field goal in OT and Patriots fans everywhere lost their minds.
Best sign written on the side of a cardboard box: These Broncos fans in Indy:
Weirdest photo of Peyton Manning signing autographs outside of the team's hotel in Indy: This one below. What happened to that poor little girl?
Best hit by a punter: Pat McAfee, Indianapolis Colts. Trindon Holliday, meet Pat McAfee. Pat McAfee, meet Trindon Holliday.
Worst attempt at spiking the ball after scoring a TD: Geno Smith, New York Jets. The rookie was pretty excited after scoring a TD against the Pats. So excited that he lost his focus during his celebration. Good follow-through, though.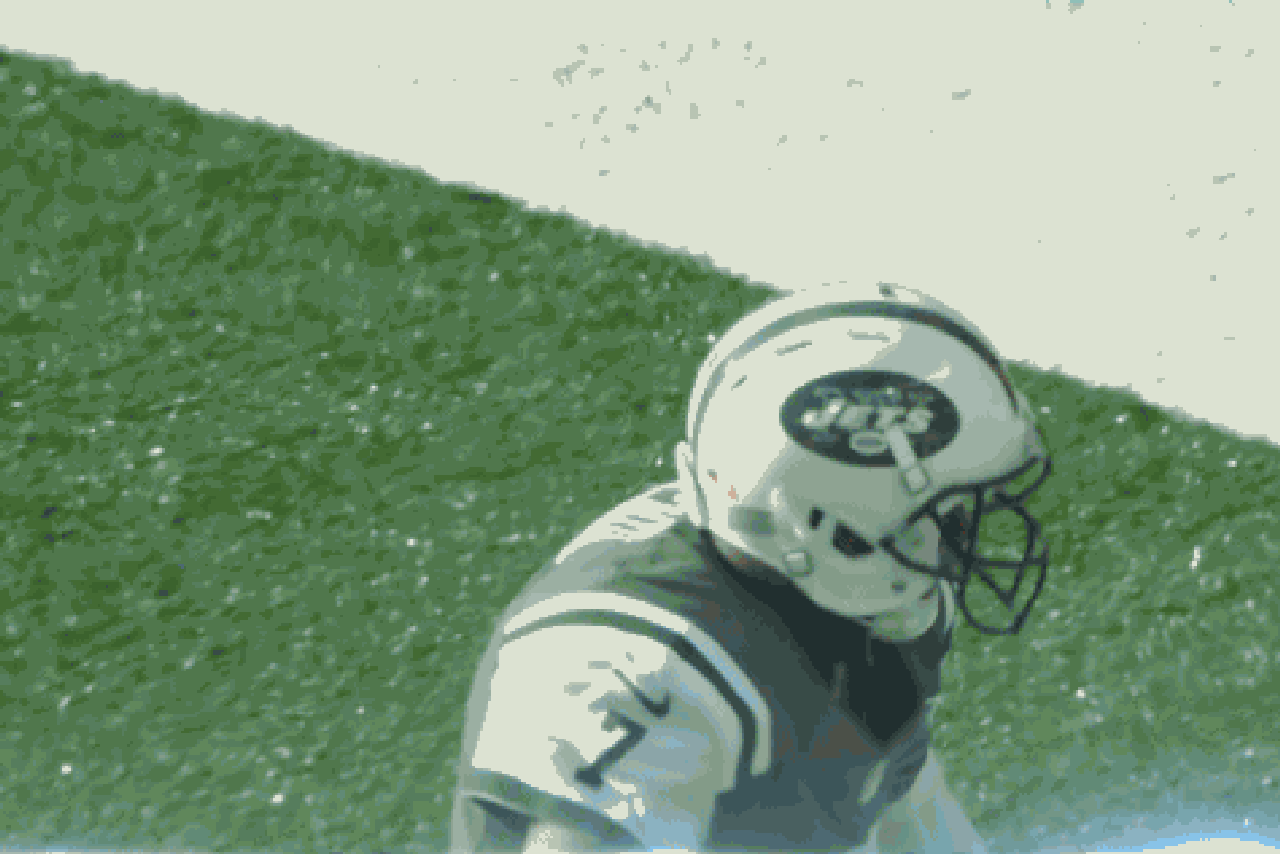 Best touchdown while looking like a human helicopter: Brandon Gibson, Miami Dolphins. Gibson would not be denied on this play against the Bills. He'll probably need some Advil on Monday.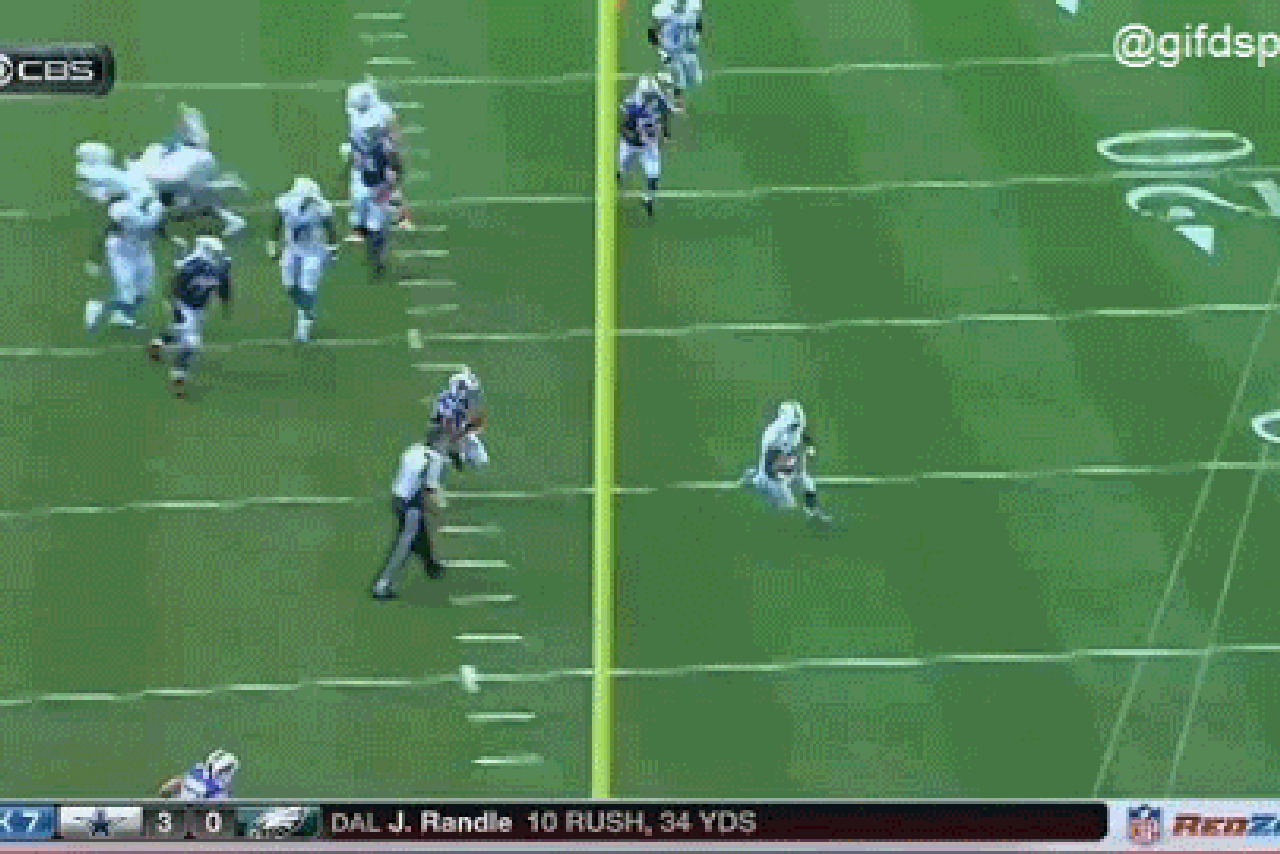 Unluckiest security guard: Guy working the Chargers-Jaguars game. This poor guy was just standing there, taking in some sun, and probably wondering how the game behind him was going when ... this happened:
Best tweet by a player who had a bottle thrown at him by a fan after he was kicked out of the game for fighting: Chris Long, St. Louis Rams. Long summed up his feelings pretty well:
Worst throwback uniforms: Green Bay Packers. Sorry, but these things are hideous:
Best catch by a receiver who was being covered by almost the entire defense: Calvin Johnson, Detroit Lions. We present Megatron being Megatron:
Worst job of holding onto a late lead: Ryan Tannehill, Miami Dolphins: What should a QB do when his team holds a 1-point lead with just just under three minutes remaining? Not this: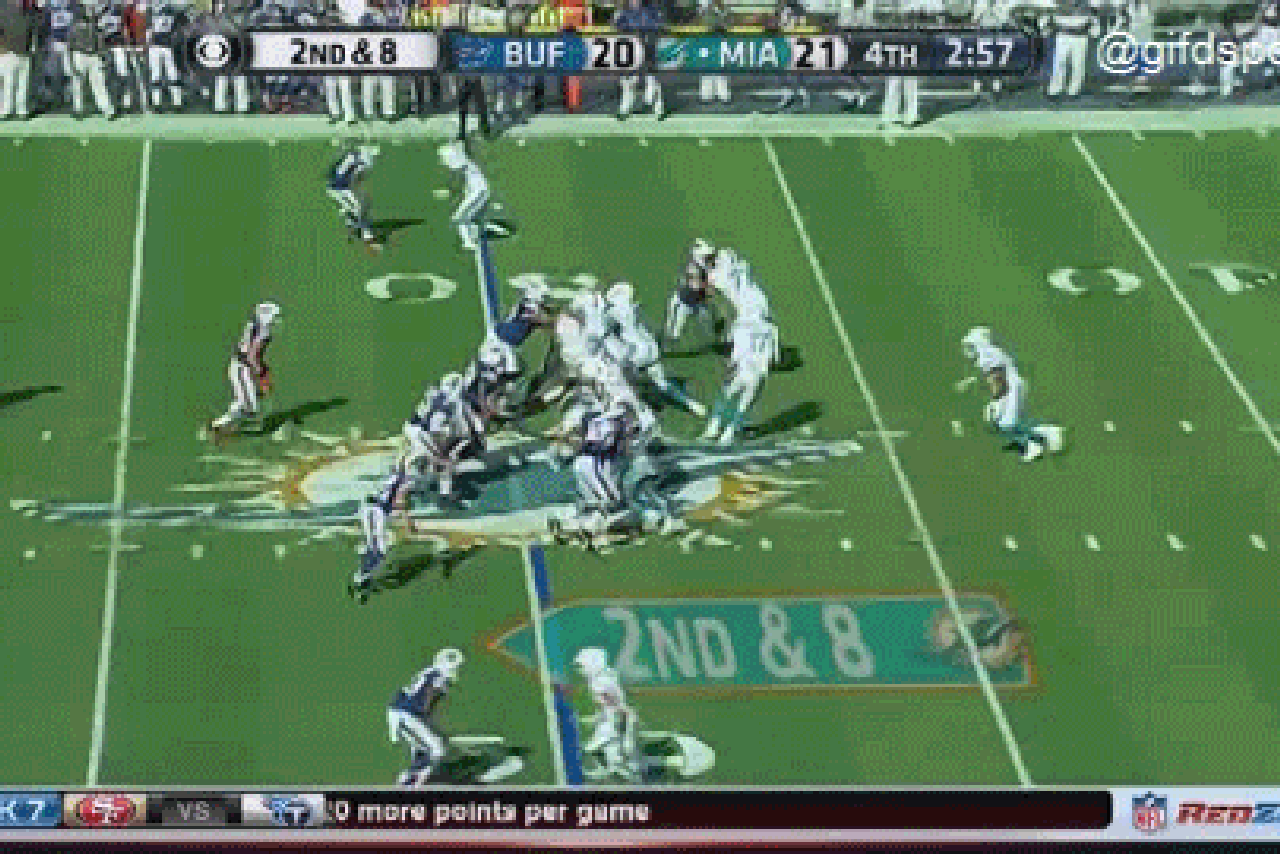 Worst job of trying to time the snap: Troy Polamalu, Pittsburgh Steelers. Sometimes Polamalu nails it and makes a great play ... and sometimes he does this: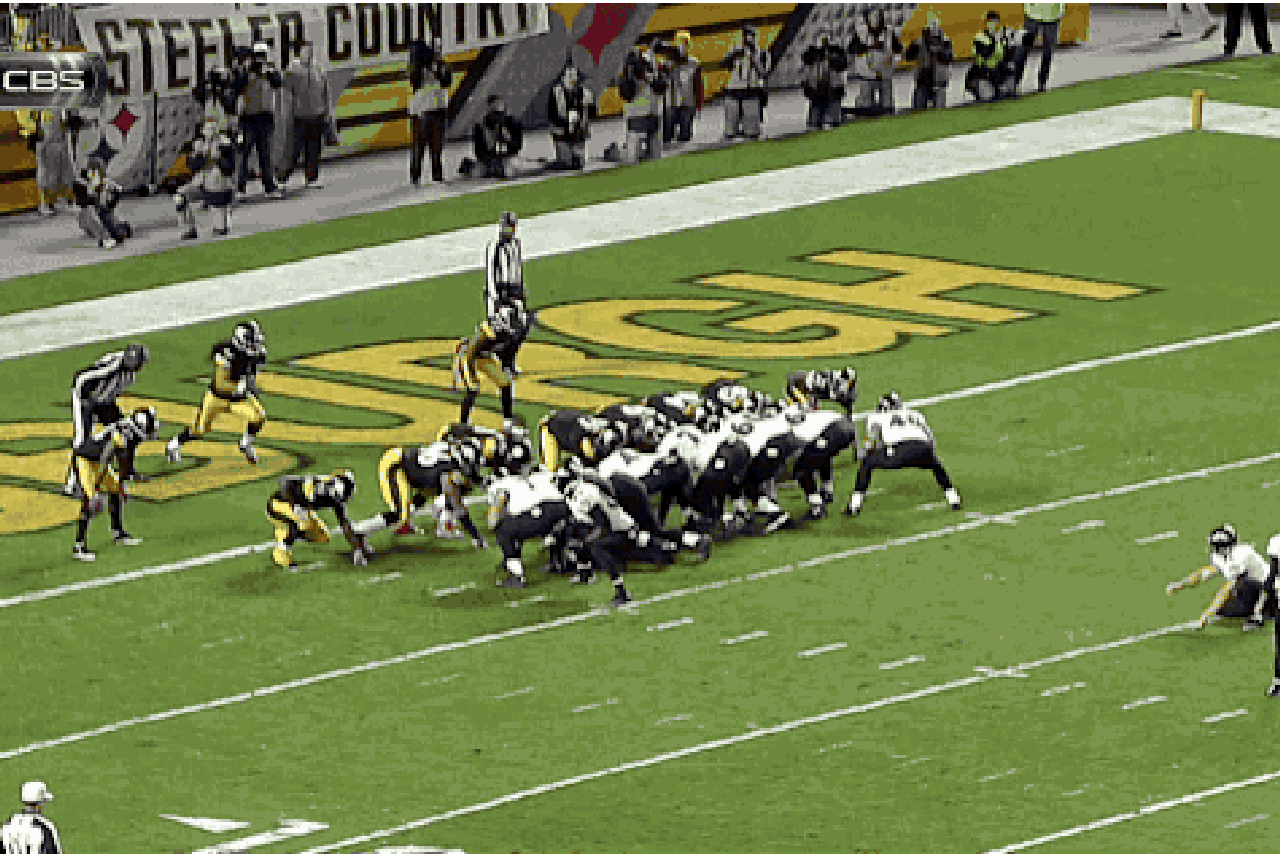 Worst job of preventing a long TD: Chicago's secondary. Chris Conte seems to just fall down on his own, Charles Tillman comes up short on his attempt to deflect the pass. The result? Touchdown, Redskins!
Best catch by a receiver before being flipped over and landing on his head: Derek Moye, Pittsburgh Steelers. Is your neck supposed to bend like this?:
Best Brandon Weeden impersonation: Brandon Weeden, Cleveland Browns. Last week Weeden threw one of the worst interceptions of all time. This week he tried to throw a pass to a guy who was getting up after being tossed to the ground like he was nothing.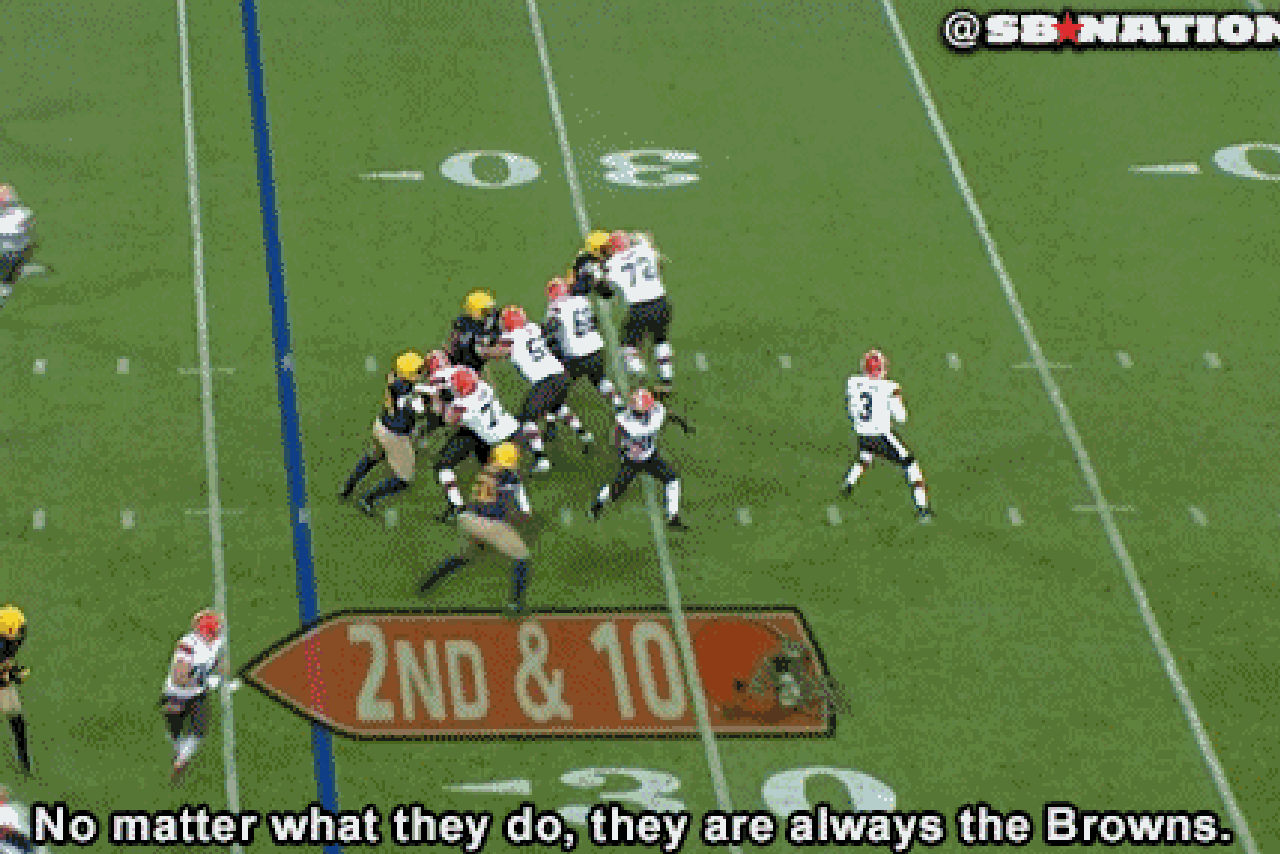 Best Matt Schaub impersonation: Sam Bradford, St. Louis Rams. Pretty sure this isn't something Bradford was trying to do:
Best sign by a Packers fan making fun of a Browns fan: This fan below. Is it childish? Yes. Is it a really old joke? Yes. Is it still funny? Yup.
Most giddy fan: This Bears supporter. What do you do when your team scores? You hop around and point! (Side note: Look at the girl in the background absolutely locked in on her phone. WHAT IS SHE LOOKING AT?!)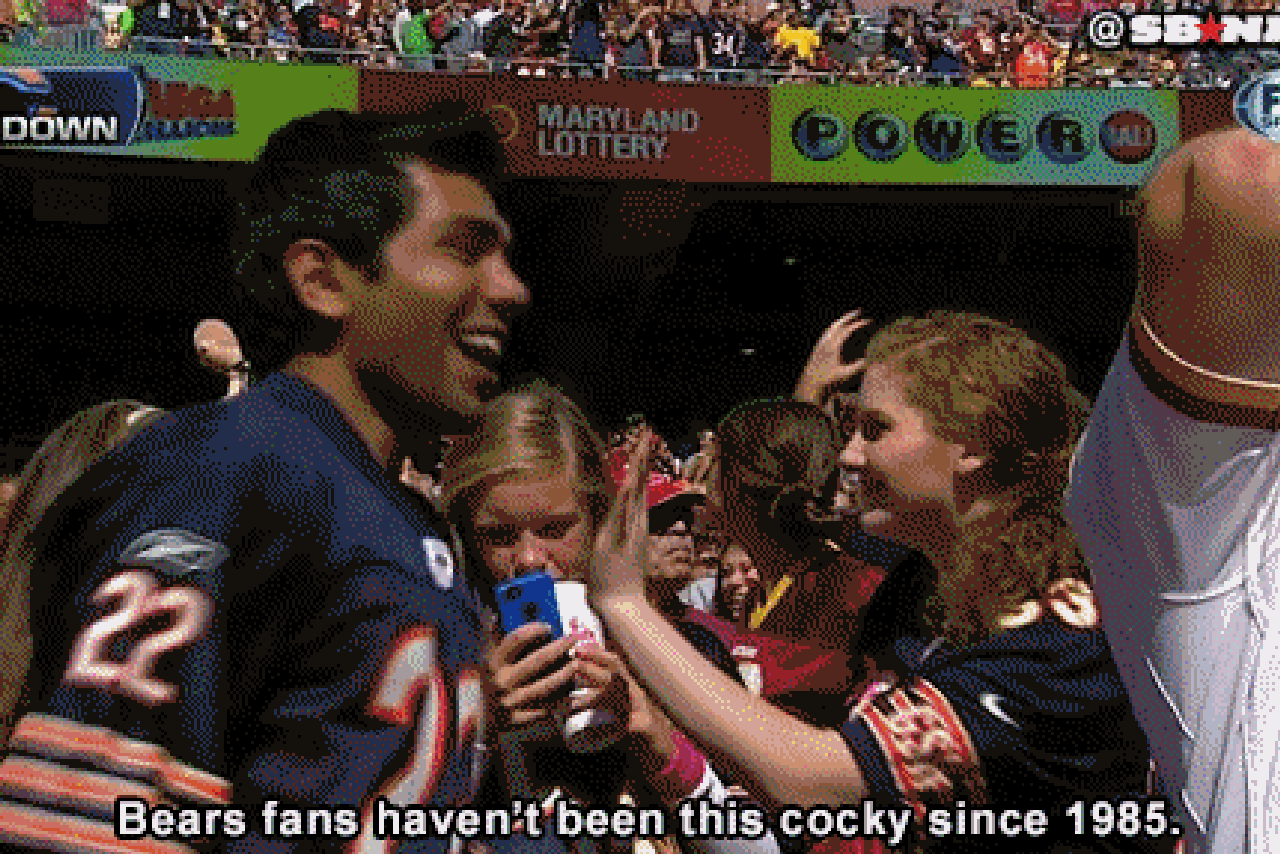 Worst jersey to wear to a game: This Patriots fan. We get it, you're trying to be edgy.
(GIFs courtesy of gifdsports, SBNation, Bleacher Report, gifulmination.com)
---