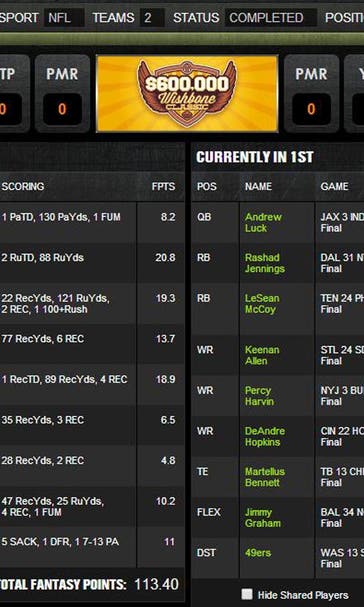 Week 12 DraftKings Fantasy Football Lineup Suggestions
BY Fox Sports • November 21, 2014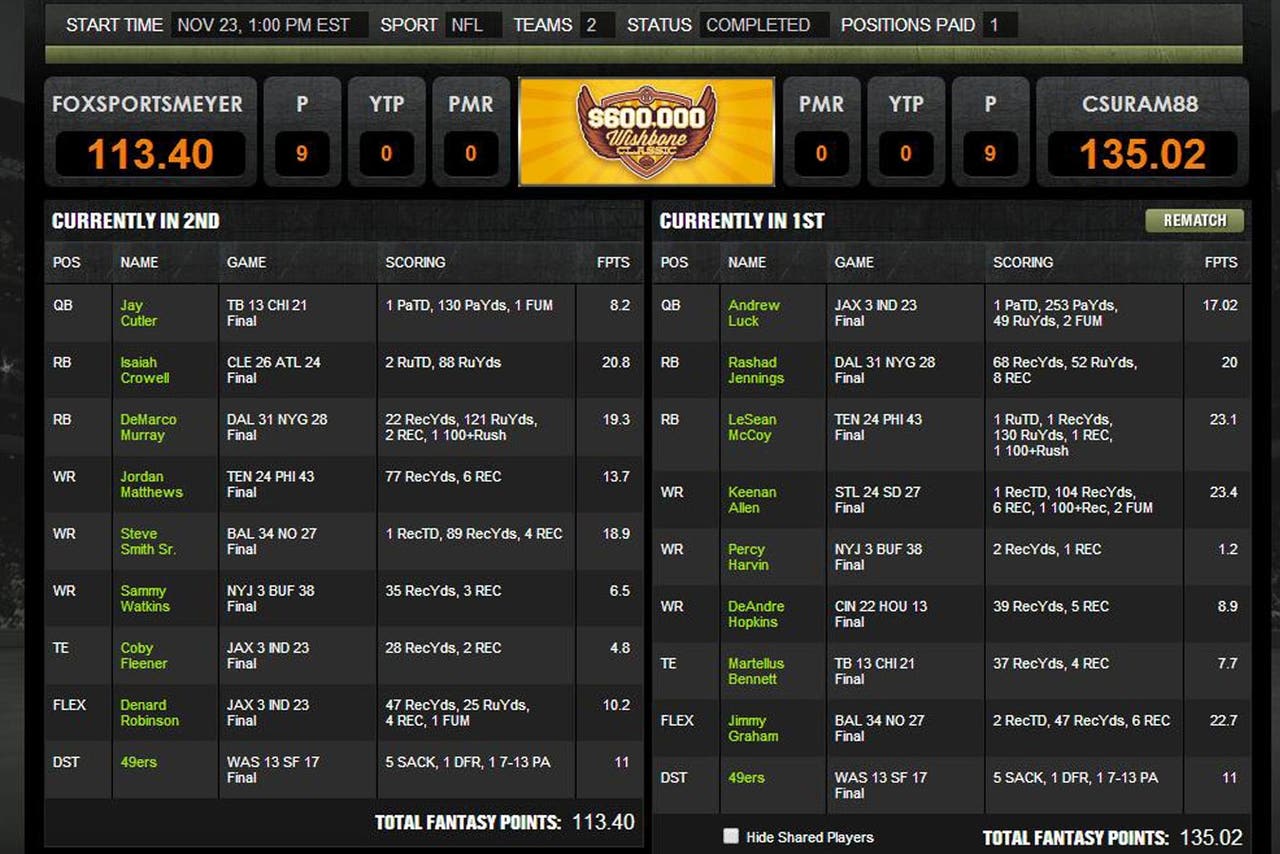 Throughout the 2014 NFL season, FOX Sports fantasy contributor Adam Meyer will square off against DraftKings pro Peter Jennings in one-week fantasy football contests on DraftKings.com
November 25th
Final score:
Well, that series lead didn't last long. DraftKings pro, Peter Jennings, evened the head-to-head record to six wins apiece with his Week 12 whoopin' he delivered.
My best play for this week was adding Cleveland's Isaiah Crowell to my running back stable. His 20.8 points led my squad. Though Crowell didn't rush for over 100 yards (12 yards short), he did score two TDs. Without Ben Tate to vulture the goal lines touches, the Crow could be in line for a big fantasy rankings boost.
DeMarco Murray was my second-highest scorer, as he produced 19.3 points. His $8,500 label was the lowest amount since Week 6 ($7,600), but he failed to score 20 fantasy points for only the second time this season.
As for my worst performers, that title would go to both Jay Cutler and Coby Fleener. I knew the choice of Cutler was a risk but facing the Buccaneers secondary, I was expecting at least double-digits from my QB. For a player averaging 19.7 fantasy points per game, this week's 8.2 performance was the worst total from the Bears quarterback in 2014.
Fleener's lack of production was a complete shock to me. I thought with Dwayne Allen and Ahmad Bradshaw out, Fleener would be good for double-digit targets and receptions. Instead, he caught only two passes from Andrew Luck.
Going into Monday night, I was trailing 111.12-88 (23.12 point deficit). We both had two roster spots remaining. With the addition of the Jets/Bills game to the Monday night slate, that left the player options plentiful.
Out of my opponent's $50K salary, he spent $38,300 on Sunday ($11,700 left). I spent $39,400 before Monday night ($10,600 remaining).
I could've spent my money in a few different ways. Sammy Watkins, Steve Smith Sr, Torrey Smith, Marques Colston, and Kenny Stills were all possibilities for me. Watkins was the most expensive receiver on the Monday docket ($5,600).
After racking my brain trying to coming up with CSURAM88's final two players, I deduced that Watkins and Stills couldn't be chosen. If he went with Watkins, he would have $6,100 left to spend on the flex position. Torrey Smith would be the next player in the pool at $5,400. I couldn't imagine Jennings leaving $700 on the table. If he chose Stills ($4,200), that would leave $7,500. Jimmy Graham is the closest to that price at $7,000. That would leave $500 unspent. Again, I think that's too much.
The only combination that gave me exactly $11,700 was Jimmy Graham at the flex and Percy Harvin at wide receiver. Considering that I've seen 11 lineups previously set by Jennings, and he's used Graham in back-to-back contests, I think I found the right players. Yes, I'm writing this before kickoff of both games on Monday night. I'm a competitive person.
I had Watkins and Steve Smith Sr as my two players. Like I seem to do every Monday, I was debating about a switch between Smith and Stills. However, I figured that one of the Ravens receivers will have a day. Since I couldn't afford both Watkins and Torrey Smith, I was left with Steve Smith Sr.
Watkins was better than Harvin, but Smith couldn't outscore Graham. Now, we are back to .500 with a chance to take the lead again in Week 13.
_________________________________________________
November 21st
Week 12
H2H series:
Get your FREE DraftKings contest entry here!
Last week's recap can be found here…
Peter's Picks:
RB – DeMarco Murray, DAL (8,500)
The best RB of 2014 gets a cake matchup against the Giants on Sunday Night Football. Murray has gone for over a 100 yards rushing in every game except Arizona (arguably the best run D in the league). I think Murray is a lock to get the rushing bonus (+3 points for 100 yards) and is the No. 1 RB regardless of price.
QB – Andrew Luck, IND (9,700)
Luck has a tasty matchup versus the Jags on Sunday and I think he has a monster game at home. Luck has gone for over 300 yards passing in every game but one, which means, like Murray, he is almost a lock to get the bonus (+3 points for 300 passing yards). Last time against the Jaguars, he was 31 of 39 for 370 yards with four TDs.
WR – Josh Gordon, CLE (6,300)
Flash Gordon is back and I am going to fire him in my lineup right away. Gordon is an elite WR and I will definitely take the risk in his first game at the price tag of $6,300. Gordon averaged 18.9 yards per catch last year and is the perfect high upside play.
Adam's Picks:
RB – DeMarco Murray, DAL (8,500)
The Giants are allowing the most fantasy points to opposing running backs this season (29 points per game) and Murray is the NFL's leading rusher. Sounds like the perfect combination to me. Also, in the last four games, New York has allowed 607 rushing yards and five TDs to the opponent's running backs (151.75 yards per game). Murray is averaging a ridiculous 123.3 rushing yards per game.
RB – Isaiah Crowell, CLE (3,800)
Every week you should look for the starting running back that is a bargain. With Ben Tate cut from Cleveland, I think Crowell finally earns the starter's role for the Browns. This season, the Falcons are tied for the most rushing touchdowns allowed to opposing running backs (12 TDs in 10 games). Plus, if Josh Gordon attracts enough attention from the Atlanta defense, that could open up some running lanes for whomever gets the nod. Teammate Terrance West (3,400) might be the play if any surprising news unfolds.
TE – Coby Fleener, IND (5,200)
When Fleener and Andrew Luck were drafted together in 2012, you just knew their team chemistry would carry over from their days at Stanford. This season, Fleener had to share attention with Dwayne Allen. Last week, Allen encountered an ankle injury against the Patriots. With Allen sidelined, Fleener was able to record seven receptions for 144 yards on seven targets. It was only Fleener's second game with over 100 yards receiving. Allen and Fleener have combined for 11 TDs in 10 games this season. If Allen sits this week, expect a TD and a good chunk of yards for Fleener against the Jaguars. 
---
---