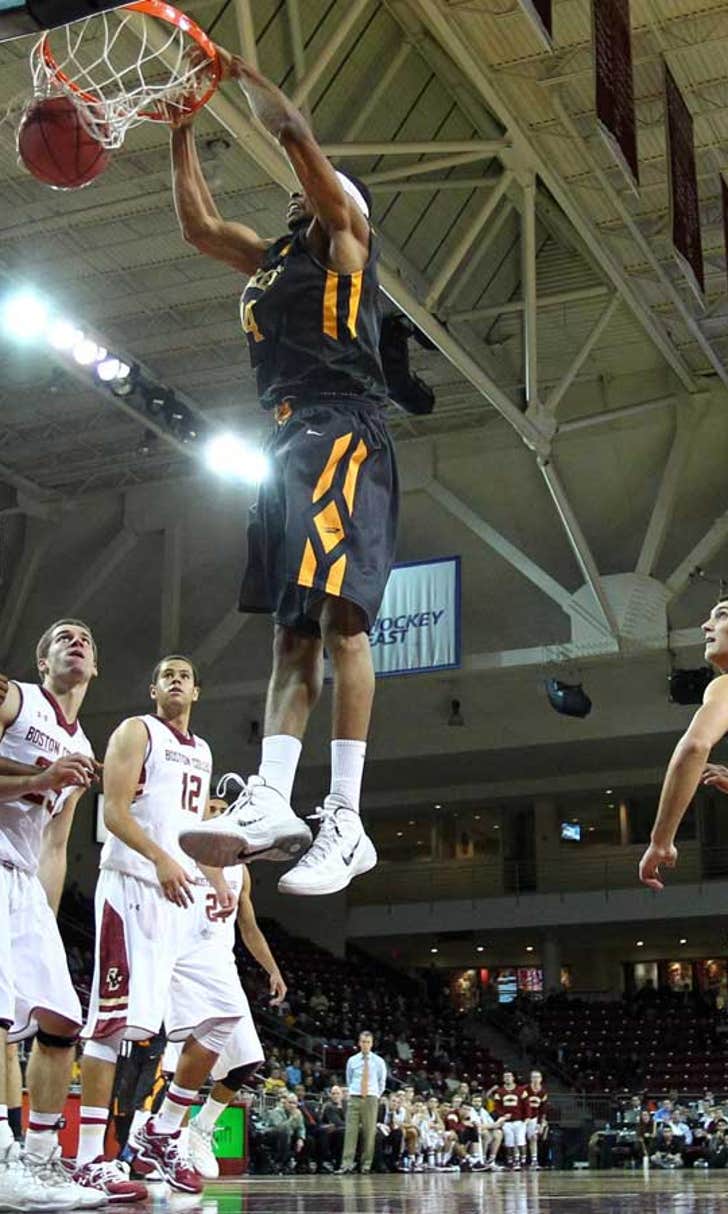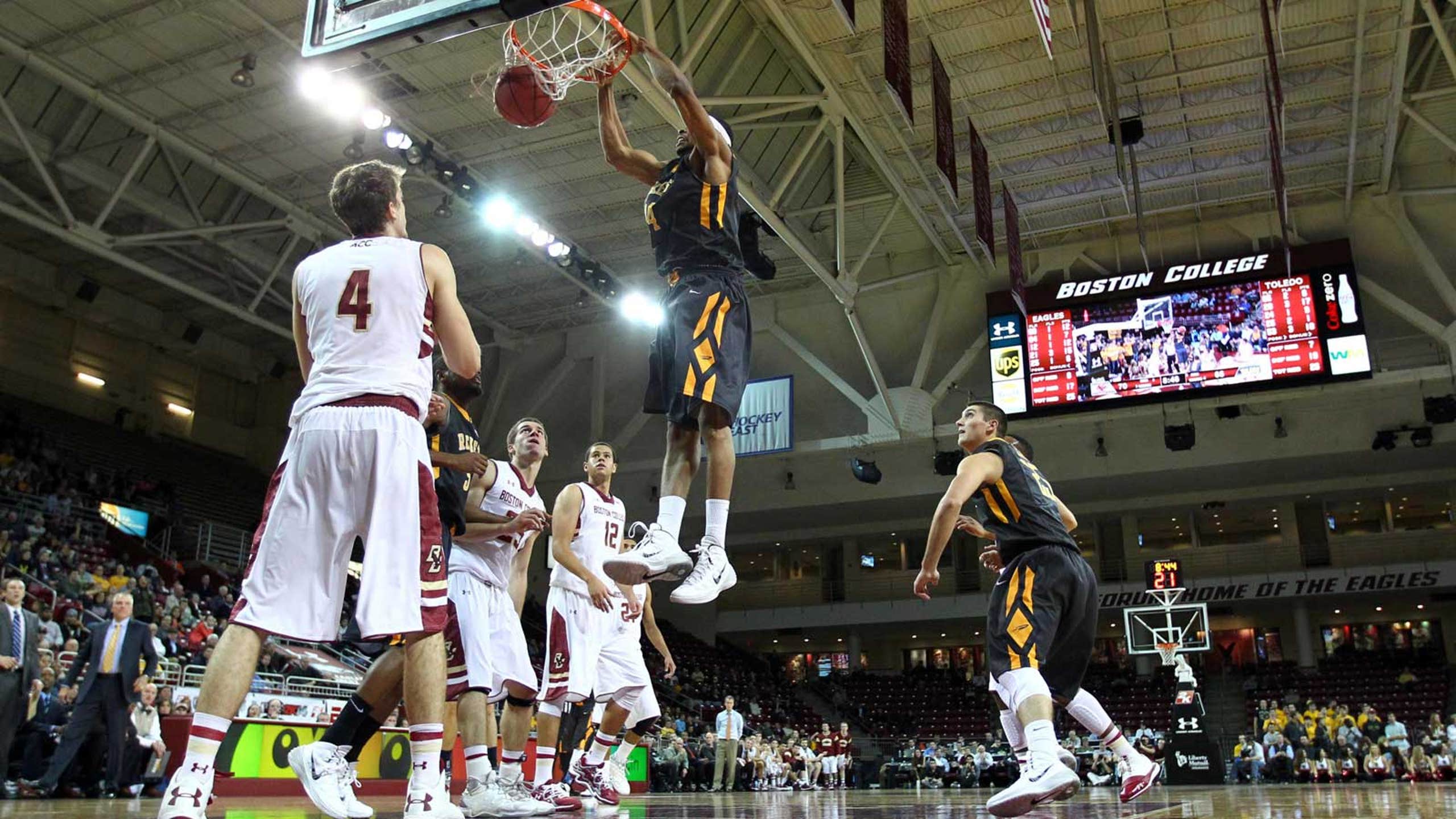 Weatherspoon making most of second chance at Toledo
BY foxsports • December 24, 2013
TOLEDO, Ohio -- J.D. Weatherspoon went to Ohio State with high expectations for himself.
He was a Columbus kid, a star at nearby Northland High School, and he came as part of a trumped-up recruiting class headlined by Jared Sullinger that also included his longtime AAU teammates Aaron Craft and Jordan Sibert. In their first season, the Buckeyes spent much of the year at No. 1 and entered the NCAA tournament as the top overall seed.
Weatherspoon watched much of it from the sideline in a sweat suit. He watched some from home, too, sidelined by an academic issue.
He got his grades in order the next season but found minutes hard to come by. He chose to transfer to Toledo, and per NCAA transfer rules he spent the 2012-13 being able to practice but not play.
That left lots of time for Weatherspoon to take stock and to think, both about where he'd been and where he might be headed.
"It was a very important year," Weatherspoon said, "because I had to learn that there's no time for anybody who takes a day off."
It's so far, so very good in his first season playing at Toledo. Weatherspoon went back to Columbus for a short holiday break this week with his team at 12-0.
Last week, Weatherspoon was named the Mid-American Conference Scholar-Athlete of the Week for his 16-point, six-rebound performance on Dec. 14 -- and his 3.371 grade-point average in the recently-completed fall semester. He posted a picture of his report card on Facebook, because why not?
He had his best statistical game last Saturday with 18 points and eight rebounds vs. Cleveland State. He's scored in double figures in four straight games, boosting his season average to 11.3
"His skill level has gotten a lot better," Toledo coach Tod Kowalczak said. "He's become more mature and more focused and that's shown up with his academics. We're still looking for consistent effort out of him, and that's been a challenge. But as he better understands that every day is a chance to get better, he'll continue to produce more.
"He's come pretty far. He's a pretty important player and we're looking forward to see how much better he can get."
Weatherspoon has seen his high school teammates, Sullinger and Trey Burke, become first-round NBA draft picks. He hopes getting paid to play basketball is in his future, too, but he's focused on the present. Toledo was ineligible for postseason play last year, the final part of NCAA penalties for past teams not meeting academic progress requirements, but those are in the past and this team looks like it will compete for the MAC title starting next month.
"When we got here three years ago, it was bad," Kowalczyk said. "Questionable character, questionable students, you name it and we had it."
Now, the team's cumulative GPA is over 3.0. And the Rockets should be 13-0 when they play at No. 16 Kansas next week.
Weatherspoon played in 35 games over two seasons at Ohio State, averaging 6.3 minutes over 25 games as a sophomore. When the word was put out that Weatherspoon was seeking a change following the 2011-12 season it was Toledo assistant Ryan Pedon, a Columbus native who's now a special assistant to John Groce at Illinois, who approached Weatherspoon about possibly choosing the Rockets. Weatherspoon saw a chance, and thus far he's making the most of it.
"I knew I had a lot of proving to do," Weatherspoon said. "Now, I'm more hungry than I was. I have a bigger role here and I want to get back to the NCAA tournament.
"It's just growing up. I'm not sitting around asking why I'm not getting more minutes or doing better. I understand that messing up at Ohio State put Coach (Thad) Matta in a spot where he had to look past me. I've moved on, but I'm forever a Buckeye. I check up on those guys. I'm rooting for them every single game."
Of his academic issue at Ohio State, Weatherspoon said, "It was only one class. It was me not being focused. No excuse. I should have handled it differently."
Weatherspoon said he "always" gets text messages of encouragement from Ohio State assistant coach Jeff Boals and remains in frequent contact with many of Ohio State's players, too. Nine Div. I college basketball teams entered the week unbeaten; Ohio State and Toledo are among them.
Always a high flyer, Weatherspoon said he's become a better basketball player through "more skill work, more confidence, working on my jumpshot. I used to hope. Now, I think they're going in."
When Toledo beat Boston College on the road last month, Sullinger -- now with the Boston Celtics -- was there to support Weatherspoon. The two talked, as they often do, about hoping the best is yet to come.
"I'm back playing and I'm just very glad, so glad, too glad to really explain," Weatherspoon said. "Leaving Columbus was hard but this is the situation I have, and I have to make the best of it. I've learned that I just have to play hard every single second, not take anything for granted. My grades are good, our team is good and I'm just happy."
---