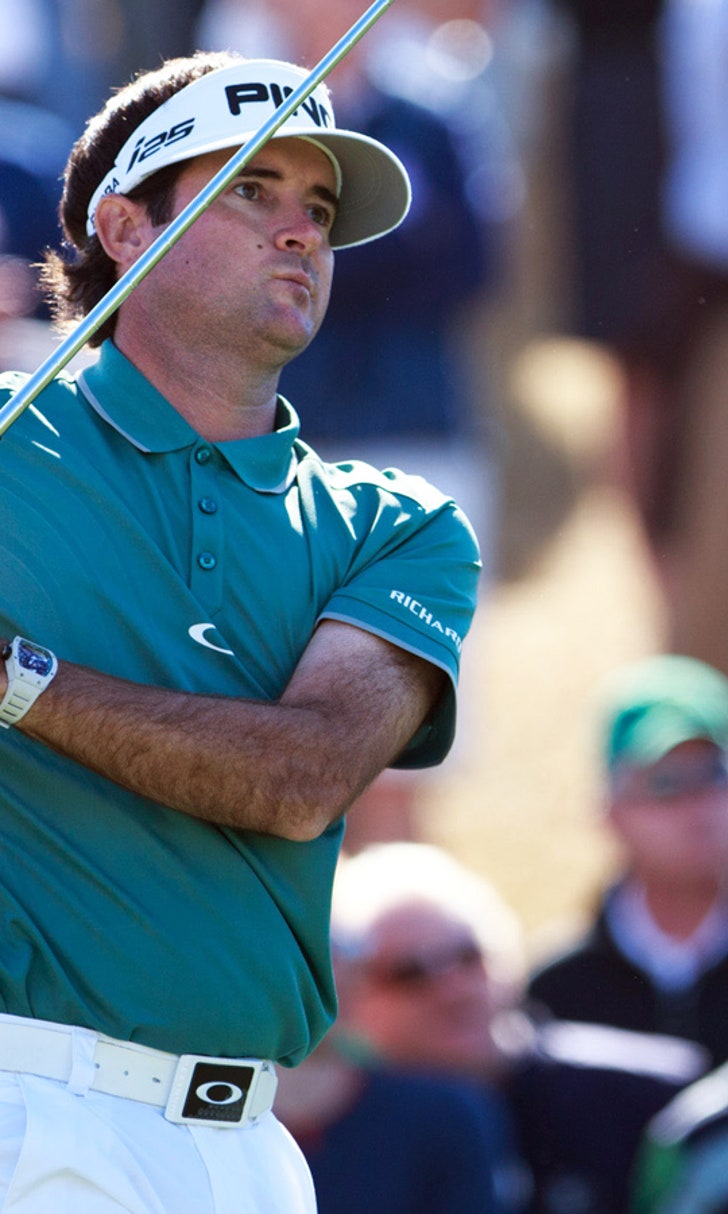 Watson repeatedly escapes trouble to keep Phoenix Open lead
BY foxsports • February 1, 2014
SCOTTSDALE, Ariz. -- The chances for Bubba Watson to surrender his lead late in the third round of the Waste Management Phoenix Open on Saturday were plentiful.
There was a drive into a bush on 13. Then came another tee shot into the landscape two holes later. The last two holes of the day provided no relief, either, as Watson hit into the gallery on 17 and the rough on 18.
Somehow, Watson walked off the 18th green with hardly a scratch on him.
After entering the day tied for the lead, Watson masterfully escaped trouble again and again to finish the third round of the Phoenix Open alone atop the leaderboard.
"If you've ever heard about Bubba Watson's career, you know that I'm in trouble a lot," Watson said. "I've gotten practice from many of those locations, so it's remembering back to when you've done it before."
Even after shooting his worst round of the tournament at TPC Scottsdale, a 3-under 68, Watson went into the clubhouse at 15-under to hold a two-stroke lead over Kevin Stadler.
Following the round, Watson employed a little self-deprecating humor to describe his final nine holes and freely admitted he'd missed out on an opportunity to build upon the two-stroke lead he'd brought into the day at 12-under.
"The back nine is where you can easily score, easily make some birdies in that last stretch," Watson said. "From 13 to 18, you can make some birdies if you're hitting the ball halfway decent. So for me to have a two-shot lead with all my drama, yeah, I was pretty thrilled with that."
A few others did put together strong rounds to climb the leaderboard, but none was good enough to catch Watson. Ryan Moore's 64 left him tied for third with Harris English at 12-under. Brendan Steele's 62 helped him move up 42 spots to a tie for sixth at 11-under.
Only once did Watson fall victim to the trouble he made for himself. On the 10th hole, Watson went from what he called a "perfect shot" on the fairway to a greenside bunker. He two-putted from 6 feet for his only bogey of the day.
"Dumb bogey there," Watson said. "After that, I get hyper-focused, because I've got to now come out of trouble."
The trouble Watson met on the 13th hole provided perhaps his trickiest challenge of the day.
"The fairway moved, obviously," Watson joked. "I didn't hit a bad shot. The fairway was moving on me."
After hitting into the bush, though, Watson caught a break. Because of a burrowing animal hole, Watson received a free drop a club's length from the bush. He used the stroke of luck to get back onto the fairway and save par.
The desert wasn't so kind on 15, as Watson had to hit out of the dirt. Again, though, he managed to save par, this time with a 15-foot putt. The famous 16th appeared to have provided some relief, as Watson's tee shot landed within 7 feet of the hole. His first putt, however, stopped an inch to the right of the cup, and Watson settled for par.
Watson's ability to escape trouble was perhaps most impressive on the 17th. His tee shot landed among the gallery, where he had to hit it out of the gravel. From there, he chipped to within 12 feet of the hole and sank an 11-foot putt for birdie that gave him the two-stroke lead he maintained.
For his final act, Watson turned a tee shot in the rough into another par.
"The lie on 18 was so bad we basically said, 'OK, let's make bogey and we'll have a one-shot lead,'" Watson said. "Somehow I ended up two-putting from 40 feet."
As much as the record crowd in attendance might have been amazed that Watson finished the day with a two-stroke lead, Watson was perhaps more amazed than anyone. But when it comes down to it, the hard-hitting lefty is perhaps better equipped than most of his peers to deal with hazards and unconventional shots.
"I get more focused when I'm in the desert and the rough instead of the middle of the fairway, as we saw on No. 10," Watson said. "I'm used to hitting shots that people can't hit. I'm used to being in trouble."
Watson knows he might not be so lucky to escape as much trouble on Sunday, as seven players are within four shots of his lead. He'll likely need a whole round like Saturday's front nine, in which three birdies had him at 3-under before the turn, to notch his first PGA Tour victory since the 2012 Masters.
"Right now I have a little cushion, so I have an advantage, but you never know," Watson said. "Somebody could easily get hot."
Follow Tyler Lockman on Twitter
---