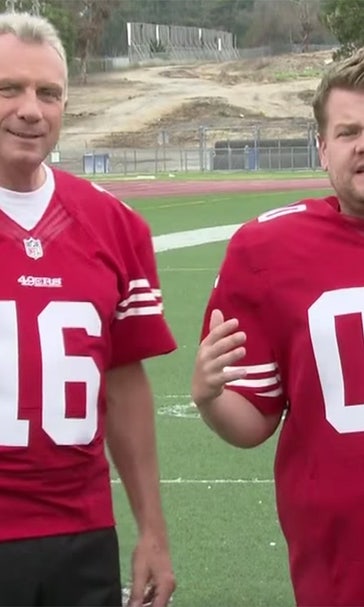 WATCH: Joe Montana, James Corden recreate 'The Catch' and it's spectacular
October 30, 2015

Joe Montana to Dwight Clark in the 1982 NFC Championship between the 49ers and Cowboys is one of the most famous plays in NFL history.
"Late Late Show" host James Corden, who got a hitting lesson from the Anaheim Angels earlier this month, had Montana on his show Thursday to re-create "The Catch," which, as Corden pointed out, has its own Wikipedia page.
Thanks to Corden's lack of athleticism (and that's putting it kindly), his self-deprecating humor and his chemistry with Montana, there are many, many laughs throughout the video.
It also helped that Corden brought in an under-14 team to play the role of Dallas' defense, which led to some great trash talking.
There are plenty of other highlights, but we don't want to spoil it for you. Just watch and enjoy.
---
---