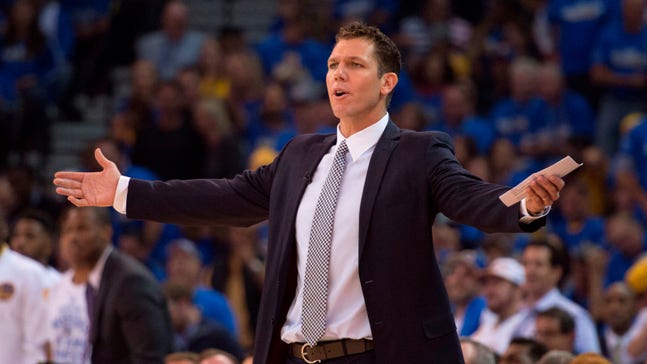 Walton fills in admirably with Kerr sidelined
Published
Oct. 29, 2015 6:14 p.m. ET

OAKLAND, Calif. -- Luke Walton had everybody fooled that he was completely cool and calm before his debut as an NBA head coach.
Even with ailing boss Steve Kerr watching from nearby in the locker room and father Bill Walton in the stands as the Golden State Warriors raised their championship banner before putting together a commanding victory against the Pelicans to open the season.
No matter that Walton has an interim tag in front of his title.
"I feel like the real coach right now, yeah," he said this week. "It has to be that way. The players have to look at me as the real coach and I have to act as if I'm the real coach because that's the only way to get things done that need to get done in this situation that we're in."
Walton sure seems to have a knack for this coaching thing, which is hardly a surprise given his basketball blood and all of the great coaches he learned from along the way, including his college coach at Arizona, Lute Olson. Yet Walton can't wait for Kerr's return to the bench once he recovers from complications following back surgery. Kerr joked about requiring Walton to use a walkie-talkie to communicate with him from the bench.
Walton has his own humorous side, too. After noting that Kerr offered a few wise words right before the Warriors took the floor, a few minutes later when asked to expand, Walton said: "Should I tell you the advice he gave me? Sure, why not?"
"He told me, 'Don't worry, we won 67 games last year and I didn't know what I was doing at all,'" Walton recalled with a chuckle. "It brought a smile to my face and his point being, obviously, he knows what he's doing. He's phenomenal at this job, but his point being trust that we have very good players, and players make plays."
After the 111-95 win that followed a ring ceremony and championship highlights, Walton praised his players for their effort in a 56-33 rebounding advantage and quickly listed off a few things the Warriors need to do better -- such as conditioning and cutting down on careless turnovers.
Then general manager Bob Myers made his way to find Walton to offer his congratulations on win No. 1. It gets harder from here as Golden State hits the road, facing Houston on Friday in a rematch of the Western Conference Finals.
The 35-year-old Walton won two NBA titles as a player with the Los Angeles Lakers and is now taking on the unforeseen challenge of leading NBA MVP Stephen Curry and the Warriors until Kerr is healthy enough to return. The second-year coach said Tuesday night he hopes that is soon.
While Draymond Green thought the preseason became "boring," Walton needed every one of those seven games.
"I think preseason meant a lot more to me than it did the players," Walton said. "It was a great learning experience and practice."
Starting off the title defense with a nice win sure helped matters.
Walton talked to his team about managing all the emotions, from the fanfare of raising the banner and the ring ceremony to the outspoken skeptics of this team's title run and even Kerr's ordeal.
While Walton acknowledged there might be some nerves when tipoff finally arrived, he was focused on all the little things to get ready.
"He didn't show it," Curry said. "Very loose, confident in what he was telling us and the preparation, game plan. He seemed very comfortable. I'm sure that getting that first one under his belt helps and now he'll be able to get a groove as we go on the road. I'm sure we're not going to have like a 10-point lead the whole game, that kind of deal, we're going to have to have some grind-it-out games."
From his playing days, Walton knows what it's like being the defending champions -- and the daunting task to do it again.
"We're the champs, and our guys deserve that, to have an ego," he said. "But you've got to have that in check because nobody else in the league cares. They're coming after us. If we're relying on what we did last year to try to win games then that's not going to be a successful recipe. Nothing's going to come easy for us."
---
---