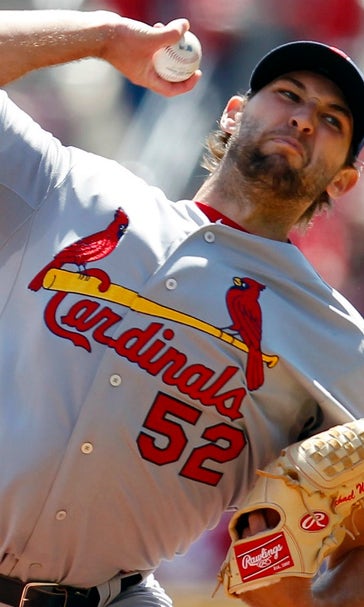 Wacha shines in first start, lifts Cardinals over Cincinnati
April 11, 2015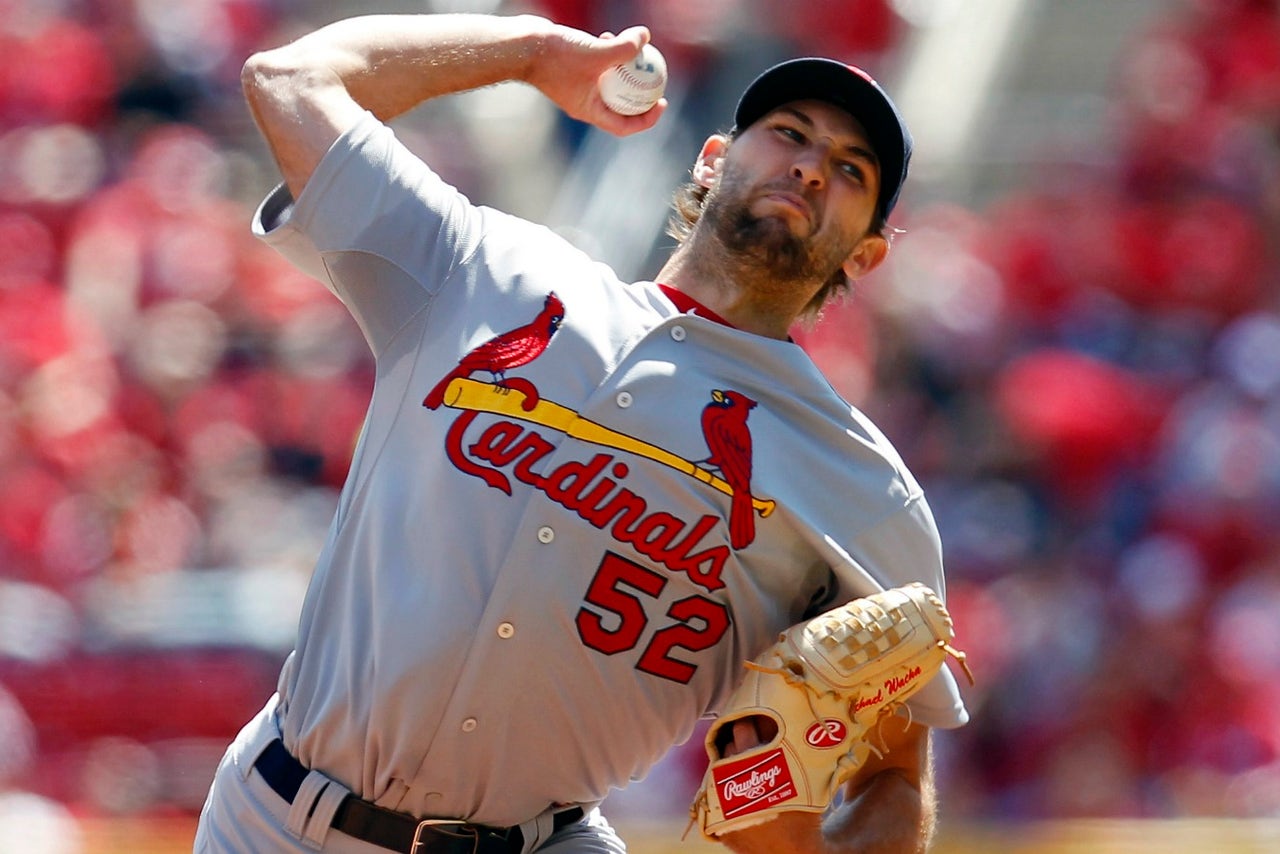 Another Cardinals starter lived up to high expectations and more in his first start of 2015.
Michael Wacha needed a fresh start as much as anyone after giving up the three-run, walk-off home run that sent San Francisco to the World Series last season. He began a new year with a strong performance in a 4-1 win over Cincinnati. The right-hander gave up just one run on five hits in 6 1/3 innings, going longer than any other Cardinals starter so far this season.
"Right off the bat he was working the bottom of the zone with the fastball, establishing strikes and the changeup was good right out of the chute," manager Mike Matheny said in his postgame press conference on FOX Sports Midwest. "I was really surprised how good the curveball was today."
The 23-year-old has occasionally shown an ability to be a dominant strikeout pitcher in his young career. But he can also thrive when throwing efficiently and challenging hitters early in the count.
That formula propelled Wacha to victory Saturday afternoon as he threw a first-pitch strike against 17 of the 25 batters he faced. At the end of his day, he had only two strikeouts, but 55 of his 76 pitches were called strikes, and the Reds drew only one walk while hitting 0 for 7 with runners in scoring position.
"They were very aggressive early on in the count and I was able to make some pitches down in the zone and get some weak contact early in the count," Wacha said in his postgame interview on FOX Sports Midwest. "I got away with a few mistakes today, but (I've) just got to continue working on that command of everything and working down in the zone."
If he can do that, he'll have a bright future in St. Louis.
3 UP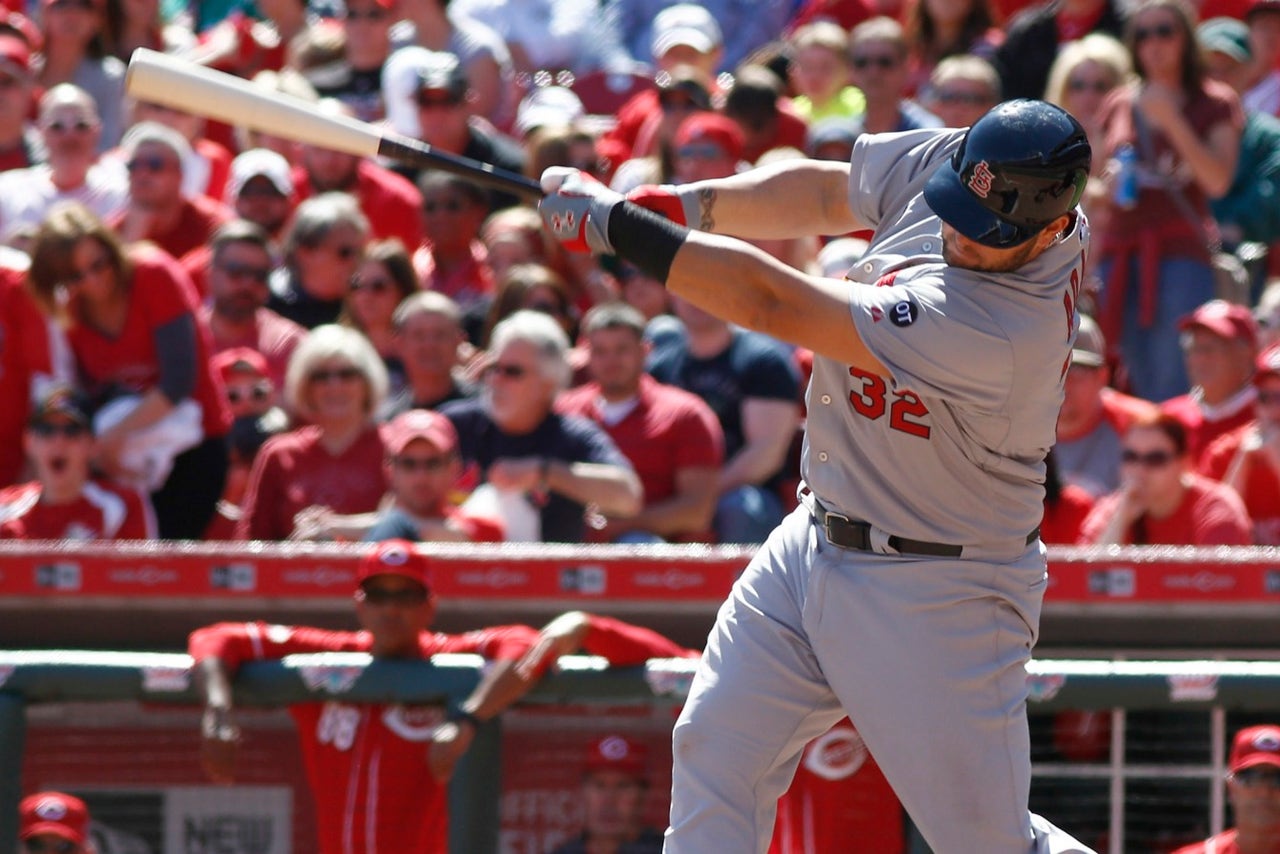 PHOTO GALLERY: Check out these photos from the Cardinals' 4-1 win in Cincinnati.
• Crucial first hits. Two Cardinals broke out of season-opening slumps with important contributions against one of the National League's best pitchers.
Catcher Yadier Molina singled off Johnny Cueto for his first hit in 11 at-bats to move Jhonny Peralta into position to score on a sacrifice fly and tie the game in the second. First baseman Matt Adams' first hit in his 11th at-bat of the season went over the wall in right field for a go-ahead solo home run in the fourth inning.
Both would also hit singles in the ninth inning to spark a two-run rally that gave closer Trevor Rosenthal a bit of breathing room.
• Conquering Cueto. No team has scored more runs against Cueto than the St. Louis Cardinals.
The 2014 NL Cy Young runner-up has given up 57 runs in 110 innings against the Cardinals, more than he's pitched against any other team except the Pirates and Cubs. St. Louis has hit .257 against the Reds' ace, nearly 20 points above his career numbers against all teams.
Saturday's loss lowered his ERA against the Cardinals to 4.01, still far higher than against any other team in the NL Central. But despite giving up just one earned run in seven innings of work, he fell to 5-7 in 19 career starts against St. Louis.
• Rosenthal on fire. Just as he did Opening Night, the Cardinals' closer looked virtually untouchable in earning his second save.
He came in after Randy Choate allowed the first hit off the bullpen this season with one out in the eighth and slammed the door by retiring five straight batters, just as he sat down three straight Cubs in last Sunday's 3-0 win. It's a bit of different approach for the closer, who was effective but often erratic while racking up 45 saves a year ago.
"He's had five days where he hasn't thrown so I felt real good about getting him in there, especially with how it lined up," Matheny said. "And he was pretty efficient for how Trevor normally throws for going 1 2/3."
3 DOWN
• Another long ball. Home runs keep hurting Cardinals starters at Great American Ballpark.
Perhaps it's because the ball would have needed a jetpack to reach what should have been bleachers at Wrigley Field earlier this week. Either way, Todd Frazier's solo shot off Wacha in the first inning means the Reds have scored five of their six runs in this series on homers.
• Heyward hitless vs. righties. Most of the offensive concerns for new Cardinal Jason Heyward revolved around how he would handle left-handed pitching.
Oddly enough, it's right-handed pitching that has given him issues so far, though second baseman Brandon Phillips and Jay Bruce both robbed Heyward of hits off of Cueto. As a result, he went 0 for 4 Saturday to fall to 0 for 12 against righties heading into Sunday's series finale against another right-hander, Raisel Iglesias.
However, St. Louis' big right fielder opened the season by going 3 for 3 vs. the Cubs' left-handed ace, Jon Lester. A pair of hits against left-handed relievers the next two games made him 5 for 6 on the season, improving his career average to a not exactly inspiring .225.
• Low scoring. Even with two runs in the ninth, the Cardinals still couldn't surpass four runs, which has been their peak so far this season.
Only the Cubs had scored fewer runs than St. Louis prior to Saturday, though part of that can be attributed to the fact both teams had played one fewer game than anyone else. So far, though, the Cardinals' offense has scored just 11 runs and looks similar to the offense that won the NL Central last season despite ranking 24th with 3.91 runs per game, the fewest for a playoff team since the 1988 Los Angeles Dodgers.
You can follow Luke Thompson on Twitter at @FS_LukeT or email him at lukegthompson87@gmail.com.
---