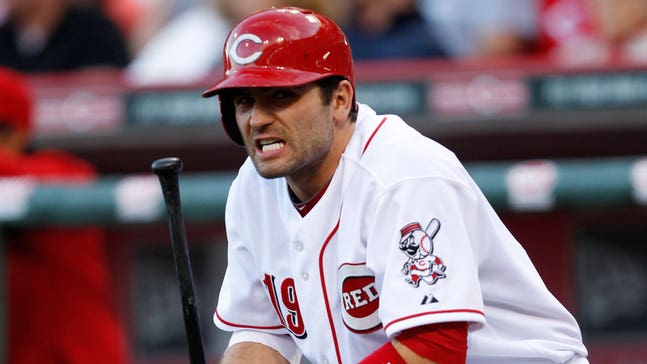 Votto not worrying about slow start
Published
May. 9, 2014 4:54 p.m. ET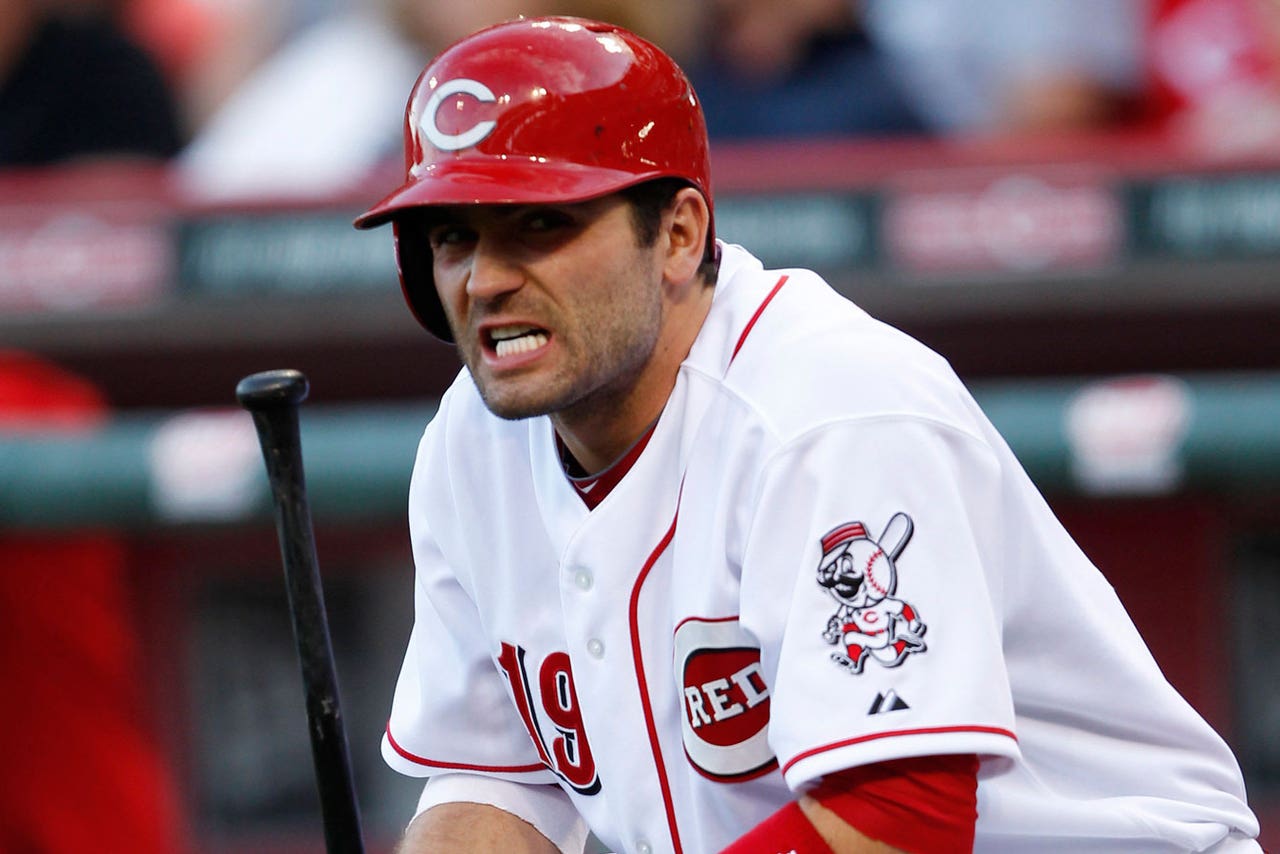 CINCINNATI -- Everybody is worried about Joey Votto except Joey Votto. His batting average is an uncharacteristically low .263 and his RBI total is an even more uncharacteristically low of 10 after 33 games.
Votto takes the attitude of Mad Magazine's Alfred E. Neuman: "What, me worry?" And he carries the same sheepish smile as he talks about it.
"I'll tell you what. During my career, baseballreference.com has been a really good friend to me," he said with a smile.
Is that code for, "The numbers will be there at the end of year?"
Votto smiled and said, "Yes. At the end of the year you will all look up and I'll be about the same."
As Votto pulled on his socks and baseball pants prior to batting practice Friday night, the Cincinnati Reds first baseman and 2010 National League Most Valuable Player said, "I'm just going to keep chugging along and keep playing. The objective is to stay on the field and stay healthy and continue to improve and be part of some wins. At some point it will come along."
Despite his low average and low run production, Votto continues to draw walks -- 28 to lead the league -- and continues to find first base -- .413, fifth in the league.
"The disappointing part is that my struggles have been coming alongside some close losses (11 one-run defeats), which is probably the most frustrating part," he said. "At some point I'll be hitting well during some winning and hopefully that happens sooner or later."
Asked if he felt healthy, he emphasized without a pause, "I feel fantastic."
For the second time this season, though, manager Bryan Price moved Votto in the batting order. When the team began the season 3-and-8, Price moved Votto from his usual No. 3 spot in the order to No. 2. The Reds went 12-11. On Friday, Votto was dropped down into cleanup, the No. 4 hole.
Does it matter to him?
"No, I don't care where I hit," he said. "As long as I'm not protection for Johnny Cueto (eighth, ahead of the pitcher)." When told that teammate Skip Schumaker at times batted ninth, behind the pitcher, when he played for Tony LaRussa in St. Louis, Votto shook his head and said, "That's pretty humbling. Poor guy."
Of his current plight, Votto said, "We're all going to fail a bunch. I just look at it like I haven't hit well at all but I've done relatively well. I keep that in mind, keep it in perspective. The only thing I ask of myself is to put myself into a position to play every day, to stay healthy on the field while I'm playing and I'll have no concerns."
Price, a former pitching coach, has said all along that he isn't a guy to talk hitting with his position players and about Votto he said, "It isn't something I would talk about at length. Certain things happen when we put him in the two-hole. We haven't put him in a lot of situations to drive in runs. That's the challege in of itself.
"Billy Hamilton has been out (injury to two knuckles on his left hand) and that has affected our ability to have more guys in scoring position. So, I don't know. I really don't know about Votto. I feel optimistic and good every time Joey is at the plate because he still gives up good at-bats, finds a way to see a lot of pitches, fights off a lot of tough pitches. I still expect him to do what he is capable of doing as we move forward."
---