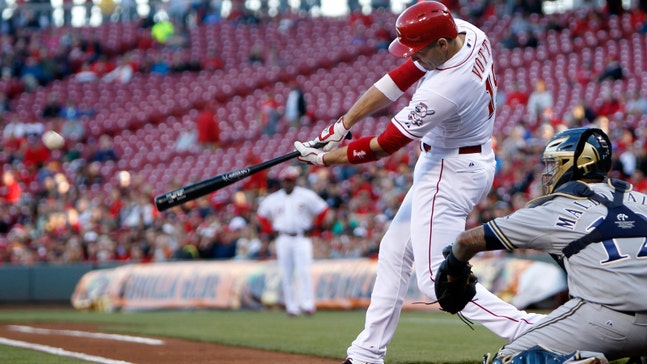 Votto continues to clobber the Nationals pitching
Published
Jul. 8, 2015 10:00 a.m. EDT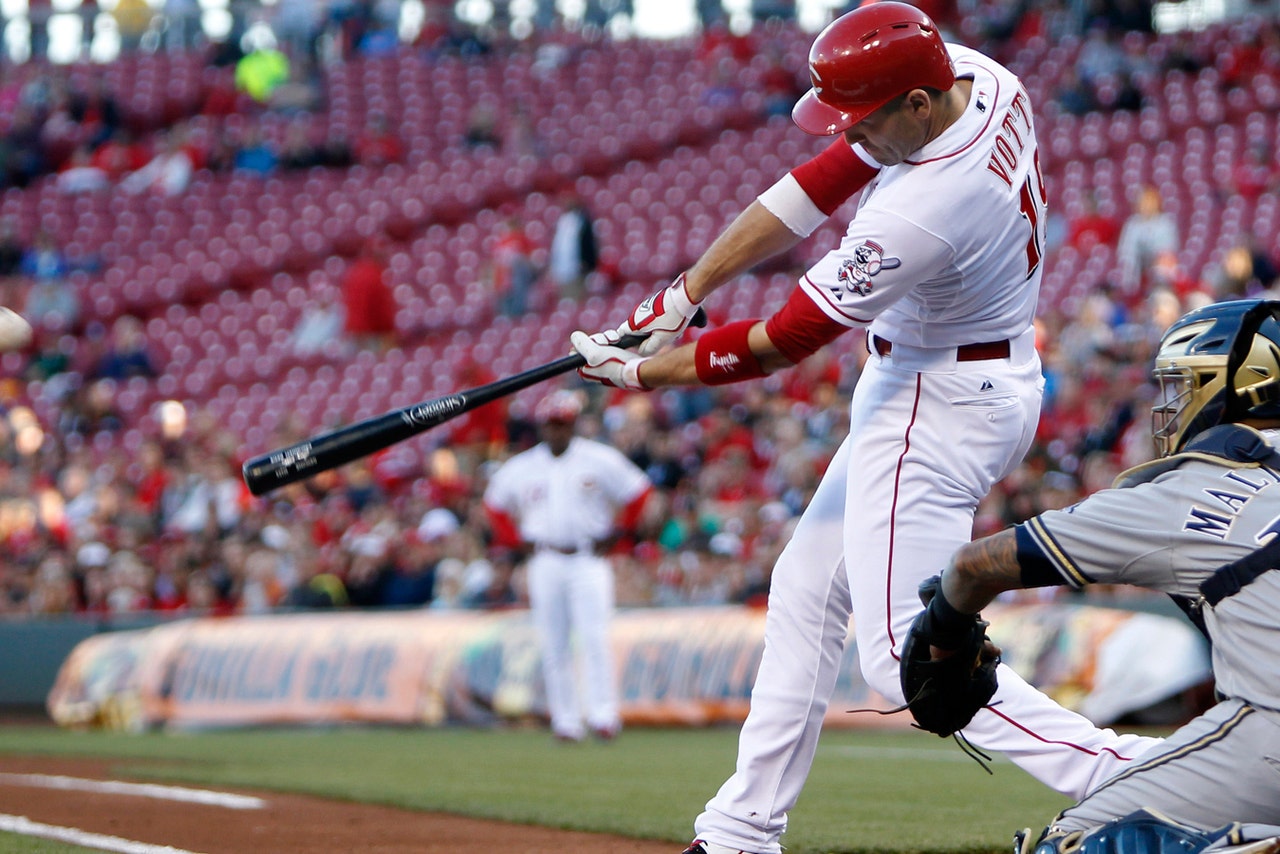 The Washington Nationals have had one of the best rotations in baseball for nearly three weeks, yet Joey Votto has had little trouble getting the better of those starters throughout this season.
The slugger looks to continue having his way with the NL East leaders and lead the Cincinnati Reds to a sweep of this three-game series Wednesday night at Nationals Park.
Cincinnati (38-44) is 5-0 versus the Nationals this year, and Votto has been the driving force behind that perfect record. He's 8 for 11 with three homers and six RBIs against their rotation after taking Washington staff ace Max Scherzer to task Tuesday night, going 3 for 3 with a solo homer, run-scoring double and RBI single against him in a 5-0 victory as Johnny Cueto fired a two-hitter with 11 strikeouts.
"I think he's had a fantastic first half and he's probably the frontrunner to start the All-Star Game, so any time you have a good game against a pitcher of that level, it stands out a little bit," Votto said.
It was only the third time in the last 17 games a Nationals starter allowed more than two runs. The rotation has compiled a 10-4 record and 2.17 ERA in that span, with Scherzer's outing Tuesday spiking the ERA one-third of a run.
That puts the onus on Gio Gonzalez (6-4, 4.16 ERA) to help Washington (46-38) avoid its first three-game skid since June 6-9. The left-hander is trying to win a season-best third straight start and appears to have found his rhythm after notching only one victory in his previous seven outings.
After scattering four hits in seven shutout innings versus Pittsburgh on June 21, he yielded a solo homer and four other hits in seven Friday when he outpitched Jake Peavy in a 2-1 victory over San Francisco.
"It was just finding (catcher Jose Lobaton's) glove and trying to pound it," said Gonzalez, who has averaged 11.9 pitches per inning in the two victories. "I gassed myself up so I could keep the ball down instead of trying to amp it up and throw it hard. It was just trying to locate it and keep it down."
Gonzalez didn't do that May 30 against Votto, who homered and went 2 for 2 with a walk to improve to 5 for 12 with two homers and a double lifetime against him. Gonzalez did not get a decision as he yielded four runs and seven hits in 5 1-3 innings of Cincinnati's 8-5 victory.
It was Gonzalez's first shaky outing versus the Reds, against whom he's 2-1 with a 1.83 ERA in six lifetime starts.
The Reds have given Michael Lorenzen (3-3, 3.58) little to work with in his last two starts - providing one run total - but he struggled Friday versus Milwaukee, serving up a pair of solo homers and three runs overall in four innings of a 12-1 loss. The rookie right-hander has been solid on the road, however, with a 3.00 ERA in five starts - yielding two or fewer runs in four of them.
Lorenzen worked his way in and out of trouble against Washington on May 31, giving up two runs on one hit while walking six in 6 1-3 innings. He left without a decision as Cincinnati went on to an 8-2 win. Pitcher Tanner Roark got the only hit, a second-inning double.
Washington has totaled seven hits in this series while going 0 for 13 with runners in scoring position.
Cincinnati's last sweep of a three-game set in the nation's capital came in April 2006.
---
---