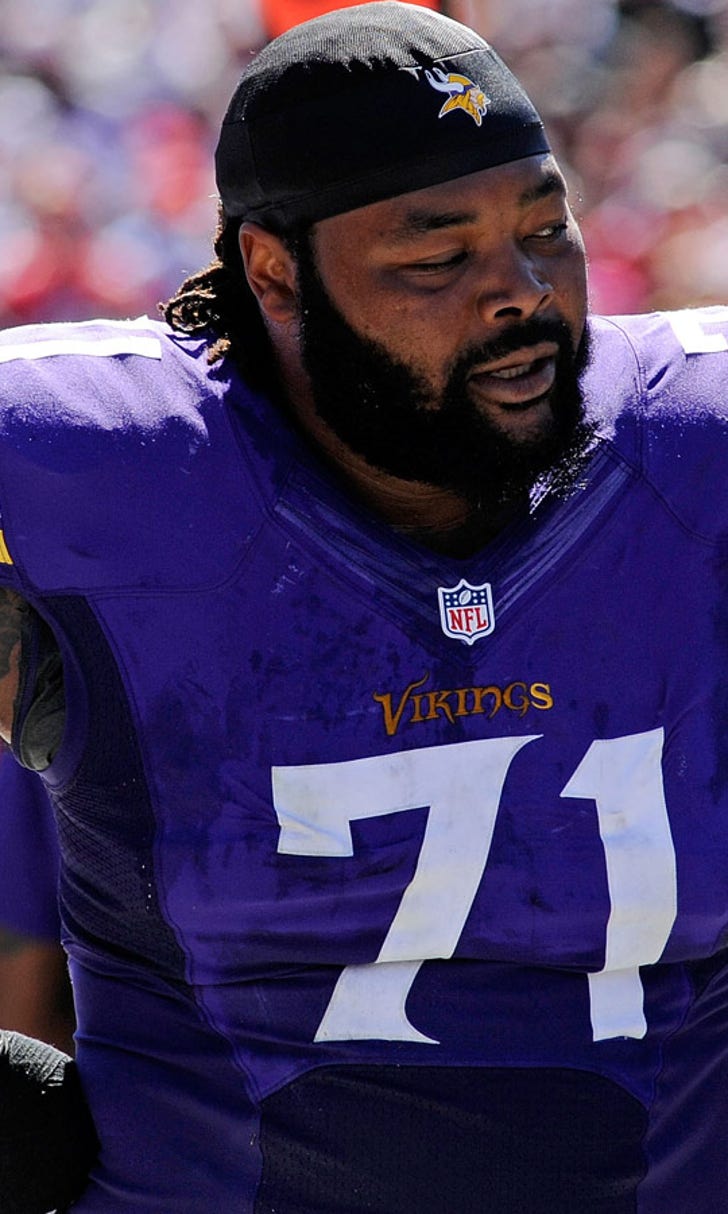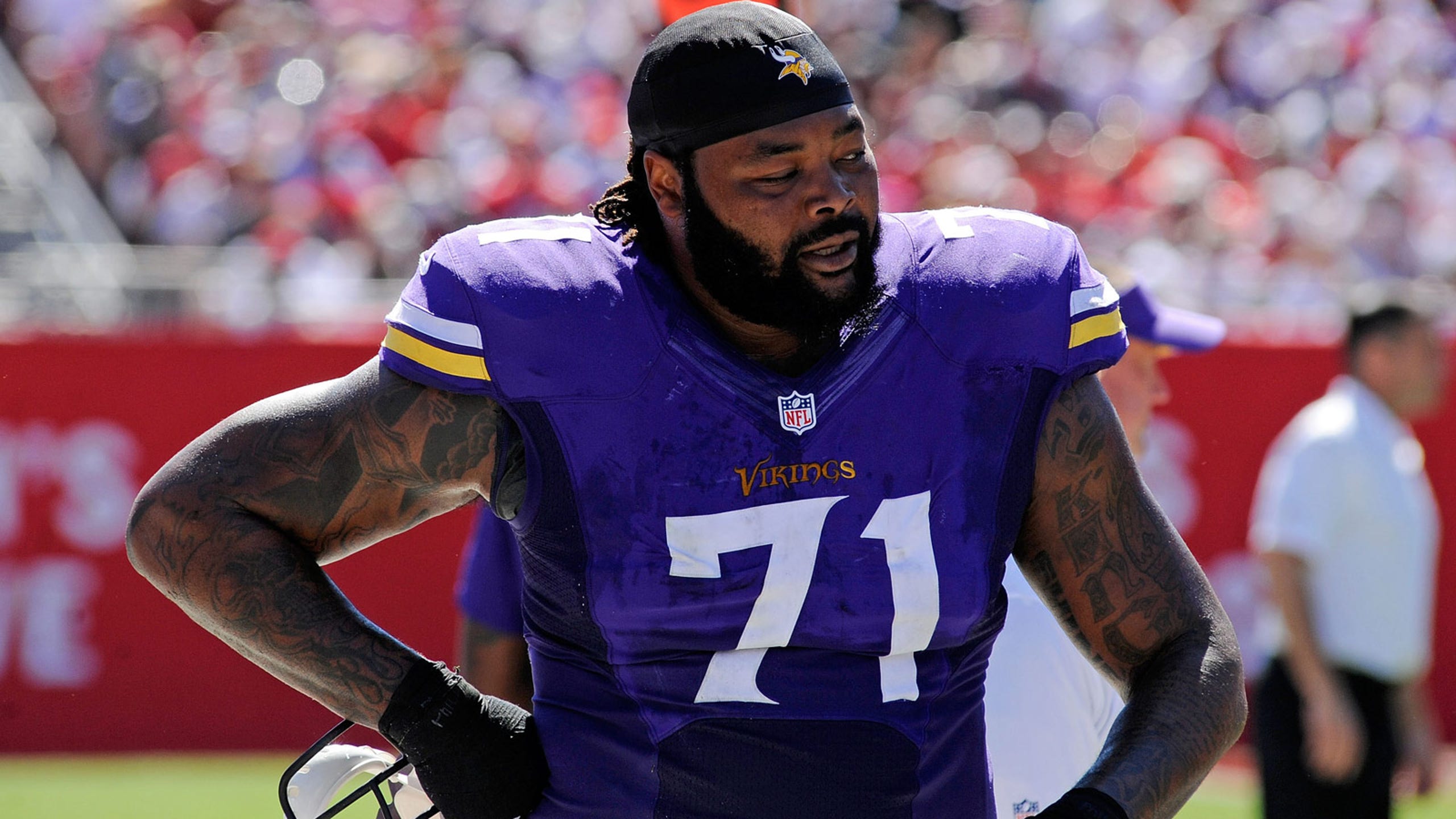 Vikings RT Loadholt done for season with pectoral tear
BY foxsports • November 24, 2014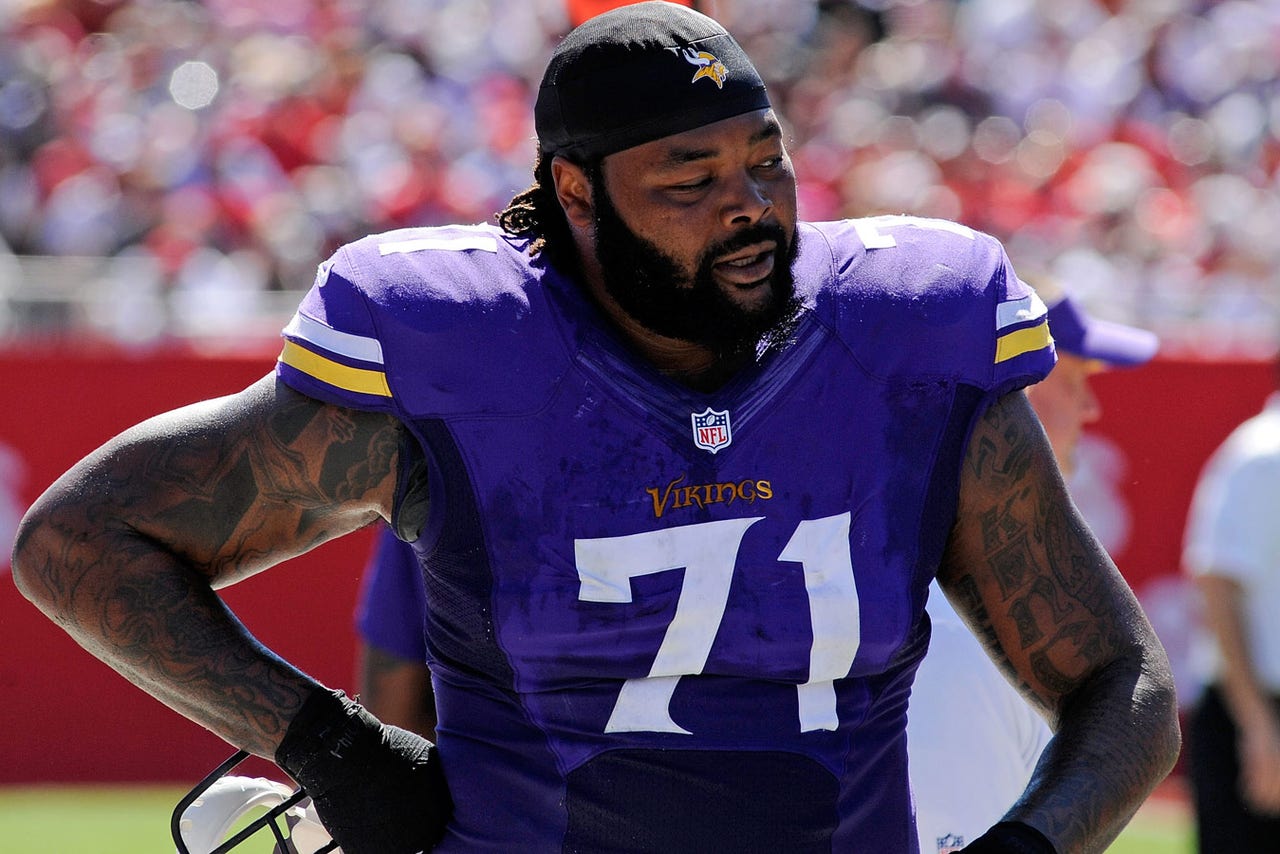 The Minnesota Vikings' offensive line suffered another big blow on Monday.
Minnesota discovered that right tackle Phil Loadholt, who has only missed two games in his six-year NFL career, will have season-ending surgery to repair a torn pectoral.
"I think Phil is a great person," Vikings' coach Mike Zimmer said Monday. "He's very conscientious, works hard, he's got a great heart. So that's just part of football. Obviously we'll miss him. But we're not going to let it hold us back from what we're trying to get done."
Loadholt was injured on Minnesota's final offensive drive in Sunday's 24-21 loss to the Green Bay Packers. Loadholt missed nine snaps and was first reported to be dealing with a left shoulder injury. A magnetic resonance imaging test on Monday showed the full extent of the damage.
Loadholt, 28, had started 18 straight games for the Vikings at right tackle and was a key factor in one of the league's top run-blocking units the past six seasons. He missed one game in his rookie season and one game last year.
Zimmer said Loadholt will likely have surgery Friday.
A second-round draft pick by Minnesota in 2009, Loadholt had started 89 of a possible 91 games. He signed a four-year, $25 million contract right before reaching free agency in 2013.
Loadholt was replaced by Mike Harris for nine snaps on Sunday. Harris was claimed off waivers from San Diego on Aug. 31 to provide an experienced backup tackle for the Vikings.
Zimmer said Harris "probably" would fill in for Loadholt, but the team was still talking through its options.
Harris has been active for seven games this season and saw his most extensive action on Oct. 19 when he played right guard for the first time in his NFL career. Harris started 12 of 20 games in two seasons with the Chargers.
"It's been a while since I played, really," Harris said Monday. "But I'm just going to take it and go play hard. I know my team's counting on me to perform, so that's just what I'm going to take it as and just enjoy it for what it is. Unfortunately for Phil he's out. But I have to go in there and not miss a beat."
Undrafted rookie Austin Wentworth has practiced at right tackle, as well and the team could look to add depth at offensive line.
"We're continuing to look," Zimmer said. "We haven't said for sure we're going to do this or for sure going to do that yet. We're going to continue to look."
Asked about rookie guard David Yankey, a fifth-round draft pick out of Stanford, Zimmer said, "It's a possibility. I mean, we're looking at him every day. So we'll see."
Follow Brian Hall on Twitter
---