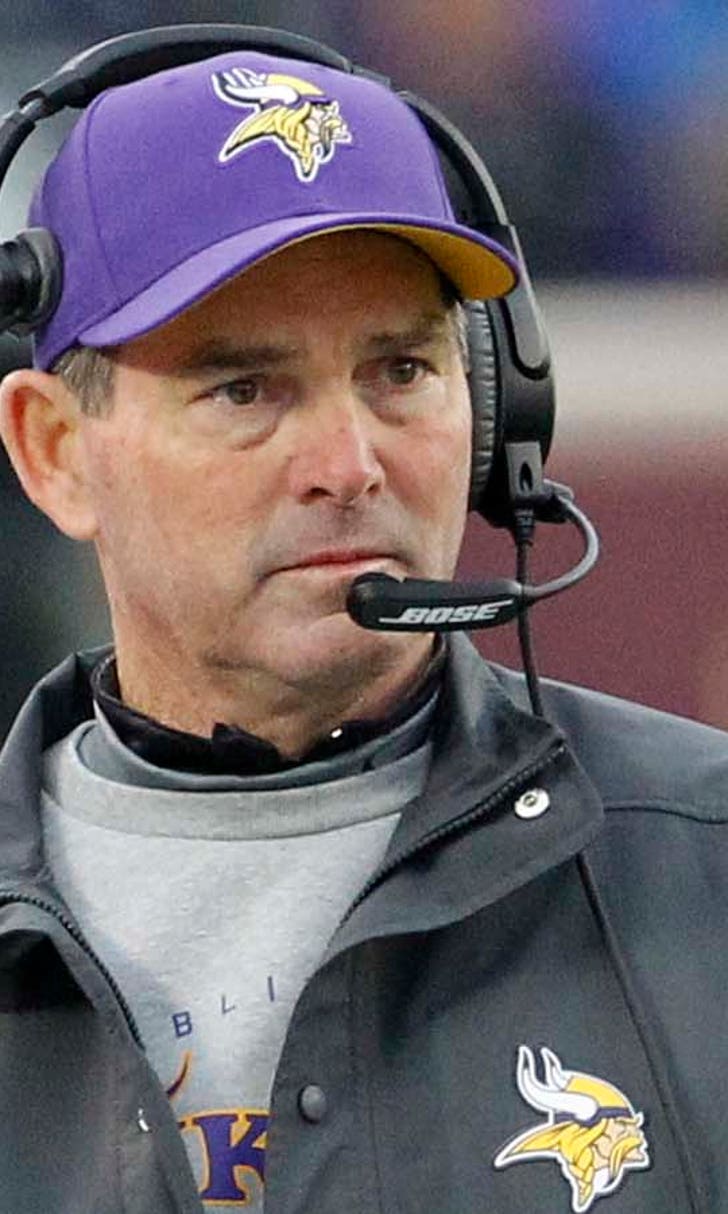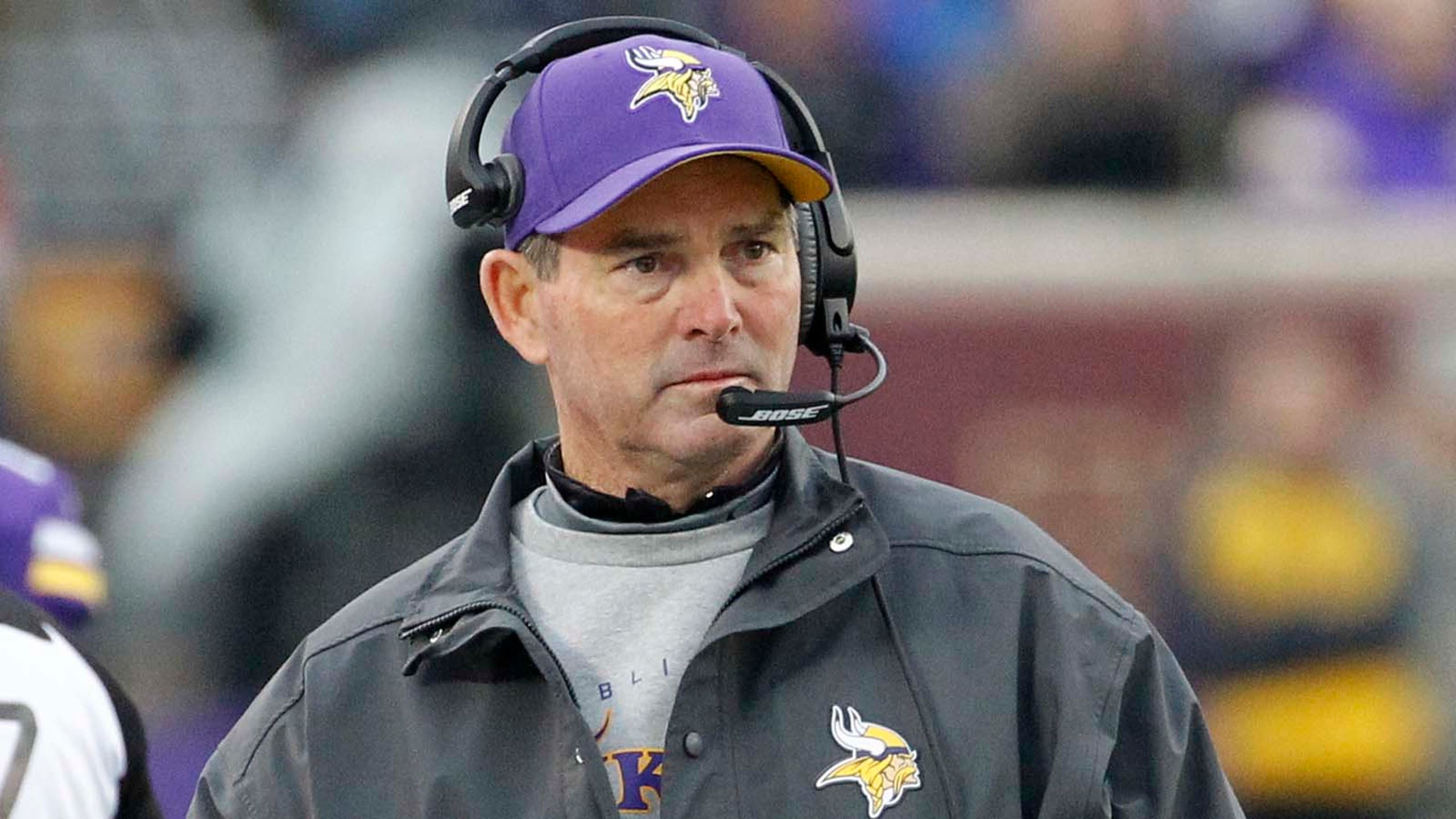 Vikings report card: No moral victory in loss to Packers
BY foxsports • November 24, 2014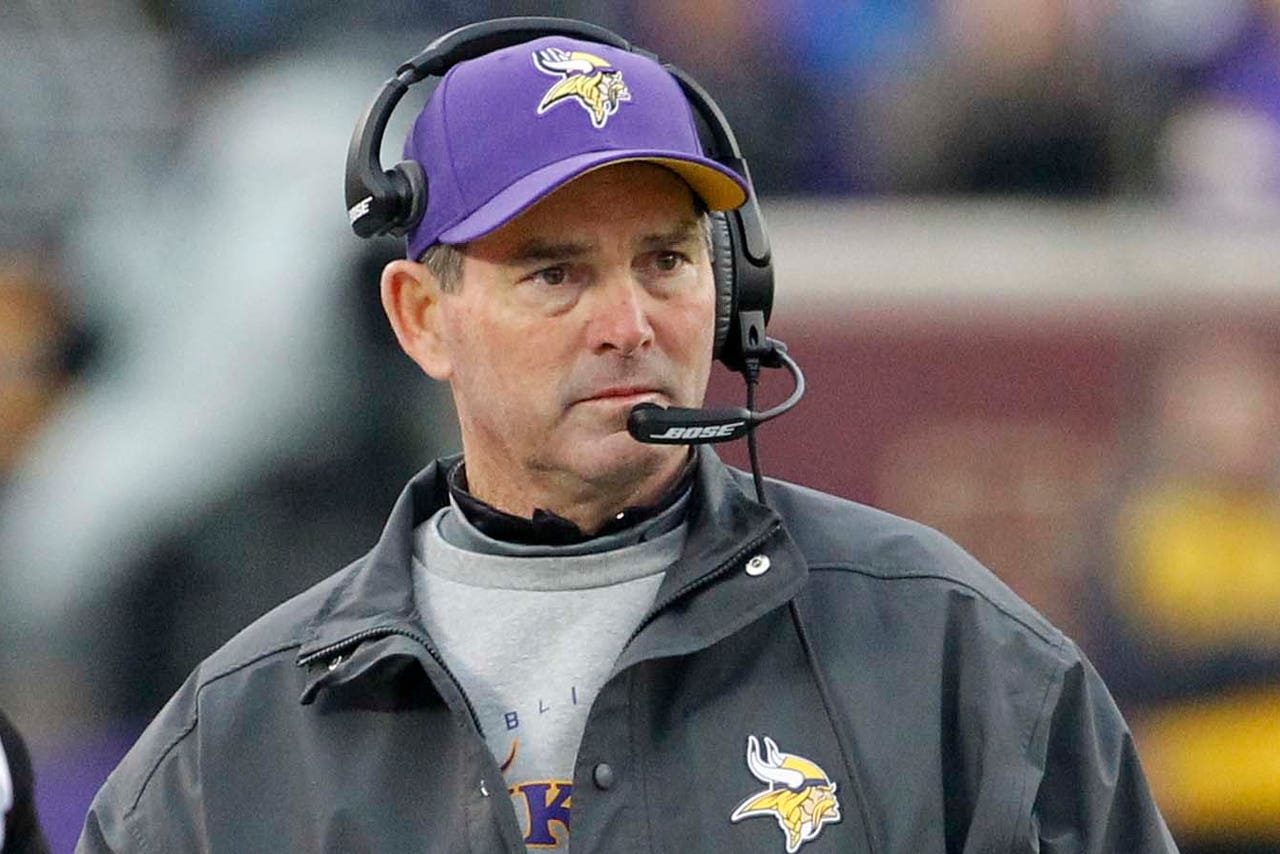 No moral victories. No celebrating a loss. No feeling good about being close.
The Minnesota Vikings had many positive aspects in Sunday's 24-21 loss to the Green Bay Packers. Minnesota's defense wasn't interested in any moral victories associated with slowing down Green Bay's potent offense. The Vikings' offense lamented a slow start and several missed opportunities.
Frustration over missing a potential win was the feeling in the locker room following the game.
Mistakes happened, but Minnesota (4-7) might come away feeling a bit better after watching film of Sunday's loss. There were pieces to build on as the team continues to develop in the first year under coach Mike Zimmer and with rookie quarterback Teddy Bridgewater.
Here's how the Vikings graded out in each phase in Sunday's loss:
Pass offense: C
Bridgewater said he was excited for his first matchup against the Green Bay Packers. It showed early as he missed several throws during a shaky opening half. On his first drive, Bridgewater overthrew a wide-open Charles Johnson for what would have been a big gain. Minnesota eventually punted. There were more overthrows. Johnson and others dropped passes and Bridgewater was 11 of 22 for 122 passing yards in the first half and threw an interception.
The Vikings were staying close, though, thanks to one touchdown drive in the first half that culminated in a Johnson touchdown reception. Minnesota had two fourth-down attempts on the drive, getting a penalty on one to extend the drive and converting the other. The Vikings scored 10 points in the quarter after a scoreless first period.
Bridgewater settled down and Minnesota's offense started to click better in the second half. Seemingly an every-week occurrence, Bridgewater got better as the game progressed and looked his best on key drives. Facing an 11-point deficit with less than nine minutes left, Bridgewater drove the Vikings 84 yards for a touchdown.
Bridgewater completed 8 of 10 passes for 69 yards on the final drive and connected with Greg Jennings for a touchdown and Johnson for a 2-point conversion to draw within 24-21 with just over three minutes left. Before the final drive, Bridgewater was 13 of 27 for 141 passing yards, one touchdown and an interception.
Johnson became Bridgewater's favored target Sunday after a strong game last week. The connection wasn't always perfect, but Johnson has flashed an ability to get open and Bridgewater is finding him. Johnson caught three passes on a team-high 11 targets for 52 yards. Jennings caught four of his six targets for 38 yards, and Kyle Rudolph made an impact in his second game back from injury, catching three passes for 50 yards.
The Vikings finished 5 of 13 on third downs.
Run offense: B
Minnesota's backfield has become the Jerick McKinnon and Joe Banyard show. With Adrian Peterson declared out the rest of the season, Matt Asiata sidelined Sunday with a concussion and Ben Tate a non-factor, McKinnon took the majority of the carries and Banyard was mixed in for the first time this season.
McKinnon finished with 15 carries for 54 yards. McKinnon had four carries for 21 yards in the third quarter and didn't touch the ball in the fourth. The Vikings ran for 112 total yards and a 4.5-yard average. Bridgewater scrambled five times for 32 yards.
With Asiata out, it was Banyard instead of newly acquired Ben Tate getting the extra carries. Banyard provided a spark with five carries for 26 yards and three catches for 19 yards. He had the job on the Vikings' final drive when he had two catches for 13 yards and one run for three yards.
Pass defense: C
The Packers' explosive offense had rolled up the big plays and points this season. Green Bay entered Sunday with back-to-back games of 50-plus points. Minnesota's defense has led the way this season and managed to keep the Packers' passing game somewhat in check.
Green Bay quarterback Aaron Rodgers completed 19 of his 29 passes for 209 yards and two touchdowns. Rodgers' biggest play might have been a third-down scramble in the fourth quarter. The Vikings' pass rush only got to Rodgers for one sack, but Minnesota's cornerbacks -- especially Xavier Rhodes -- were physical with the Packers' receivers and perhaps frustrated the group.
Jordy Nelson was targeted 12 times and caught eight passes, but only accounted for 68 yards, an 8.5-yard average. Rodgers averaged 7.2 yards per attempt. Randall Cobb had four catches for 58 yards. Of course, Rodgers connected with rookie tight end Richard Rodgers on a wide-open touchdown and running back Eddie Lacy bowled his way into the end zone on a reception.
Run defense: D
For the second time this year, it wasn't Rodgers ultimately beating the Vikings -- it was Lacy, the big, bowling-ball running back. Lacy scored two touchdowns on Sunday and has four against Minnesota this season. He accounted for 270 total yards against the Vikings in the two games.
Lacy ran 25 times for 125 yards Sunday. It was Lacy's work that kept Minnesota from one last shot. After the Vikings' touchdown on the final drive, Green Bay took possession with more than three minutes left in the game. Lacy ran for 27 yards, converted two first-downs and the Packers ran out the clock. Green Bay held the ball for almost 10 minutes of the fourth quarter.
Lacy's late running was the backbreaker for Minnesota's run defense, as was Rodgers' scramble on third-and-6 in the fourth quarter for 18 yards. The Packers ended up scoring a touchdown on the drive.
Special teams: B
It was a strong overall game for Minnesota on special teams and Cordarrelle Patterson finally got loose for a long gain on a kickoff return. Patterson had a 42-yard kickoff return but injured his knee and ankle at the end of the run.
The Vikings received good field position with Green Bay avoiding Patterson on two other returns by kicking short. Minnesota didn't have a penalty on special teams and kicker Blair Walsh converted on each of his two field-goal attempts, including a 51-yard field goal. Punter Jeff Locke was solid with a 44.8-yard gross average and a 39.0-yard net average
Overall: C
Minnesota wasn't interested in moral victories, but it had reason to hold its head high after the game. The playoffs are likely all but faint hopes at this time, so development is paramount and the Vikings made strides on Sunday.
There were mistakes, such as letting Rodgers loose on the third-down, missing in the passing game and the penalties. Minnesota had seven penalties for 77 yards, and left tackle Matt Kalil had another down game and was responsible for three flags himself.
Follow Brian Hall on Twitter
---