Stefon Diggs
Stefon Diggs
Vikings QB Bridgewater 'cutting it loose' in year three
Published
Jun. 15, 2016 3:00 p.m. ET

To hear Minnesota Vikings head coach Mike Zimmer tell it, football fans worry a little too much about deep throws.
"The percentages on deep balls aren't really very good. I don't care who's throwing them," Zimmer said. "The timing, the arc on the ball, guys are running at full speed down field."
Zimmer's deep-ball skepticism gives a little context to Bridgewater's 2015 numbers: He averaged 7.23 yards per pass attempt last season, while completing just seven passes that went for at least 20 yards.
But while Zimmer played down deep throws at a press conference earlier this week, he nevertheless made time for a quick Bridgewater-long pass story from a recent practice.
"We had a hard count, one of the guys on defense jumped, and we had a play action off of it," Zimmer said. "He saw the guy jump, he said: 'gotcha,' and then he saw the safety bite a little bit and just hummed it right down the middle of the field about 50-55 yards.
"Perfect strike."
So much for those percentages.
It's an encouraging development for a quarterback who ranked No. 22 in the league last year with 3,231 passing yards, while questions about Bridgewater's arm strength and ability to stretch the field have dogged the former Louisville star for years.
That could be set to change this season.
"He just seems to be cutting it loose a little bit more. He sees it and lets it go," Zimmer said. "He's throwing some really nice deep balls. It seems like he's, I guess matured into [being] more comfortable in everything he does."
Bridgewater attributes some of his issues last year to a mechanical issue.
"Put the tape on last year and there were a bunch of throws where I probably wasn't finishing the throws, following through and things like that, would cause the ball to sail," Bridgewater said.
Zimmer is also quick to point out Bridgewater's youth, as well as the progress that he's making in practice.
At just 23 years old he's still making major strikes at the position.
"Those are the kinds of things that I see that two years ago or even early last year I don't think he would have done," Zimmer said.
Bridgewater's top target, speedster Stefon Diggs, agreed with Zimmer's assessment.
"Teddy looks good," Diggs said. "Just as far as spinning the ball, he looks strong too, in shape, so he looks top-of-the-line."
When pressed about his progress Bridgewater steered the conversation towards Diggs and the Vikings receiver corps, a group he said is doing his work for him in practice.
"Our guys are doing a great job of just stretching the field, getting spaced up and making my job easy," Bridgewater said.
Follow Ryan Lund on Twitter
---
---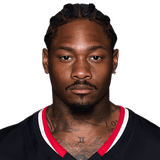 Get more from Stefon Diggs
Follow your favorites to get information about games, news and more
---