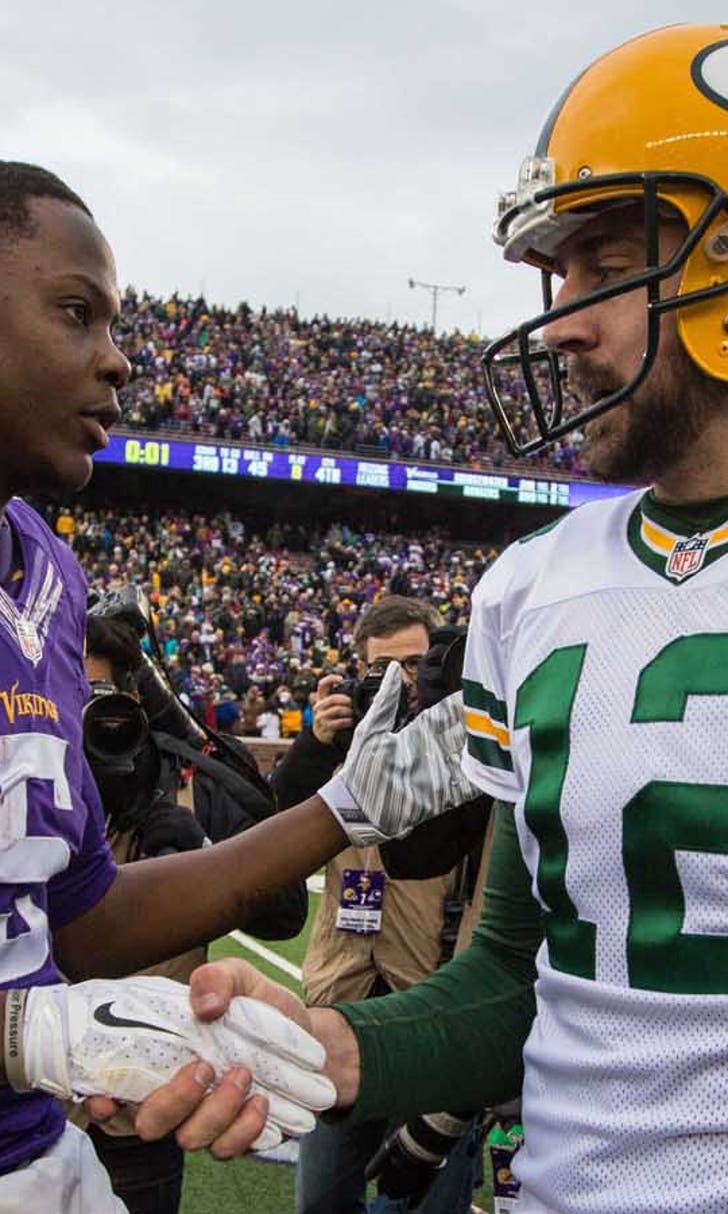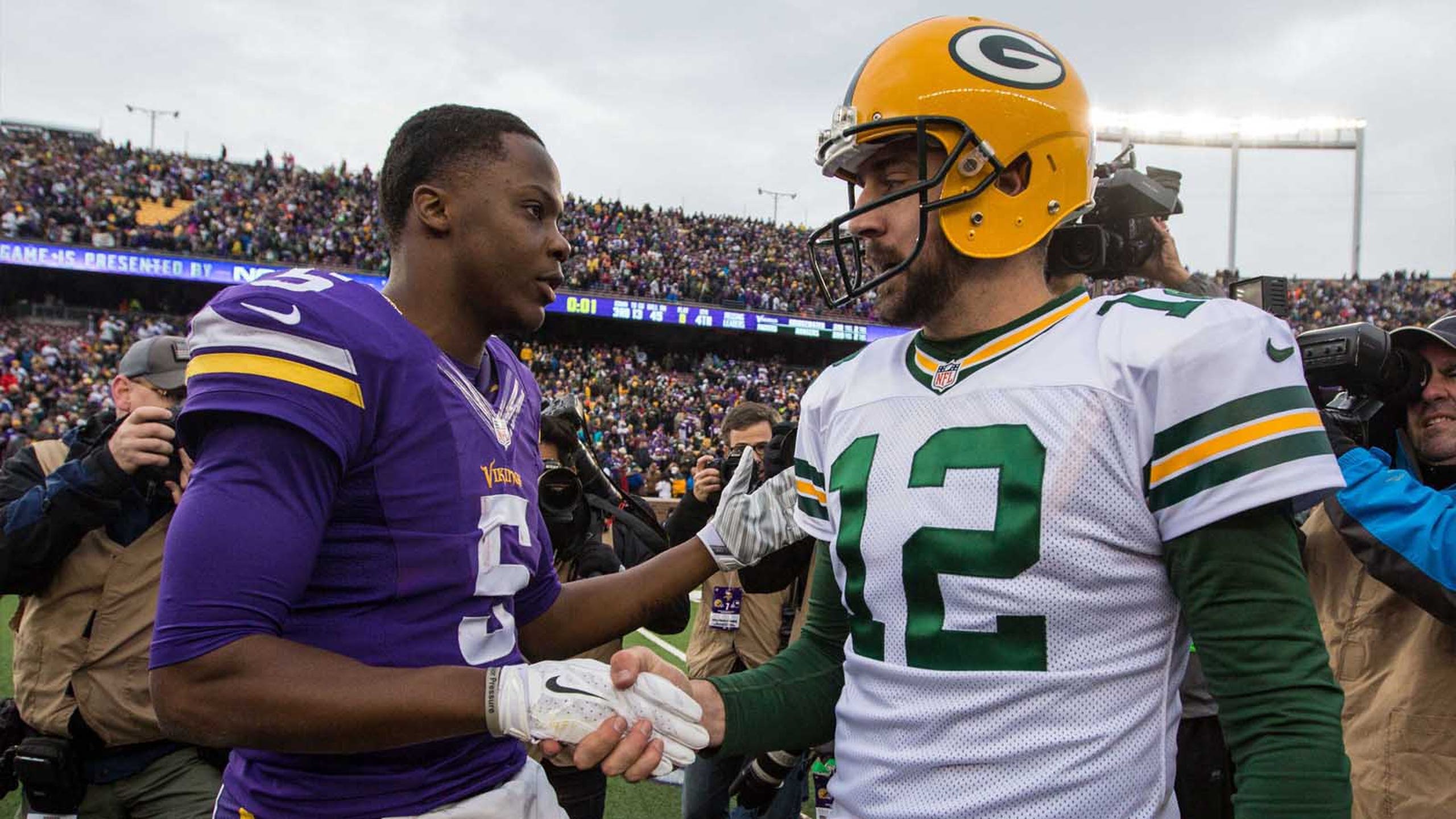 Vikings notebook: Bridgewater gets first taste of Vikings-Packers rivalry
BY foxsports • November 23, 2014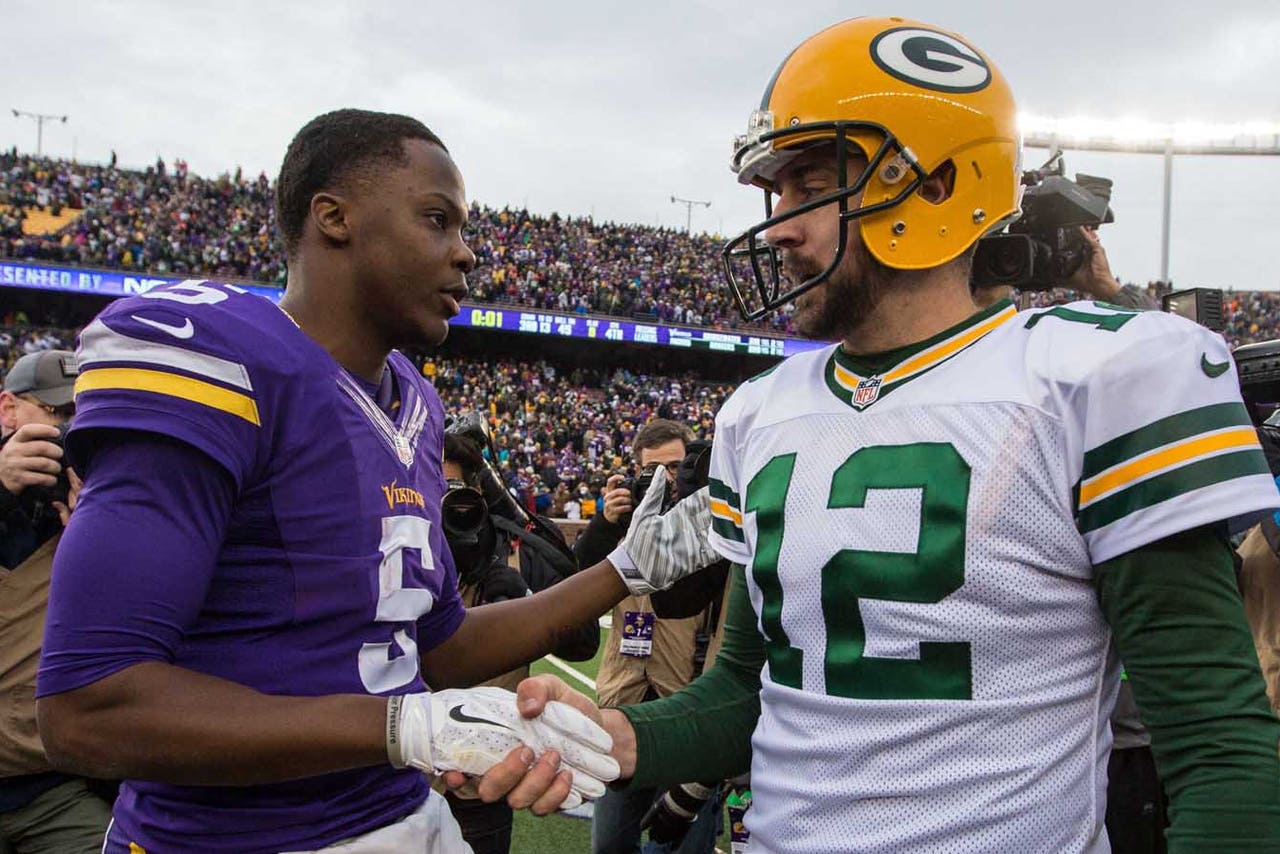 MINNEAPOLIS -- Rookie Teddy Bridgewater was thrust into his first NFL game at New Orleans when Minnesota Vikings starting quarterback Matt Cassel suffered a season-ending foot injury.
The quarter on the other sideline during his debut was Drew Brees, but Bridgewater had little time to think about facing off with a potential Hall of Famer. An ankle injury kept Bridgewater from facing Aaron Rodgers and the Green Bay Packers two weeks later on Thursday Night Football.
Sunday was Bridgewater's first chance to face Rodgers, another possible Hall of Fame quarterback and probable NFC North foe for years to come. Bridgewater was excited for his first matchup with Rodgers and initial taste of the Vikings-Packers rivalry.
"I was trying to get a feel for this rivalry and now I know what it's about," Bridgewater said. "I think I was just very excited being able to play the Green Bay Packers for the first time. I just have to settle down and remain poised and just let the game come to me."
Bridgewater struggled with accuracy early with overthrows, and receivers also dropped passes. Bridgewater finished 21 of 37, passing for 210 yards -- one more yard than Rodgers did Sunday - and his first two-touchdown game. Bridgewater threw an interception and scrambled five times for 32 yards.
Bridgewater has said he's a student of the NFL and appreciates the quarterbacks who've come before him. He was on the sideline when Minnesota faced Tom Brady earlier this season. Sunday was Bridgewater's first chance to play against one of the game's elite quarterbacks in Rodgers.
"With Aaron Rodgers at quarterback, you want to sustain drives," Bridgewater said. "You don't want to give them a short field. Their offense is a high-powered offense and they're capable of scoring and taking advantage of your turnovers."
Rodgers did take advantage of Bridgewater's biggest mistake on Sunday. Bridgewater floated an interception by Micah Hyde intended for receiver Greg Jennings. Rodgers threw a touchdown on the ensuing drive.
Bridgewater appeared to find a new favorite target, throwing to Charles Johnson 11 times. Johnson had three catches for 52 yards and a touchdown, as well as a 2-point conversion. Johnson dropped two passes. Jennings added four catches for 38 yards and a touchdown.
"I didn't think he was as accurate as he normally is early in the ballgame," Minnesota coach Mike Zimmer said. "He had a couple high throws, a couple missed throws and he seems to settle down in the second half and kind of get more comfortable.
"He got hit a bunch of times. We didn't protect him near well enough.  . . . He made some plays with his legs. He continued to keep drives alive in the second half. Those were all good things that happened. But he needs to play better in the first half."
As the Vikings drove 84 yards, Bridgewater completed 8 of 10 passes for 69 yards on the final drive and hit Jennings for a touchdown and Johnson for a 2-point conversion to draw within 24-21 with just over three minutes left.
Before the final drive, Bridgewater was 13 of 27, passing for 141 yards, a touchdown and interception.
"We have a great group of guys pulling me to the side, coach Scott Turner is on the sideline with me and he tells me throughout the game, you're going to have some ups and downs but you just keep fighting," Bridgewater said.
Johnson scores his first: Johnson, originally a seventh-round draft pick by Green Bay last year, scored the first touchdown of his career. He hauled in a 22-yard touchdown in the second quarter.
"It was pretty exciting for me, I'm not going to lie," Johnson said of the touchdown. "I wish we would have won, I would have rather had that."
Johnson dropped an important pass in the third quarter, which would have been a first down. Instead, the Vikings had to settle for a 51-yard field goal.
"I could have made that play for Teddy," Johnson said. "I could have made that play for our team. I can't make them all. I'm only human, but I wish I would have made that play. It would have turned the game around."
Banyard provides a spark: With running back Matt Asiata inactive because of a concussion, Joe Banyard received the opportunity as Jerick McKinnon's backup on Sunday. Ben Tate, picked up this week on waivers from the Cleveland Browns, was active but didn't play.
Banyard took the first carry of his career for eight yards and finished with five carries for 26 yards. He added three catches for 19 yards.
"I thought Joe did well when he was in there," Zimmer said. "He made some extra yards after contact a bunch of times. He looked like he had some juice running and carried his pads low. He deserved to keep playing."
Zimmer said Tate was ready to play.
"He was active, so if you're active be ready to play," Zimmer said. "I think Banyard had the hot hand at the time and McKinnon ran the ball better in the second half, as well, I thought."
McKinnon ran 15 times for 54 yards.
Loadholt headed for MRI: Right tackle Phil Loadholt left the game late with a left shoulder injury and Zimmer said Loadholt will be getting a magnetic resonance imaging test to determine the extent of the injury.
Loadholt was holding his left arm close to his body running off the field after the game, but didn't seem to be taking any extra precaution when he left the locker room.
Receiver Cordarrelle Patterson suffered ankle and knee injuries on a 42-yard kickoff return. He played sparingly after the return, which occurred in the third quarter.
"We'll see tomorrow," Patterson said after the game. "They'll check me and see. I should be good, get treatments and get back out there to help the team."
Patterson's season has been a struggle and he was injured on one of his biggest plays of the season.
"I know, every time something good happens, it seems like something bad happens on top of that," Patterson said. "There's nothing I can do about getting injured. If it happens, it happens. So, I'll live to see another day."
Defensive tackle Sharrif Floyd was inactive after suffering a bruise from a knee-on-knee collision in Wednesday's practice.
"He's doing a lot better," Zimmer said after the game. "He wasn't ready to go. If he was ready to go, he would have gone."
Follow Brian Hall on Twitter
---