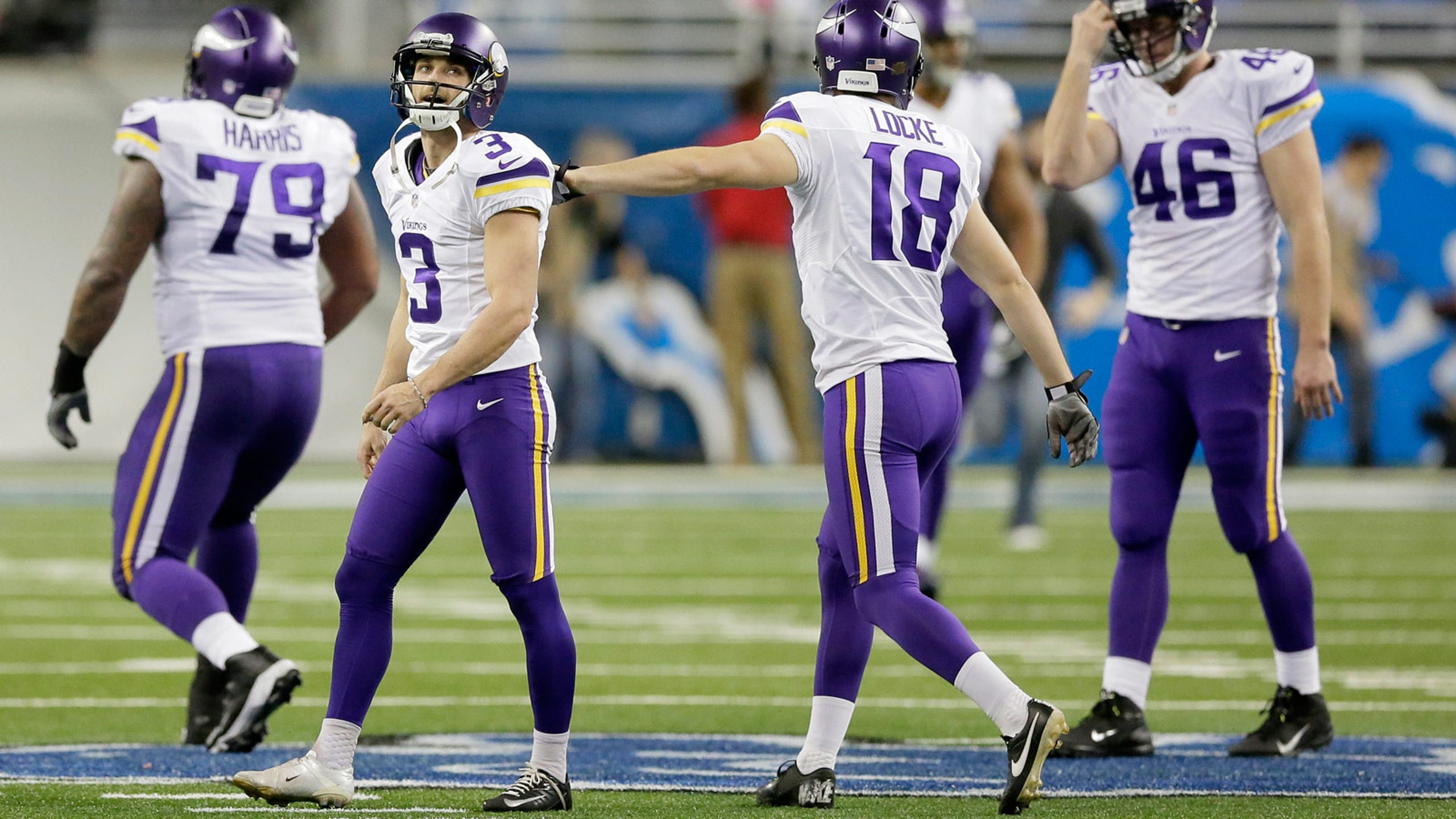 Vikings coach says kicking issues are mental, while Walsh expresses confidence
BY foxsports • December 18, 2014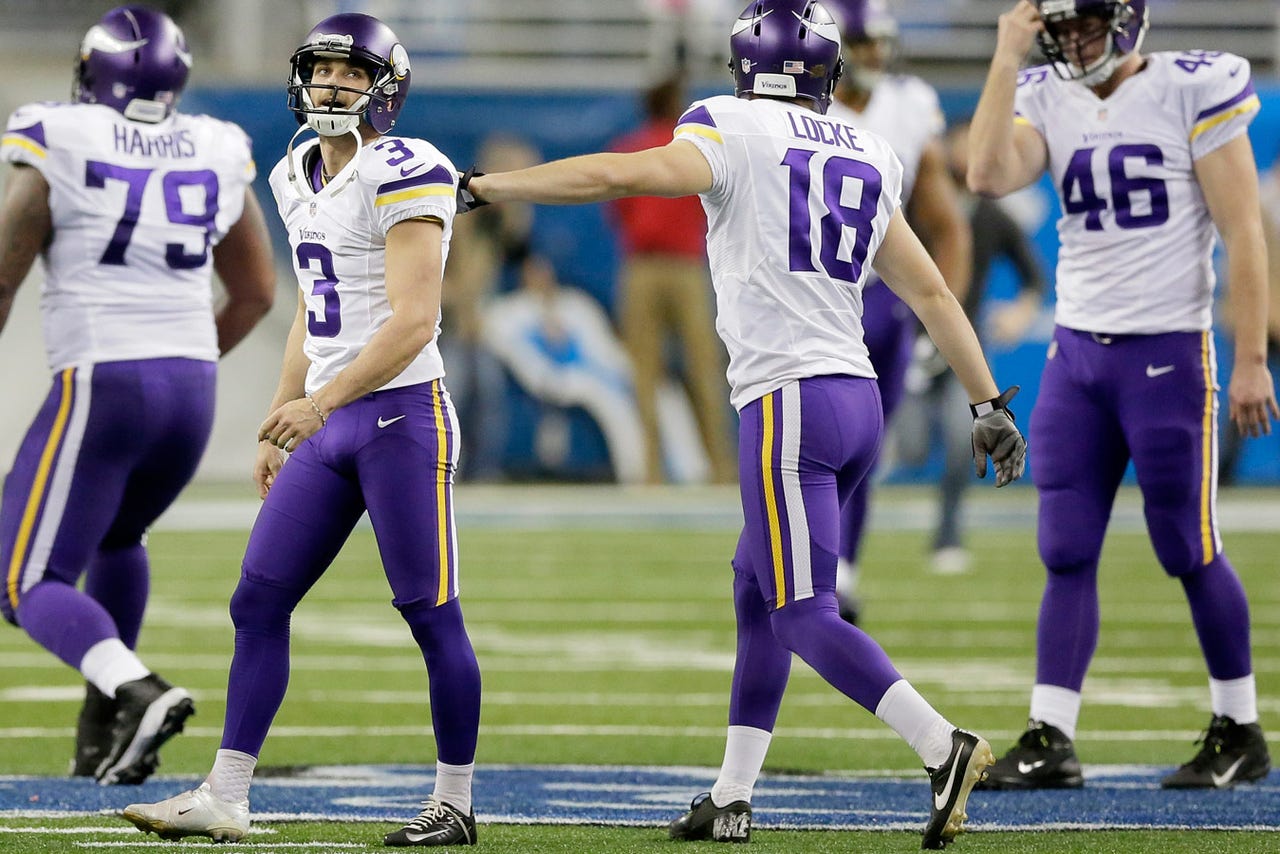 EDEN PRAIRIE, Minn. -- When Blair Walsh burst onto the scene as a surprising Pro Bowl kicker in his rookie season, the Minnesota Vikings were praised for finding a diamond in the rough in the draft's sixth-round.
Walsh set an NFL record by connecting on 10 field goals of 50 yards or more. The double-digit plateau was a rarity in the NFL. Walsh is now being judged against his standout rookie season, when he set the bar so high by clearing it from so long.
"He set the bar high anyway," Minnesota special teams coordinator Mike Priefer said Thursday. "I really think he's a good kicker. I don't know if he's in a slump right now. Maybe he's not hitting the ball exactly how he wants to. He's still swinging the ball well. They're not ugly misses. But he'll get it figured out, he's a pro. He's a mentally tough kid. He'll keep working and try to get better."
Walsh missed all three of his field-goal attempts, one being blocked, in Sunday's 16-14 loss at Detroit. Walsh has missed five of his last six attempts in the past two games, leading to questions about the third-year kicker's technique or confidence.
Priefer said the issue is more mental than mechanical.
"Probably more mental than anything, and I think he's fine that way," Priefer said. "A little bit of mechanics, but mostly it's the mental part of it."
Walsh is spending his first full season outdoors as the Vikings transitioned to TCF Bank Stadium and the numbers show a drastic contrast in Walsh's success indoors versus outdoors. Walsh has made 87 percent of his 46 field-goal attempts in dome stadiums, compared to 78.7-percent outdoors.
Walsh is now 22 of 31 this season on field-goal attempts. His 71-percent conversion rate ranks 32nd in the NFL.
"I'm still confident," Walsh said this week. "I think you guys know me a little bit by now. I'm pretty confident in general. I know I can hang with any of these guys in the league and I just want to go out there and be dependable for my team right now. That's really what I'm focused on right now."
Walsh was wide right from 53 yards in Sunday's loss, had a 26-yard attempt blocked and tried a desperation 68-yard attempt at the end of the game that fell short.
"I think Blair is really good," Minnesota coach Mike Zimmer said. "The opportunities that we've given him to kick this year, the 50-plus yarders, he's been pretty darn good. I think the misses stand out a little bit more. (Other) guys come out there all the time and they get beat on the take-off or they run the wrong route or whatever because there are so many more opportunities for them to do those things, (but kickers' mistakes) just show up more.
"I honestly do not have a problem with Blair at all. I will continue to, if I feel good about the kick, we will kick it."
Walsh is tied for the league lead with nine attempts of 50 or more yards. Only one player, Atlanta's Matt Bryant, has more made field goals from the long distance than Walsh's five.
In 2012, Walsh was one of two rookies to attempt 10 field goals of more than 50 yards, along with St. Louis' Greg Zuerlein. Once considered a risky kick, Walsh is now being judged on his success from 50-plus yards.
Before Walsh and Zuerlein in 2012, Sebastian Janikowski was the only kicker with at least 10 attempts from 50 yards or more in a season since Mark Moseley in 1980. Walsh is on pace to reach 10 attempts for the second time in three seasons.
"Now it's a little bit more, I wouldn't say automatic," Zimmer said. "And that's why with him this year I've been more, not aggressive, but less reluctant to punt the ball and those things because I think we can get some points."
Thirteen players have already attempted at least five kicks of 50 yards or more this season. Go back to just 2006 and only five players had field-goal attempts of 50-plus yards. Kickers are more consistent than ever, as well.
Of the 15 kickers in NFL history with the best field-goal percentage, 12 are currently kicking and 14 have been active within the past three seasons.
"A lot of these young guys come in and they're so strong," Priefer said. "They've been in these kicking camps for six, seven, eight years, so their technique is so good. It's a combination of good technique and leg strength and is a recipe for success and that's what guys have been doing. I think we're going to see more of that, I think, as you go along. Head coaches are going to be more apt to try that and try to get points up on the board."
The coaches' trust in Walsh is easy to see in allowing him to try a 68-yard attempt, which is four yards longer than the NFL record. Walsh said he had made an attempt from about the same distance in pre-game warmups. The miss ended what Walsh called a "strange two weeks."
"It's one of those things where I think most guys in the league could give it a legit shot, and that's what we tried to do," Walsh said. "I was lobbying for it. I've never been one to care about percentages or anything along those lines, so I just wanted to go out there and I thought I could give my team a better chance doing that than throwing a Hail Mary at the end of the game."
Block came from tough spot: Walsh's 26-yard field-goal attempt Sunday was blocked by Detroit's Jason Jones, who pushed back Minnesota offensive tackle J'Marcus Webb. The block came right of center, and Webb was filling in because of injuries.
"Charlie Johnson's been there most of the year," Priefer said. "When he got hurt, we had (Austin) Wentworth in there. J'Marcus is 330 pounds. I thought he'd be perfect. They're really big and strong inside, Detroit, technique was off and it was blocked."
Johnson was out for Sunday's game because of an ankle injury and hasn't returned to practice.
More Asiata: With two games left in the season, the Vikings will continue to lean on Matt Asiata at running back and mix in Joe Banyard and Ben Tate.
"Well Matt, I think, showed -- I think he's shown throughout -- but he's showed in the game that he's a guy that gives us the best all-around running, catching, protection," offensive coordinator Norv Turner said. "He had an outstanding game so I would expect Matt to get the bulk of the work, and when there's opportunity to get someone else in there we'll do it."
Injured rookie Jerick McKinnon still leads the team in rushing with 538 yards despite missing the past three games. Asiata is second on the team with 421 rushing yards but leads the team with 129 carries. Banyard has 10 carries for 45 yards and Tate has 13 carries for 38 yards.
Zimmer said Tate needs to "just make sure he's doing things right."
Zimmer said Asiata's performance early in Sunday's game when he pushed defenders for extra yards and scored a touchdown helped him to lead the backfield with 11 carries for 36 yards.
Improvement from Locke: Priefer was pleased with the improvement from punter Jeff Locke over the past month.
"I'm real proud of the way he's developed," Priefer said. "I just need to be patient with him. He's young. It's hard to develop a young punter, but he's got a great mental makeup, a great work ethic and he's plenty talented enough, so we're going to keep going in the right direction."
Priefer said he learned from former punter Jeff Feagles that time is necessary to develop a punter.
"I learned a heck of a lot more from (Feagles) than he learned from me," Priefer said. "One of the things he told me was the ninth or 10th year was when he finally got it all figured out. It takes time with a punter, it really does."
Follow Brian Hall on Twitter
---