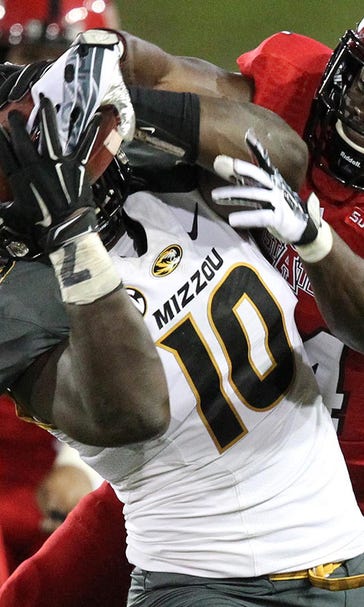 Vikings' Brothers hopes to use small stature to advantage
May 4, 2016

Kentrell Brothers, the Minnesota Vikings' fifth-round draft pick, might not be the tallest, biggest or fastest player, but that didn't stop him from becoming arguably the most productive middle linebacker in college football last year.
As a senior at Missouri, Brothers led the FBS level with 152 tackles. He also blocked three kicks and intercepted two passes. Brothers finished with 358 tackles, including 23 1/2 tackles for a loss and 4 1/2 sacks, in 51 games with the Tigers.
Brothers compiled those gaudy stats despite a 6-foot frame but doesn't appear too concerned about his size hurting his NFL career.
"A lot of people see that as a disadvantage, but I seem to have advantages in multiple ways," he said in a conference call with Minnesota reporters. "I'm able to stay low on long linemen. I'm able to hit low on running backs. I just don't see that as a disadvantage as a lot of other people do. I've worked well with it so far, and I think I can continue to do that with the Vikings."
Brothers has elite vision and understanding of spatial relationship, according to NFL.com, which adds that he is great at finishing tackles and rarely busts in coverage responsibilities. The site knocks his athleticism and speed, noting that opponents can beat him for big plays in man-to-man coverage.
"He didn't run great at the combine and he is not 6-3 and 250 pounds," said Jamaal Stephenson, the Vikings' director of college scouting, "but good players come in all shapes and sizes."
Vikings general manager Rick Spielman said he thought Brothers was one of the most productive linebackers in the Senior Bowl, lauding his instincts and production.
"I've seen the range that that kid plays with (and) he plays a lot faster, because he is so instinctive and gets a jump on the ball," Spielman said. "Every time that I have watched him or our scouts or coaches have watched him, he's just producing."
Brothers played both receiver and linebacker at Guthrie High School in Guthrie, Okla., a city of about 10,000. He was an Adrian Peterson fan growing up and attended the 2006 game in which Peterson, then a junior at Oklahoma, broke his collarbone at the end of a touchdown run.
"It's just crazy growing up watching him and now I'm getting to be his teammate," Brothers said. "I'm sure he's a hard worker as well as the rest of the team is. I'm happy to pick up and get some advice from him and just follow whatever he is trying to lead me with."
Weatherly has musical talent
Spielman said head coach Mike Zimmer harped him about drafting some bigger guys after the Vikings drafted the undersized Brothers.
That resulted in the team selecting the 6-foot-4, 267-pound Stephen Weatherly with the 244th overall pick in the seventh round.
Weatherly started all 12 games at outside linebacker this past season for Vanderbilt, compiling 46 tackles and 3 1/2 sacks in the Commodores' 3-4 defense. Spielman said Weatherly has the length, size and speed to be a potential edge pass rusher in Minnesota's 4-3 scheme.
"We will need some refinement from a technical standpoint," he said, "but he has a lot of upside as a pass rusher in a 4-3 defense."
Weatherly has also gained noticed for his talents off the football field, mainly in music. He has played nine instruments during his academic career, from flute to tuba, and also was a member of his high school's robotics team.
"We built a refrigerator-sized robot that took inflatable tubes and put them on rings that were three, six and nine feet off the ground," he said. "We were the best rookie team in Georgia and went to the world championships in St. Louis that year and competed against other teams around the world."
Follow Nate Gotlieb on Twitter
---
---