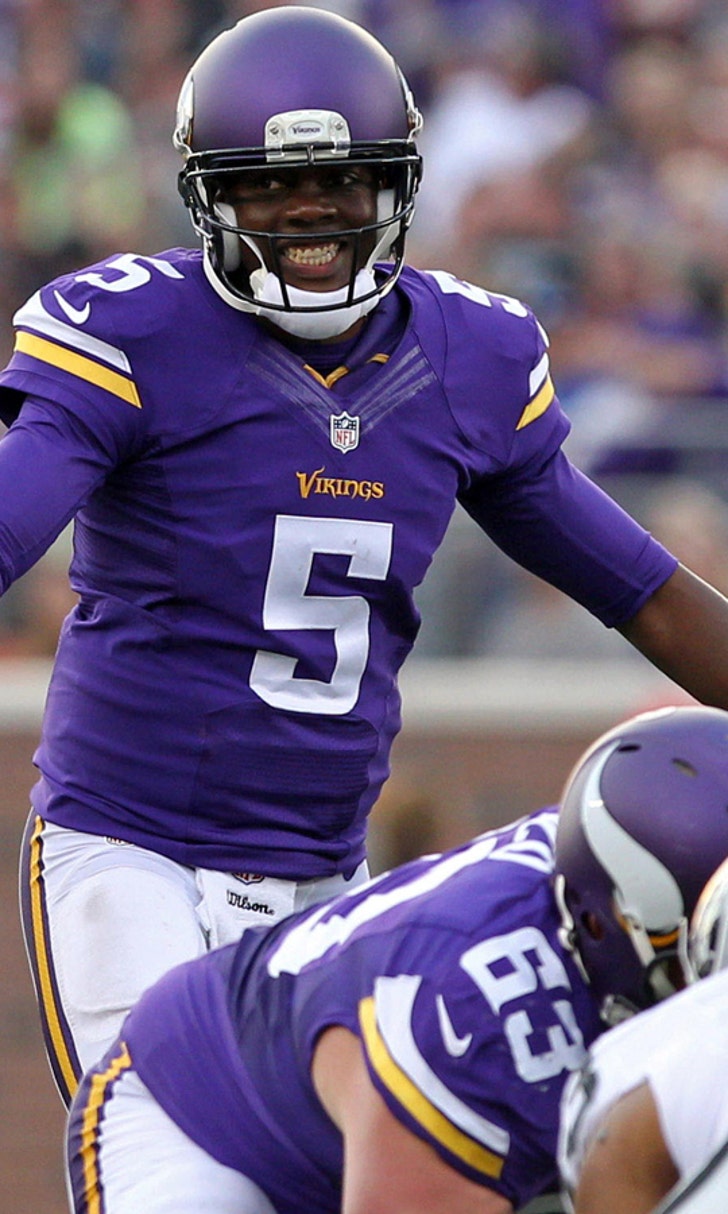 Vikings' Bridgewater: 'I have been overthinking things'
BY foxsports • August 14, 2014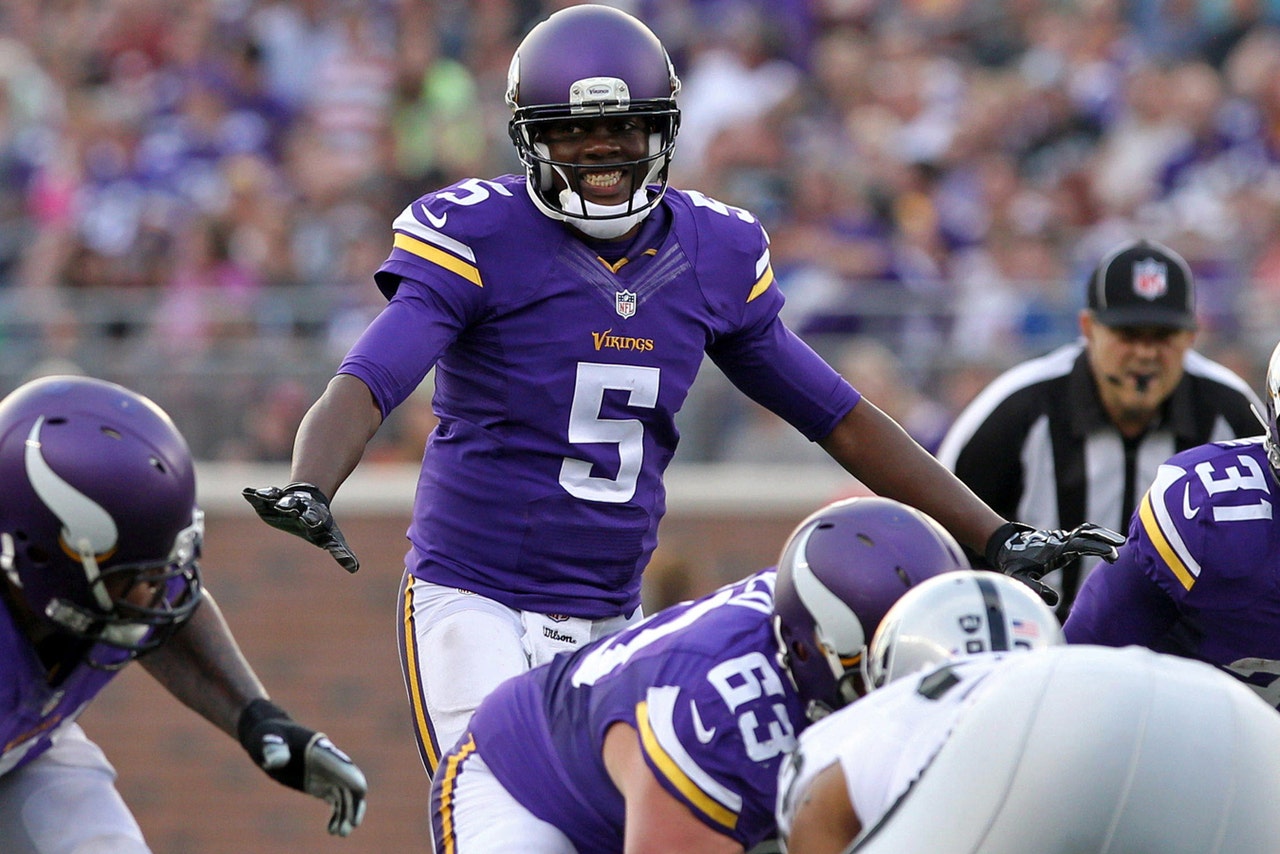 MANKATO, Minn. -- Soon to be faced with a decision on who will start in Week 1 for the Minnesota Vikings, coach Mike Zimmer has a veteran quarterback confident he will start and a rookie who is dealing with the difficulties of transitioning to the NFL.
Heading into the second preseason game this weekend, nine-year veteran Matt Cassel seemingly has strengthened his grip on the No. 1 spot, while Zimmer is trying to get rookie first-round draft pick Teddy Bridgewater to let his natural ability stand out.
"I just want him to play," Zimmer said of what he wants to see out of Bridgewater in Saturday's preseason home game against Arizona. "He's got so much going on in his mind right now, I just want him to play. I told him yesterday and I'm going to tell him before the ballgame: 'Just go out and play. You've been doing this since you were five years old. Go out and play, have some fun, throw the ball in there. If you make a mistake then we'll fix it and go on.'"
Bridgewater's struggles have been apparent in recent practices. He threw three interceptions in an evening practice under the lights on Monday, and followed with two interceptions in Wednesday's afternoon practice.
Bridgewater was 6 of 13 for 49 yards passing and was sacked twice in last week's preseason opener.
Ever since training camp opened three weeks ago, Cassel has received most of the workload with the first-team offense, with few practice reps going to Bridgewater.
"I haven't been pressing, but I have been overthinking things," Bridgewater said Thursday. "A lot has been thrown at me so far, but I just have to continue to put the time in with studying and eventually things will slow down for me."
Zimmer has talked with his rookie quarterback recently, wanting Bridgewater to simplify his approach.
"Basically I just have to stop overthinking and just use my natural talent and God-given talent, just play football," Bridgewater said of Zimmer's advice. "That's what he mentioned, just cutting it loose. He pulled me to the side yesterday and even today before practice and told me, 'Hey, just let it rip. Have fun and just play football.'"
Zimmer hasn't seen any of Bridgewater's confidence wane during the recent struggles. Bridgewater was seen as the most pro-ready quarterback prospect in the draft, but the transition to the NFL is tough for most signal-callers.
Bridgewater is also trying to adjust and learn offensive coordinator Norv Turner's complex system.
"He's handled it great," Zimmer said. "He's a terrific kid. He studies very, very hard. He can do all the things you need him to do as an NFL quarterback. It's just the combination of the protections and the blitzes and the different route combinations, and changing plays at the line of scrimmage. It just takes time. He'll continue to get it and I believe that he's going to be a very, very good football player."
When training camp started, Zimmer said Cassel was the No. 1 quarterback, essentially stating the obvious position of Cassel's work with the first-team offense and only securing his spot on the depth chart. Zimmer wouldn't name Cassel the team's starter and said the competition exists between Cassel, Bridgewater and Christian Ponder.
Three weeks of training camp have done little to change the perception that Cassel will start on Sept. 7 when Minnesota opens the regular season at St. Louis. Zimmer said he has a date in mind when he wants to have his starting quarterback decided, but wouldn't reveal the date to reporters.
Zimmer said Cassel could play the entire first half in Saturday's preseason game.
"I hope Matt continues to do what he's been doing," Zimmer said. "He's been making the right decisions. He's getting the team in and out of the right plays."
Cassel is appreciative of more playing time this week after seeing only one series in the first preseason game. Cassel led a touchdown drive on the Vikings' opening possession by going 5 of 6 for 62 passing yards.
"There's a lot of things I can probably build on," Cassel said. "The main thing for me is execution, going through my reads appropriately and taking care of the ball and also, you know, scoring points. Those are all goals we have as an offense and individually."
Cassel said he's been given no indication on when Zimmer will name the Week 1 starter.
"That's not something I'm worried about," Cassel said. "I think I'm just going to go out and continue to play. I think, again, I've said it time and time again, might sound like a broken record, but all this stuff is going to take care of itself. I have to go out and perform and if I do that, I plan on being the Week 1 starter."
Follow Brian Hall on Twitter
---
---