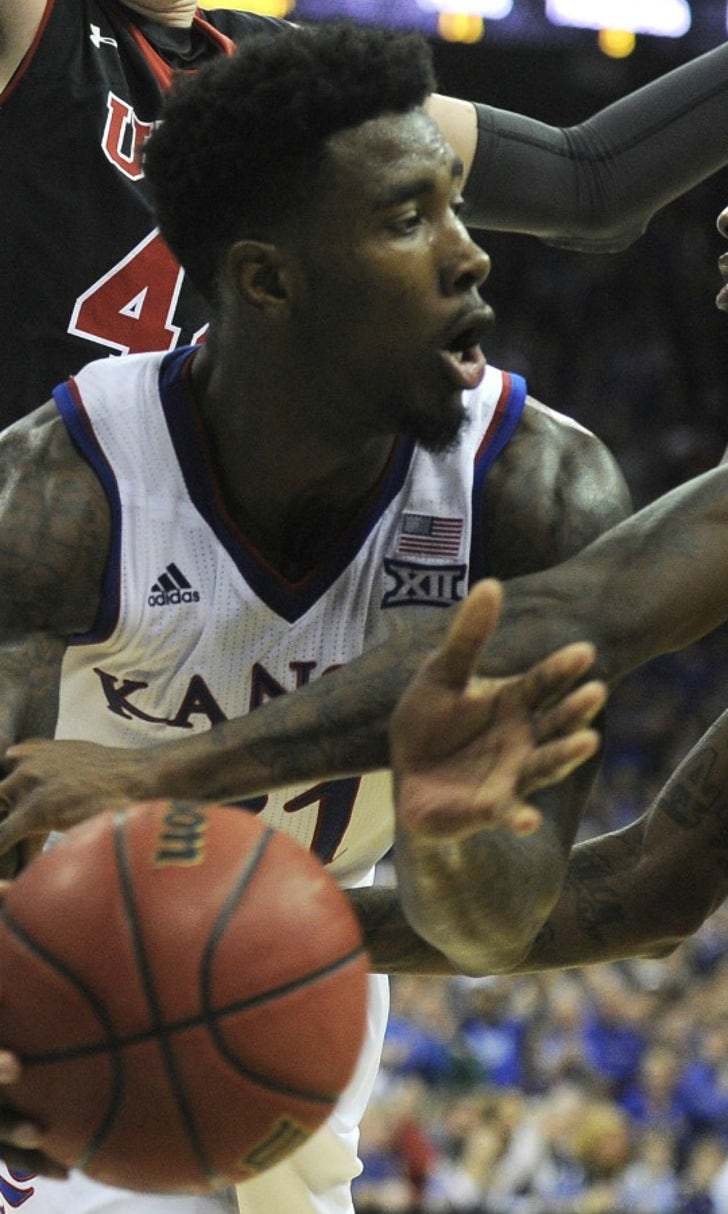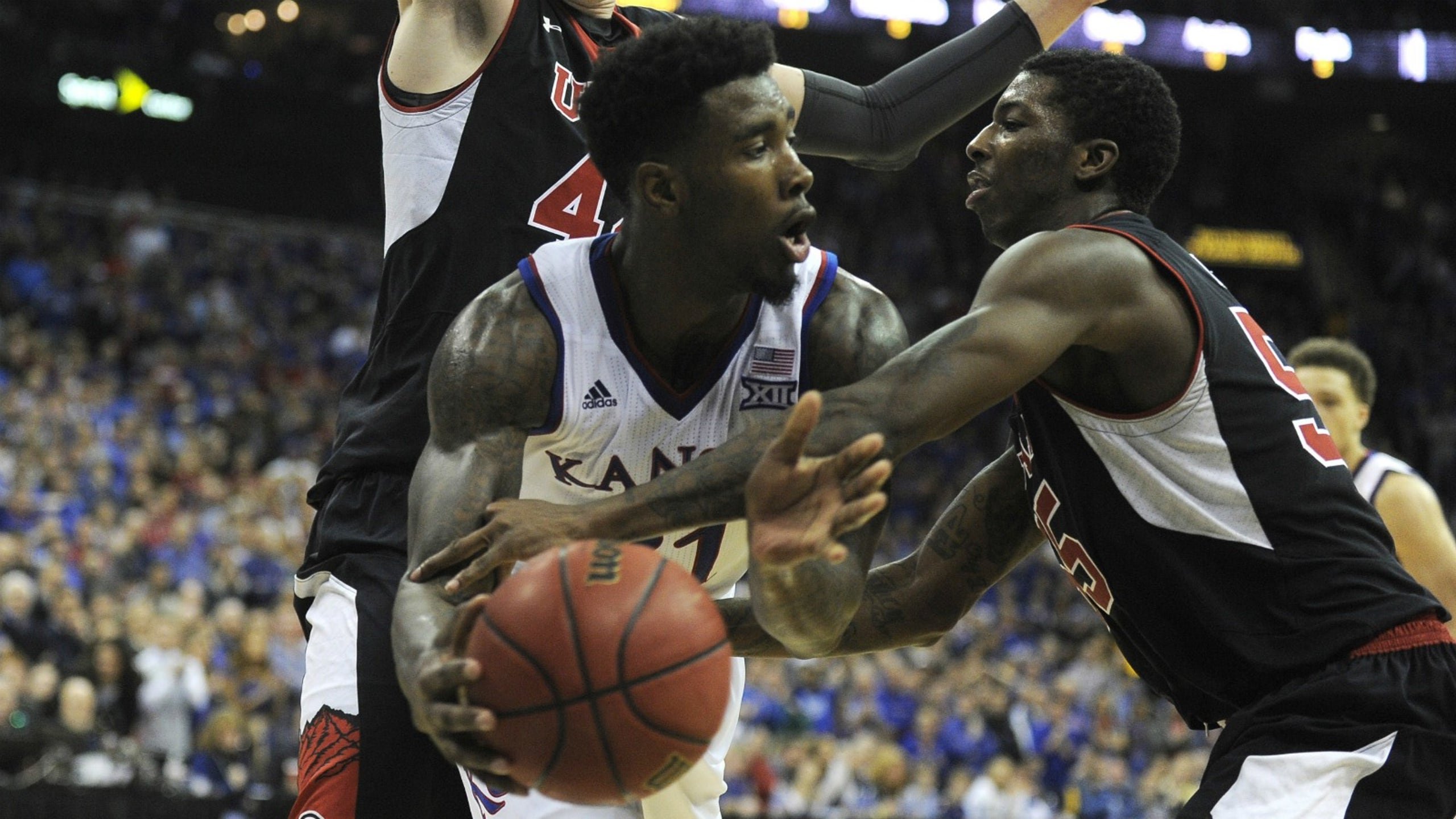 Utah center: KU more 'physical' than Shockers -- but overall, race too close to call
BY foxsports • December 13, 2014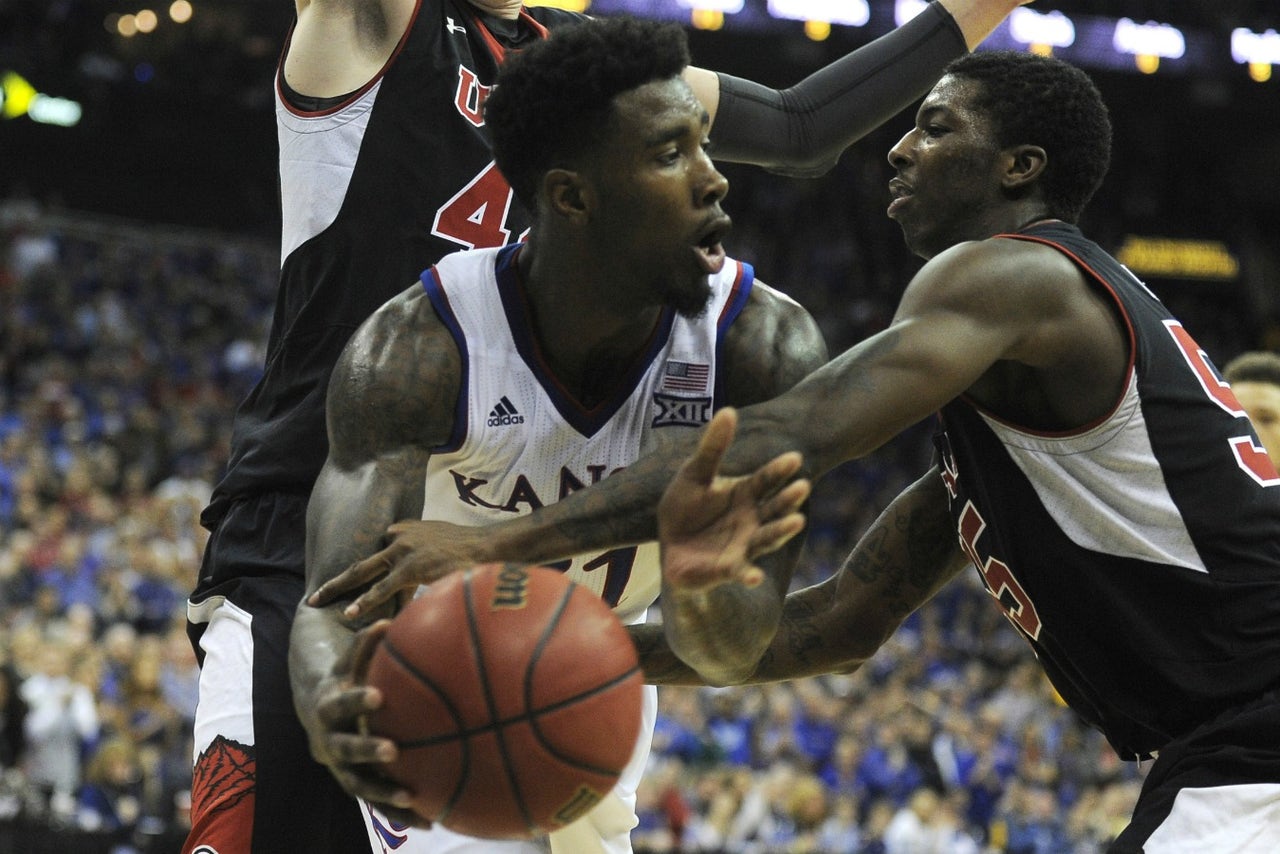 KANSAS CITY, Mo. -- Jakob Poeltl doesn't understand this particular local slice of Schadenfreude but, being Austrian, he can spell it.
"It's tough," No. 13 Utah's 7-foot freshman center said when asked to compare No. 10 Kansas, a 63-60 winner over his Utes on Saturday, with No. 11 Wichita State, which his team had beaten in overtime, 69-68, 10 days earlier at home. "I'd say Kansas is a more physical team, and Wichita was really great in (terms of) like, offensive execution and defensive discipline.
"How (Wichita) played, like, they were very disciplined and solid on defense.
"Kansas, I'd say, they have some great individual players and they're really strong and physical and athletic."
Curious, though: How would they match up, if hell ever froze over, or the selection committee got to feeling especially frisky?
"I really can't tell," Poeltl continued. "(It) would probably be a close game, too."
So A doesn't play B, but B pushes C on the road before losing close and late, and then A turns around and rallies to beat C close and late in a semi-home environment. Hmmm.
Ergo, the debate between A (KU) and B (the Shockers) continues, with no clear answer in sight. Massey composite: Wichita No. 9, KU No. 10. KenPom.com: Wichita seventh, KU eighth. Top 25: KU 10th, Wichita 11th. To-MAY-toe, To-MAHT-toe, and everybody sharpen your tongues.
What's eerie, though, is the similarity between the Utah-Wichita tilt in Salt Lake City and the Utah-KU game at Sprint Center, at least as far as the wider narratives went. Utes can't hit the broad side of several barns for long stretches in the first half, then start to flip the switch in the second half, hanging around, hanging around, surging past.
Biggest difference: The Shox couldn't fully close the deal. A deeper, "more physical" KU team did, flipping a 55-53 deficit with 3:36 left in the tilt thanks to an eight-for-eight finish at the free-throw line -- six for six over the final 40 seconds.
"The guys really made a difference at the free-throw line (Saturday)," said forward Jamari Traylor, who nailed two of those big makes, capping a 13-point contest, his first since an arrest last Sunday in Lawrence that got him a prime seat inside coach Bill Self's doghouse. "I feel like we didn't really miss any, and I think that was the deciding factor about the game, that we made so many. Credit to the guys stepping to the line and making shots."
They made 21 in 23 attempts, and six treys on 11 tries, compared with 14 makes at the charity stripe and four 3-pointers for the Utes (7-2). Over its past three tilts -- wins over Florida, Georgetown and Utah -- the Jayhawks (8-1) are 73 for 87 from the line (83.9 percent) and 20 for 42 beyond the arc (47.6).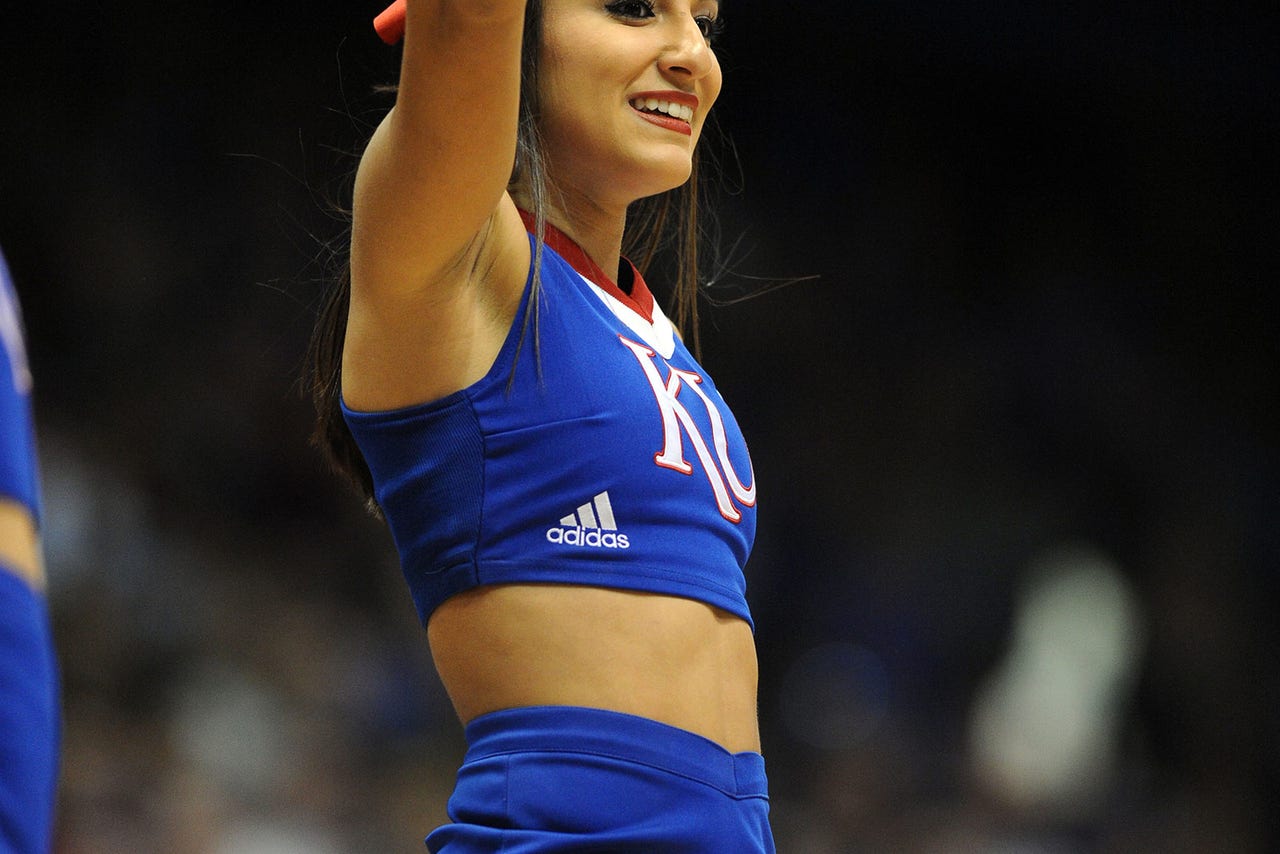 Lookin' good! Check out our gallery of Big 12 cheerleaders.
Sometimes, small ball works, if you hang with it long enough.
Which also makes you wonder what Self and his young pups were thinking after taking eight threes in the first period and then only three in the second. You are what you are, and you are, now and forever, without Joel Embiid. Utah won the second-chance points race, 9-3. The Utes won the points-in-the-paint count, 26-10. Those are as un-KU a set of stats as you'll see on a Self team, but they got away with it, somehow.
Mostly because of Perry Ellis being Perry Ellis (14 points, six rebounds).
Because of point guard Frank Mason, without the services of backup/running mate Devonte' Graham -- and more on that in a minute -- giving Self 10 points and five assists over 36 minutes.
Because Kelly Oubre Jr. (nine points, three boards) is starting to get it just a little bit more with each passing week.
Because Traylor (two steals, a block) played as if he was hellbent on making up for lost time.
Or proving a point to Self. Or all of the above.
"It's never good when you're in that position," the junior big man said of his legal slip. "I made a mistake, so I just wanted to come out and do better this time around and (in) this game. I wanted to impact the game (that) I couldn't last time."
For KU, the impact will be felt for months, especially with the Bracketology crowd. Saturday was the Jayhawks' fourth win over a team ranked among the KenPom.com Top 20 in the past three weeks.
And, just like the last one, at Georgetown, it didn't come easily.
Traylor scored the first bucket of the second half, was fouled and converted the three-point play, pushing the KU cushion to 42-21 some 11 seconds into the period.
Over the next 14 minutes, everything in the script flipped -- KU missed bunnies underneath and got curiously shy along the 3-point line.
Bit by bit, like a man crawling out of a giant pit, Utah went on a slow, methodical, 34-11 run in an effort to see the sunshine again. Poeltl's layup with 4:36 left put the Utes up 55-53 and left an agitated (and heavily blue) Sprint Center crowd aghast.
"We can screw up a good time," Self would quip later, "about as well as anybody I've ever seen."
The first 10 minutes portended what many expected, a tug-of-war with both sides getting a share of the flag; Chris Reyes' jumper with 10:04 until halftime had swung the lead back to the Utes, 17-16.
From there, the pounding commenced.
Defensively, the wings extended their arms, Syracuse-style, shortening passing lanes and challenging looks. Brannen Greene and Oubre are each a long 6-7, and can be a nightmare, collectively, to try and see past. The Utes missed on their first nine 3-point attempts, and were 0 for 7 in the first period to KU's 5 for 8. Between the 9-minute and 3-minute mark of the first half, annoyed by the Jayhawks' press, Utah turned it over four times. By the final television timeout, with 3:49 to go in the half, KU had padded its lead to 33-19.
It was fool's gold. Utah won the next 19 minutes and 14 seconds by a margin of 36-20, and the flag got tugged, hard, the other way.
"We're becoming a team that can fight through that," Ellis observed, "and overcome that."
True enough. But now they'll have to fight through something else, too: Graham is out for a month -- minimum -- with turf toe. Self sounded Saturday like a man who's starting to plan for a conference season (and maybe a tourney run) without the freshman from North Carolina as insurance in the backcourt. The coach even intimated after the game that other guards, including Evan Manning, could see more minutes in relief of Mason at the point.
Other forwards, too.
"I've even thought about making (Traylor) a backup point," Self said. "I'm serious."
Where have you gone, Conner Frankamp?
Oh, yeah. That's right.
You can follow Sean Keeler on Twitter at @SeanKeeler or email him at seanmkeeler@gmail.com.
---