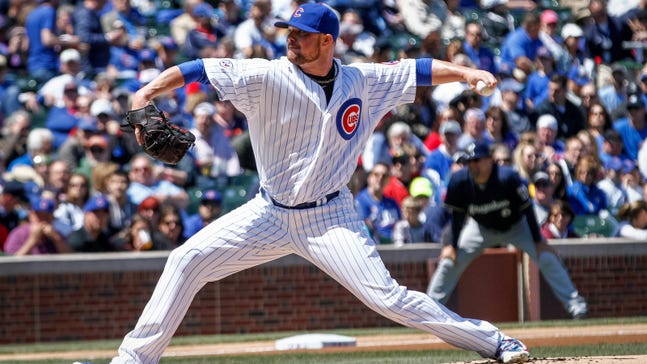 Using xFIP to learn which fantasy baseball pitchers could improve, struggle
Updated
Mar. 5, 2020 1:53 a.m. ET

If you've read my column enough, you know I'm a big proponent of using advanced metrics to predict future results. For pitchers, one of the ones I look at is xFIP. xFIP isn't something that is a breeze to calculate by any means, but essentially, it is an attempt to take those things that a pitcher has control over (walks, strikeouts, home runs) and quantify them into a number that attempts to look at what a pitcher's ERA will be. If a pitcher is missing bats, showing good control and avoiding the home-run ball, he should be headed for a relatively good ERA. If his present ERA is significantly above his xFIP, then it's possible he's had some bad luck on balls in play or perhaps his bullpen isn't stranding many of his runners. I'll highlight a handful of those pitchers as well as others who might be in for an ERA correction given their xFIP is higher than their ERA.
Clay Buchholz, BOS (6.03 ERA, 2.95 xFIP) - Buchholz has been wildly inconsistent so far this year, but these are certainly nice: 11.5 K/9, 2.9 BB/9. His velocity, however, is stable, and it's unlikely a .433 BABIP is going to continue. Buchholz is 30 and has never made 30-plus starts in a season, but if he can stay healthy for a full season, I think he'll improve.
Drew Hutchison, TOR (7.47 ERA, 4.67 xFIP) - Even a 4.67 xFIP indicates that Hutchison hasn't been very good this year, but the ERA is certainly inflated. Of his six starts, three have been awful, one bad and two excellent. His 6.6 K/9 and 3.5 BB/9 are both worse than last year, but I still think there's 3.50 ERA ability in his arm. It just may take him a while to show the sort of consistency we need to see.
Clayton Kershaw, LAD (3.72 ERA, 1.86 xFIP) - With Kershaw having one win and a 3.72 ERA through six starts, I've seen a number of "what's wrong with Kershaw" posts on Dodger fan message boards. Relax people. Kershaw's K/9 is a career-high 11.9, his BB/9 is awesome as always at 1.6, his velocity is up over last year and he's generating more ground balls. The home runs have hurt, but his 22.7 percent HR/FB rate likely will be cut in half by year's end, and he's 100 percent healthy. If someone really values him less than a first-round pick, make a deal.
Rubby De La Rosa, ARI (5.40 ERA, 3.41 xFIP) - A Joc Pederson grand slam certainly hasn't helped De La Rosa's ERA, but overall it's been a solid five starts despite a 5.40 ERA. De La Rosa's 9.3 K/9 and 2.4 BB/9 are both excellent, and he averages a decent 93.6 mph. De La Rosa was one of the bright young pitching prospects in the game back in the Dodgers organization before the Adrian Gonzalez deal that sent him to Boston. Now 26, perhaps he's finally coming into his own post-Tommy John surgery.
Jon Lester, CHC (4.71 ERA, 2.83 xFIP) - Wait, aren't pitchers supposed to get better when they move from the AL to the NL? Lester should be fine. His .370 BABIP should come down quickly, and his ratios are solid as ever at 8.8 K/9 and 1.9 BB/9. Lester tossed seven shutout innings of three-hit ball in his last start and has really only had one bad outing all year (6 IP, 6 ER). It's safe to assume he'll be the Lester of old the rest of the way.
Corey Kluber, CLE (4.62 ERA, 2.99 xFIP) - I've had a few Kluber questions in our Ask an Expert queue the last couple weeks. With Kluber 0-4 with a high ERA, folks are jumping ship or at least considering selling low, but I'd for certain be on the buying side. He hasn't been quite as good as last year, but 2014 would be tough to top regardless. With a 9.0 K/9, 2.1 BB/9 and an excellent 2.2 GB/FB rate, expect Kluber to post a sub-3.00 ERA the rest of the way.
James Paxton, SEA (5.08 ERA, 3.79 xFIP) - Both Paxton and teammate Taijuan Walker have disappointed this year, but at least we're seeing some improvement from the former. In each of his last two starts, Paxton has allowed two runs in seven innings, taking his ERA from 6.86 to 5.08. His 8.0 K/9 and 2.9 BB/9 are both improvements over last year, though his velocity bears watching given it's down 1.5 mph on average compared to last year. For a pitcher with solid stuff who throws with his left hand, a 7.8 percent swinging-strike rate is not quite what I would expect given league average is 9.3 percent. There likely will be some ups and downs the rest of the way, but if his last couple starts are an indicator, perhaps he's turning things around.
Danny Salazar, CLE (3.81 ERA, 2.12 xFIP) - I was pretty bullish on Salazar last year after his 10-start stint in 2013 that saw him post an 11.3 K/9 and 2.6 BB/9 with a fastball that averaged 96.2 mph. Salazar slumped to a 4.25 ERA last year and ended up spending a good chunk of the year in Triple-A. I was still a huge fan this year, and with a 12.8 K/9 and 1.7 BB/9 with a fastball averaging 96 mph, we should see Salazar's ERA to continue to come down. He's allowed four home runs in 26 innings, a rate that obviously needs to be reduced if he's going to be this year's Corey Kluber.
Nick Martinez, TEX (0.84 ERA, 4.69 xFIP) - Martinez put up a 4.55 ERA and 1.46 WHIP last year, so he's obviously pitching way over his head. If you can get someone in your league to think his start is for real, by all means do. Just hope that owner doesn't see Martinez's awful 3.7 K/9 and that a 0.0 percent HR/FB rate isn't exactly sustainable. Martinez also averages just 89.8 mph with his fastball, so there really isn't much in the way of upside.
Kyle Gibson, MIN (3.56 ERA, 5.09 xFIP) - If you see a pitcher with a 3.0 K/9 and 3.9 BB/9 and don't know his ERA, I'd guess you'd take the over on a 4.50 ERA at least. But 3.56? Pure luck. Gibson is a 2009 first-round pick by the Twins, but at this point he's a back-of-the-rotation starter at best. Don't expect better than a 4.50 ERA from here.
Doug Fister, WAS (2.61 ERA, 4.55 xFIP) - Fister had a 2.41 ERA and 3.85 xFIP last year, so this is no real surprise to see him on this list again in 2015. Fister's 4.1 K/9 is lower for the third consecutive season, and it's a bit alarming to see that his fastball averaging just 86.1 mph, a 1.8 mph decline over last year. He's also seen his GB% drop to 42.2 percent versus a 49.0 percent career mark, so all in all, I'm not a believer in a sub-3.50 ERA the rest of the way. Too much risk.
Shelby Miller, ATL (1.66 ERA, 3.65 xFIP) - The Phillies have the league's worst offense and Miller has faced them twice, but overall, fantasy owners can't complain. Miller has benefitted from a .216 BABIP that's sure to rise, his ratios (7.3 K/9, 3.1 BB/9) are good, but not great, and he probably won't see 88.2 percent of his runners be stranded the rest of the way. A pitcher with his youth and upside can certainly progress, but expecting anything more than a 3.25 ERA is probably futile.
Michael Wacha, STL (1.93 ERA, 4.03 xFIP) - Wacha has seen his K/9 drop from 8.0 to 5.0 year over year, so that explains his placement on this list. It's tough to be too concerned, however, as his velocity is good, his BB/9 is much improved (2.2) and he's generating more ground balls. Wacha should be a solid option the rest of the way, and I expect his K rate to climb.
Eddie Butler, COL (3.81 ERA, 5.03 xFIP) - A pitcher with a 5.5 K/9 and 5.2 BB/9 has no business having an ERA below 5.00, much less a 3.81 mark. Butler has a good fastball (93.5 mph), but even in Double-A last year, his K/9 was just 5.3. His control has been better than he's shown this season, but the lack of missed bats is troubling. Even last year in 16 big-league innings, Butler struck out just three while allowing 23 hits and walking seven. Butler dealt with shoulder soreness last year and exited his last spring start with more shoulder soreness, so that's certainly troubling. All in all, I've yet to meet a Rockies pitcher I want on my roster.
Dallas Keuchel, HOU (0.80 ERA, 3.30 xFIP) - OK, we know Keuchel isn't going to break Bob Gibson's single-season ERA record (1.12), but what is a reasonable expectation for his next 26 or so starts this year? Keuchel isn't exactly a flame-thrower given his 89.2 mph average fastball, so his 6.0 K/9 and 2.6 BB/9 are probably about in line with what we'll see at year's end. What won't stay the same is his .178 BABIP and 0.00 HR/FB%, both of which should combine to take his ERA north of 2.50 by mid-season and perhaps closer to 3.00 by year's end.
Anthony DeSclafani, CIN (2.03 ERA, 4.11 xFIP) - DeSclafani has been a nice surprise for the Reds this year, particularly given Homer Bailey's injury. The ex-Marlin has a 7.6 K/9 and 3.2 BB/9 and according to pitching data, his slider has shown improvement over last year. DeSclafani's 42.7 GB% is fairly low still, but it's up 7-plus points over last year's rate. I think he'll settle in as a solid No. 4/5 starter, but it's clear he's pitching a bit over his head. We could see a sub-4.00 ERA the rest of the way, but not much lower.
Regan is a five-time Fantasy Sports Writers Association award winner.
Follow @vtadave on Twitter.
Get a FREE RotoWire 10-day trial (no credit card required) at RotoWire.com
---