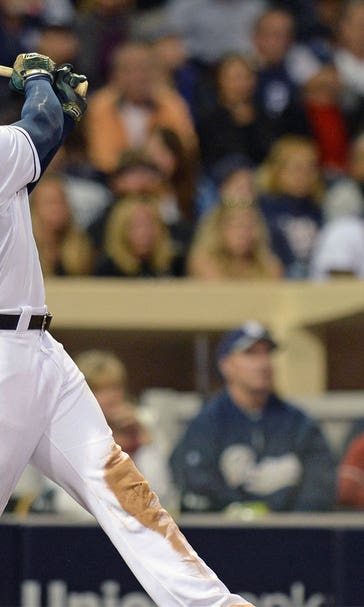 Upton homers in 8th to give Padres 3-2 win vs Diamondbacks
April 16, 2015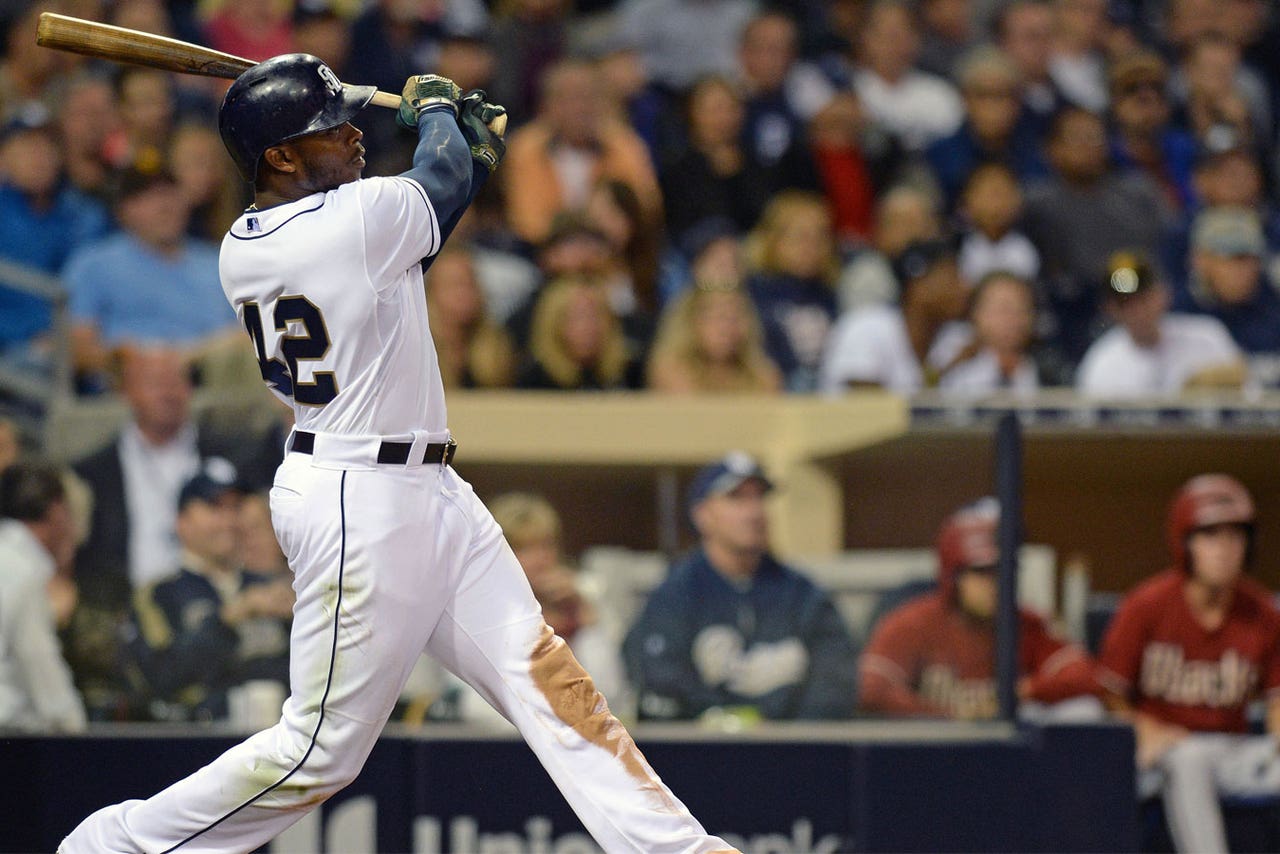 SAN DIEGO (AP) -- A year ago, a game like this seemed destined to go extra innings.
Not so with this San Diego Padres lineup.
Justin Upton homered with two outs in the eighth inning to give the Padres a 3-2 victory over the Arizona Diamondbacks on Wednesday night.
Upton, one of several star players obtained in an offseason roster revamp, hit the first pitch he saw from Randall Delgado (0-1) into the seats in left. It was his third. Upton also homered in a 5-1 win Tuesday night.
"You always feel as though you're always one swing away no matter who goes to the plate," manager Bud Black said. "There might be a little difference when you have some guys with true raw power. We have some guys with true raw power. One mistake and one good swing can result in what happened tonight."
Craig Kimbrel pitched the ninth for his third save in as many chances since joining the Padres the day before the season opener.
"I think as a team if we can hand the ball to Craig with the lead, we've got a good chance of winning," said Upton, who hit his third homer with the Padres. "To get that quick strike, I think that fires up the team and fires up the crowd and gets one of our best players in the game to close it out.
"It's part of my game," said Upton, who always hit well at Petco as a visitor with the Diamondbacks and then the Atlanta Braves. "I've got to use it. I don't go out there trying to hit home runs but when it does come out, it's a part of my game that I hope shows up more times than not."
Upton said he sees the ball well at Petco against the dark blue backdrop in center field. "You've got to stay within yourself here. You can't let the big dimensions make you swing hard or get big," he said.
"We wanted to go fastball away. We didn't want him to pull the ball but it got too much of the plate," catcher Jordan Pacheco said.
"There's runs here, and there's homers here," Black said.
The Padres added stars Upton, Matt Kemp, Wil Myers and Will Middlebrooks to pump up the worst offense in the majors.
"That's why they got him here. He's a good hitter," Arizona manager Chip Hale said about Upton. "We made a bad pitch and that's what happens. He pitched very well before that. He's pitched well all season for us and made one bad pitch and that's what superstar players do. He did it to us."
Joaquin Benoit (3-0) pitched the eighth for the win.
Yasmany Tomas, Arizona's heralded 24-year-old Cuban prospect, made his big league debut as a pinch-hitter in the seventh and grounded out to second to end the inning.
"By that time I had my good slider and I think I threw a cutter and a couple of sliders and just threw good pitches to him," Morrow said.
Paul Goldschmidt gave the Diamondbacks a 2-0 lead with his opposite-field home run to right off Brandon Morrow with one out in the first off second. It was third homer of the season and his 500th career hit. Ender Inciarte was aboard on a leadoff single.
San Diego came back on Yonder Alonso's RBI double in the second and Matt Kemp's sacrifice fly in the sixth.
Arizona center fielder A.J. Pollock threw out Derek Norris trying to score from second on Will Middlebrooks' single to end the sixth.
Morrow allowed two runs and seven hits in seven innings, struck out five and walked one.
Arizona starter Chase Anderson allowed two runs and eight hits in six innings, struck out five and walked one.
TRAINER'S ROOM
Padres: RHP Ian Kennedy, on the 15-day disabled list with a strained left hamstring, threw a bullpen session. He's scheduled to throw another one Friday in Chicago and then likely make a rehab start.
UP NEXT
Diamondbacks: After a dazzling big league debut in which he beat Clayton Kershaw, the reigning NY MVP and Cy Young Award winner, Arizona right-hander Archie Bradley (1-0, 0.00) gets a shot at World Series MVP Madison Bumgarner (1-1, 5.40) and the Giants in San Francisco.
Padres: San Diego is off Thursday before opening a three-game series at the Chicago Cubs on Friday, when ace James Shields (1-0, 2.08) is scheduled to make his third start. Chicago is scheduled to start RHP Jason Hammel (1-0, 4.50).
---