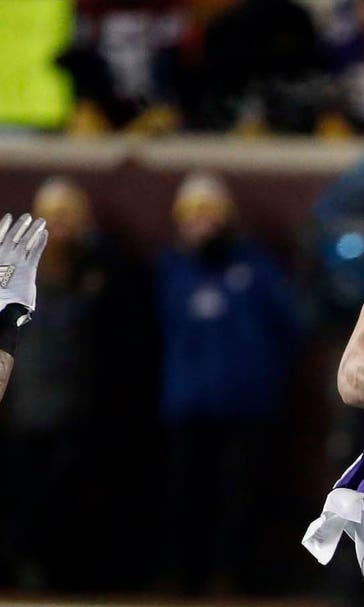 Upon further review: Vikings vs. Giants
December 28, 2015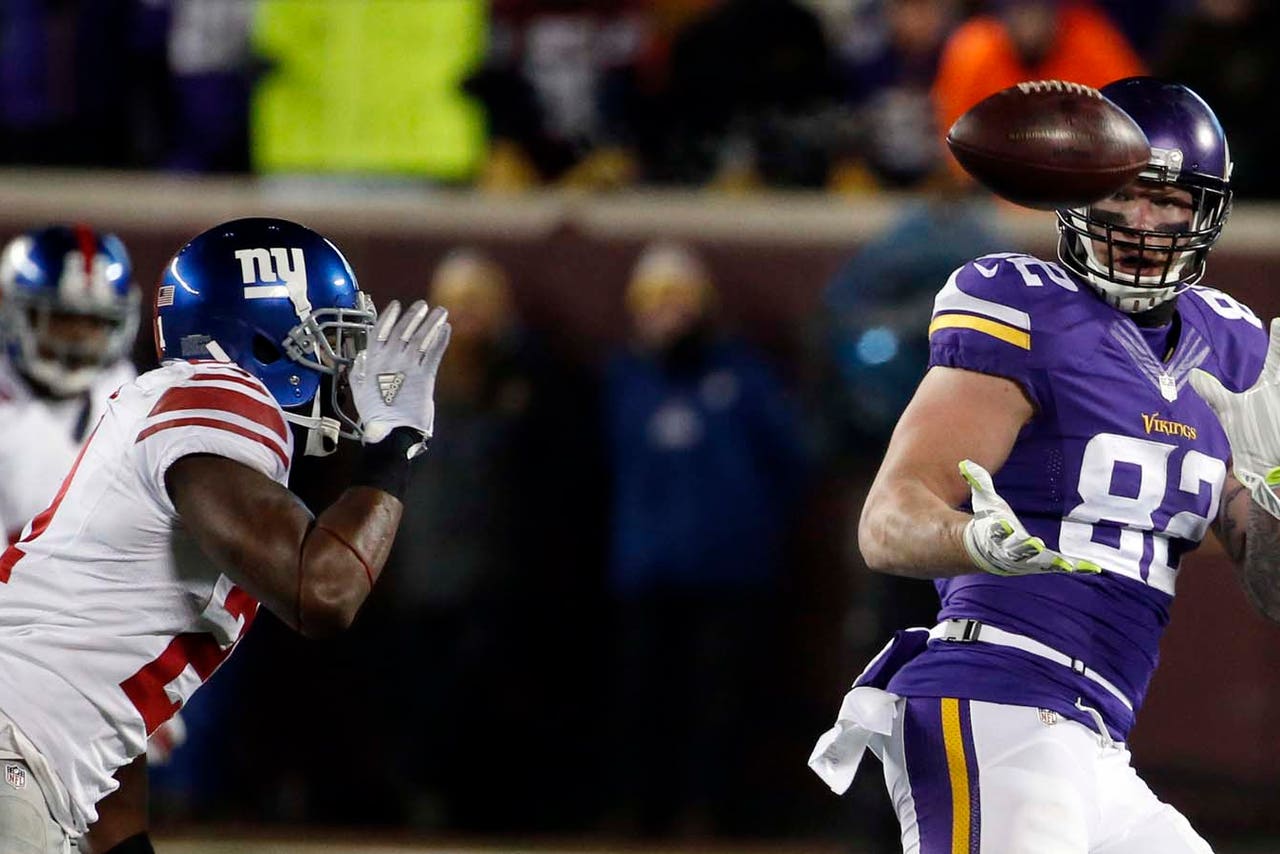 With four minutes left in Sunday's second quarter, safety Harrison Smith jumped in front of an Eli Manning pass, then easily breezed down the sideline 35 yards for a touchdown.
That "pick six" play essentially sealed it -- another Giant embarrassment for Manning against the Vikings. It also paved the way for a monumental win for Minnesota.
Led by a dominating effort on defense, the Vikings sprinted to a quick, 13-point lead on Sunday night, en route to a 49-17 triumph that clinched a playoff berth.
Yes, the Purple and Gold are back in the postseason, for the first time since 2012. And, if they continue to exhibit the stellar all-around play they've displayed the past couple games, Mike Zimmer's troops could make some noise during the NFL's "second season."
Let's examine all that went right for 10-5 Minnesota on Sunday night:
SUNDAY SCHOOL
-- The Vikings' running game got its mojo back.  Superstar Adrian Peterson got rolling, as he churned out 104 yards and one score on 22 carries. The 30-year-old running back will enter this campaign's final regular-season game with a league-high 1,418 rushing yards. But Minnesota's team rushing ruled the day against New York, accounting for 218 total yards, compared to the visitors' 91 yards on the ground. The Vikings averaged 5.4 yards per carry.
-- New York's players were as cold as the 11-degree weather on this night. By the time the Giants hit the halftime locker room, the visiting players were left with some serious hang-dog looks. New York (6-9) was eliminated from playoff contention earlier in the weekend and seemed uninspired virtually throughout Sunday night's game. The Giants had just 57 passing yards in the first half and ended the night 1 for 11 on third-down conversion attempts. Start spreading the news: That was an unprofessional effort from coach Tom Coughlin's squad.
-- This game proved that disciplined play is Minnesota's ideal recipe for success. The Vikings continued a virtually season-long trend by avoiding penalty problems on Sunday. Minnesota was flagged just twice, for 10 total yards. Conversely, New York was saddled with seven penalties, for 48 total yards. The hosts also played solid ball-control offense, winning the time-of-possession battle 34:57-25:03.
--  Harrison Smith and his opportunistic defense showed their teeth. Smith had a spirited effort, ending the night with five total tackles and the aforementioned, game-changing interception. Several Vikings defenders had admirable performances, though, such as linebackers Chad Greenway and Eric Kendricks, who combined for 16 total tackles. Each of New York's first four possessions resulted in a punt or interception; after that, Minnesota never looked back.
DULY NOTED
-- Minnesota exorcised some serious demons on Sunday night, with regard to playing in primetime. Even with the win over the Giants, the Vikings are now 4-18 in night games since 2009. Minnesota had lost five straight Sunday night games before blowing out the Giants.
-- After serving up Sunday's interception-for-a-touchdown to Harrison Smith, Eli Manning now has thrown five career "pick sixes" against Minnesota. More importantly, the veteran QB is now 3-5 all-time against the Vikings.
-- Minnesota ended its two-year, regular-season run at TCF Bank Stadium with a rock-solid, 11-5 record. The Vikings went 6-2 at home in 2015. They're expected to begin play at state-of-the-art U.S. Bank Stadium when the 2016 preseason rolls around late next summer.
-- There are countless connections between these two franchises. Vikings defensive tackle Linval Joseph, for example, played for the Giants from 2010-2013. And, perhaps the most interesting footnote: Giants QB Eli Manning's father, Archie Manning, played for the Vikings from 1983-84. In 1984, Archie Manning went 0-2 as a Vikings starter, played in six total games, and was sacked 18 times.
--The Vikings now lead the all-time series against the Giants, 15-12. Minnesota has won four of the last five meetings.
--Adrian Peterson leads the NFL this season with seven games of 100-plus rushing yards.
WHAT IT MEANT
The Vikings are back in the playoffs and very much alive for an NFC North title, too. With a postseason berth in their back pocket, Vikings supporters can watch next Sunday night's duel with the rival Packers with a little less tension. Minnesota also produced a third straight strong performance, indicating that Mike Zimmer's squad could be peaking at an ideal time. Minnesota enters Week 17 in the fifth position in the NFC's playoff pecking order.
PLAYER OF THE GAME
There are several worthy candidates, even the often-overlooked Blair Walsh (5-for-5 on field-goal attempts). But, after a review as exhaustive as anything Ed Hochuli could produce, we at FOX Sports North bestow this weekly honor on Minnesota's entire defense. After all, the Vikings' defensive domination of the Giants was a group effort. The damage toll: Three interceptions. Four sacks. Six tackles for loss. Seven passes defensed. Eight QB hits. Defensive tackle Tom Johnson produced the most destruction, with five total tackles, two sacks and two QB hits.
DON'T FORGET ABOUT ME
Jerick McKinnon touched the ball just nine times on Sunday (including seven rushing attempts), yet the young running back registered 97 yards of offense. McKinnon also produced the first two rushing touchdowns of his career, including a highlight-reel, 68-yard scoring sprint with 3:36 remaining that handed the hosts a 49-10 lead. The 23-year-old running back now has 256 rushing yards this season, on 48 attempts (5.3 yards per carry).
THAT MOMENT
With 7 minutes, 22 seconds remaining in Sunday's third quarter, veteran cornerback Captain Munnerlyn picked off Eli Manning at the Giants' 36 yard-line. Munnerlyn then weaved his way up the sideline for a 32-yard return. A little less than a minute later, Adrian Peterson plowed in for a two-yard touchdown, helping the Vikings seize an insurmountable, 29-3 lead. Ballgame. Postseason ticket punched.
THIS NUMBER
Seven. The number of consecutive possessions Minnesota scored on, from late in the second quarter until Jerick McKinnon's 68-yard TD run with 3:36 left in the fourth quarter.
THEY SAID IT
"I think we're playing with confidence right now. I think our guys feel good about the things that we're doing, and I think they believe. Half the battle is believing." -- Minnesota head coach Mike Zimmer, via the Associated Press.
"I'm just proud of all these guys." -- Minnesota running back Adrian Peterson, via the AP.
"Tonight is just very difficult for me to explain." -- New York head coach Tom Coughlin, via the AP.
WHAT'S NEXT
Next Sunday, in a highly anticipated Week 17 contest, Minnesota will visit rival Green Bay (10-5) for a 7:30 p.m. matchup that will determine this year's NFC North champion.
Follow Kelly Beaton on Twitter
---
---