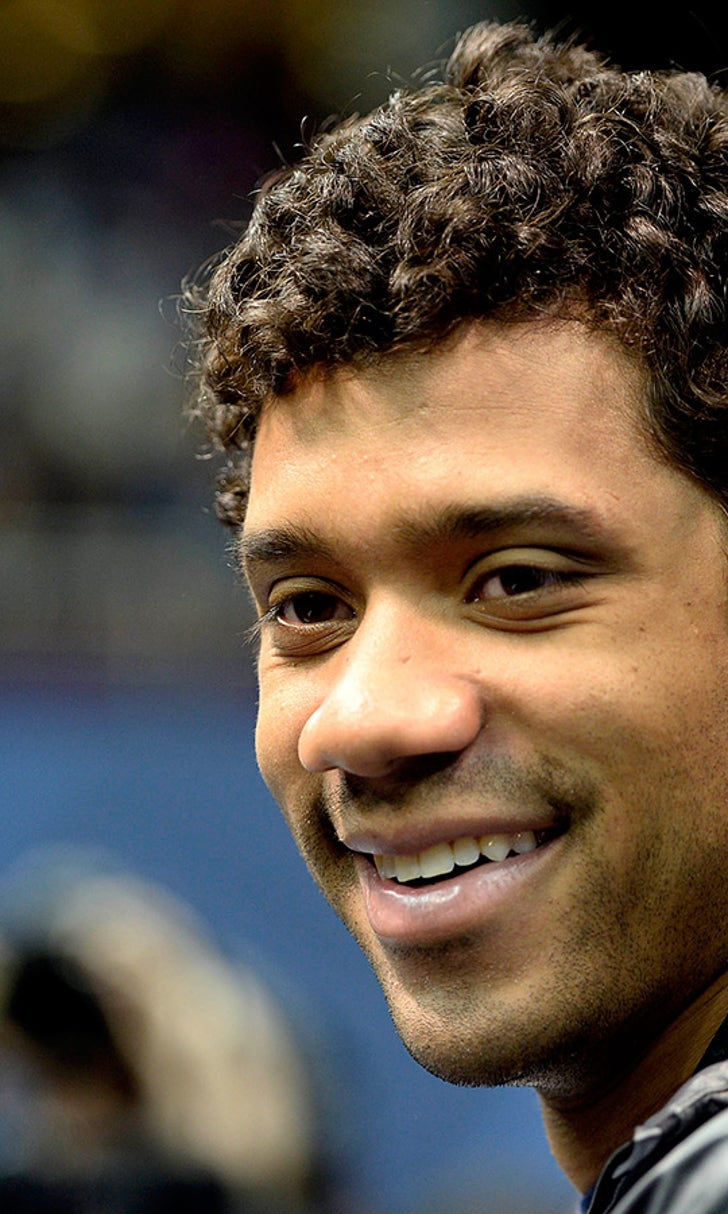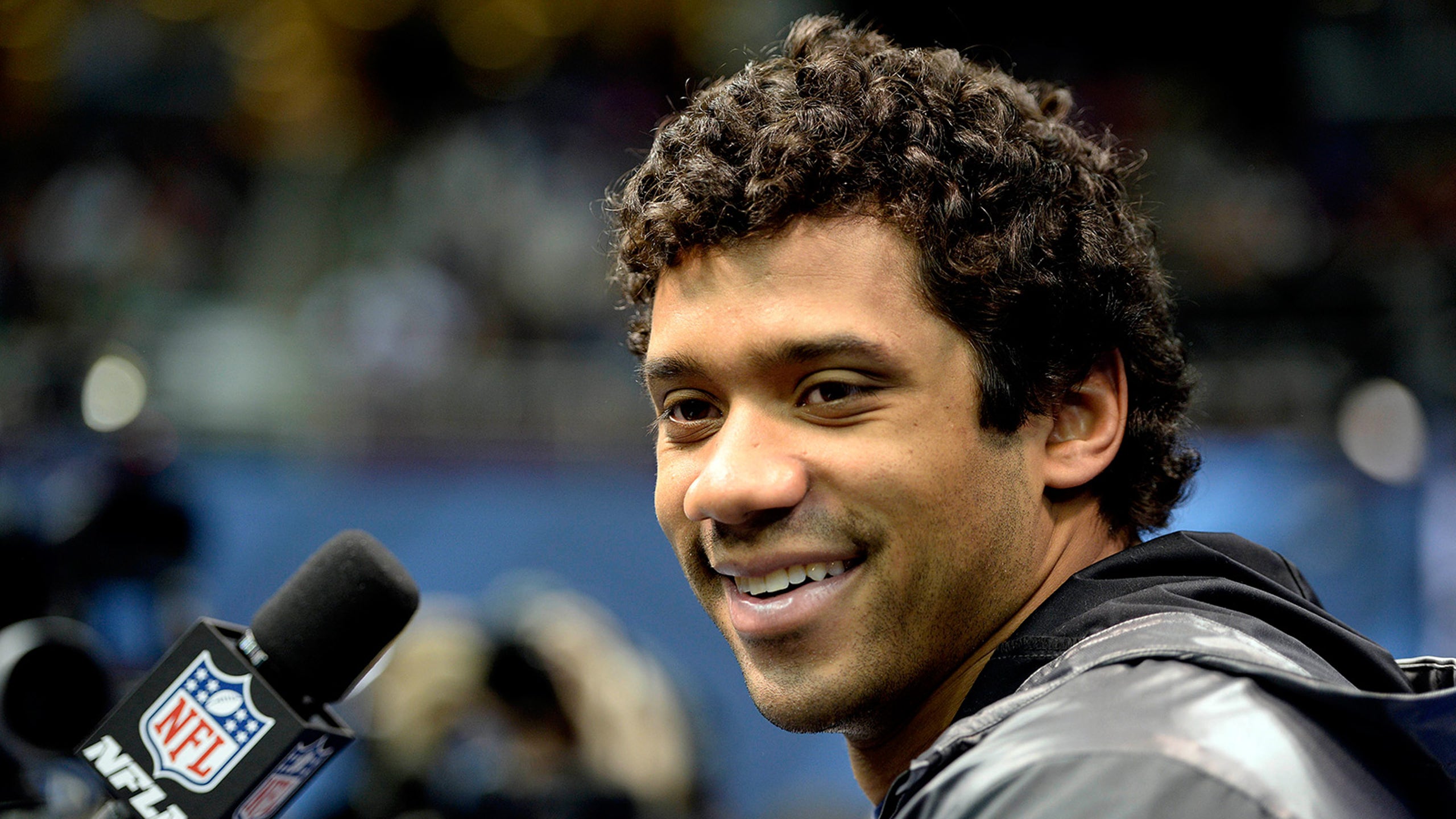 Unwavering confidence has spurred Wilson's journey to Super Bowl
BY foxsports • January 30, 2014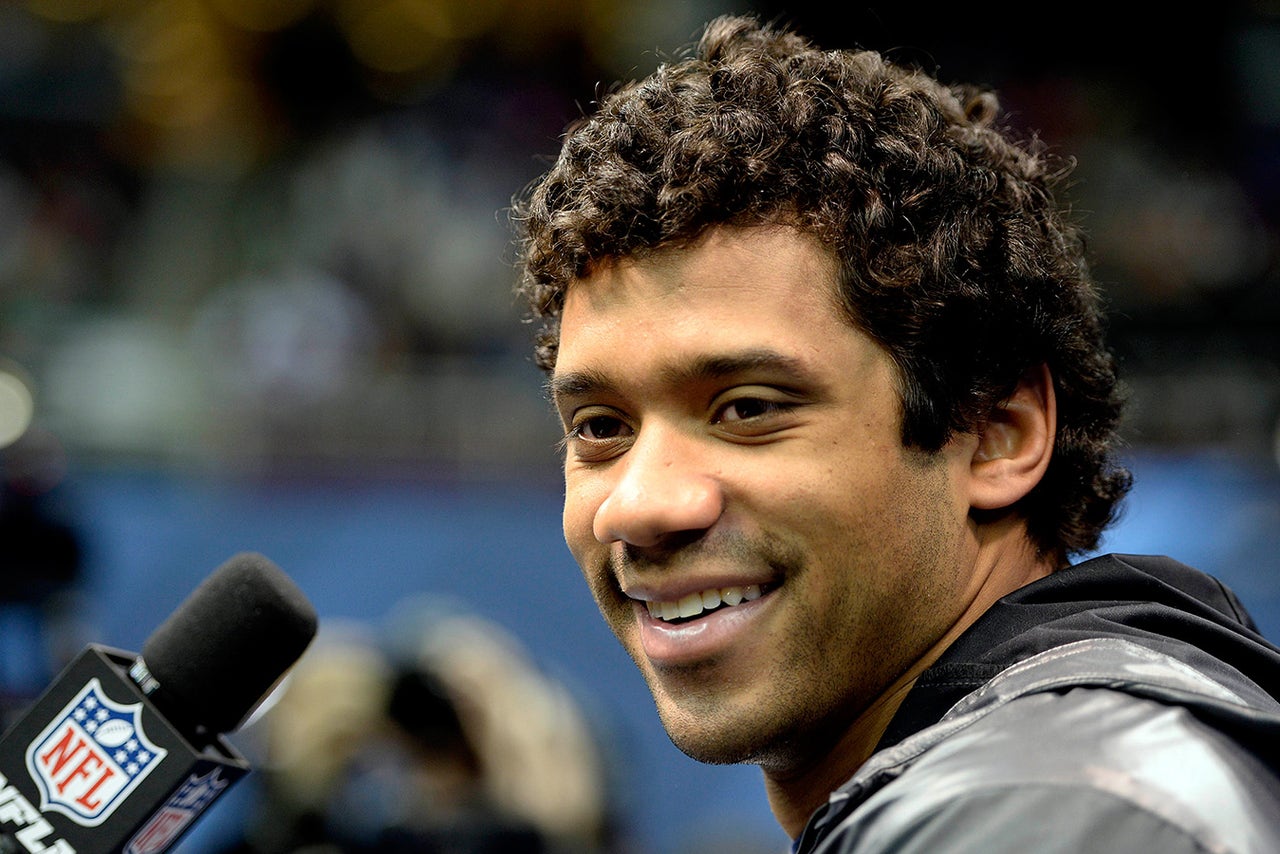 Russell Wilson stood before a crowd of reporters and answered questions with the poise and confidence many had come to expect. He talked about overcoming the odds, about the effort and energy required to reach this point in his life and about never allowing a big stage to engulf him.
And though the answers might have sounded cliche if delivered from someone else, they somehow sounded a tinge less so coming from Wilson. He was polished, but he also demonstrated genuineness in everything he did and said, mature beyond his years and armed with a plan.
"There's nothing better than getting ready for a huge football game," Wilson said. "I'm excited about my future in the NFL for a long period of time. Hopefully I play 15 years in the NFL and win a Super Bowl. That's the goal."
Those comments did not come from Tuesday's Super Bowl media day session. Rather, they came during Wilson's college pro day nearly two years ago -- before he led his team to the precipice of winning the Vince Lombardi Trophy, before he became a superstar NFL quarterback, before he earned Seattle's starting job.
Before anyone thought Wilson could even make the league, let alone excel in it, he knew better.
On March 7, 2012, Wilson was not a Pro Bowl quarterback. He was merely another college player trying to convince an NFL team to take a chance on him. And so, his remarks appeared ambitious at best, terribly naive at worst. He measured a shade under 5-foot-11, which would have made him the shortest quarterback in the NFL. Many laughed at the notion he could thrive in a league dominated by hulking linemen and 6-6, 225-pound signal callers.
Two seasons in, and nobody is laughing anymore.
When Seattle plays the Peyton Manning-led Denver Broncos in the Super Bowl on Sunday, Wilson will share center stage. Maybe we couldn't see this type of meteoric rise coming, but his comments two years ago were telling of the type of player he was capable of becoming. And his unwavering desire to succeed laid the foundation upon which he stands now.
In one season at Wisconsin, Wilson earned a team captain spot and broke the school record for single-season passing yards, touchdown passes, completions and pass efficiency rating. He won a Big Ten championship and led the Badgers back to the Rose Bowl. During his pro day, he completed 59 of 63 pass attempts, making every throw necessary to be an NFL quarterback. Yet he still faced criticism for his height disadvantage.
Instead of caving to factors outside his control, he worried only about the traits he could manage -- delivering a tight spiral with arc and pace, as well as seeing through lanes rather than over the line of scrimmage.
"I think the way you convince them is putting it on film," Wilson said then of NFL personnel. "I think that's what they've seen is the fact that I don't get balls batted down. The fact that I deliver an accurate ball is the way to show them. I can talk all I want, but when they put on the film, I think that's what they have to see, and I think I've shown that.
"The more that teams continue to watch the film will really help me. I'm not worried about what round it is. Whether it's the first, second, third or if it's the last round, whatever it is, I know it's going to be a good situation."
Indeed, Wilson found not only a good situation -- he found the perfect one in Seattle.
When the Seahawks drafted Wilson in the third round at No. 75 overall in April 2012, he appeared headed for a backup role. Seattle had signed Matt Flynn to a three-year, $19 million deal to be the presumed starter. But Seahawks coach Pete Carroll immediately took notice of Wilson's talents and leadership skills during rookie minicamp, and Wilson won the starting job in the fall. Carroll was not afraid to buck conventional wisdom and use the player who gave him the best chance to win despite perceived height issues.
Wilson has since made the entire league pay for doubting his ability. Over two regular seasons, he has thrown 52 touchdowns and 19 interceptions and become a headache for opposing defenses because of his running savvy. His 539 rushing yards this season ranked third among all NFL quarterbacks. He also has a 27-9 overall record as a starter, tying him with Ben Roethlisberger for most victories by a quarterback in his first two seasons during the Super Bowl era.
"He's so poised," Seahawks safety Chris Maragos told FOX Sports Wisconsin last week. "When you see situations in the game that go bad or when people are saying that he's not playing well, the guy just keeps doing it. He plays well. He never gets rattled or shaken up about anything. He goes and executes. He's so determined. He's smart. He's got a passion to be great. He wants to be different. He'll never settle for anything less than that. And I think that's why he's been able to have so much success."
Unlike some pundits' opinions, Maragos noted Wilson's stature actually helped him as an NFL quarterback.
"It's so hard to see him behind the linemen when he drops back to pass," Maragos said. "When I'm in practice, I can never get a read on where he's looking, so it's hard for me to get a jump on the ball. I'd say that plays to his advantage."
Now, Wilson is on the cusp of realizing one of his goals: winning the Super Bowl in just his second season. Reaching this point is an accomplishment itself. Dan Fouts, for example, played 15 seasons in the NFL and never reached a Super Bowl. Warren Moon (17 seasons) and Sonny Jurgensen (18 seasons) also never played in the big game. One other thing the latter three QBs have in common: all are in the Hall of Fame.
Wilson, of course, won't be thinking about history on Sunday. As he has done so often, he will stay in the moment but not be overwhelmed by it. The separation, he's noted many times, is in the preparation.
"I don't get nervous," Wilson said back at his pro day. "I don't get nervous when you're prepared. That's the way I've always been. I make sure I prepare the right way. I feel completely comfortable and confident in what I'm doing. Every opportunity to get out on the football field, I shouldn't be nervous."
Wilson has been on a mission to prove this was his proper path for years. And he has tossed aside all the stereotypes that have stood in his path. Two years ago, he said he wanted to break the perception for good that short quarterbacks couldn't succeed in the NFL.
"That's one of the reasons why God put me on this earth," he said, "is to show people that anything is possible."
With each game he plays in the NFL, Wilson further illustrates that point, toppling the odds with confidence and humility and never letting the big stage upstage his drive to succeed.
And his biggest stage is yet to come.
Follow Jesse Temple on Twitter
---