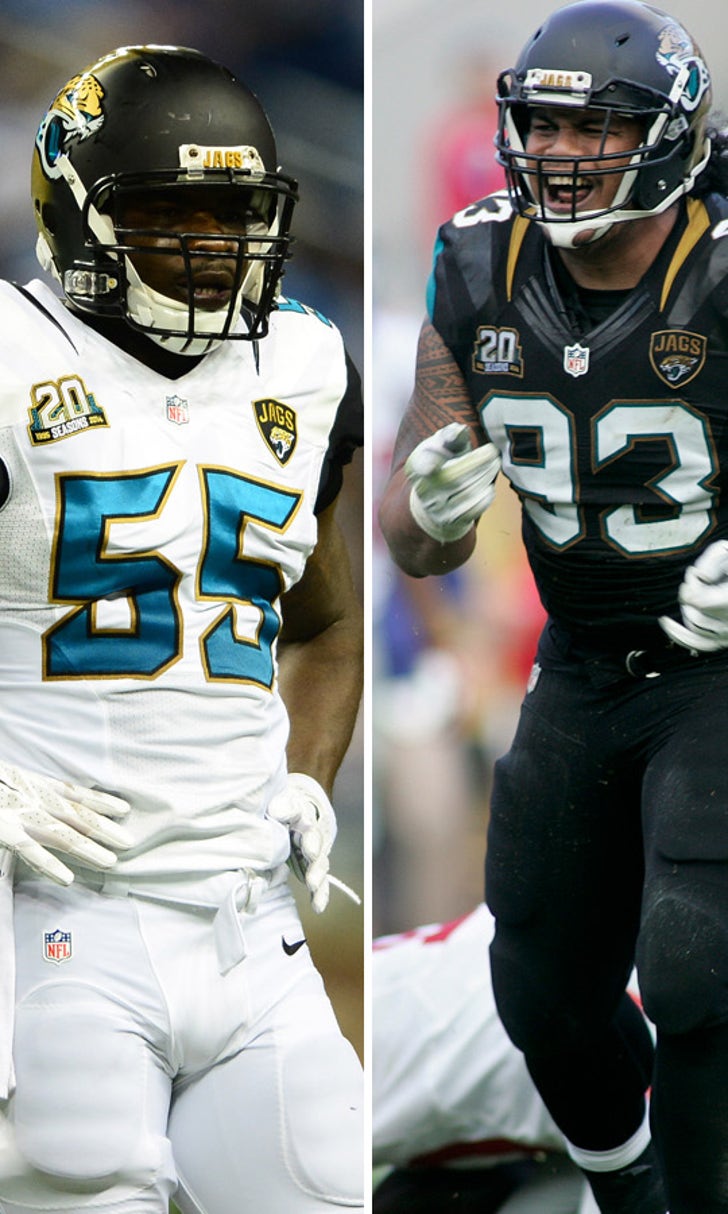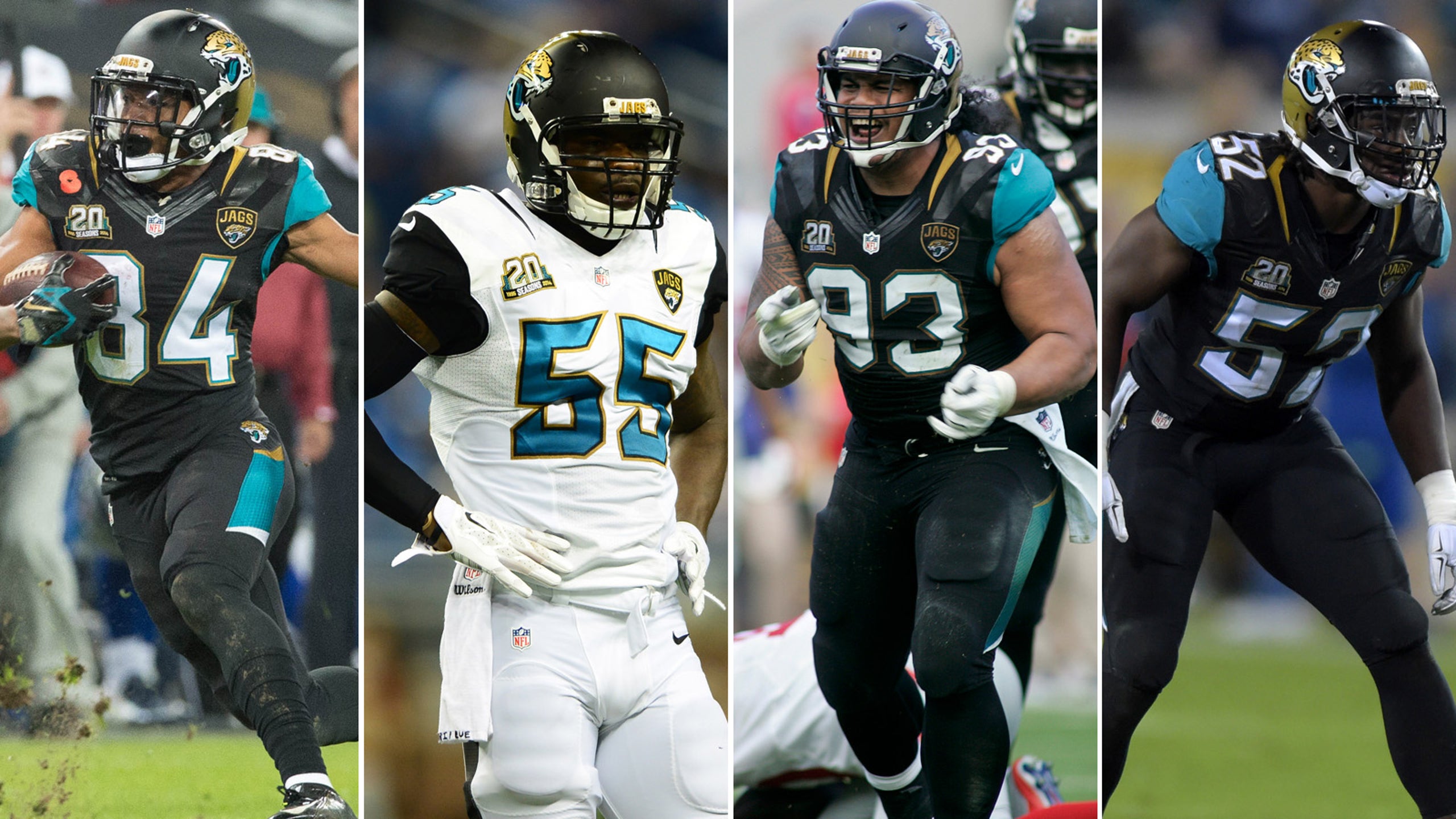 Until team turns corner, Jaguars more apt to let own free agents walk
BY foxsports • March 6, 2015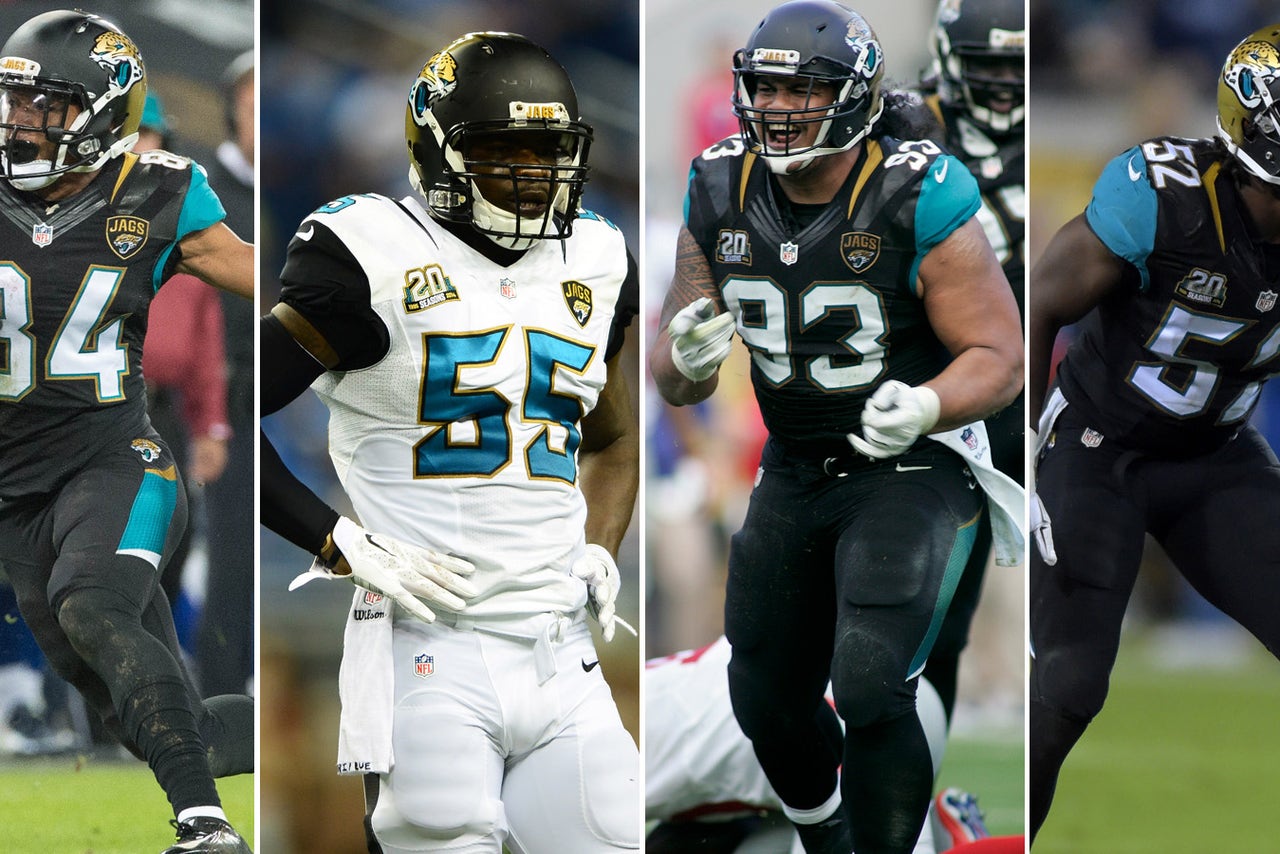 The world didn't stop turning last spring when the Jacksonville Jaguars let Maurice Jones-Drew, the franchise's all-time leader in career and rushing touchdowns, leave via free agency.
The losing didn't stop either. But the departure of Jones-Drew to the Oakland Raiders, where his impact was minimal to negligible, showed how the prospect of losing someone once thought to be essential to a team's plans can become much ado about nothing.
In all probability, the Jaguars will see their last remaining picks from the 2010 and 2011 NFL Drafts leave in the days or weeks ahead. The same could hold true for two of the first bunch of free agents brought in by coach Gus Bradley and general manager Dave Caldwell, leaving them with only defensive tackles Sen'Derrick Marks and Roy Miller two years later.
And few heads will turn or jaws will drop.
When a team has gone 7-25 over the last two years and hasn't had a winning season since 2007, as is the case with the Jaguars, loyalty only goes so far. By the time they can begin their offseason workout programs April 20, the only players whose tenure with them predates 2012 could be middle linebacker Paul Posluszny, tight end Marcedes Lewis and kicker Josh Scobee.
Here's a closer look at the potential unrestricted free agents with Jaguars ties who could hit the market when the new league year begins Tuesday.
WR CECIL SHORTS III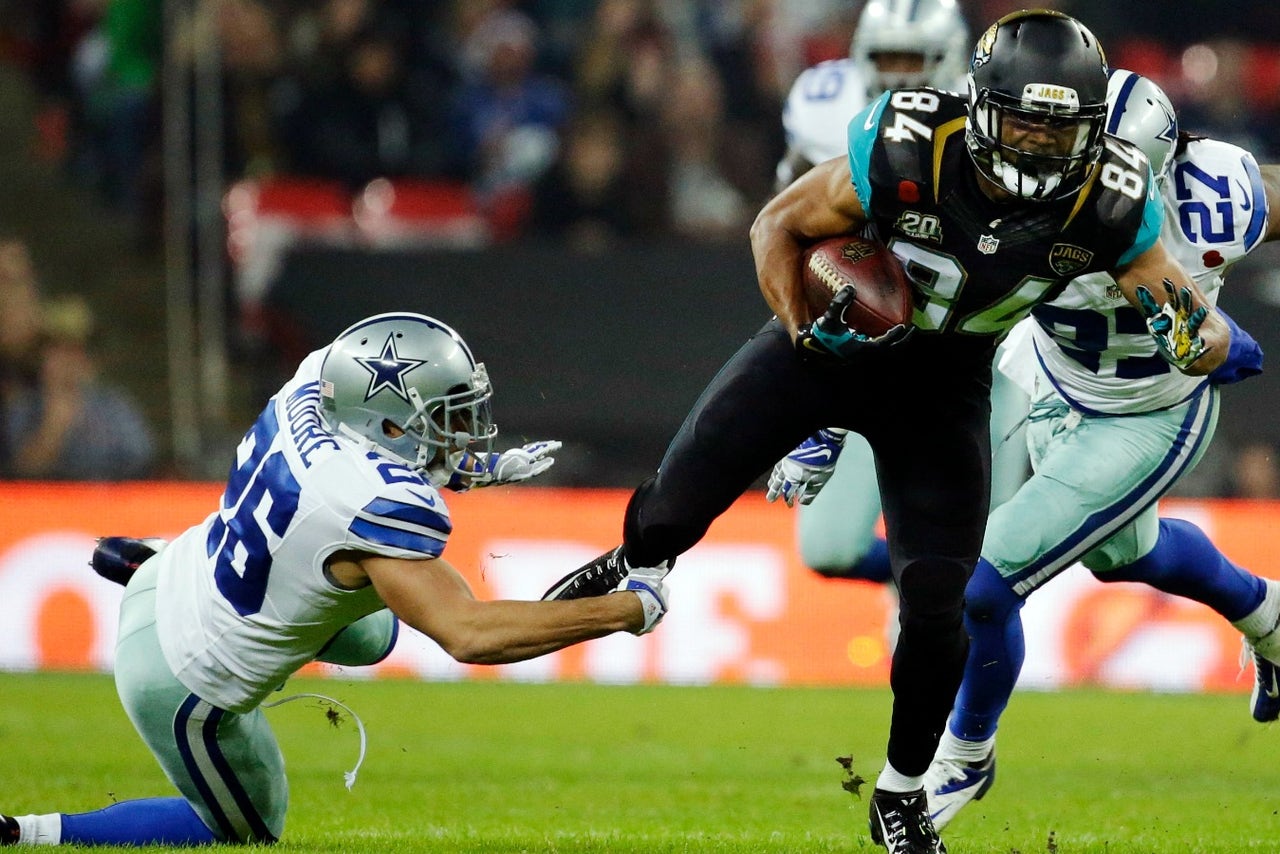 In 2012, Shorts caught nine passes of 30 or more yards. He had only three such receptions a year ago, with two of them coming in the loss to the Dallas Cowboys in London. You can blame that on injuries, the struggles of rookie quarterback Blake Bortles, or the system of since-fired offensive coordinator Jedd Fisch. No matter what the root cause is, it doesn't make a compelling case for overpaying to retain a player who ranks ninth on the Jaguars' all-time list in receptions with 176 and seventh in receiving yards with 2,343.
Reason to keep: In addition to leading the Jaguars in catches last season with 53 despite missing three of their first five games, Shorts is well-liked and respected throughout the organization. He's not afraid to speak his mind but still retains the humility of someone who was a fourth-round pick out of a Division III school.
Reason to let walk: The Jaguars are well-stocked at this position compared to last spring after picking both Allen Robinson and Marqise Lee while seeing Allen Hurns go from not being drafted at all out of the University of Miami to a proven threat. Bradley and Caldwell will no doubt want to bring in a veteran free agent, preferably Randall Cobb of the Green Bay Packers or Jeremy Maclin of the Philadelphia Eagles.
Prediction: The Jaguars seem prepared to move on without Shorts, who will likely return to his home town of Cleveland to sign with the receiver-strapped Browns.
LB GENO HAYES
The former Florida State Seminole and Tampa Bay Buccaneer has started 25 games at an outside spot in two years with the Jaguars. When Posluszny was placed on injured reserve Oct. 20, Hayes became the linebacker with the most experience on their active roster. His one forced fumble was part of the Jaguars' second-half comeback which enabled them to defeat the New York Giants.
Reason to keep: He'll turn only 28 in August and is one of the few players the Jaguars have at that position who have been around for more than a year or two.
Reason to let walk: The rapid development of fifth-round choice Telvin Smith, along with the chance they might take Nebraska's Randy Gregory with the third pick in the draft April 30, could make him expendable.
Prediction: It's hard to gauge how much interest he could draw from other teams. If he stays, it could be as a backup to Smith. More than likely, he's heading elsewhere.
DE TYSON ALUALU
After starting every game in his first four years with the Jaguars, the 10th overall selection in 2010 -- drafted ahead of or instead of Tim Tebow, as has been often pointed out -- had to settle for a reduced role following the arrivals of Chris Clemons and Red Bryant from the Seattle Seahawks.
Reason to keep: His willingness to move from tackle to end without any fuss sets a good example for the rest of his teammates.
Reason to let walk: If the Jaguars have their sights set on drafting USC's Leonard Williams, it would be hard to justify keeping Alualu on the roster.
Prediction: Unless the ages of Bryant (30) and Clemons (33) are more of a factor than the Jaguars are letting on, Alualu has played his last game for them.
LB J.T. THOMAS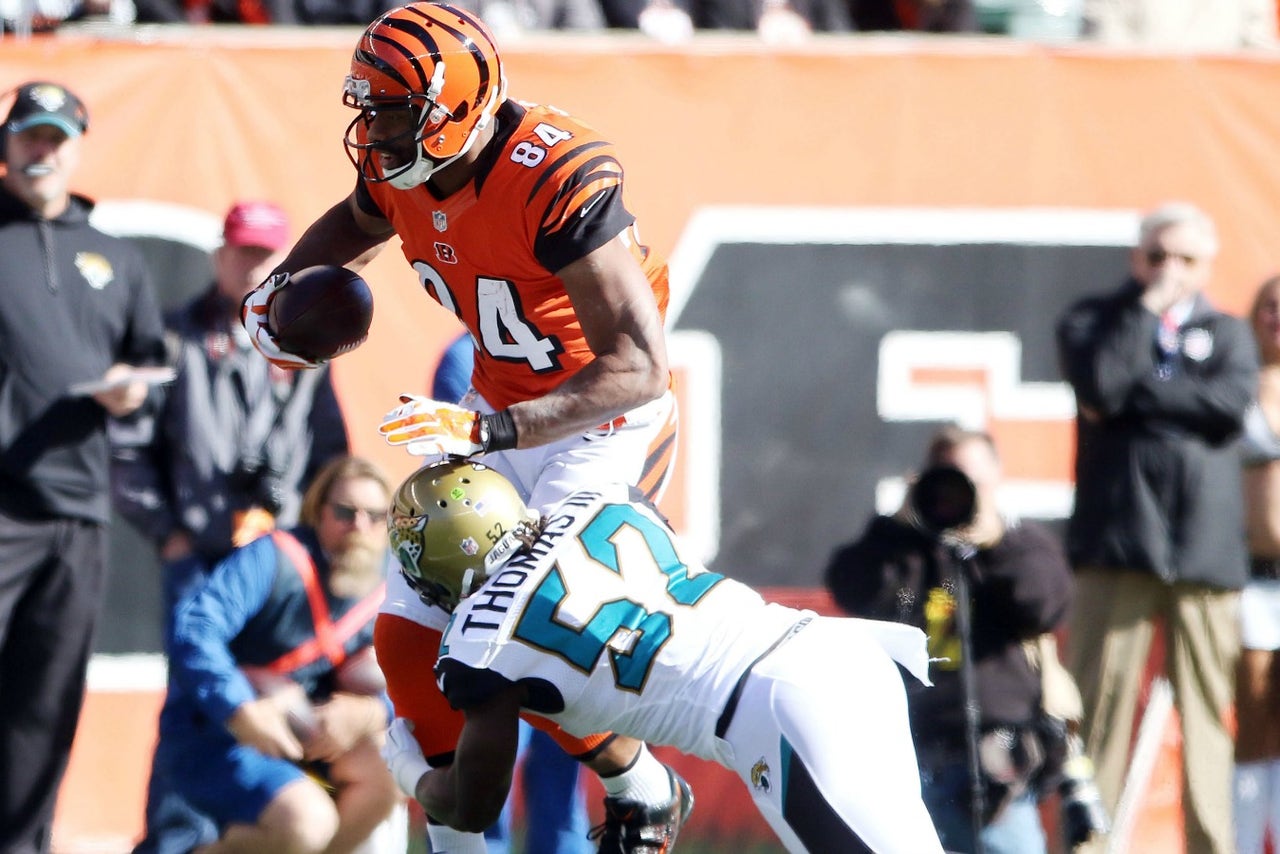 He made 10 starts in his second season for the Jaguars and finished fourth on the team in tackles with 81. Thomas is versatile enough to play either the middle or outside spots and has also carved out a niche on special teams.
Reason to keep: For someone who was in danger of being among the final cuts at the end of the preseason, Thomas has proven his worth.
Reason to let walk: None, unless his asking price is too high.
Prediction: Extremely likely to stay.
CB ALAN BALL
He had an interception in the season opener, which was the only pass picked off by a Jaguars cornerback until Dwayne Gratz' touchdown in the final game. Ball was also leading them in passes defended until he went on injured reserve Oct. 29 because of a biceps injury.
Reason to keep: After waiving Will Blackmon, can the Jaguars count exclusively on cornerbacks with three or fewer years in the league?
Reason to let walk: The staff liked the progress made by Demetrius McCray and rookie Aaron Colvin while Ball was out.
Prediction: He won't be back.
S SHERROD MARTIN
A member of the Jaguars during the preseason, Martin was brought back Sept. 23 and wound up playing in 13 games with two starts. He recorded the ninth interception of his career Nov. 2 against the Cincinnati Bengals.
Reason to keep: Veterans are still needed in what was one of the league's youngest secondaries.
Reason to let walk: At 30, he doesn't fit in with their youth movement.
Prediction: Could be brought back to training camp if he doesn't sign elsewhere.
LB A.J. EDDS
A fourth-round pick by the Miami Dolphins in 2010, Edds was signed by the Jaguars on Dec. 3 and saw action on special teams in the final two games.
Reason to keep: As the injury to Posluszny showed, quality depth at this position is important.
Reason to let walk: They already have plenty of linebackers who are part of the kick coverage units.
Prediction: Likely to be invited to camp for more of a look.
FB WILL TA'UFO'OU
Had four starts and seven receptions in his third season with the Jaguars. Also a valuable part of their special teams.
Reason to keep: Willing to do the dirty work in an increasingly thankless position.
Reason to let walk: Does new offensive coordinator Greg Olson believe in a two-back system?
Prediction: 50-50 whether they keep him.
RB JORDAN TODMAN
One of the league's top kickoff returners in 2014, Todman saw more time at running back down the stretch because of injuries to Denard Robinson and Toby Gerhart. He responded with a 62-yard touchdown in their victory over Tennessee.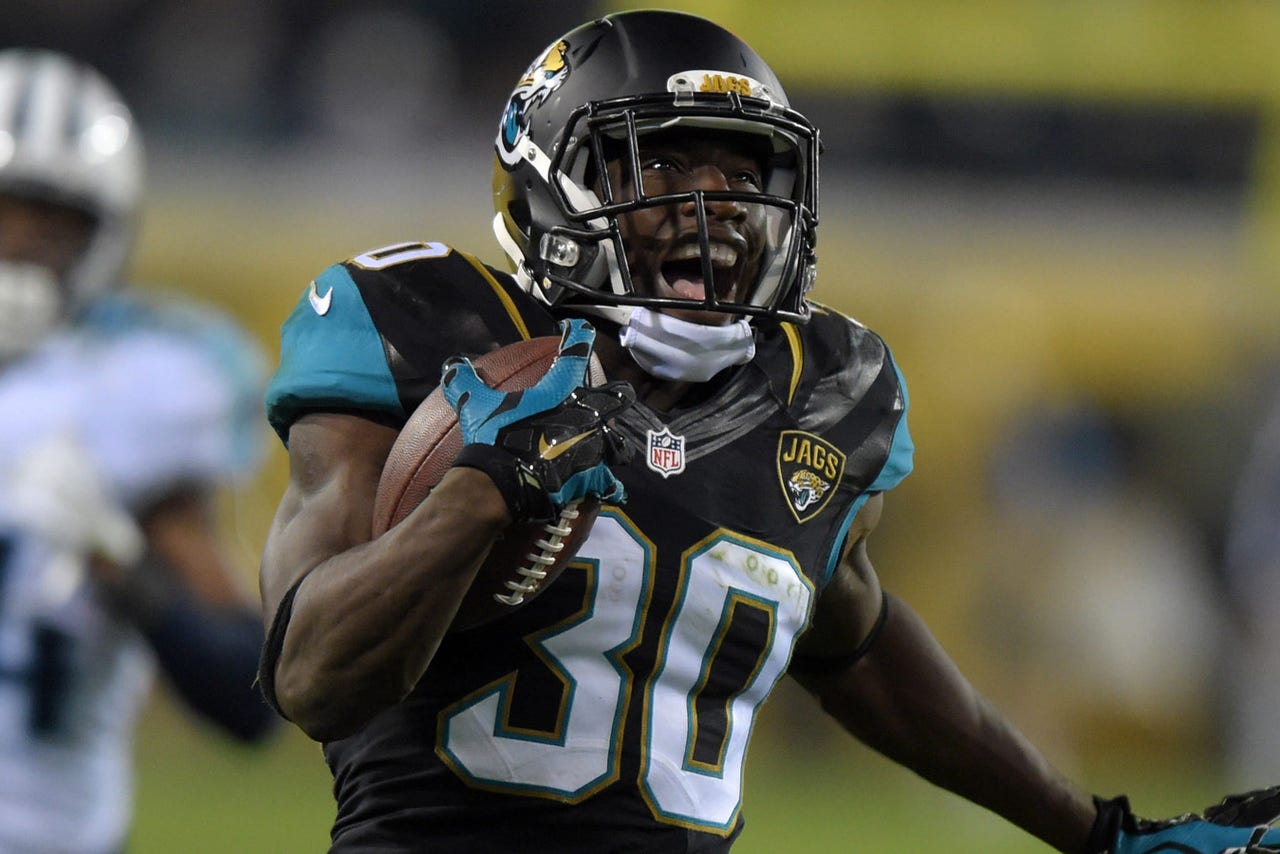 Reason to keep: He has proven the past two years to be adept in a pinch at filling in.
Reason to let walk: His number of carries dropped from 76 to 32, and his longest return was for a relatively modest 40 yards.
Prediction: Bradley can't speak highly enough of him. He'll be back.
G/C JACQUES MCCLENDON
He began the season as the starting center before rookie Luke Bowanko took over for him in Week 3.
Reason to keep: He can play multiple positions along the line.
Reason to let walk: The offense couldn't get out of its own way during his two starts.
Prediction: The Jaguars would prefer having some fresh blood backing up Bowanko and Brandon Linder.
CB TEDDY WILLIAMS
Claimed off waivers Nov. 11 from the Chicago Bears, Williams played on special teams in two of the final four games.
Reason to keep: He didn't play football in college, but his speed is intriguing.
Reason to let walk: Is he a player without a well-defined position?
Prediction: Teams are enamored with fast guys, and the Jaguars are no different. He'll stay.
FINAL THOUGHT
Except for defensive tackle Terrance Knighton, who had two productive seasons with the Denver Broncos and even starred in a television commercial, the Jaguars haven't gotten burned by losing anyone through free agency. Jones-Drew announced his retirement Thursday.
A move which the organization duly took note of.
With more than $60 million in salary cap space, the Jaguars are in position to improve themselves at a number of spots starting next week. Letting players like Shorts, Hayes, Alualu and Ball go isn't a must for the latest and perhaps boldest step in the team's rebuilding plan, but it doesn't hurt either.
You can follow Ken Hornack on Twitter @HornackFSFla or email him at khornack32176@gmail.com.
---
---