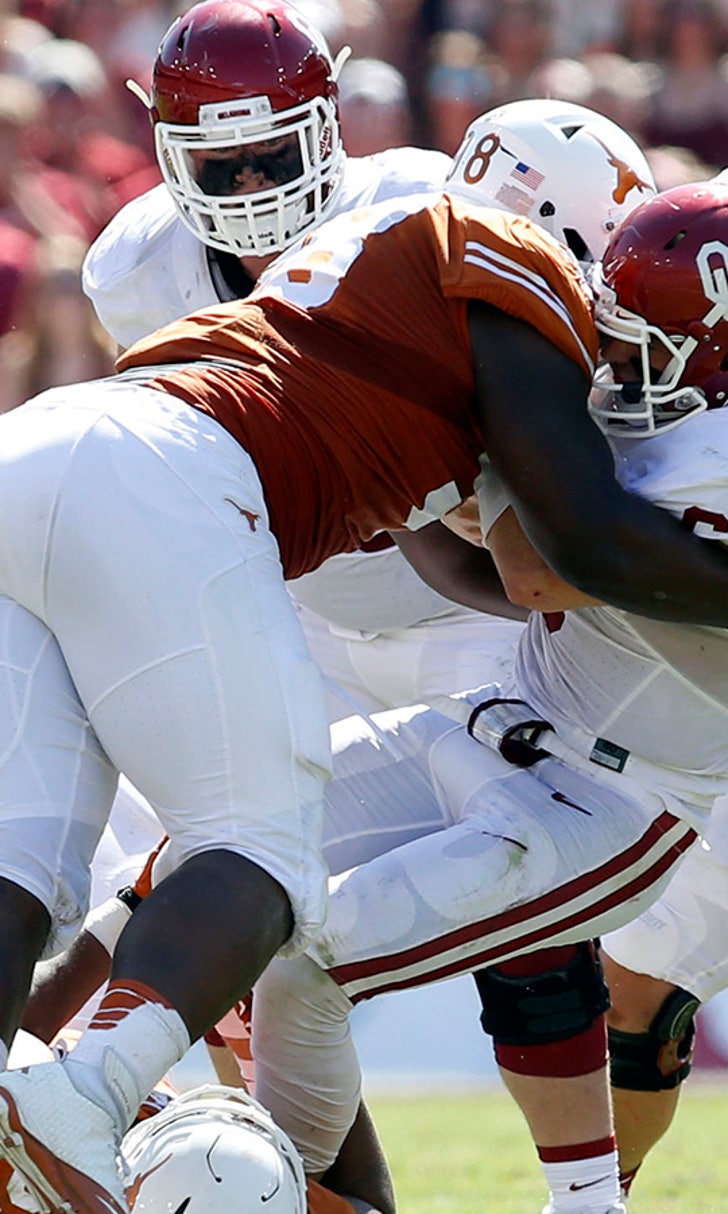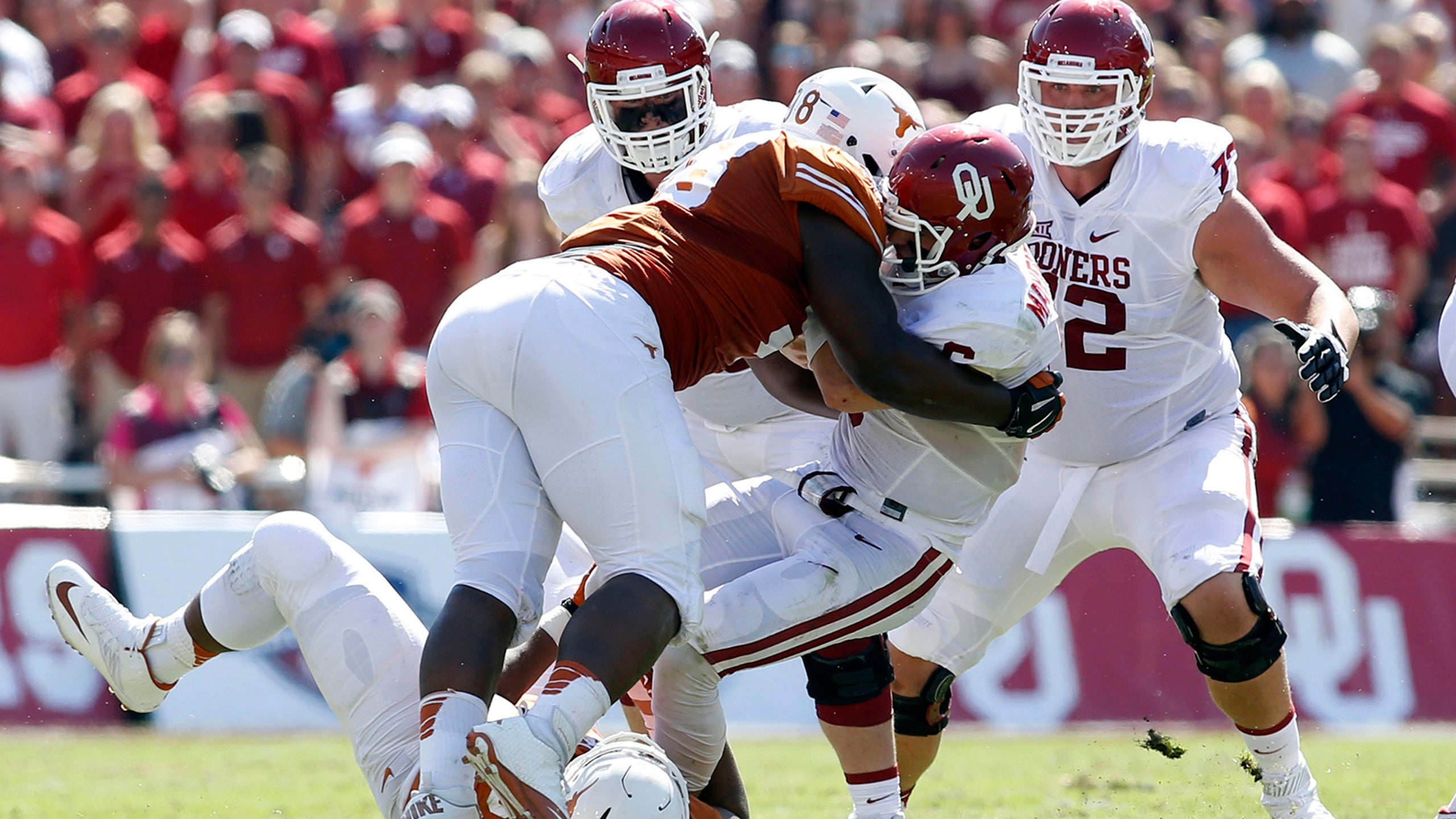 Unprepared for the expected, Sooners stumble - now what's next?
BY foxsports • October 10, 2015
DALLAS -- Texas changed offensive coordinators one game into 2015 giving the impression coach Charlie Strong was lost.
The Longhorns changed quarterbacks, too. They were pitiful against Notre Dame, a circus against Oklahoma State and embarrassed against TCU. Scheduling Rice seemed to be the best decision the Longhorns made all year.
Texas had players tweeting at halftime after being opened up for 30 points in the first quarter of  the 50-7 loss to TCU, and later that week had other players sniping at each other like a ladies' sewing circle.
But something about the Cotton Bowl has agreed with Texas recently and something about Texas doesn't agree with Oklahoma.
This loss, this 24-17 embarrassment is a different kind of awful. Not  because Bob Stoops and the Sooners came in to the Cotton Bowl as a double-digit favorite and lost for the second time in three seasons, but because Stoops and the Sooners weren't surprised, they were just woefully unprepared. 
Everywhere you looked, Texas was better than Oklahoma.
Oh, Texas ran some misdirection, and they passed once when it looked like quarterback Tyrone Swoopes gave the appearance of a run, but Texas didn't trick the Sooners.They just beat Oklahoma, doing it with a far inferior team, a defense that was leaking and an offense that lacked imagination, identity and punch.
And you want to know the worst part of it? Oklahoma couldn't find its way against Texas Saturday, so the idea that somehow OU discovers a magic potion against teams with real identity, punch and talent is unlikely as winning a national title.
Texas is now 2-4 but the distance between now 4-1 Oklahoma and the Longhorns doesn't seem light years apart. Who's spinning in what direction now? What's the answer that would make an OU fan happy?
The Longhorns came into  Saturday ranked last in the Big 12 in offense and eighth in defense. Oklahoma came in with a win on the road against an SEC team and a win at home against a Big 12 team, but those statements of nonfiction only seem to make the future more cloudy for Oklahoma. There was no reason for Oklahoma take a punch to the privates. Texas threw for just 55 yards, but it was pretty much a known commodity that the Longhorns couldn't pass, so the fact a team that managed seven points a week ago against TCU could run for 313 against the Sooners is more baffling than anything else.
Meanwhile, OU ran for just 67 yards. Huh? Quarterback Baker Mayfield was sacked six times and was pressured as soon as ran out of the Cotton Bowl tunnel. Oklahoma had a season-low 278 yards against a team that was allowing more than 500. Huh?
All questions. No answers.
Oklahoma center Ty Darlington said the 2013 loss to Texas was motivation enough for this year's team to be interested. Stoops and receiver Sterling Shepard said they didn't take Texas lightly, but if true it only adds to the confusion. 
Defensive back Steven Parker said the team didn't prepare for Swoopes to run the ball. Fullback Dimitri Flowers said Texas came out with an edge that the Sooners didn't have and it was all about OU's mentality.
More? 
Mayfield said the team took too long to adjust to the corner blitz.
None of that makes any sense for a team which said it was ready to play and prepared for Texas.
"They kicked us," Stoops said.
Great win for Oklahoma earlier this season at Tennessee, but perhaps this loss shows us something much more sobering.
Texas just didn't just eliminate OU from the national title picture, the Longhorns showed us Oklahoma isn't good enough to even compete for it.
Follow Andrew Gilman on Twitter: @andrewgilmanOK
---
---