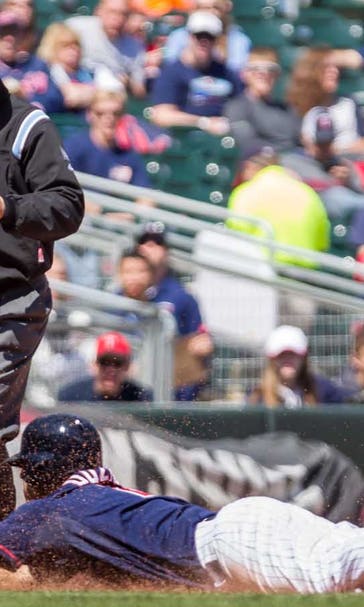 Under Molitor's tutelage, instinctive Dozier stealing more bases
May 12, 2014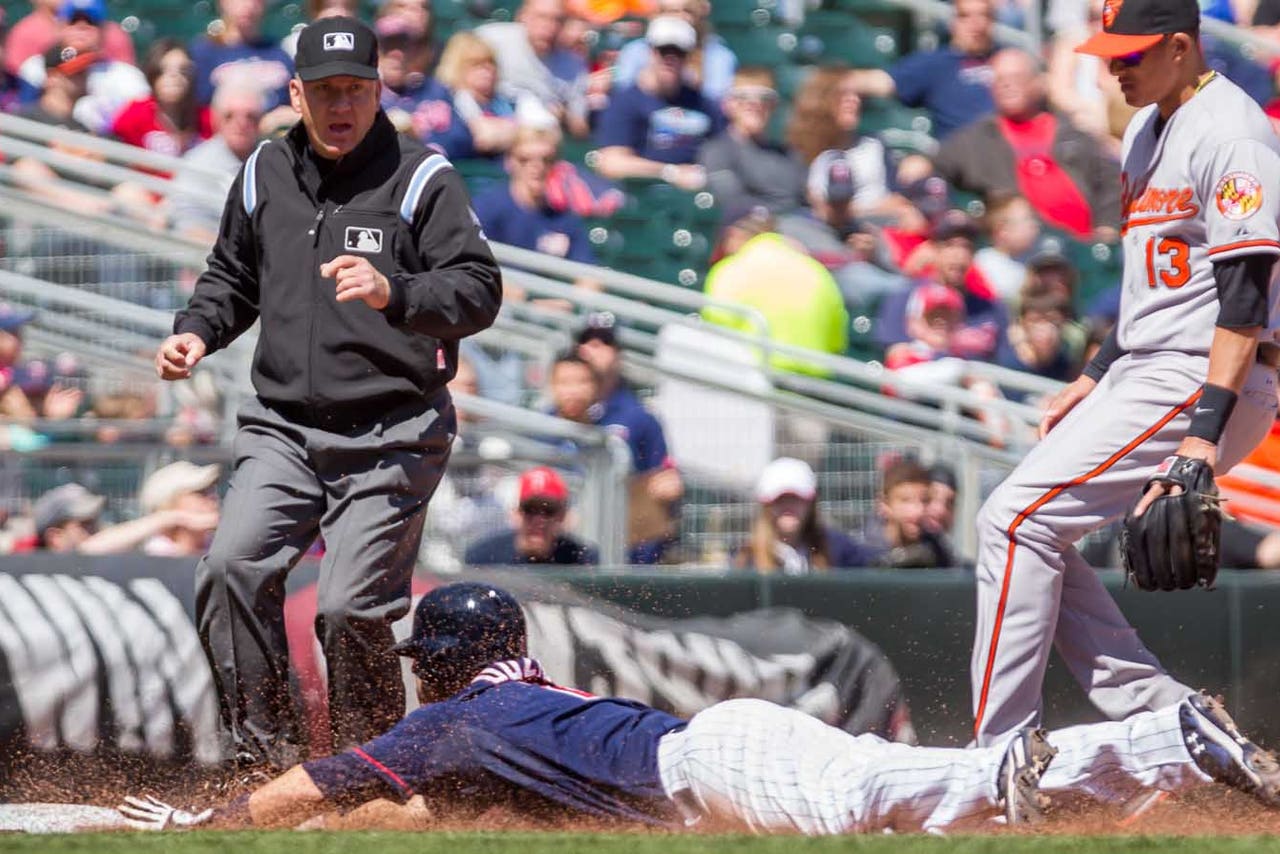 MINNEAPOLIS -- Brian Dozier thought about it.
In a game against Baltimore during the Twins' last homestand, Dozier stole second and third base in the fifth inning and was just 90 feet from home plate. He had the green light to take off from third if he wanted to, but he made eye contact with Orioles pitcher Miguel Gonzalez and thought otherwise.
The simple fact that Dozier even contemplated the rare steal of home plate -- and the fact that his coaching staff had enough faith in him to do so -- says a lot about just how far he's come as a base runner. After stealing 14 bases in 147 games last year as the Twins' everyday second baseman, Dozier already has 12 steals in just 36 games to lead Minnesota in that category.
When asked about his sudden increase in steals, Dozier is quick to deflect the credit to coach Paul Molitor.
"To be honest with you, what's kind of revamped everything has been having Molly on the staff," Dozier said. "It's been night and day compared to every other year, as far as dissecting pitchers, knowing exactly what they do, their tendencies, stuff like that. He has a five, 10-minute conversation with me before every game and every single thing that he's got on film from the pitcher, tendencies, everything."
During his Hall of Fame career, Molitor was known as an instinctive base runner. While he had some speed, too, he was able to swipe 504 bases in 21 seasons thanks to his ability to read opposing pitchers and get reads on when to take off running.
Now in his first season on the Twins' coaching staff, Molitor has shared that insight with Minnesota's players. He has pregame meetings with players to talk about the opposing pitcher. During batting practice on the road, he's helping the team's runners figure out the cutouts in the infield grass and just how far they can go when leading off first or second base.
Dozier in particular has truly taken Molitor's teachings to heart, a big reason why his 12 steals are tied for the fourth-most in all of baseball as of Monday. Like Molitor, Dozier has decent speed by isn't necessarily a blazer. Instead, his instincts on the base paths have improved to the point where he's a threat to steal bases.
"Even at a lot of stages of his minor league career, he became a lot more confident in his ability to steal a base. He's always looking for opportunities to pick up 90 feet," Molitor said. "His ability to get good jumps, his anticipation factor have all been very solid here through the first month. He just puts that added pressure on a defense when you can steal a base the way he has."
After he was drafted out of the University of Southern Mississippi, Dozier spent four seasons in the Twins' minor league system. His highest stolen base total in any one minor league season was 24 back in 2011 with High-A Fort Myers and Double-A New Britain. Already at 12 steals in mid-May, Dozier seems destined to surpass that total in 2014.
So what is a realistic stolen base number for Dozier? Outfielder Ben Revere stole 40 bases in 2012, but Dozier doesn't have the same speed that Revere possesses. Still, Molitor seems to think that number is attainable given Dozier's instincts on the base paths.
"I said 30 before the season. Molly was like, 'Thirty? Why don't you try to set for 50?'" Dozier said. "We'll start here. I don't know. There's not really a number. Steal as many as I possibly can."
In order to steal more bases, Dozier will have to get on base at higher rate. He's currently batting just .238, but his on-base percentage of .366 is third on the team among qualified players. More time on base means more potential havoc Dozier can create on the base paths.
"We all feel that he can hit for a little higher average than he's shown at this level. I think over time he will," Molitor said. "But his patience has been pretty good. His walks have been pretty good and his on-base percentage is respectable and it's only going to get better as he becomes a better hitter."
Follow Tyler Mason on Twitter
---