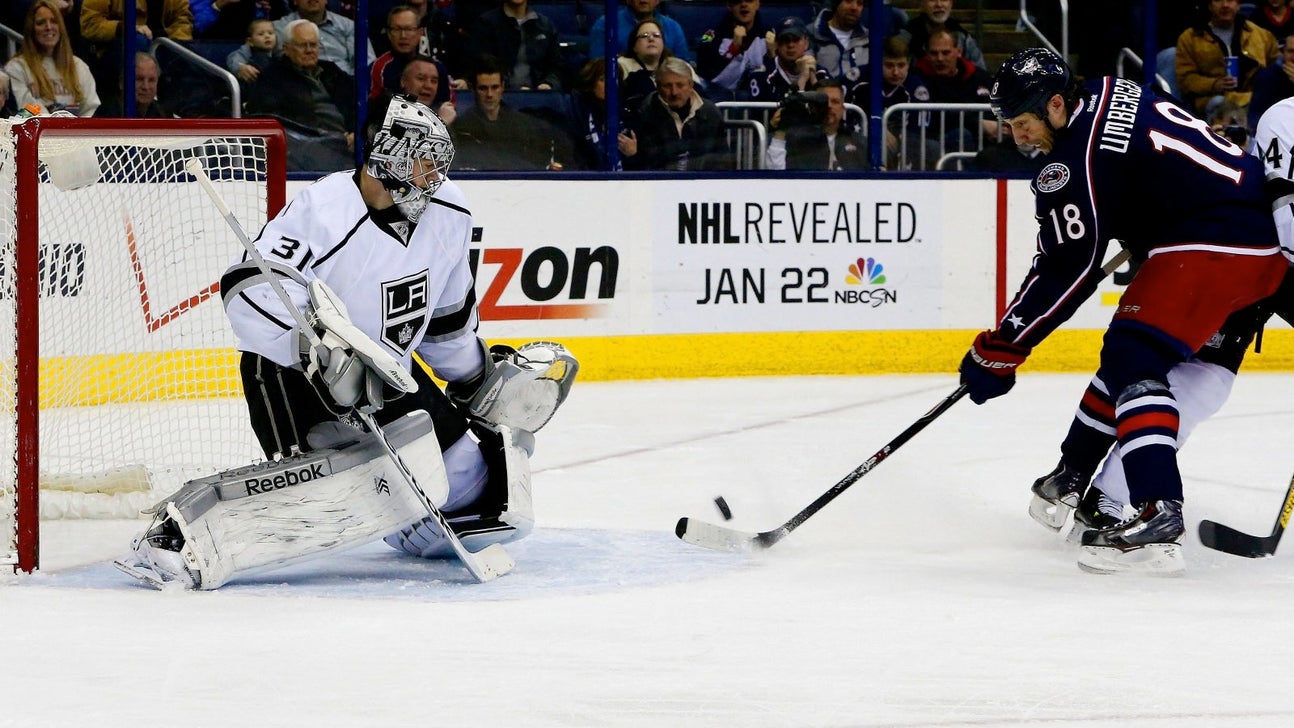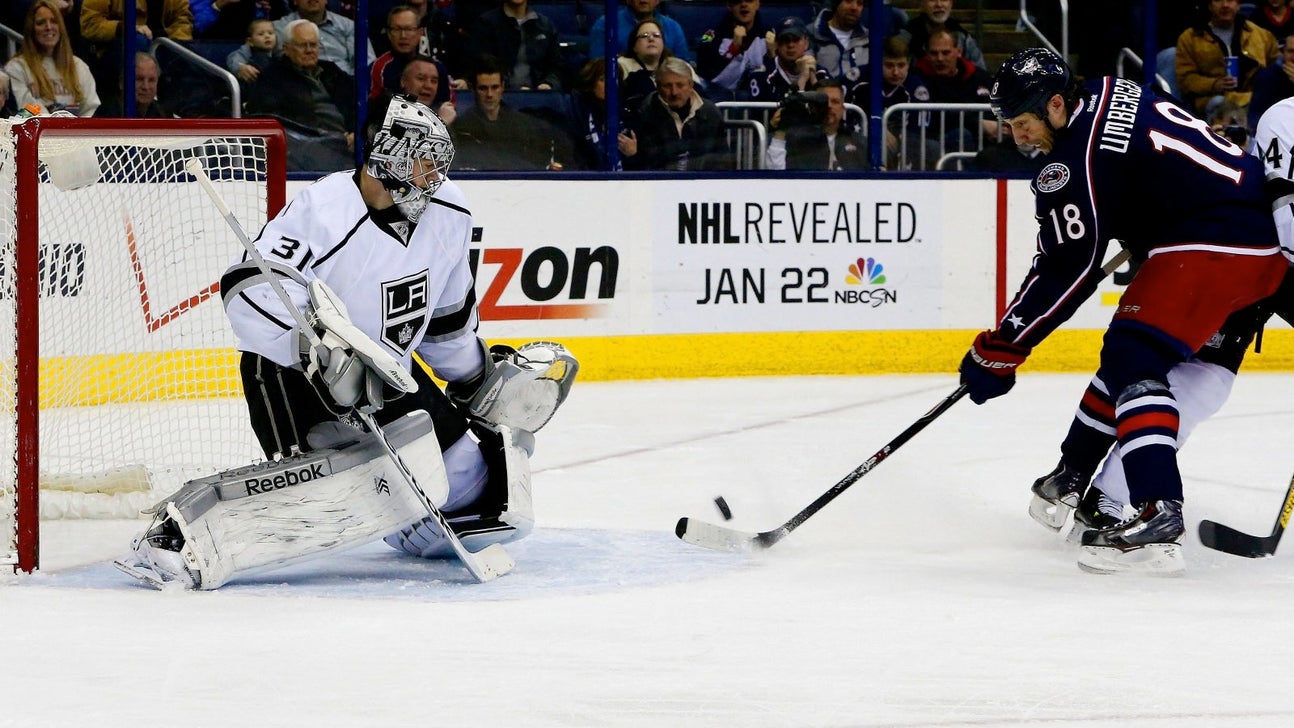 Umberger's 2 goals lift CBJ past Kings, 5-3
Published
Jan. 21, 2014 9:48 p.m. ET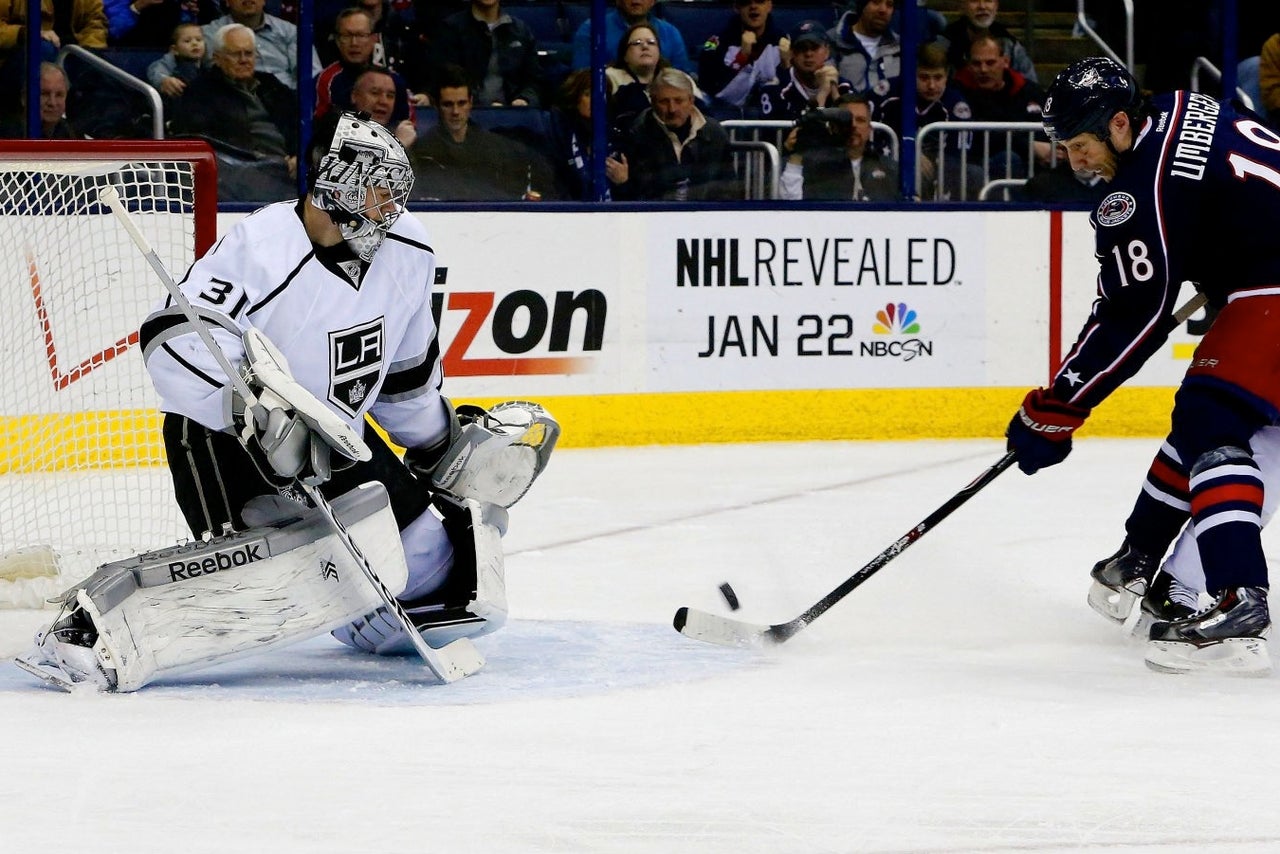 COLUMBUS, Ohio (AP) -- It's been so much fun winning their past seven games, the Columbus Blue Jackets don't want to quit now.
R.J. Umberger scored twice to lead the Blue Jackets to a franchise-record for consecutive wins with a 5-3 victory Tuesday night over the Los Angeles Kings.
"It's special," said Umberger, who has seen a lot of losses since coming to the Blue Jackets in a draft-day trade in 2008.
"You don't want to get caught up in it, but it shows the direction the club's going. There have been some bad moments here. But we've got a lot more in us. We're not satisfied."
The win kept the Blue Jackets -- who have made the postseason just once in their 12 seasons -- in playoff contention.
Nathan Horton scored in his 600th NHL game, Artem Anisimov had a goal and an assist and Ryan Johansen also scored for Columbus, with James Wisniewski picking up two assists. Sergei Bobrovsky moved to 8-0 in his past eight starts with 26 saves.
They're 8-1-0 with Horton, a big free-agent signing last summer from Boston, in the lineup.
"We're on a roll, but we're not where we want to be," Horton said. "We want to get back in the playoffs and stay there. We needed a winning streak; now we need to keep the thing going."
The Blue Jackets have been surging since getting Horton, who missed the first 40 games after shoulder surgery, and Bobrovsky, who sat out most of December with a strained groin, back on the ice.
Columbus, thought to be hurting for offense heading into the season, has outscored its opponents 30-15 in the streak.
"There's something with our group," coach Todd Richards said. "Our young guys are a year older and feeling more comfortable. Our power play is better, so that'll help. But there's something different about our offensive output."
Jeff Carter, Dwight King and Robyn Regehr had goals for the Kings, who have lost three in a row. Mike Richards had two assists.
"We're clearly giving up too many goals," Kings coach Darryl Sutter said.
Down 2-1 after the first, the Kings tied it before the Blue Jackets scored twice in 89 seconds late in the second to take command.
Carter, a former Blue Jacket who was booed loudly every time he touched the puck, received a nice pass on a 3 on 1 break from Richards and recorded his 20th goal at 8:39.
Umberger shadowed defenseman Drew Doughty and stole the puck from him along the short boards, then put up what appeared to be an innocent shot from a hard angle.
But Martin Jones, making his first start since Jan. 2, struggled picking it up and the puck caromed off his glove and into the net with 1:45 left in the period.
"We fought hard to get back in it and make it 2-2," Jones said. "A bad goal changed the momentum. And that's the difference in the game."
Anisimov then won a puck battle in the neutral zone and carried the puck down the left wing. On a rush, he sent a tape-to-tape lead pass to Horton who lifted the puck high for his third of the season with just 15.6 seconds left for a 4-2 lead.
The Blue Jackets had killed off three first-period penalties and escaped the first 20 minutes with a 2-1 lead after falling behind early.
The Kings scored at the 2:42 mark when Trevor Lewis' shot from the right dot went off Bobrovsky's right leg pad to King, who was charging the net through the high slot. He had an almost empty net for his 11th of the season.
Columbus pulled even on the power play, where it has been particularly effective of late -- scoring on 6 of its past 13 attempts with a man advantage.
Wisniewski's hard slap shot from the top of the left circle was redirected in the crease by Umberger at 12:47.
It was his 12th of the season and his 114th as a Blue Jacket, moving him past David Vyborny into sole possession of second place in franchise history behind Rick Nash (289).
Then, in the final minute of the period, Johansen took a seeing-eye stretch pass from rookie Ryan Murray and glided past a defenseman to go high with a forehand. It was Johansen's 19th goal of the season.
"This says a lot," Umberger said. "The fans can enjoy it, they deserve it. But we keep talking about how we can be better every night."
Notes: D Fedor Tyutin, who became the sixth player to appear in 400 games with the Blue Jackets, returned after missing two games with an undisclosed illness. ... Los Angeles was playing its fourth of a five-game road trip.
---