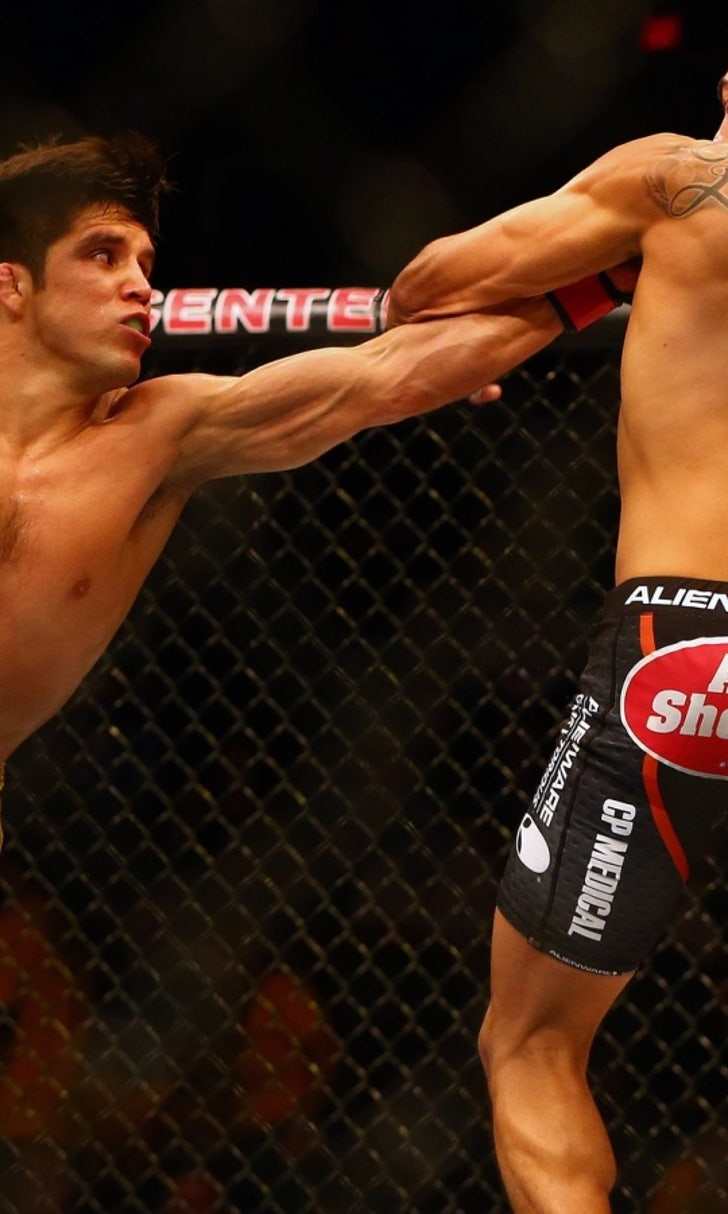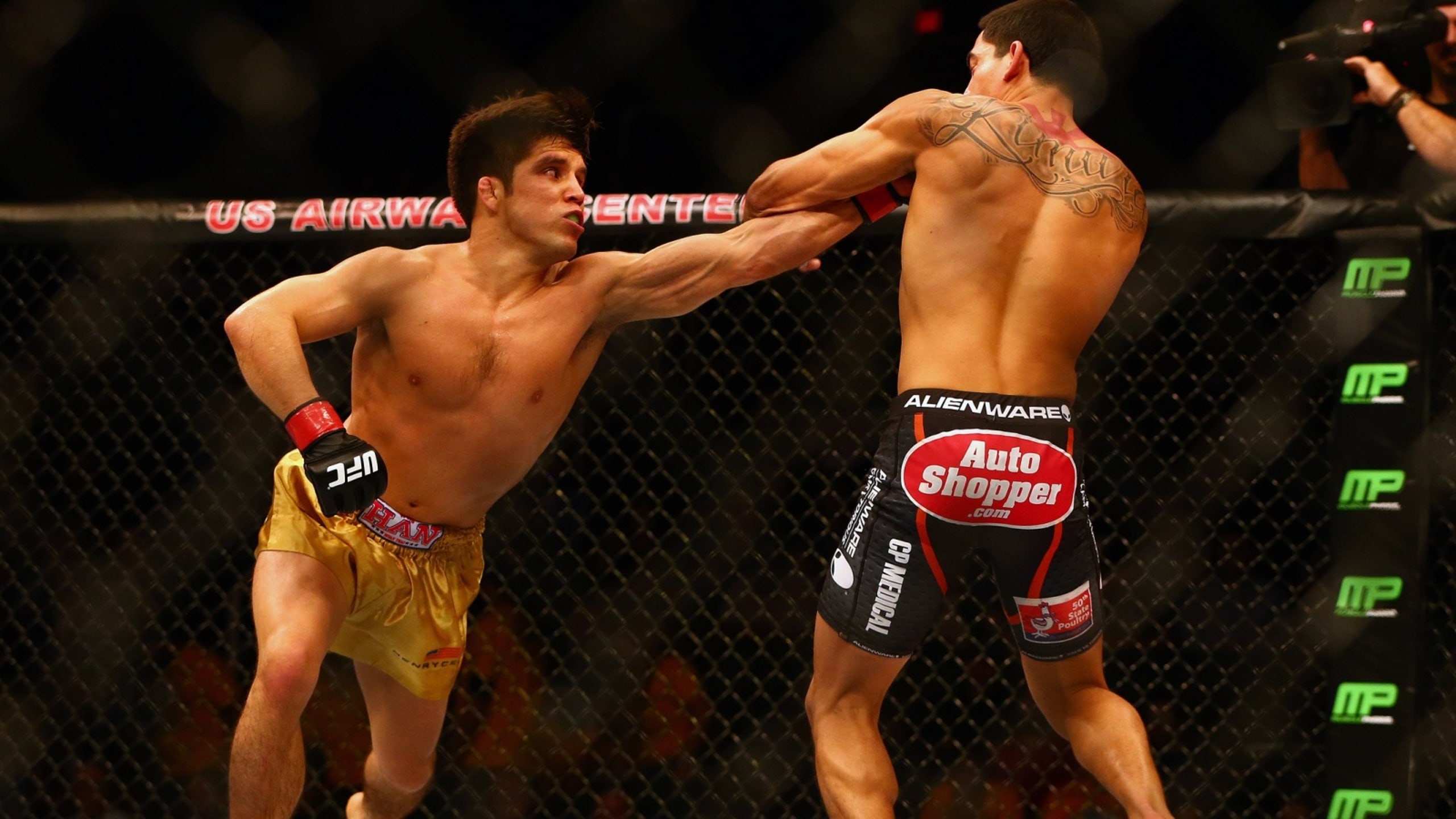 UFC Fight Night Phoenix: Live updates
BY foxsports • December 13, 2014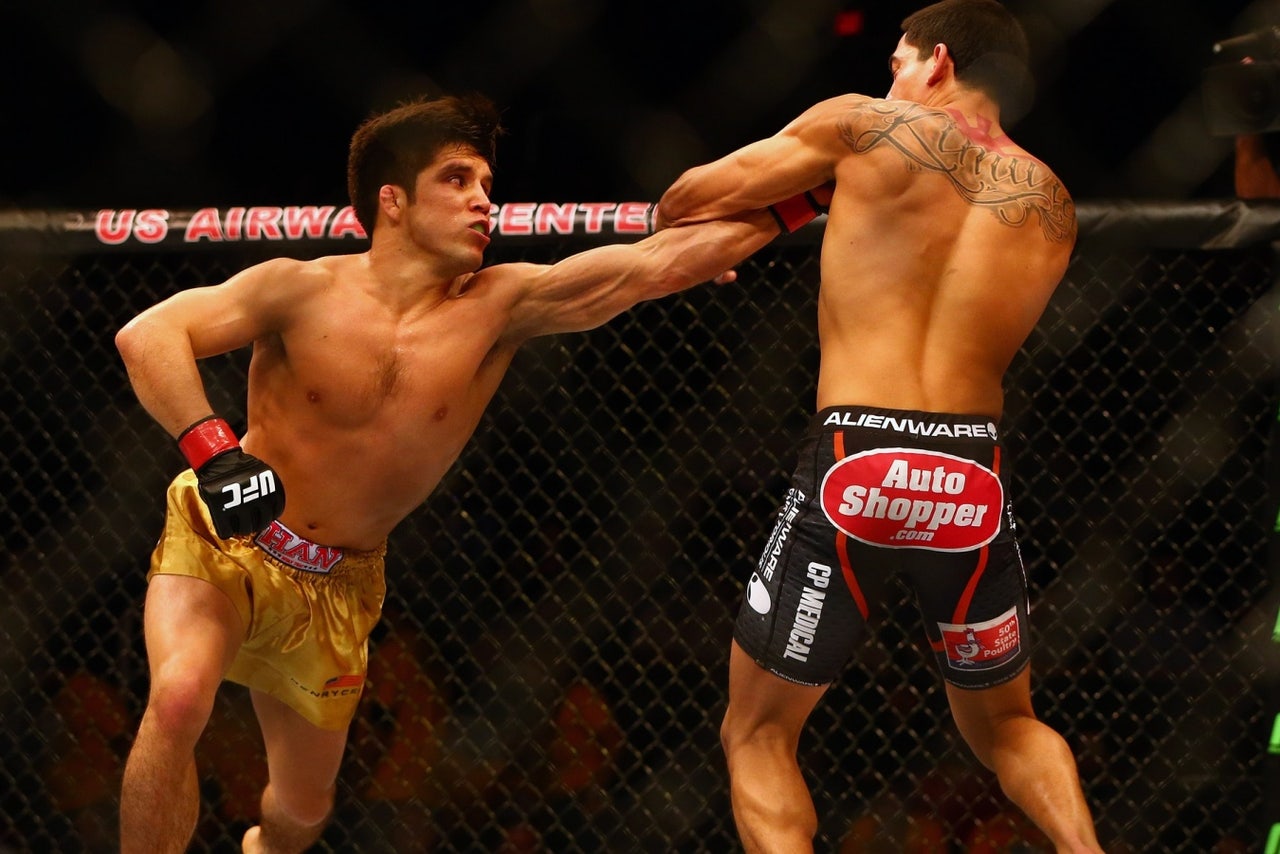 PHOENIX -- The much-awaited UFC Fight Night almost shut down most of the area around downtown Phoenix on Saturday afternoon, when several fighters from Arizona hope not to disappoint at US Airways Center.
This fight basically is to name one of these men the No. 1 contender for the heavyweight title. Dos Santos comes into the bout with a 16-3 MMA record, while Miocic boasts a 12-1 record. Herb Dean is set to officiate the match.
ROUND 1: Finally our main event. And it starts with Miocic doing a few head bobs back and forth while dos Santos threw some punches. Both men look comfortable but also seem to be biding their time to find an opportunity. Miocic is able to grab dos Santos' leg and almost drops him to the mat, but the Brazilian gets out of the hold and stands back up. In the stand up, dos Santos continues to throw huge punches while Miocic defends. Miocic finally lands a right hook inside and it gets dos Santos running.
ROUND 2: More big hits coming form the big men as they continue their hand assaults of each other. Miocic is able to hit dos Santos clean and opens up a cut above his right eye. Miocic goes for a take down, but instead, gets dos Santos against the fence. Both fighters land significant strikes to each others' heads, which doesn't seem to (at this point), faze either of them. With just over 20 seconds in the fight, Miocic lifts dos Santos up and is able to get him on his back. The Brazilian was not having it though, as he quickly moves Miocic away and stands back up to end the round.
ROUND 3: Something you don't see too often, dos Santos behind his opponent going for a choke! But that's how this round started. After getting backed up from a few punches by Miocic, dos Santos lands a huge left hook to drop Miocic to the mat. The big Brazilian went down to take advantage, but Miocic was able to get away and stand back up. Now bleeding himself, Miocic tries to maintain his composure while dos Santos continues his attack. At one point, Miocic even smiles after a dos Santos right hook connects. All in all, these two guys are trying to power through the blood to continue on.
ROUND 4: Yikes! Low blow on dos Santos forces a stoppage in the fight. Starting back up, Miocic gets hit with a few lefts from dos Santos, but he recovers and goes on the offensive. Miocic connects and gets dos Santos up against the edge, but again, dos Santos is able to escape through some bobbing and weaving. Dos Santos gets the leg sweep and Miocic drops hard. With 15 seconds left, Miocic looks up at the clock and goes on the defensive.
ROUND 5: I don't blame either of these guys for being tired. I'm tired just watching them. But the beginning of the final round starts with a few big significant strikes from both guys. They're both throwing HUGE punches and neither one will give up. Big hits, lots of blood, and plenty of support from the crowd. This one is definitely going to the judges' scorecards.
WIN: dos Santos via unanimous decision
If you're looking for two of the most electric lightweights not named Anthony Pettis, then these two fighters may be on your list. Diaz is coming off a win against Gray Maynard and Dos Anjos off a knockout win over Benson Henderson. They want to solidify their spots at the top of the rankings tonight with a win.
ROUND 1: It's a hot start to this fight with a lot of significant head strikes by both fighters. The difference so far is the power that seems to be behind the strikes. Dos Anjos is going for a lot of lower leg kicks which can probably be heard from the upper deck of US Airways Center. But Diaz has a 4-inch height advantage over the Brazilian. Dos Anjos gets on top of Diaz who then tries for an ankle lock. Dos Anjos is able to get out and get to Diaz' back, landing several hard right hammers in the process.
ROUND 2: While Dos Anjos goes for one of those killer lower leg kicks, Diaz is able to get in and land a few early punches. One of the Brazilian's punches strikes Diaz on the chin and the American looks a bit shaken by the hits. Dos Anjos is able to score a takedown and while on top, opens up Diaz's left eye with a couple of elbows. After standing up and each man landing a few more strikes, referee Jason Herzog stops the fight to allow Diaz to have his cut cleaned up. Back in the stand up, Dos Anjos goes for more of those strong, quick leg kicks. Diaz falls to the ground trying to avoid a Dos Anjos front kick.  Dos Anjos is able to get on top, but not capitalize as the round comes to an end.
ROUND 3: Just half a minute into the bout and Dos Anjos goes for the big takedown in the middle of the ring. As he begins to attack Diaz on the round, he throws another big right kick. The Brazilian is able to get the position on top again and throws elbows to open up Diaz's wound again. Diaz is able to push Dos Anjos off of him a few times, but it just ends in more elbows dropped onto Diaz. After trying to lock Dos Anjos' legs between his own to limit mobility, Diaz throws a few right hooks into the side of Dos Anjos' head. But with all the landed strikes and the time of control in this fight, we go to a decision from the judges.
WIN: Rafael Dos Anjos via unanimous decision
It's "The Reem" vs. "The Skyscraper." I hope you can tell which one is which by their nicknames. Both fighters are coming off losses and are trying to bring back their success. The 6-foot-11.5 Struve hasn't fought in the UFC since March 2013, so he's looking to make a strong impression during his comeback.
ROUND 1: Big strikes and long limbs are what lead the bout early. That's when Overeem lunges toward Struve and gets both guys on the ground. Struve, interestingly, stays on his back almost bicycle kicking Overeem in the face. After a few more exchanges of Overeem standing up and Struve trying to bicycle kick him, "The Reem" finally gets in between Struve's legs and lands a flurry of punches which knock Struve out cold. Referee "Big John" McCarthy steps in and stops the fight.
WIN: Overeem via KO
These are two guys who should not be messed with. They have both proven they can win in this deep class, and are both trying to move up the Heavyweight rankings.
ROUND 1: Big fists throw big punches, and that's exactly what these guys are doing. After a few exchanges back and forth, Mitrione lands a huge left on Gonzaga's jaw as a counter to send him down to the mat. Mitrione then lunged forward to continue when he saw his opponent drop. After a few quick rights, he went for one more big punch -- which is when referee Herb Dean thought fit to stop the fight.
WIN: Mitrione via TKO
These two women are putting their perfect MMA records on the line. Soon, the straw weight division will be expanding because of the addition of fighters from the just finished season of The Ultimate Fighter and these ladies need to set themselves apart.
ROUND 1: Combinations! These fighters are coming out strong with their 1-2-3's tonight. Pitting a Muay Thai champion (Jedrzejczyk) against a Brazilian Jiu Jitsu champion (Gadelha) should prove to be a good bout. After some standup striking, both women ended up on the ground, with Gadelha the aggressor and Jedrzejczyk defending much of the time. Back in stand-up, Gadelha goes for a leg sweep and lands some knees but is unable to get Jedrzejczyk out of her wide stance. After exchanging a few punches back and forth, Jedrzejczyk hits Gadelha with a big uppercut on the chin which sends the Brazilian to the ground. Gadelha doesn't give up that easy though and uses her legs to defend until the end of the round.
ROUND 2: More aggressive attacks coming from both fighters are the beginning of Round 2. Gadelha is able to score a takedown after a couple of exchanges between the two of them. Jedrzejczyk's height and reach advantage seem to be getting her out of some precarious positions against Gadelha. The round ends with Gadelha throwing Jedrzejczyk into the fence again.
ROUND 3: The beginning of Round 3 features a seemingly inadvertent head butt which causes Gadelha's left eye to cut badly and the referee stops the fight. Gadelha gets cleaned up quickly and gets right back into it with Jedrzejczyk, sending her to the ground again a couple times. The Brazilian didn't seem to be doing much until  she lands a few rights into her opponent's head. As the buzzer sounds, Gadelha throws right knee into Jedrzejczyk's stomach and throws a right hook which lands...causing a bit of bad feelings post fight. The fight goes to the judges scorecards.
WIN: Jedrzejczyk via split decision
The Phoenix native Moraga is the fifth ranked flyweight in the world and he hopes to show the newcomer  Gates what that means. Gates is making his UFC debut against a very tough opponent in Moraga. 
ROUND 1: Moraga comes out a Maryvale cap on and looked ready to compete. Gates however, has a 3 inch height advantage over Moraga which seems to be slightly beneficial when seeing some of the hits he has landed on Moraga. After a quick referee's talk with the fighters, the crowd went crazy when Gates throws a punch when it seems the referee is still talking to the two. The crowd stays in the fight when Moraga is able to recover from the hit and get out from underneath Gates.
ROUND 2: After the incident in the first round, Moraga came into the second fists a blazing. He makes sure that each of his attempts was significant strikes, with a few big rights and a big kick to Gates' head. There was a lot more work up against the fence which didn't amount to either fighter really scoring any points.
ROUND 3: Beginning of the round and Moraga goes straight for the takedown. Gates is able to avoid and is stood up against the fence. During the fight in the octagon, a fight breaks out in the stands. For those who were not trying to turn their heads to see, Moraga was able to land a few more combinations, sweep out Gates' leg and get the top position all at the same time. Gates ended up rolling onto his stomach with Moraga on top of him, continuing to hammer rights into the side of Gates' head. The crowd is the loudest all day as Moraga works in the rear-naked choke and holds it until Gates taps out.​
WIN: Moraga via submission
Riggs and Saunders are some fighters who have both been around for a while. And they're back in the UFC facing each other. 
ROUND 1: After a few quick aggressive moves from Riggs, it looked as though he as going to punch Saunders into submission. But what happened next may end up being the wildest finish to any fight tonight. As Riggs went into Saunders to take him down, it seems as though his face got caught on the way down under Saunders' elbow, tweaking Riggs' neck. As they were on the ground, Saunders pulled Riggs to submit him, but Riggs was already tapping out. 
WIN: Saunders via injury 
Varner is a well-known lightweight and has been a long-time supporter of UFC coming to the Valley. Possibly due to that, he was awarded this fight against Dober in front of his hometown fans. Dober's fame came from The Ultimate Fighter, where he lost in the TUF finale in November of last year.
ROUND 1: Both men look determined to land the hard strikes. In an attempt to get into the action, Varner tried to throw Dober with the suplex. That caused Varner's head to hit the the ground hard while Dober prepared to take advantage. After some quick moves, Dober locked his left arm underneath for the rear naked choke, forcing the hometown Varner to tap out. With the win, Dober picks up his first victory as a fighter in the UFC.
WIN: Dober via submission
Varner after the fight announced his retirement form the UFC and said his family knew and it was planned when he learned he was fighting in Phoenix.
This bout is cancelled. Per Dana White, Brunson got food poisoning this morning and the fight is off.
"Bam Bam" Barberena may be a native of California, but he lives and trains in Glendale at the MMA Lab. He is on a six-fight winning streak but is making his UFC debut. Fellow lightweight and MMA Lab fighter Benson Henderson is in Barberena's corner tonight.
ROUND 1: Not a lot of action to start, but a strong move from Ellenberger scored him a takedown. He wasn't able to capitalize though, as Barberena forced them both back up to standing. After a bit of movement around the ring, Ellenberger pounced again by landing huge punch and went for another takedown. The round ended with a small surge of energy and strikes from Barberena.
ROUND 2: After the short break, Barberena started right where he left off with a barrage of punches which seemed to leave Ellenberger slightly dazed. Ellenberger's stance seems to weaken at times as his hands drop to his sides while he moves. Through that, Ellenberger has still found some opportunities to land strikes on Barberena. Bam Bam seemed to live up to his nickname as he continues to attack and land multiple strikes in his combos. With 10 seconds left in the round, Barberena had Ellenberger running.
ROUND 3: After a few hand taps in the middle of the ring, Barberena went after Ellenberger who took the opportunity to take Bam Bam down. Barberena quickly got them back up and after getting Ellenberger in a head lock,  threw a few strong elbows to the top of his opponent's head. Barberena went after Ellenberger again and, after scoring a takedown, got on top and started a barrage of punches to Ellenberger, whose only response to the attack was to wildly kick his legs upward. After Barberena continued the assault for about a minute and a half, referee Herb Dean intervened and stopped the fight. A good way for Barberena to debut on short notice.
WIN: Barberena via TKO
Can't help but smile when local fighter Michaud walks out to "Shake it off" by Taylor Swift. Fighting against Whiteley in this prelim fight, Whiteley has the clear height advantage and is eight years Michaud's senior. Both men are looking for their first wins in the UFC. Michaud trains at the MMA Lab in Glendale with fellow fighters on this card, Bryan Barberena, John Moraga, and Joe Riggs.
ROUND 1: Whiteley was the aggressor for 4 minutes of the first round, but with a strong right uppercut which landed on Whiteley's jaw, Michaud took advantage when Whiteley hit the floor. 
ROUND 2: The second round started off with Whiteley pursuing Michaud and getting him to trip himself and fall. After that, Michaud threw Whiteley with a small hip toss and took the top position. With a few elbows from Whiteley, Michaud started pouring blood around the ring, but continued to throw body and head shots to Whiteley underneath him. After trying to push Michaud off of him, Whiteley got caught with Michaud behind him twice before getting out of the lock. The round ended with both men bright red on the ground.
ROUND 3: It seemed that both fighters expended a lot of energy during the first two rounds, but they're both holding their ground. Each has mad some mistakes after letting their guard down and have walked into several strikes between the two of them which could have been avoided. Michaud goes for the takedown again as Whiteley throws an elbow again to open Michaud's wound back up. After no real progress from either fighter, the referee has the men stand up again and Michaud instantly charges for another takedown. With the amount of significant strikes from Whiteley and the takedowns from Michaud, this bout goes to the judges for a decision.
WIN: Michaud via unanimous decision
ROUND 1: A lot of footwork from both competitors and movement around the octagon. While Kimura has a height and reach advantage, Cejudo in his debut fight seemed to keep his composure in the stand-up game -- getting cleanly out of two occasions where Kimura caught his leg. After a "take him down, Henry" from the crowd, Cejudo attacked and scored a takedown against Kimura. Not being able to get the top position, Cejudo pulled up and allowed Kimura to get back up. Kimura and Cejudo exchanged some standup blows to the body to lead to the end of the round. The two men ended the first round with Kimura missing another right hook and Cejudo dodging it. 
ROUND 2: As Cejudo told me Friday, his game is to react to his opponent's actions and he has done just that. Each time Kimura makes a move, Cejudo has countered with n equal or stronger move. Kimura has definitely stayed in this fight by not allowing the advances of Cejudo to dictate his next moves. Cejudo has continued to choose his spots wisely, landing significant strikes to Kimura's head, causing him to bleed above the left eye and under the right eye. 
ROUND 3: Kimura is playing a game of "just hang on" while Cejudo's intensity rises, even after two full rounds. At the half way point of the round, Cejudo led Kimura 74-19 in significant strikes landed. With ten seconds left in the fight, both men started attacking and taunting. The match ended with a respectful hug between the two as they waited for the decision. The take away from this fight is that Henry Cejudo showed the UFC that they will see more success from him in his career.
WIN: Cejudo via unanimous decision
The two men came off their corners fast and ready to attack. First big punch landed came from Entwistle who then fell back and took a big right kick from Birchak. After a few quick exchanges, Entwistle was able to catch Birchak with an ankle hook. Birchak kept rolling to get out of the lock, but was unable to relieve the pressure and ended up tapping out.
WIN: Entwistle
---