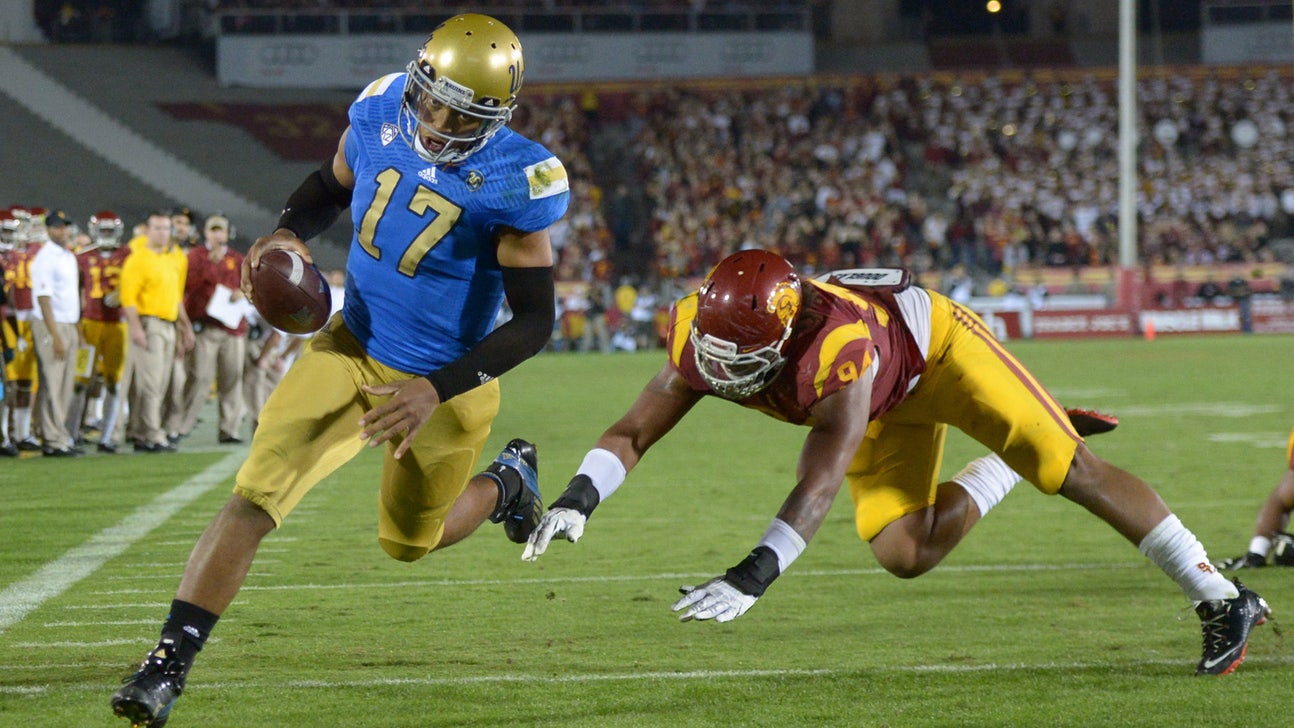 UCLA schedule breakdown: Part II
Published
Aug. 1, 2014 9:36 p.m. ET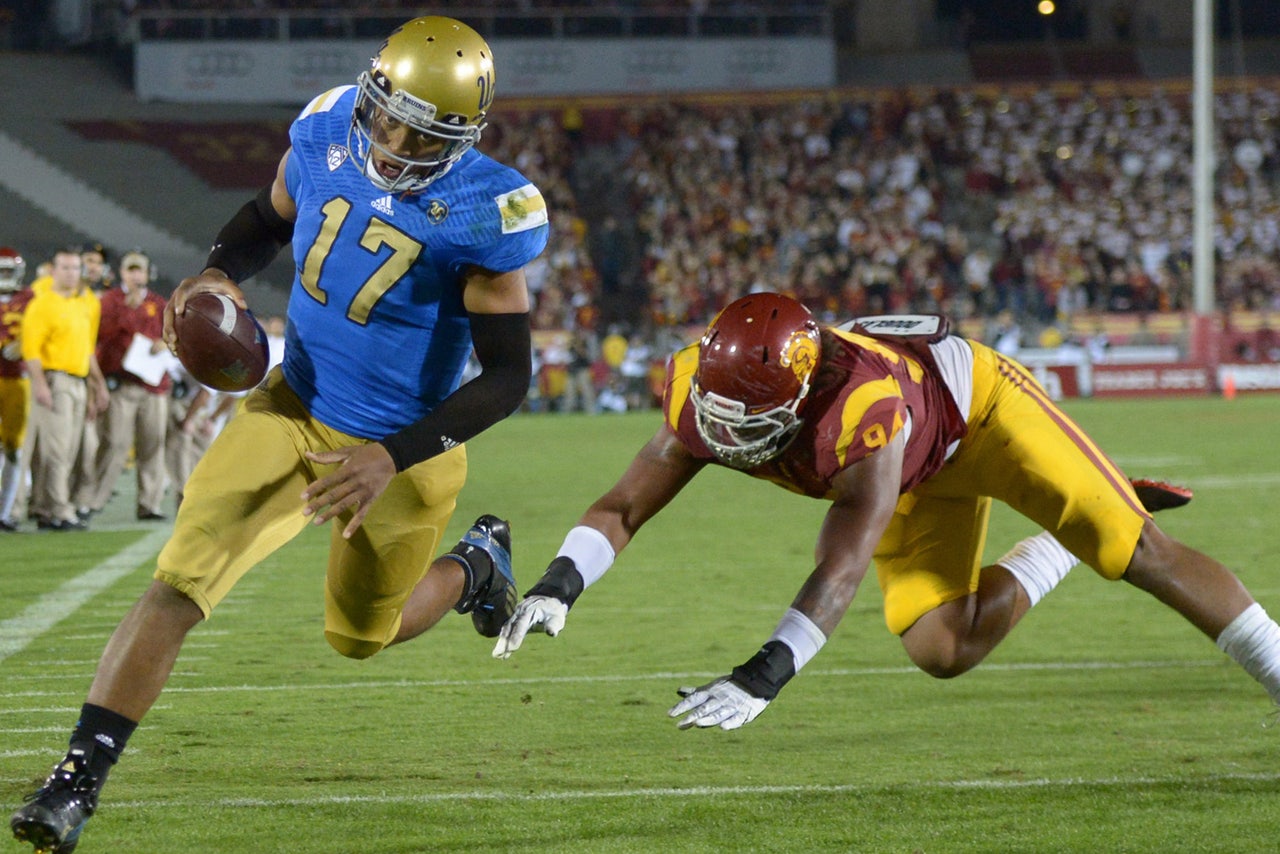 Oct 11 vs. Oregon (11-2, 7-2 Pac-12, first place North Division)
Head coach: Mark Helfrich found out the hard way that regardless of your previous experience with a team, growing pains are almost assured. In his first season at the helm, the Ducks again lost to Stanford and crumbled late in the season, getting blown out by a struggling Arizona team. But Helfrich is 1-0 against UCLA, which is the only number that matters when the Ducks visit the Rose Bowl. 
QB: Marcus Mariota is competing with UCLA quarterback Brett Hundley for the Heisman. The redshirt junior's return means the the nation's second-best offense will not be with a new leader. Mariota racked up the 14th-most passing yards in the FBS last season in was in the top-10 in pass efficiency as well. Mariota can run, but Helfrich said they aren't going to rely on his legs quite as much this year as the Ducks, once again, have the best combination of running backs in Byron Marshall and Thomas Tyner. 
Biggest challenge for UCLA: The speed. Last year in Eugene, the Bruins' defense kept them at bay through most of the game until the speed finally wore them out late. Blink and they'll make you pay. Marshall, a former track star, is a 1,000-yard rusher and Tyner, a freshman All-American, are only two of numerous weapons the Bruins will be forced to contend with when facing the preseason conference favorite. 
Oct. 18 at California (1-11, 0-9 Pac-12, sixth place North Division)
Head coach: Sonny Dykes is the answer to a Bay Area trivia question that about sums up how last season went: He's the first coach in program history that failed to beat a single Division I opponent. The Golden Bears' sole win last season came against Portland State. And as the athletic director that hired Dykes, Sandy Barbour, has departed and found a new job at Penn State, Dykes knows that the pressure is on to impress whatever new boss fills her position.
QB: The one surprising bright spot for the Golden Bears last season was their freshman quarterback Jared Goff. Goff broke numerous Cal single-season offensive records last season and is up for some of the bigger postseason awards. Goff is tall and likes to throw deep and will have some continuity with his receiving corps this season.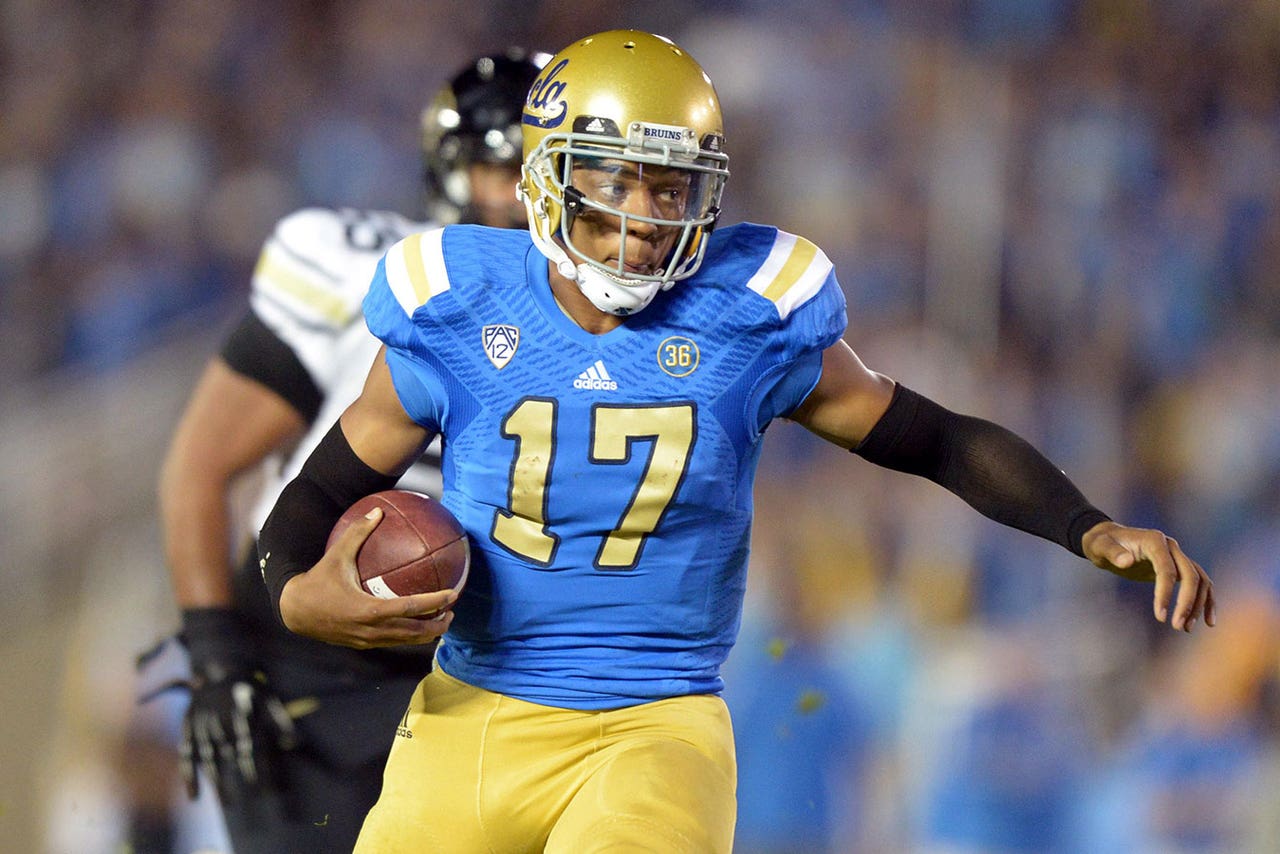 UCLA schedule breakdown: Part I
READ MORE

Biggest challenge for UCLA: It's difficult to tell just how much the Bears have actually improved. The heat could end up getting to Dykes or Goff could fall into a sophomore slump. Conversely, both could fare very well and with Dykes' background, the offense could rack up the yards. The defense has been overhauled and the injuries that plagued the defensive backs last season are mended now. But more than likely, the Bruins shouldn't have much of a problem with Cal.
Oct. 25 at Colorado (4-8, 1-8 Pac-12, sixth place South Division)
Head coach: In Mike MacIntyre's first season, the Buffs improved across the board. He's passionate and inspires his team to fight even against the top of the conference. The Buffs haven't seen a winning season since 2005 and it doesn't look as though this season will skew towards the win column, but MacIntyre will likely lead them to a few more than last.
Quarterback: Sophomore Sefo Liufau is projected to start after taking over for Connor Wood last season, but junior college transfer Jordan Gehrke and freshman Cade Apsay could compete as well. Apsay broke numerous CIF Southern Section records in his career at Canyon High School, although he likely projects as the quarterback of the future for the Buffs.
Biggest challenge for UCLA: The depth in the backfield has increased this season. The two top backs, Christian Powell and Michael Adkins, will split most of the carries but there's a trio of backs behind them as well helping to firmly establish the running game. However, the defense is still not a strength of the Buffs and the UCLA offense will once again be too much for Colorado to contain.
Nov. 1 vs. Arizona (8-5, 4-5 Pac-12, fourth place South Division)
Head coach: Rich Rodriguez was rumored to be in the mix for a few other jobs during the offseason but ultimately stayed at Arizona. His run-heavy offense got the better of Oregon last season but his two leading rushers, Ka'Deem Carey and B.J. Denker, will both have to be replaced.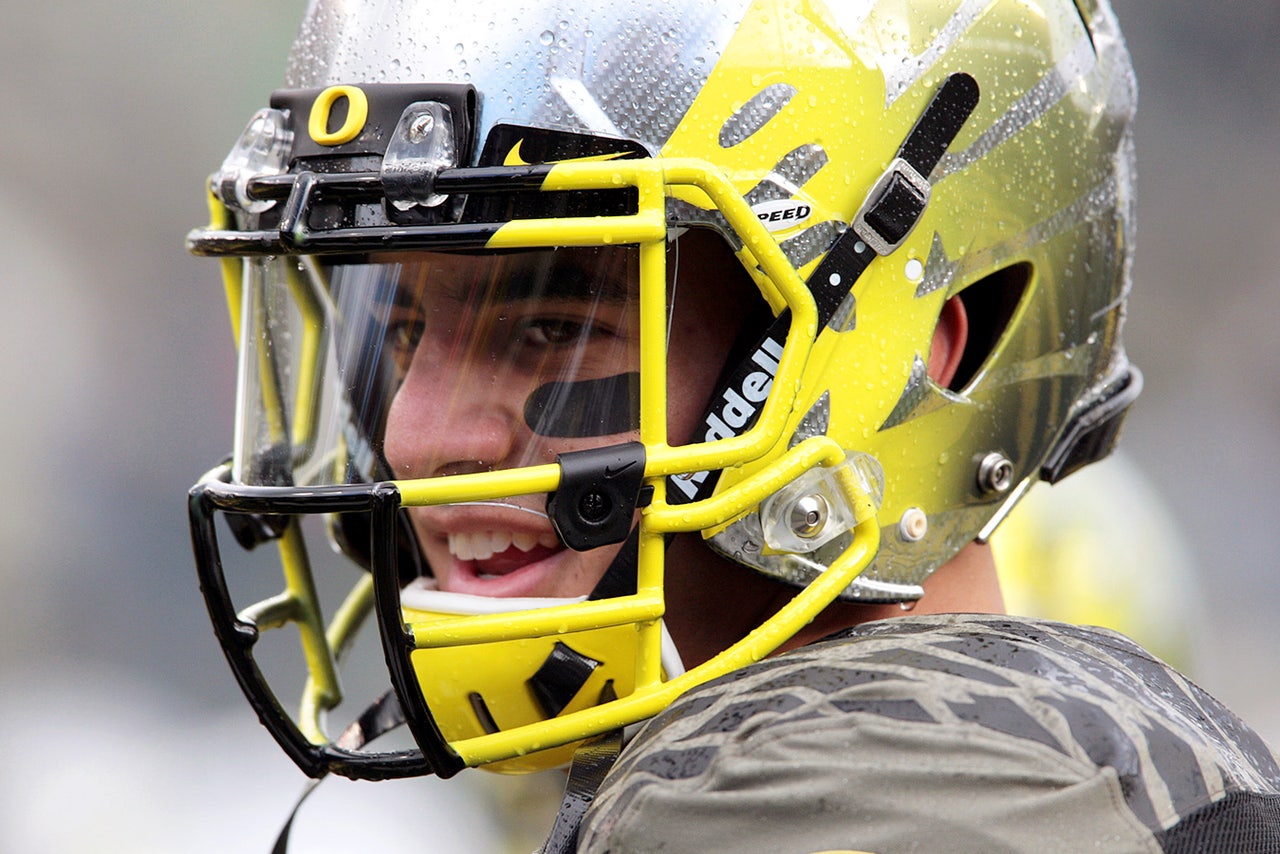 Oregon QB Marcus Mariota about more than just football
READ MORE


QB: The job is still up in the air, but USC transfer Jessie Scroggins looks to be the frontrunner as long as he can fend off a trio of guys behind him. Whoever ends up under center, it will be the third starter in the last three seasons.
Biggest challenge to UCLA: The receiving corps is loaded. Trey Griffey, Nate Phillips and Samajie Grant, all reliable targets in 2013, are all back this season as is Austin Hill (1,364 yards in 2012), who sat out last season with a torn ACL. The Wildcats will also benefit from Notre Dame transfer DaVonte' Neal and Texas transfer Cayleb Jones. Rodriguez knows he's going to have to change his run-heavy offense but he's confident that he will be able to adapt. 
Nov. 8 at Washington (9-4, 5-4 Pac-12, third place North Division)
Head coach: Chris Petersen was finally swayed away from Boise State for a big boy job in the Pac-12. He's still not so sure about the big city but he's sure he can turn Washington into the power that Boise State once was.
Quarterback: Cyler Miles -- but not for the opener. Peterson already has some obstacles in his path as his quarterback was suspended for his involvement in a fist fight last winter. Miles sat out all of spring and Keith Price could see himself as the starter if Miles fails to catch up in time.
Biggest challenge: Jim Mora will return to Seattle for the first time since taking the UCLA job. Not only that, he might face a hostile crowd as he spurned his alma mater last winter to continue to build up the Bruins' program. On the field, the front seven boasts a lot of experience and the veteran defense held opponents to just 22.8 points per game last season.
Nov. 22 vs. USC (10-4, 6-3 Pac-12, third place South Division)
Head coach: Despite the fact that USC wanted to distance themselves from the Pete Carroll years, they went out and hired another former Carroll assistant in former Washington coach Steve Sarkisian. But Sarkisian went out and got himself one of the top recruiting classes in the nation.
QB: Cody Kessler returns and is often lost in the shuffle of a conference that boasts such great quarterbacks at the moment. But what's often forgotten is that Kessler came in during a tumultuous time of the season and put up numbers comparable to other top Pac-12 quarterbacks. He's not mobile, but he's accurate, smart and his arm is strong. However, the offensive line is depleted.
Biggest challenge to UCLA: The Victory Bell will remain in Pasadena for another season and the Bruins would like to keep it there. The Trojans are embarrassed that it's blue. Should Sarkisian truly reinvent the offense and Kessler be able to turn into a more mobile quarterback and freshman weapons live up to the hype, the Trojans will have a far more complete game than the last time they faced the Bruins. UCLA is coming off of a bye week going into this game so they will have no excuses to not be fresh. 
Nov. 28 vs. Stanford (11-3, 2-7 Pac-12, first place North Division)
Head coach: David Shaw led his team to a second-straight Pac-12 championship and has gone 3-0 against the Bruins during Mora's tenure. You can bet that doesn't sit well with the head guy in Westwood.
QB: Kevin Hogan benefited from a trip to the Manning Camp this season and always knows how to get the job done against the Bruins.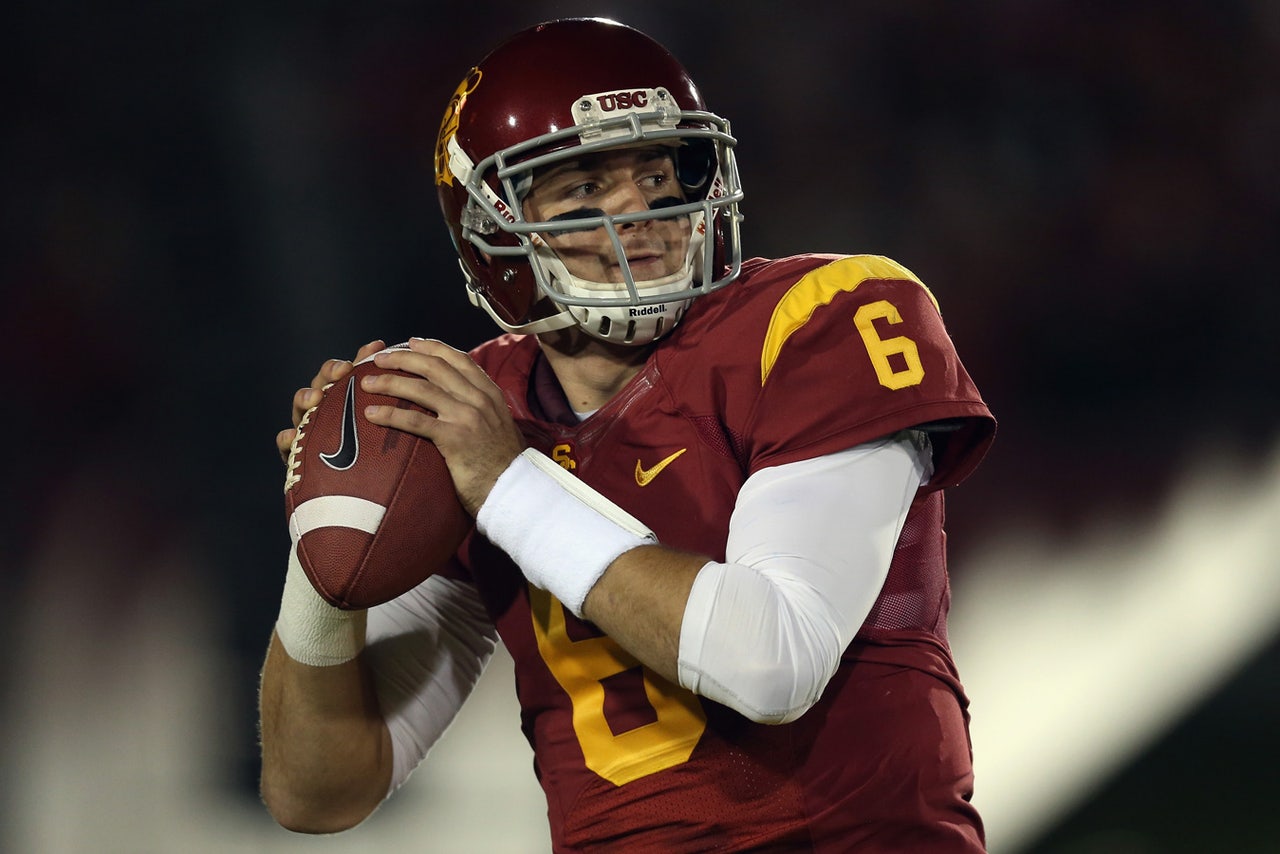 How USC QB Cody Kessler ranks among Pac-12's best
READ MORE


---