UCLA preparing for Texas team that has yet to find an identity
September 10, 2014

It's safe to say that the Charlie Strong Era has not started out with the same success that Jim Mora found at UCLA.
The new Texas head coach has ushered in more controversy than wins. Players have been dismissed; his quarterback, David Ash, went down with another concussion; and the team doesn't quite understand his motivational tactics or his expectations for off-field conduct. 
There's a clear disconnect between Strong and the roster he fields, which happens to boast some of the best athletes in the country. So while the Longhorns continue to navigate their identity crisis, the Bruins are preparing for Strong's roster. 
"There's a great talent base there. Every single guy on that roster was once a four- or five-star national recruit," UCLA defensive coordinator Jeff Ulbrich said. "There are going to be some bumps in the road, but they are a very talented team and it's a team that you cannot take lightly."
It's tough to gauge exactly where the Longhorns are after two games. They beat up on FCS North Texas in their first game but were nearly shut out by BYU in the last, failing to avenge a loss that nearly cost former coach Mack Brown his job last year. 
Before last week's game against BYU, Strong put up pictures of BYU quarterback Taysom Hill and photos depicting last season's loss in the locker room. He wanted his players to get angry. He wanted to light a fire. Instead, they were just confused.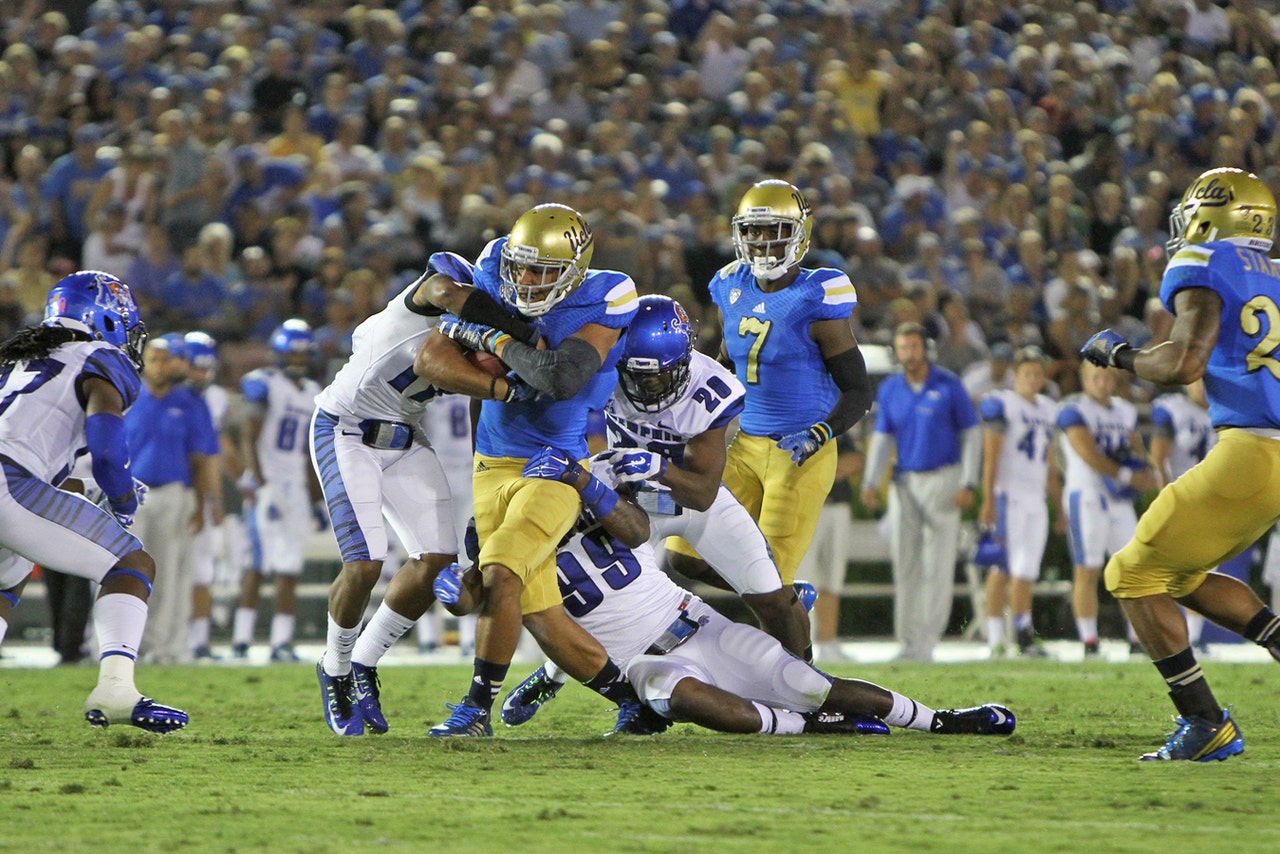 Mora says UCLA re-focusing after 2-0 start, back to being underdog
"I said anywhere else I would have been some player would have ran through there and tore all that down and probably would have burned it in the locker room. There would have been a fire in the locker room," Strong told the media earlier this week. "They would have done something with it or they would have just balled it up and threw it in the middle of the floor. It's like nobody did anything, and I did it for a reason just to see what we would do. 
"I wanted to see if somebody would just get pissed and somebody would pull it down, and then the next day go there and put it up again, somebody walk through there and tear it down again."
His players missed the message. Two players are still suspended this week and he said he's not going to fight for them with the dean of students. 
"When you take a program over with a new coaching staff, it's new schemes, it's new everything -- new culture. And there's a lot of challenges regarding that," Ulbrich, who has been on Mora's staff since his first year in 2012, said. "When you see that they click and they get it right, then they're going to be tough to deal with."
There have been a few of those moments on film. Some perfect plays in which the offense, now quarterbacked by dual-threat sophomore Tyrone Swoopes, has come together in a way that made UCLA pay attention. 
Swoopes' role is going to be expanded this week and, while he hasn't had much of a chance to run just yet, he said this week that his confidence as a starter is growing, and he anticipates a little more freedom.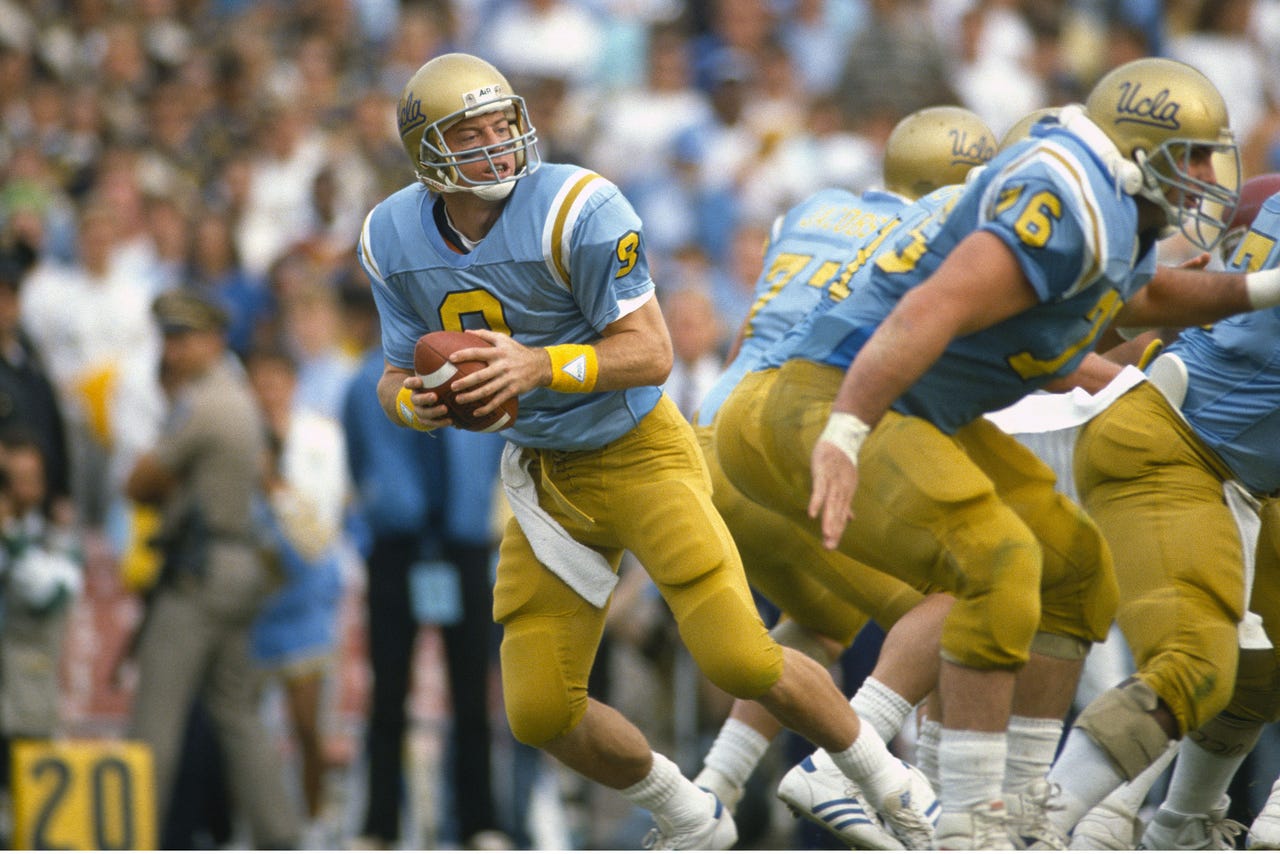 Troy Aikman on UCLA retiring number: 'It's as big of an honor as I've ever received'
"You've got to put pressure on him, you've got to make sure you make him uncomfortable in the pocket," UCLA defensive lineman Owa Odighizuwa said. "If he's going to run, you've got to make sure you stay in your rush lane and keep him from escaping. When he does feel pressure, he likes to run and he's pretty athletic so if we keep him in the pocket and continue to rush, we're going to have a good day."
It's a tough assignment to face a team in such a strange state, but their talent is seemingly endless and the Bruins haven't lost sight of it. 
"We're going to have to be disciplined and on our assignments," said center Jake Brendel. "Everyone has to be on the same page."
---