UCLA not basking in win over USC, Mora says
BY foxsports • November 23, 2014
If you're looking for a singular play to characterize No. 9 UCLA's 2014 football season, look no further than the biggest blunder of Saturday's 38-20 win over No. 19 USC. 
Quarterback Brett Hundley threw a pick-six to Anthony Sarao on the Bruins' first offensive drive of the game. But disaster did not ensue. Instead, UCLA capitalized on a mistake by the Trojans, made the necessary adjustments and completely shut down their rivals for a third-straight win over USC. 
Once left for dead after a thrashing by Oregon, UCLA has made the necessary adjustments that put them right back into Pac-12 title contention. It took a shift in their attitudes to shift their play, and while that meant a significantly diminished celebration after three-peating against their rivals, so be it. Only one win away from clinching the Pac-12 South title, UCLA is playing its best football.
"I don't want to sound cocky, but I think it's just expected to go out and the play the way that we did," receiver Devin Lucien said. "For us to go out like that and handle it, I don't really care what happened after the game."
Recovering from mistakes is what earned them the win and recovering from mistakes is what put UCLA in a position to clinch the South with a win over Stanford next Friday. After two losses to Utah and Oregon at home, the Bruins went on to record two unconvincing wins against Cal and Colorado. 
But as long as they were still winning, they could work on the convincing part later.
"Early in the season when we made some of our mistakes, we didn't bounce back the way we should have," Lucien said. "I think we've all just come together in a certain way. I don't think it has anything to do with what's going on on the field, but more with us and the bond that we've grown together as a team."
The early UCLA looks almost nothing like the current one. The current one features one of the most efficient two-way quarterbacks in the country, an array of receivers and a hard-hitting defense that is playing technically sound football. 
Brett Hundley passed for 326 yards and three touchdowns, using 10 difference receivers. He ran the ball only when the Trojan pass rush opened up a lane, but they forced Hundley to sit in back and make throws and in turn, he arguably showed more pocket poise than he has all season. There was only one interception -- the one that could have derailed him."
"That just shows how much he has matured through this year, how he recovered after that throw," head coach Jim Mora said. "He was really unaffected by it. He came off the field and he knew that he'd made a bad throw. He did not let it bother him. The game just re-started for him."
UCLA took both the running and passing games away from USC. Quarterback Cody Kessler was sacked six times and Buck Allen ran for only 60 yards. 
"It's just a concerted effort of everybody understanding their job at a high level," defensive coordinator Jeff Ulbrich said. "Playing within their scheme and within their gap, playing with great technique. To stop a running of (Allen's) caliber, he's very, very good, takes the entire front and the secondary."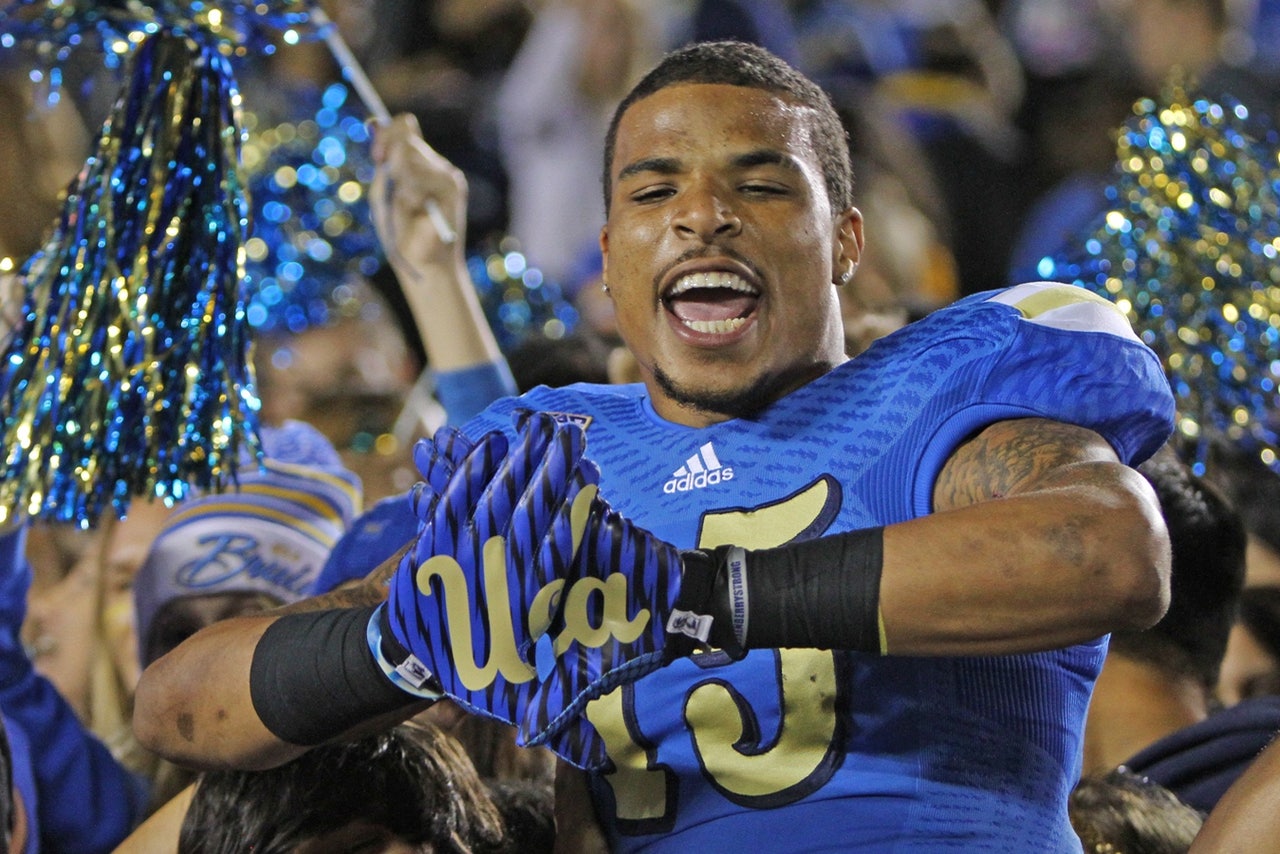 UCLA needs two more wins but still eyeing chance to make College Football Playoff
Three straight wins isn't unheard of in Westwood, but it's not common. Hundley is first quarterback to accomplish it since Cade McNown went 4-0 from 1995-1998. Three coaches have tried and failed against Mora.
"Three straight is good, what can they say?" Lucien said. "The media was bashing us, some of their team was bashing us and I was just like, 'Y'all got to stop.'"
The three-peat a proud feeling that the Bruins will quickly forget about. The attitude has changed as the team has been humbled. Now firmly back in control of the South, their sights already are set on Stanford.
"That was a good win, and it just helps us chase our dreams," Mora said. "We don't bask in moments. We move on to the next moment."
---