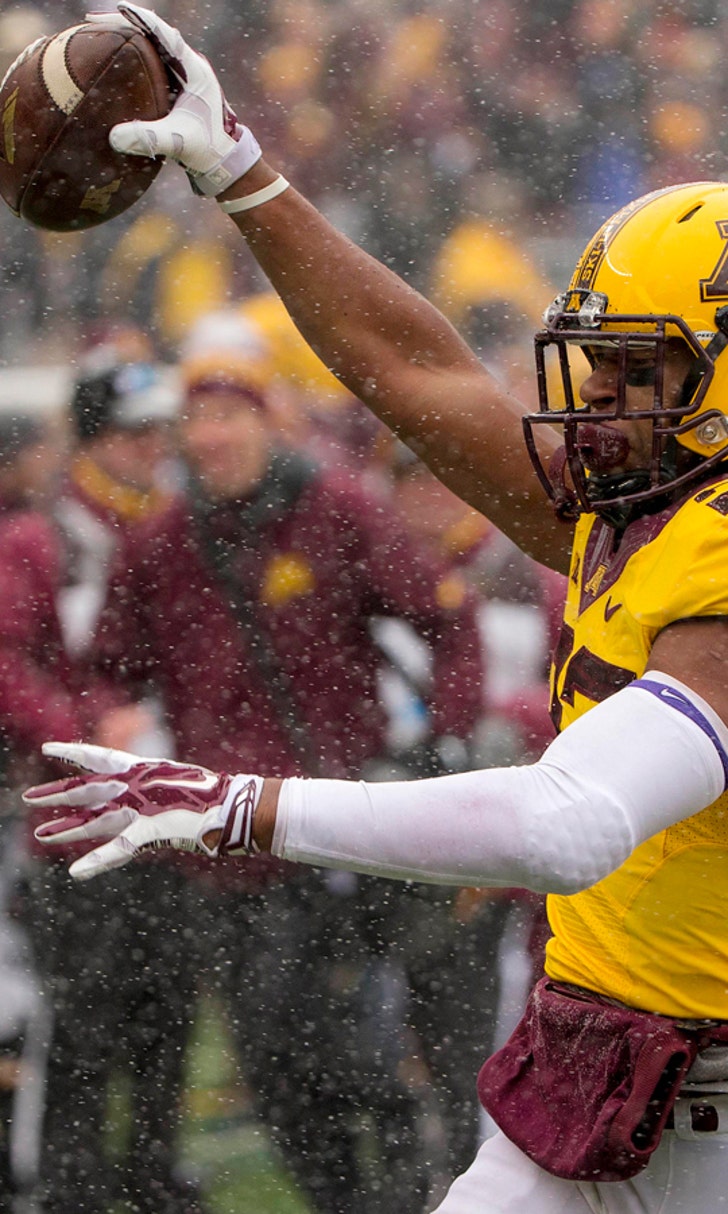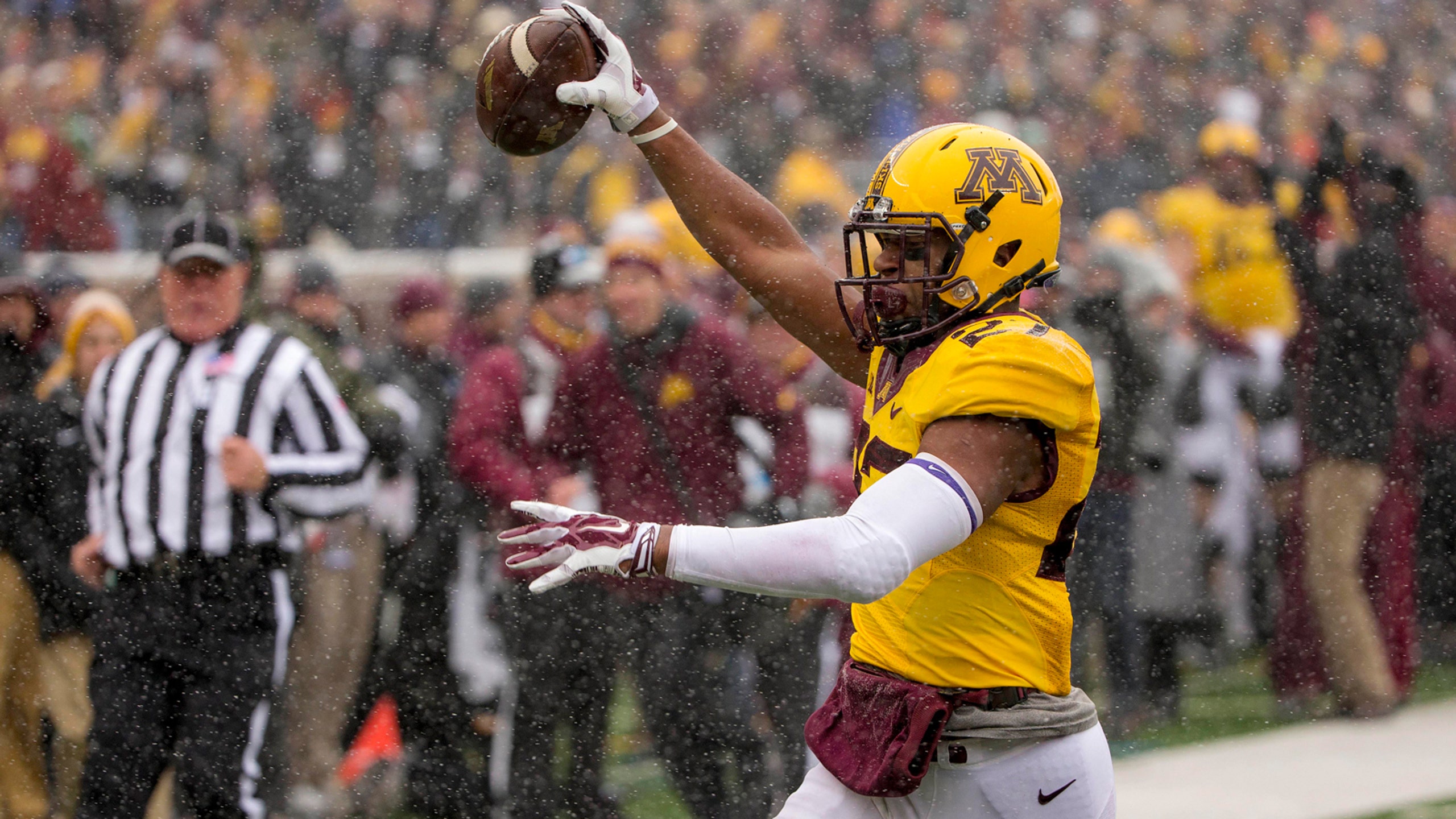 Tyler Mason's Nov. 19 Gophers mailbag
BY foxsports • November 19, 2014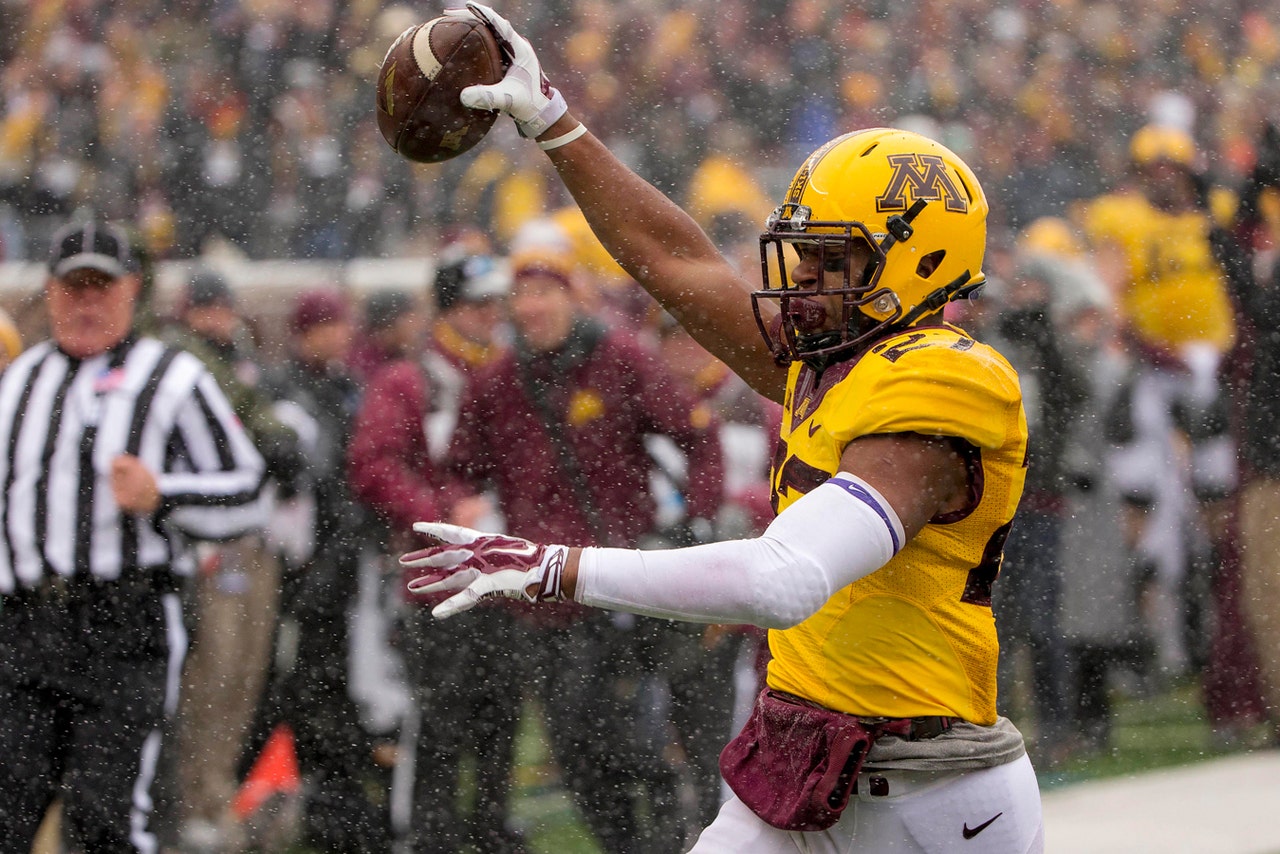 MINNEAPOLIS -- The Gophers football team lost to Ohio State on Saturday at TCF Bank Stadium, but Minnesota is still very much alive in the Big Ten West. With wins against Nebraska and Wisconsin in the final two weeks, the Gophers would secure a spot in the Big Ten championship game. As Minnesota prepares for its trip to Lincoln, I answered your mailbag questions. Thanks to everyone who submitted questions this week, and be sure to check back after Saturday's game and submit more questions.
Q: Cobb and the offensive line have to be licking their chops after watching what Melvin Gordon did to Nebraska's defense. Over/under 200 yards for Cobb? -- Morgan, Eden Prairie, Minn.
A: I'll say under, although I think he'll have a good game -- and perhaps a historic one. The reason I say under 200 yards (even though Gordon torched Nebraska for an FBS-record 408 yards on Saturday) is because Nebraska's run defense has been stout outside of that one game. Even after the 408 yards amassed by Gordon and 581 total rushing yards by the Badgers, the Huskers are still sixth in the Big Ten in run defense. Nebraska has allowed more than 190 rushing yards just once this year and was ranked 19th nationally before Gordon's performance. Cobb has had a pair of 200-yard games this season, but both were in nonconference play.
What I will predict is that Cobb will set a new Gophers record for the most rushing yards in a season. The current mark is held by Laurence Maroney, who ran for 1,464 yards in 2005. Cobb is at 1,350 yards, meaning he needs 115 yards to break Maroney's record. He's topped that 115-yard total in six of his 10 games this year. He should get that Saturday.
I'd have to imagine Nebraska's defense will come out pretty fired up after being on the wrong end of history against Wisconsin. Cobb will still run the ball early and often on Saturday, but I think he'll fall a bit shy of 200 yards.
Q: Always interested in locker room personalities. Who is the most quotable guy on the team? -- James, Brainerd, Minn.
A: Great question. College football interviews are a bit different than what I experience with covering pro teams, such as the Twins. With the Gophers, there's definitely not as much access to the players as there is with pro sports, and understandably so. That said, there are definitely some good quotes on the team.
Defensive tackle Cameron Botticelli is one of the most insightful quotes. He's very media-friendly and usually talks with us after Jerry Kill's press conference on Tuesday. Botticelli is a go-to whenever the media has questions about the defense (or about the opposing team's offense). Cornerback Briean Boddy-Calhoun is also a pretty good quote on the defensive side of the ball. And it helps that, like Botticelli, he's one of the leaders on that defense. And, as we saw Saturday, linebacker De'Vondre Campbell isn't afraid to break from the usual cliches and offer up some good sound bites. (He said after the loss to Ohio State that the Gophers would see the Buckeyes again in three weeks, referring to the Big Ten championship.)
On offense, offensive lineman Tommy Olson is solid, as is backup running back Rodrick Williams. Oh, and it's not exactly the answer to your question, but punter Peter Mortell is the best player to follow on Twitter. If you're not following him (@PMortell37), you're missing out.
Q: Do you think Mitch Leidner will be the starting QB for as long as he is here? I like the guy enough, but a more consistent passing threat would make this offense really good. Coach Kill always brings up [Michigan State quarterback] Connor Cook's name, which he has his flaws too, but Saturday was a disappointing step back in Mitch's progression (against a pretty good defense, however). -- Nathan, Moorhead, Minn.
A: It's hard to predict for sure if Leidner will become a four-year starter with the Gophers. This much is true: Leidner has had his ups and downs in his two seasons as Minnesota's quarterback. Let's not forget that he did split time last year with Philip Nelson, so he's still in his first year as the full-time starter. But it's hard to ignore that Leidner's completion percentage of 51.1 percent ranks 118th out of 124 FBS quarterbacks. Again on Saturday we saw Leidner miss some throws he probably should have made.
The Gophers will likely always be a run-oriented offense as long as Kill is the coach, but Minnesota still needs to get better production out of the quarterback position than it has. Kill's team currently has five quarterbacks on its roster, and all five are sophomores or younger. Even though Leidner has struggled, I'd still guess he'll enter spring ball/fall camp as the frontrunner. Chris Streveler is the only other quarterback on the roster with college experience. Freshman Jacques Perra might be a more accurate passer, but Minnesota's third-string quarterback has yet to play in a Division I game. It will be interesting to see what happens with the QB position next year. If the Gophers stick with Leidner, can he take the next step and become a more accurate passer? If they go another route, who would it be? Plenty of intrigue next fall, for sure.
Q: Who's Minnesota's best pro prospect? Cobb? One of the linemen? -- David, St. Paul, Minn.
A: I think David Cobb will have a very good chance of being taken in the NFL Draft after this season. He flew under the radar a bit last year, and is still not a household name nationally, but Cobb has an NFL-ready body and has now had two seasons of 1,200 or more rushing yards. In this day and age, it's hard to predict when running backs will be drafted simply because of how that position has changed in the NFL. But I wouldn't be surprised to see him go anywhere from the third to fifth rounds.
He's only a sophomore, but Maxx Williams definitely has NFL talent. He's also got NFL bloodlines as his dad, Brian, played briefly for the New York Giants for two seasons. In two years at Minnesota, Williams has established himself as arguably the best tight end in the Big Ten, and one of the best tight ends in the country. He was recently named as one of eight semifinalists for the Mackey Award, which is given to the top tight end in college football. Williams is big and strong (6-foot-4, 250 pounds) and has shown not only the ability to catch (he leads the Gophers in all major receiving categories), but he's also a solid run blocker. That should help him continue to draw attention from NFL scouts.
Q: Was the Ohio State loss a moral victory? It felt like a pretty good result, but is Minnesota still a program that needs moral victories? -- Joseph, Minneapolis
A: I'm not usually a big fan of the "moral victory" tag. Yes, Minnesota was competitive against a top-10 school and held the high-powered Buckeyes offense to 31 points. But at the end of the day, the Gophers came out on the losing end. If you want to look at the big picture, Saturday's game against Ohio State was a sign that this school is trending in the right direction. Just a few short years ago, it likely wouldn't have been that close. In fact, the seven-point loss was the closest margin of defeat for Minnesota against the Buckeyes since losing 31-28 in 2001. Since then the Gophers have lost by 31, 14, 44, 23, 13, 31 and 42 points. A one-touchdown spread is worlds different than some of those 30- and 40-point blowouts Minnesota fans had grown accustomed to when their team squared off against OSU.
At this point in the rebuilding process, I don't think the Gophers are the type of team that needs moral victories. Two years ago, sure, a game like that was something Minnesota could hang its hat on as Kill continued to lay the groundwork. But the Gophers are now at the point where they should be competing with -- and beating -- teams of Ohio State's caliber.
Q: Do you feel there is a concern that one of Jerry Kill's coordinators could leave in pursuit of a coaching job? -- Dan, Lake Mills, Iowa
A: I think that's been a concern for the past year or two. Actually, I don't know if concern is the right word, but it's been tossed out as Minnesota continued to ascend. Among the names of coaches who could land jobs elsewhere is defensive coordinator Tracy Claeys, who filled in admirably as the acting head coach a year ago when Kill took time away from the team for medical reasons. Claeys admitted he had a few offers but opted to stay loyal to Kill. After all, Claeys has been on Kill's staff since 1995 at Saginaw Valley State.
One other name to watch is Jay Sawvel, the defensive backs and special teams coach. Minnesota's secondary has continued to improve each year, and Sawvel was instrumental in Brock Vereen's transformation into an NFL safety. Under Sawvel's tutelage, players like Eric Murray, Briean Boddy-Calhoun, Derrick Wells and Jalen Myrick have thrived. I haven't heard anything regarding Sawvel and possible job opportunities, but if Minnesota's defensive backs continue to serve as the anchor of the Gophers' defense, Sawvel's stock will rise even more.
Follow Tyler Mason on Twitter
---