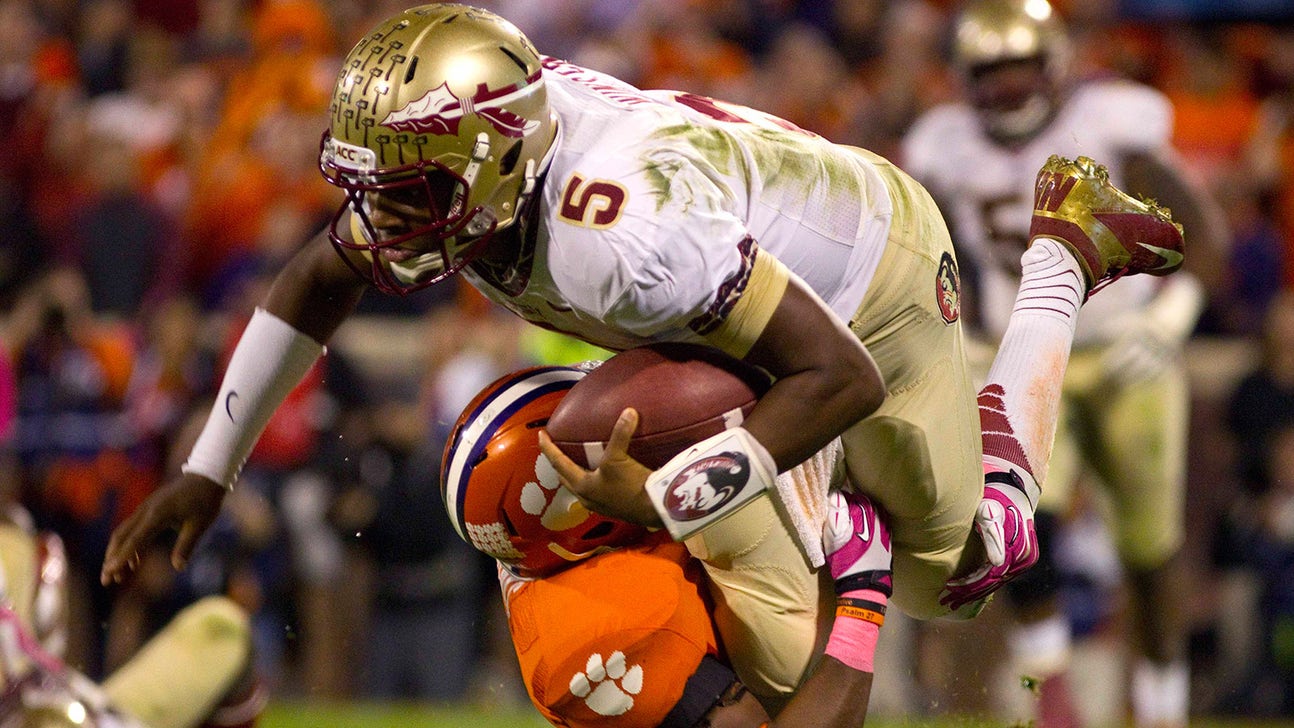 Twitter campaign backfires on Florida St, Winston
Published
Aug. 11, 2014 7:53 p.m. ET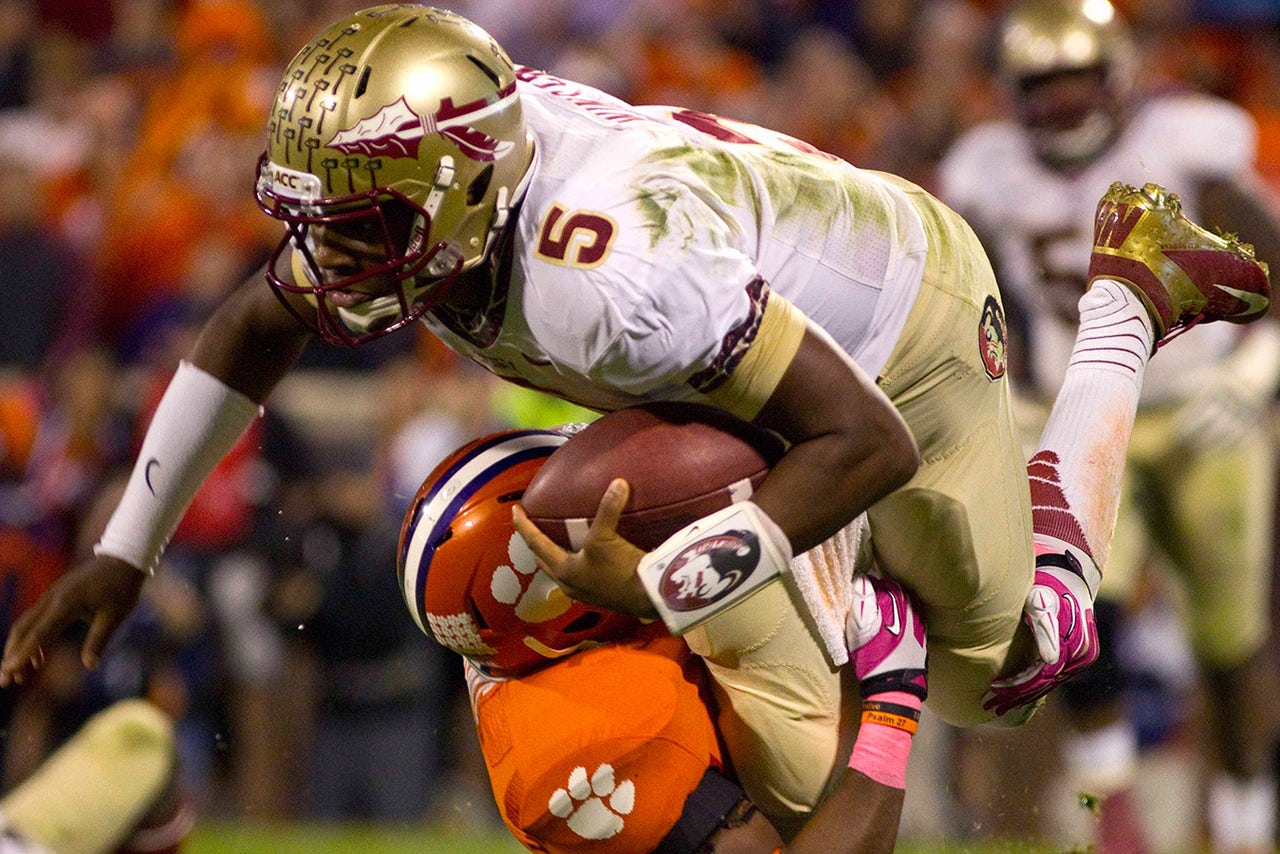 TALLAHASSEE, Fla. (AP) -- A Florida State social media campaign turned ugly Sunday when the university's athletic department opened their Heisman-winning quarterback up to nationwide mockery.
The department attempted to engage fans on Twitter by soliciting questions to be used for a video on the team website.
The hashtag "(hash)AskJameis" became a trending topic on twitter for a time Sunday -- for all the wrong reasons.
The twitter feed was bombarded by accounts making fun of Winston and taking shots at the sophomore. Winston has been heavily criticized for several off-the-field incidents during his time at Florida State.
He was investigated in an alleged sexual assault of a female student last season, but was never charged. Winston was suspended from the baseball team for three games and ordered to perform 20 hours of community service after being cited for stealing $32 of crab legs from a local grocery store. There were also other minor run-ins with authorities, but no arrests.
The Twitterverse quickly went on the attack.
"I knew there was going to be some negativity going into it," said Elliott Finebloom, FSU sports information director. "The goal of the Twitter Q&A was to continue to find ways to connect our fans and the players they support. That's important to us ... and social is a big way of doing it these days.
"That was the ultimate goal."
The tweets covered a wide range from witty to malicious. Most were aimed at Winston, but others questioned why the university would risk this type of response.
One post read: "Do you know that you have to Buy One to get One Free at Publix?"
Another read: "Who gave you better protection last year - your offensive line or the TPD?"
TPD is shorthand for the Tallahassee Police Department.
"This was doomed from the beginning," said Robert Stewart, director of the Ohio University school of journalism. "It's basically a setup. Whoever thought this was a good idea had not done P.R. 101, which is to think about what all could go wrong. Everything about this was naive."
Winston has grown accustomed to the chatter.
He was relentlessly heckled at away games during the baseball season. Hundreds of online memes were generated after the crab legs incident. Winston said during Florida State's football media day on Sunday that he doesn't focus on the negative things, but has become more guarded.
Florida State still plans to run the video of Winston answering questions. And a large number of people had to be turned away from a winding line hoping for an autograph from Winston during Fan Day on Sunday.
"There is definitely a group of people that" are looking to attack Winston, Finebloom said. "He's done such a good job of reaching our fan base in so many different ways. You'd hate to not be able to continue to make sure people knew about how many good things he does."
Experts said universities and businesses need to have a thoughtful conversation and consider researching ideas before soliciting social media feedback -- especially when the subject has been mired in controversy.
McDonald's had a hashtag campaign in 2012 titled "(hash)McDStories" that turned into a string of jokes made at its expense.
The vitriol was directed at NCAA President Mark Emmert in April when he made an appearance on ESPN's "Mike & Mike."
NFL Commissioner Roger Goodell was the punching bag during a (hash)AskCommish campaign in May.
The Washington Redskins asked supporters to tweet their "(hash)RedskinsPride" in May and were awash with posts from opponents of the team nickname.
Stewart said a differently worded hashtag that limited the scope to football in Winston's case may have helped, but the open-ended nature gave "people dynamite and asking if they can help you light the fuse."
Niklas Myhr, social media professor at Chapman University, said group thought can easily snowball on social media. He explained that it's easy to be involved in casual bullying with thousands of others on the sites.
"There's always going to be haters out there, there's always going to be people that are negative," Myhr said. "If you leave it up to them to be the first responders in a case, they can have a bigger impact than they deserve and make it easier for others to follow."
Finebloom said people learn from everything that happens.
"And social media, it has its plusses and minuses," he said. "And we know that. ... There are hundreds of thousands of Seminoles fans that interact with us in a positive way and we're going to keep interacting with them positively, too."
---