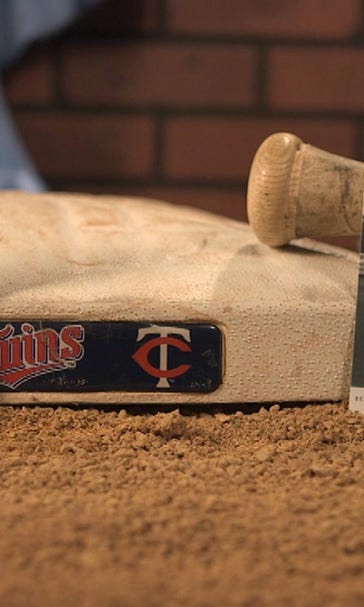 Twins' Smalley, Blyleven took 'unique' yet intertwined paths to World Series
BY foxsports • July 7, 2014
Roy Smalley and Bert Blyleven were two youngsters with major-league dreams growing up in Southern California. In a twist of fate they were traded for each other, and they continued their careers with that common bond. Nearly a decade after the trade they became teammates in Minnesota, where each of them became All-Stars, and together they share in a World Championship. Tune in to FOX Sports North on July 8 at 8:00 p.m. to watch the special Spotlight: Anatomy of a Trade.
MINNEAPOLIS -- Shortstop Roy Smalley and pitcher Bert Blyleven were teammates on the 1987 Minnesota Twins club that won the franchise's first World Series. That Series came near the tail end of both players' All-Star careers and after they had each bounced around on a few different teams.
Along the way, both Smalley and Blyleven were the subject of several trades -- including once for each other.
In 1976, Smalley was playing for the Texas Rangers, who drafted him first overall out of Southern California in 1974. Blyleven, meanwhile, was pitching for the Minnesota Twins but wanted to test the free-agent waters. Unwilling to pay Blyleven the money he wanted, Twins owner Calvin Griffith instead traded the All-Star right-hander to Texas.
In return, Minnesota acquired Smalley, as well as Mike Cubbage, Jim Gideon, Bill Singer and $250,000 in exchange for Blyleven and Danny Thompson. The move allowed Smalley to play shortstop full-time, and he also got to play for his uncle, Gene Mauch, the Twins' manager at the time.
"I had heard through the family grapevine something was going to happen," Smalley said of the trade. "As a matter of fact the way I think it happened was that Gene called his sister, my mom, and said 'I think we're going to get your kid you know,' and they told me that that was in the works."
Sure enough, Smalley headed to Minnesota while Blyleven spent the rest of 1976 and all of 1977 with the Rangers in Texas. Both players would eventually be on the move again, though. Smalley was dealt to the Yankees after the 1982 season, while Blyleven was traded to the Pirates before the 1978 season, and then to Cleveland in 1980 -- but not before he briefly retired in 1980.
"I was averaging maybe 6 innings a start and, you know, I wanted to go deeper into ballgames," Blyleven said of his time in Pittsburgh, where he won a World Series in 1979. "I wasn't felt like they were getting the best out of me and they said they wouldn't trade me and I said 'OK I'm out of here.' I left. A stupid move, stupid move on my part. I went home for a couple of weeks and I think finally, you know, I'm Dutch it takes a little longer to sink in. I said what are you doing you love the game. Just go back there and go through it and maybe during the winter they'll trade you, which they did."
Blyleven was traded to Cleveland, and then again to Minnesota in 1985. That same year, Smalley was also dealt to the Twins from the White Sox. He and Blyleven, for whom he'd been traded several years earlier, were finally teammates.
Not only teammates, but World Series winners in Minnesota. The trade that sent both players' careers in different directions back in 1976 had finally come full circle.
"Story-book type stuff, you know, you're reading a book and it keeps getting better and better as you turn each page and each chapter," said Tom Kelly, the manager of that 1987 Twins team. "This is what it was I think a little bit with Roy and Bert. (I'm) not saying joined together at the hip through baseball but their paths . . . to the World Series are quite unique."
Follow Tyler Mason on Twitter
---