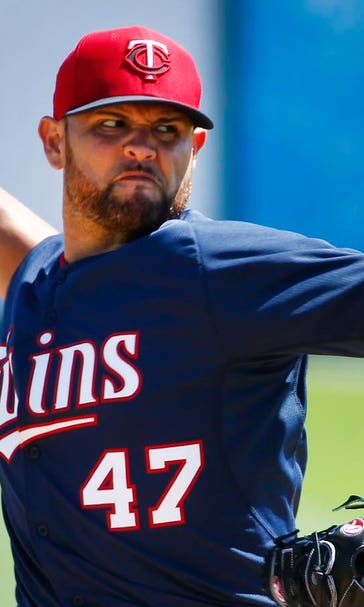 Twins salvage win against Orioles split squad
March 29, 2015

SARASOTA, Fla. (AP) -- Ricky Nolasco allowed four runs in six innings as the Minnesota Twins beat a Baltimore Orioles' split squad 6-5 on Sunday.
Minor leaguer Mike Yastrzemski, the grandson of Carl Yastrzemski, homered for Baltimore.
Nolasco allowed back-to-back home runs in the first: a two-run shot by Adam Jones -- his fourth of spring training -- and Travis Snider's first.
"I kind of picked the wrong day to give up fly balls, and I've been getting ground balls all spring, and the one day I started giving up fly balls, the wind's blowing," Nolasco said.
After Snider's homer, Nolasco retired 10 straight. One of the runs was unearned against Nolasco, who has allowed nine earned runs over 19 2/3 innings in five starts.
"I wasn't trying to do too much. I was trying to make a conscious effort to throw changeups," Nolasco said.
Miguel Gonzalez gave up five runs and seven hits in 5 2/3 innings.
Eric Fryer hit a two-run homer in the second. One batter after Gonzalez left, Oswaldo Arcia hit a two-run drive off David Hess.
Mike Pelfrey, who was demoted to the bullpen on Saturday and expressed his displeasure about it, pitched a perfect seventh.
Trainer's room: C Josmil Pinto underwent his second concussion test on Sunday. Pinto was injured by Adam Jones' backswing on March 21.
Pinto is competing with Eric Fryer and Chris Herrmann to be Kurt Suzuki's backup.
"It's getting tougher. There hasn't been a lot of playing time for that young man down here this spring," manager Paul Molitor said.
Pinto is batting .353 in just 17 at-bats.
Starting time: Pelfrey, who was upset by his demotion to the bullpen had a conversation about it with general manager Terry Ryan.
"It was just productive," Pelfrey said. "Obviously I was frustrated. I told him my side. He told me his side. No hard feelings. I don't want to be a guy who's upset or holds grudges. That's not me."
Ryan also felt the talk was positive.
"It was a healthy exchange. I listened and so did he. It's one of those situations," Ryan said.
Up next: RHP Kyle Gibson starts against Boston RHP Justin Masterson on Monday.
---