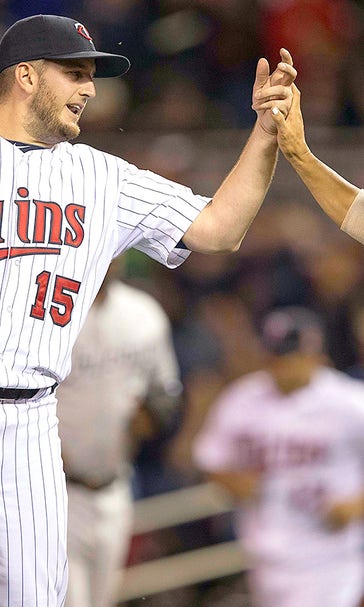 Twins' Perkins eagerly awaits All-Star opportunity in front of home crowd
BY foxsports • July 14, 2014
MINNEAPOLIS -- Glen Perkins was on pins and needles.
The Twins closer knew he was having a good first half of the 2014 season. But was it All-Star worthy? Perkins sure hoped so, especially given the location of this year's All-Star Game.
Of course, the midsummer classic is not only held in Perkins' home park, but it's in the same state he grew up in. The Stillwater native idolized former Twins first baseman Kent Hrbek -- a fellow left-hander -- and later was drawn to closer Eddie Guardado, another southpaw. He has fond memories of the 1991 World Series team, just like any other 8-year-old kid would have if their favorite baseball team won a championship.
Perkins was a Twins fan for his entire youth. After staying in his home state to play college baseball for the University of Minnesota Golden Gophers, Perkins was drafted by the Twins in 2004.
This is his home, and it always has been.
That's why when Perkins puts on the American League All-Star uniform on Tuesday night at Target Field, it will be perhaps as special of a moment as anything else in his entire baseball career. He'll not only be an All-Star, but he'll be an All-Star for his hometown team, playing the game in his home state.
"You always want to pitch in an All-Star Game or be in an All-Star Game," Perkins said Monday. "You never think the timing would work out where you get to be at your home stadium and represent your home team, the team that I grew up cheering for, at an All-Star Game at our field. It's really something that I never thought was possible."
Perkins is one of 13 pitches on the American League roster, so it's by no means a guarantee that he'll have the opportunity to pitch Tuesday. After making his first All-Star Game last year in New York, Perkins stayed in the AL bullpen the entire night. He never took the mound. Twins manager Ron Gardenhire -- serving as a coach on the AL team -- joked earlier this month that he'll sneak Perkins into the game somehow.
After recording 36 saves in 2013 during his first full season as the Twins' closer, Perkins has saved 22 games for Minnesota at the All-Star break. His ERA of 2.97 is a bit higher than it was last year, but he's striking out more batters and walking fewer hitters than he did a year ago. Those numbers were good enough to earn Perkins a trip to his second straight All-Star Game. He's not the only Twin in this year's game, as he'll be joined by catcher Kurt Suzuki.
If that duo could draw it up, Perkins would jog in from the bullpen in the top of the ninth inning to close out the game against the National League, with Suzuki behind the plate.
"That would be a scenario that I could see happening," Suzuki said. "We'll see what happens, but if that happens and we nail it down, that'd be great."
Perkins insists it doesn't matter to him when he pitches in Tuesday's game, whether it's a save in the ninth inning or one out in the fifth inning. As long as he gets to pitch in front of his home fans, he'll be happy. And that group cheering him on will include friends and family who won't have to travel far to see him pitch.
So, just how many tickets did Perkins have to wrangle up for Tuesday night?
"Oh, man. I could have gotten a couple thousand, I'm sure," he said. "I think we're probably around 30 or a little above. Not too bad. We ended up getting a suite so they're all together, so they'll have fun there."
Those same people have seen the path Perkins has taken to become a two-time All-Star, from a standout pitcher in high school to the Big Ten Freshman of the Year with the Gophers to a first-round draft pick by the Twins. It hasn't always been smooth sailing to this point, though. Perkins struggled as a starter early in his big-league career and butted heads with the organization about the way a few things were handled internally.
Those grievances now seem like it happened decades ago, if it happened at all. Perkins has become one of the faces of the franchise and an ambassador not only for the Twins but for the state of Minnesota.
"He grew up here. He grew up a Twins fan. All of his friends are here. His family's here. This is huge. This is a really big deal for him," Gardenhire said. "It's pretty neat. I know what it meant to him. I know when I called him in and told him he'd made the All-Star team, he was pretty fired up. You could see a big sigh of relief."
Relief because Perkins has had his sights set on pitching in this game for the last two years, ever since it was announced in 2012 that Target Field would be hosting the All-Star Game. At that time, Perkins wasn't yet closing games for Minnesota, so pitching in the midsummer classic seemed like a pipe dream.
As surreal as it may be to pitch in his home state, Perkins' trip to the All-Star Game in Minneapolis is very much a reality -- one he always hoped, but never quite believed would come true.
"Three, four, five years ago, I thought there was no chance," Perkins said. "I've been fortunate enough to make two now. I didn't think that was possible. Just keep working and never give up, and I guess good things can happen."
Sometimes, those good things can even happen in your own backyard.
Follow Tyler Mason on Twitter
For more 2014 MLB All-Star Game coverage head to www.FOXSportsNorth.com/AllStarGame
---