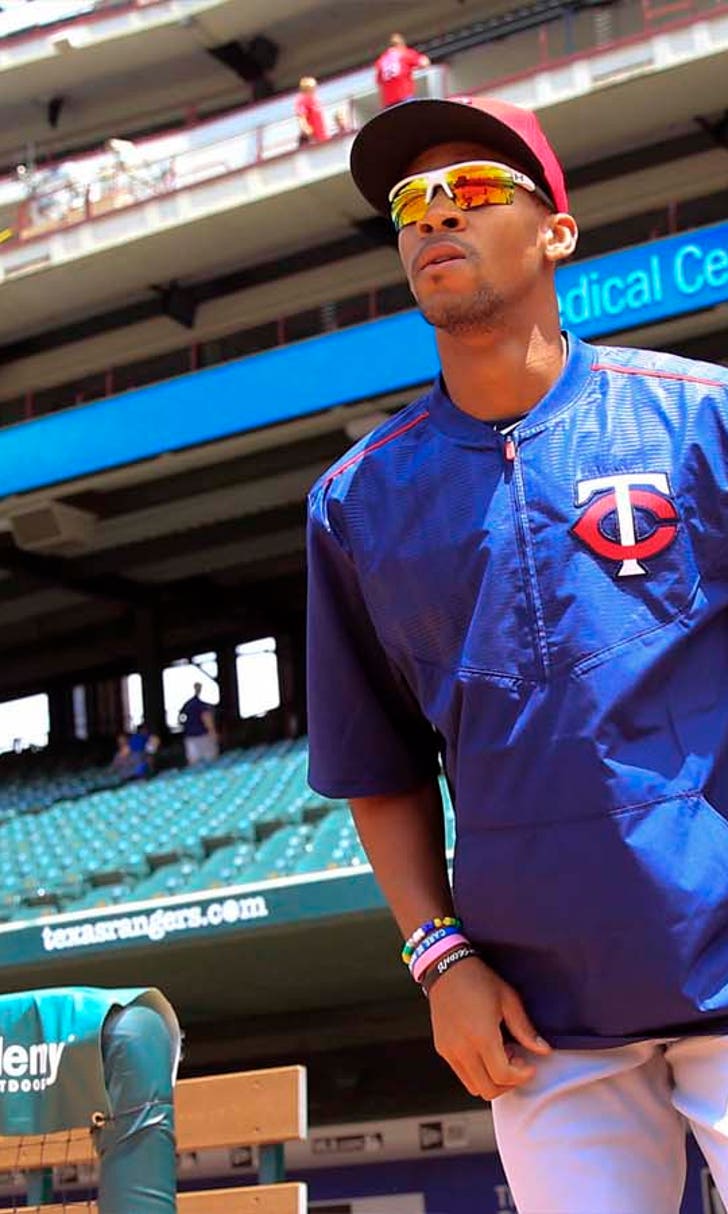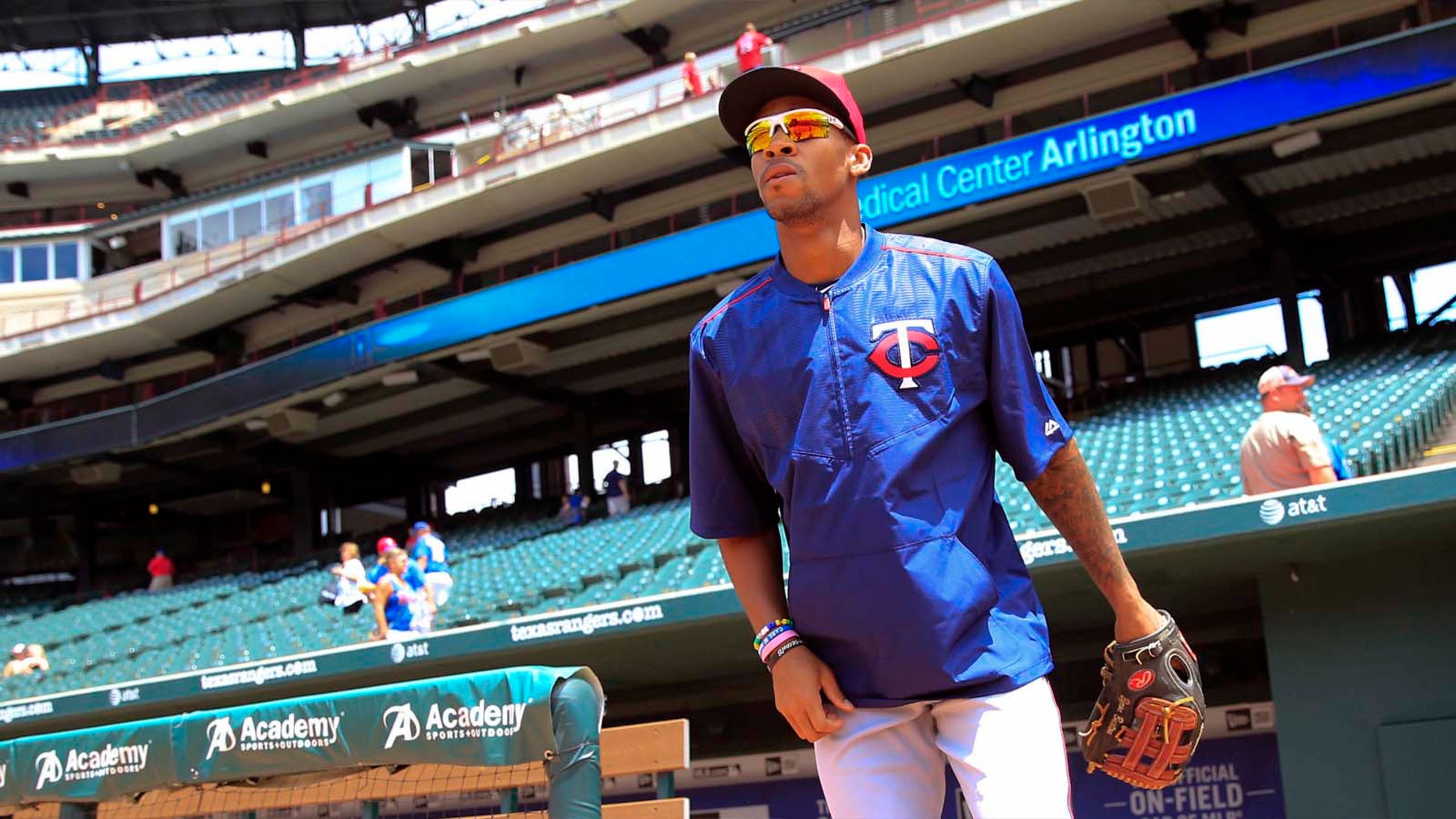 Twins' Buxton calm heading into big-league debut in Texas
BY foxsports • June 14, 2015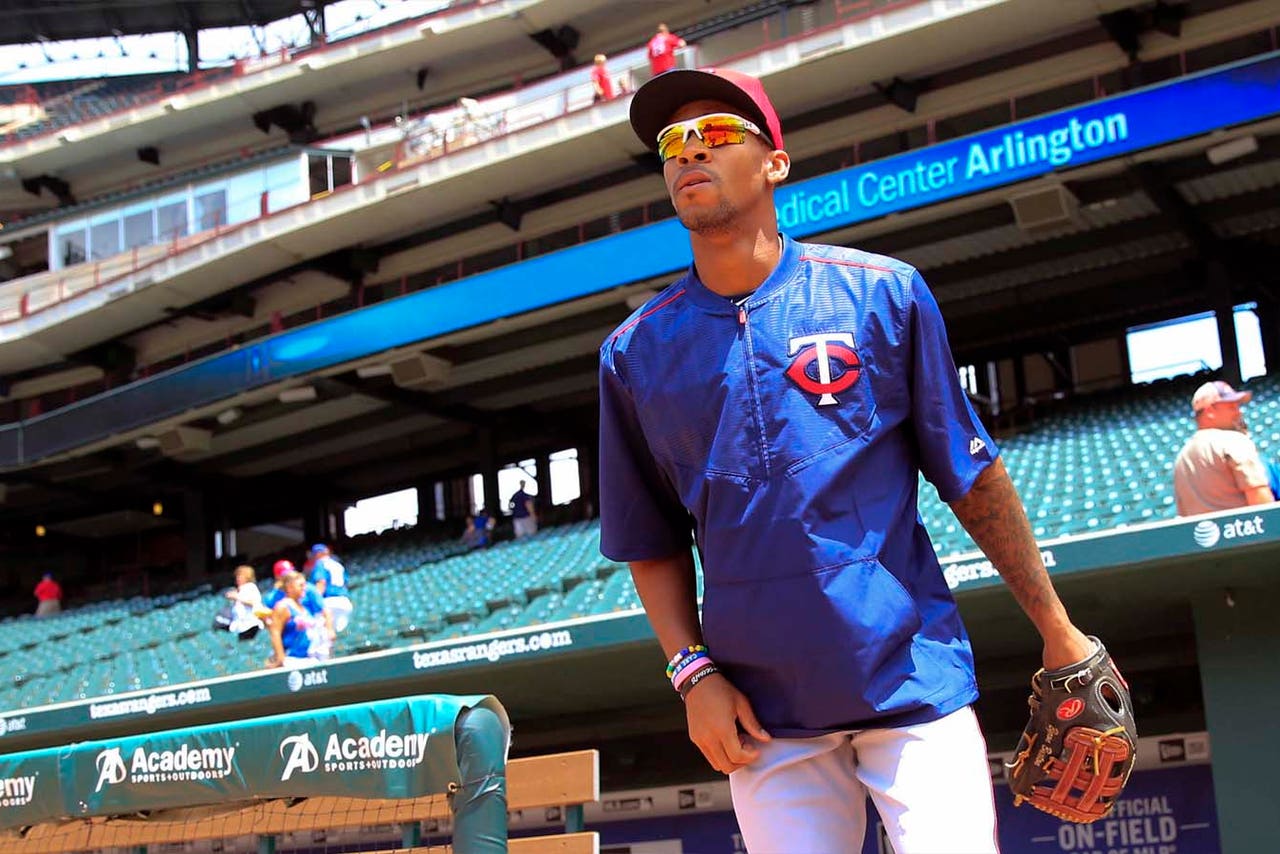 Byron Buxton has arrived. 
Just before noon on Sunday, the Minnesota Twins top prospect arrived in the visiting clubhouse at Globe Life Park with a camera crew chronicling his first look at a big-league clubhouse.
Buxton, 21, ranked as the top prospect in baseball by MLB.com heading into this season, learned on Saturday afternoon during a team meeting that he would be promoted from Double-A Chattanooga to the Twins. 
He is making his debut as Minnesota's center fielder and will hit ninth. While addressing the media for the first time as a big leaguer inside the Twins dugout prior to Sunday's game with the Texas Rangers, he admitted the promotion was a bit of a surprise. 
"It was very unexpected. Caught me by surprise, kind of a great gift and blessing to be glad and happy to have the opportunity to come out here and play," Buxton said.
First-year Twins manager Paul Molitor said he and his coaching staff kicked around the idea of having Buxton lead off in his debut, his customary spot in the order, but the ultimate decision was to leave second baseman Brian Dozier at the top of the order and have Buxton hit ninth. 
Molitor's rationale for that decision was simple.
"It's tough enough, coming up here for your first time. In his case, probably more than most people with expectations. I didn't want to burden him with the responsibility of trying to hit leadoff right out of the chute," Molitor said. "I think it (having him hit ninth) is the right thing to do, try to protect him a little bit, at least offensively, to get started."
Buxton joins Minnesota at a time when their outfield is in a state of flux. Aaron Hicks was placed on the 15-day disabled list on Sunday morning and Torii Hunter was unavailable for the series finale against Texas since he was serving the final game of a two-game suspension.
However, Buxton did receive some sage advice from Hunter, one of the Twins' most veteran players, prior to his debut, advice which he shared with the media. 
"Just come out here, have fun and enjoy the moment. That's all he had to say," Buxton said.
In Chattanooga, Buxton was leading the Southern League with 12 triples. He was hitting. 283 with 20 SB and had an OPS of .866 through 59 games with the Lookouts.
He is considered a prototypical five-tool player, a big reason why the Twins drafted him second overall in the June 2012 First-Year Player Draft.
Of course, he is best known for one of those skills over all others. 
"Definitely my speed," Buxton said. "I like running bases. I like taking away base hits and helping out our pitchers."
Buxton is debuting in Arlington 12 days after Joey Gallo, the Rangers' top prospect and also considered one of the top prospects in the game, debuted on June 2 against the White Sox.
And even though this whole experience has been unexpected, the young Georgia native admits Arlington will now be a place that jars some great memories. 
"Most definitely, it's where I made my debut at and it's always going to be a special place to me," Buxton said. 
His parents were unable to make the trip from Georgia to Arlington due to a family obligation but he hopes they will be in attendance when Minnesota returns to Target Field on Wednesday to begin an interleague series with the St. Louis Cardinals.
But even with all the hype and hoopla surrounding his promotion and subsequent debut, Buxton was nothing short of calm, cool and collected as he fielded questions in the dugout prior to his debut.
"I don't really care about pressure. I try not to pay too much attention to it. I just want to come out here and try to help us win, Buxton said. "I'm actually pretty calm right now. Just ready to get out here and get going. Think the more I sit around, the more nervous I get. Once I get here and start playing, I'll loosen up."
Molitor is naturally well versed in the impressive skills which Buxton now brings to his club and despite making the jump from the Southern League to the Majors, the Hall of Famer expects similar results from his talented young outfielder. 
"We're going to run him out there and just encourage him to do the things he's been doing. Adrenaline and emotion are all part of the reason you want to try to get here in the first place, so hopefully he can just channel it the right way and get off to a good start for us," Molitor said.
---