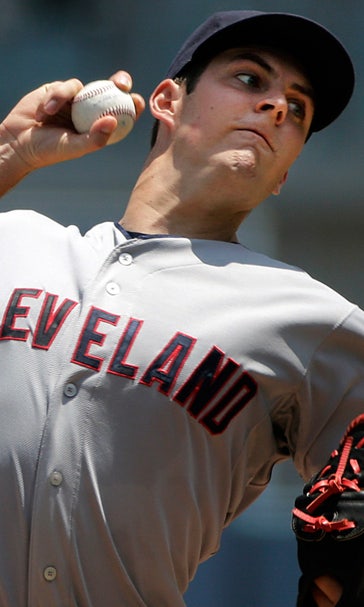 Trevor Bauer happy with Cali homecoming
BY foxsports • July 2, 2014
LOS ANGELES -- Trevor Bauer was back home in Los Angeles pitching in Dodger Stadium for the first time in his career. And it was a big start - the former UCLA right-hander had never won on the road before. 
All of his friends and family were in attendance to see him pitch against the team that he earned his first Major League win against when he was a rookie with the Arizona Diamondbacks.
But to Bauer, it was just another start in another ballpark. Nameless, faceless and for a few innings ignoring his family and friends in the stands, it's the approach he takes to the mound in all starts. 
The first road win didn't come at Dodger Stadium. It nearly did, but he ultimately didn't factor in the decision. It's not a big deal, he says, it would have been just as nice in any other stadium outside of Cleveland.
"I did alright," Bauer said, following Cleveland's 5-4 win over the Dodgers in the series finale Wednesday afternoon. "But it's the same game as it everywhere else: Try to hit your spot and make pitches, limit the hits, limit the runs, win a ball game."
Bauer pitched very well through four innings. It wasn't until he gave up an RBI double to Los Angeles pitcher Hyn-Jin Ryu that he began to unravel. The Dodgers scored three runs before he was pulled in favor of Vinnie Pestano, but those were the only three Bauer would surrender and it was a solid homecoming outing overall.
"He got into about the second inning and he found his breaking ball then got into a pretty good roll there," said Indians manager Terry Francona. "When Ryu got that hit it seemed like he started elevating a little bit and it cost him three runs. But other than that, I thought he was really good."
Bauer is still remembered in the Southland for helping the Bruins to the 2010 College World Series. He left Newhall Hart High School early to play for UCLA and was adamant about the academic side as well, majoring in engineering. 
He's got his own quirks in all their glory and his pregame routine of pole-to-pole long toss is infamous. But as many deeply scientific minds do, he initially had trouble connecting with his teammates at UCLA and early on in the minor leagues. He rose through the Diamondbacks' system quickly, reaching the major leagues in a year. But there was a growing rift and he was traded, spent the better part of last season in the minor leagues and ultimately somewhat humbled.
It seems to be a better organizational fit for the Bauer, who unabashedly owns his oddities. If he wasn't connecting to his teammates before, the bear hug he laid on teammate Michael Brantley in the dugout, and the concern he showed for him during Wednesday's game is evidence that the fit is much better in Cleveland.
"The past few games he's hit a lot of balls hard right at people," Bauer said. "I kind of felt like he could use a hug."
Bauer might still be finding his footing both in a new organization and still in baseball. He'll learn how to win on the road. There's far less concern surrounding Bauer than there once was.
"Sometimes the win-loss record goes by, not necessarily how you pitch but where you come out of a game," Francona said. "He doesn't have a ton of starts. He'll be fine."  
---