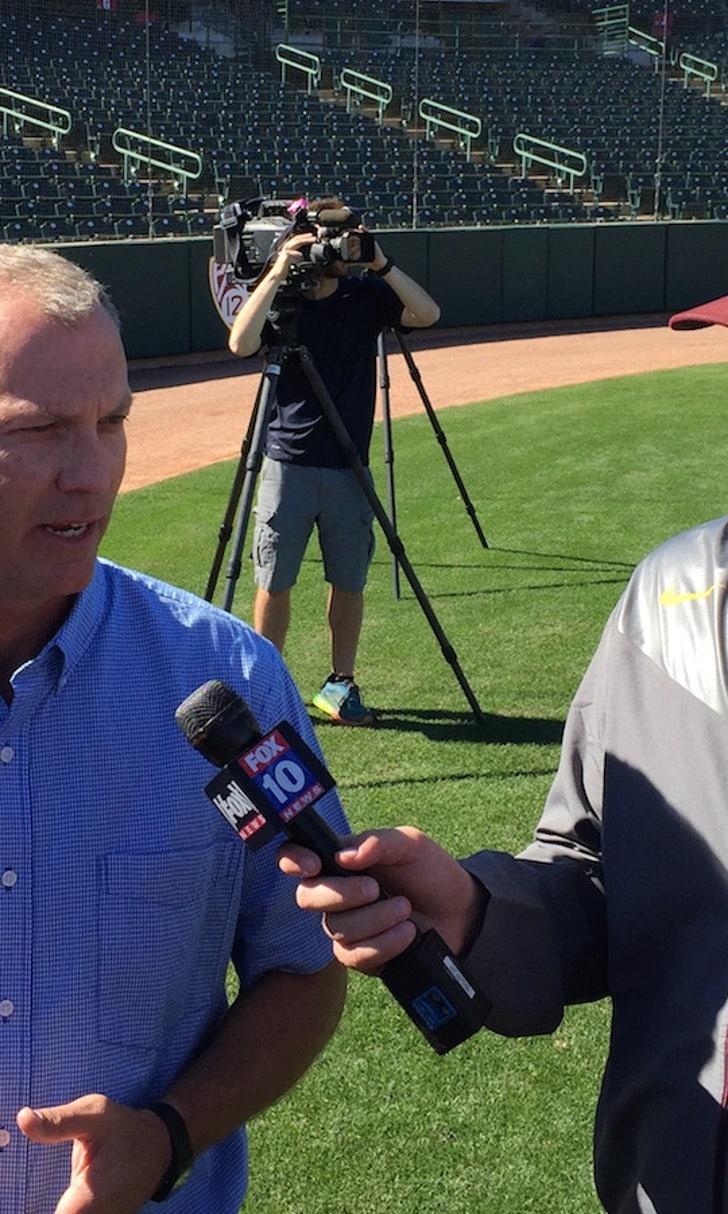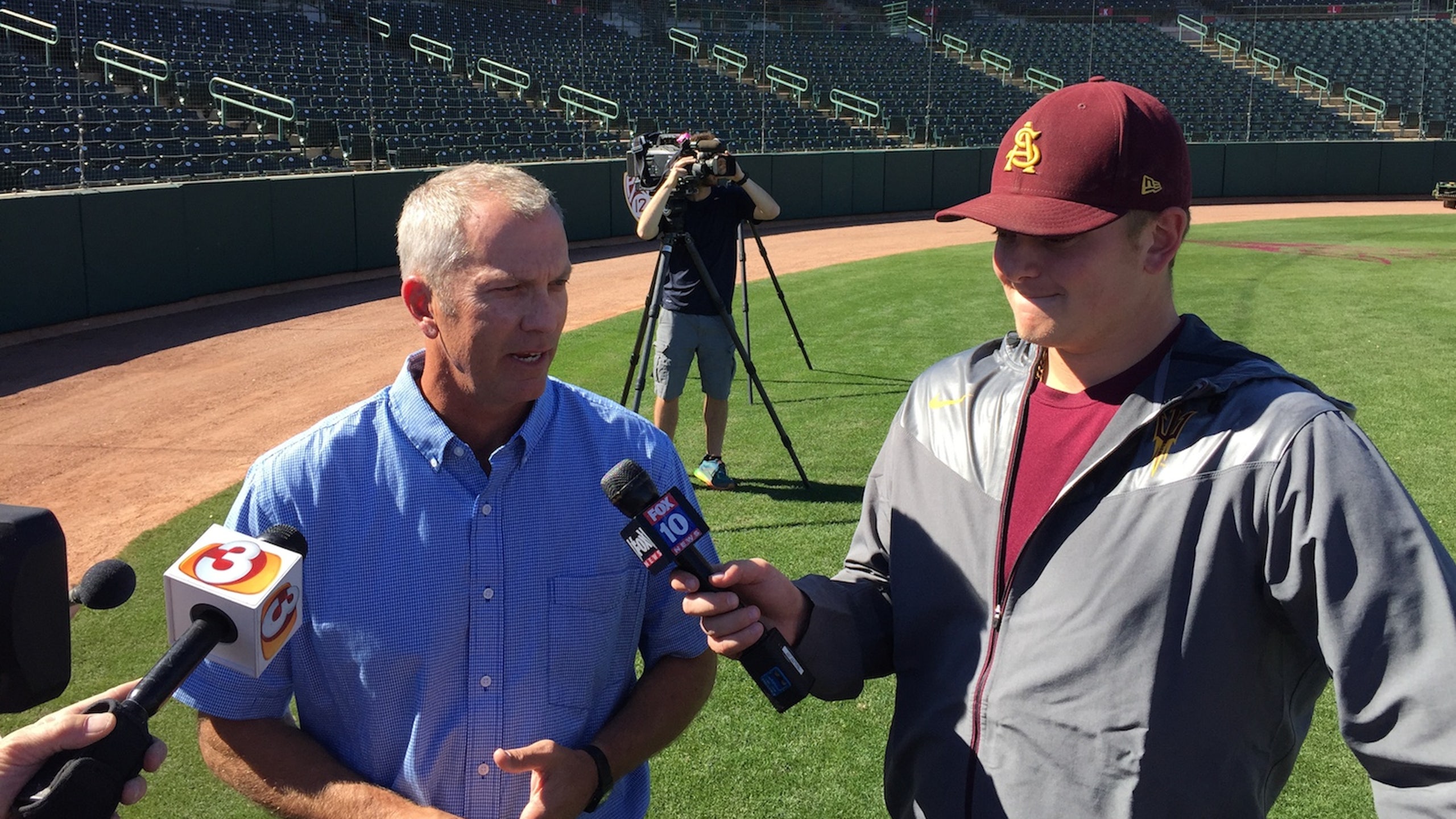 Tracy Smith instills focus as ASU baseball moves to new home
BY foxsports • February 11, 2015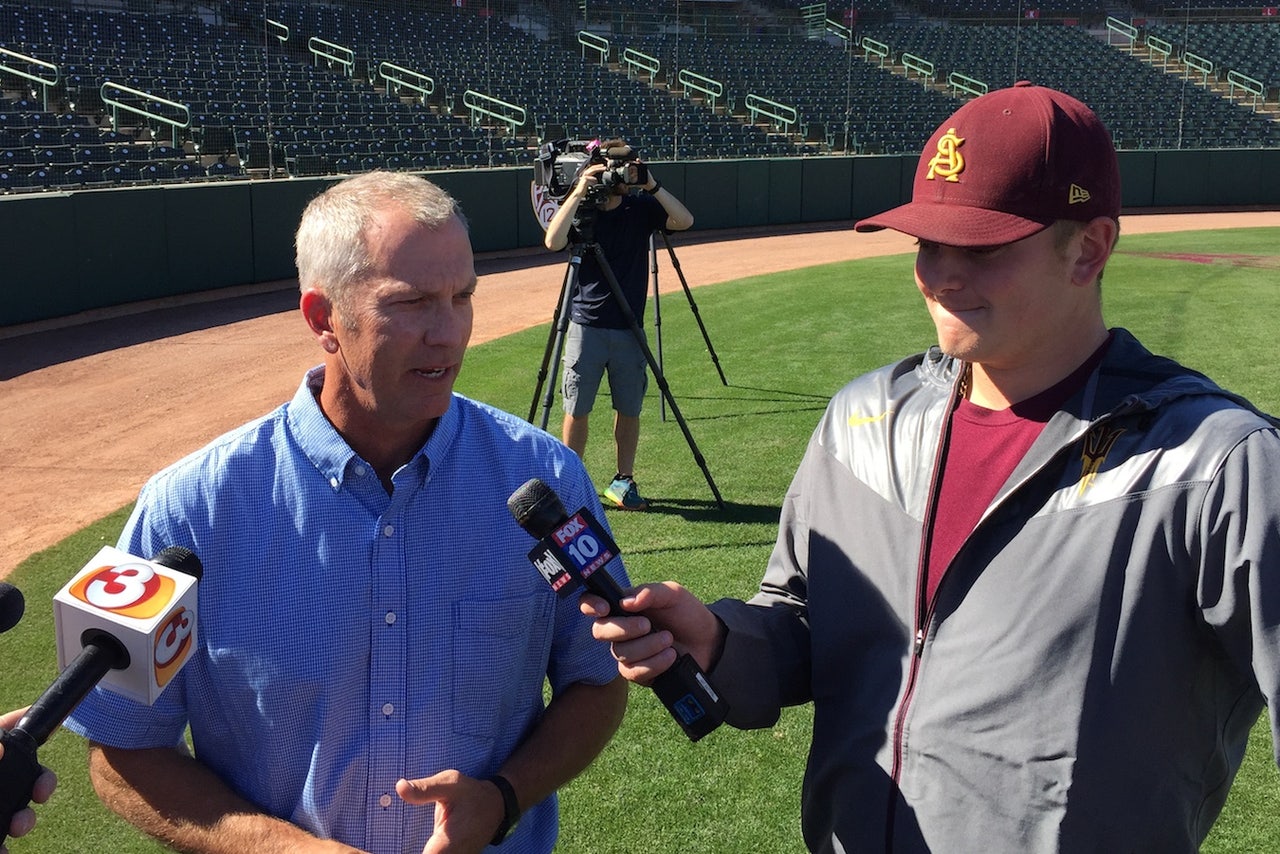 PHOENIX --  Arizona State wanted Tracy Smith to be its baseball coach because he did more with less in his long stays with Miami (Ohio) and, from 2006 through last season, Indiana. For the Sun Devils to pull him from the Midwest was a major coup.
Two days prior to the 2015 opener at his team's new home, Phoenix Municipal Stadium, Smith didn't have to use to words while explaining why he left Indiana, a place where he found a great deal of success.
All he needed to do was turn around.
On the horizon, behind the relabeled maroon and gold ballpark, is Papago Park's unique skyline. The sun was shining. Here's that picturesque scene in college baseball terms.
"What's important to me are the people I'm going to be interacting with on a daily basis," Smith said. "I felt very comfortable with the group here. But it goes back to, when I'm strapping it on every day, what ultimately at the end of the day am I playing for? I want to win, personally as a competitor, I want to win a national championship. I had to sit back and realistically look, whether it be weather, whether it be recruiting environment, whatever: Where do I have a better chance of doing that?"
Smith may not have to wait long.
The strength of the Sun Devils appears to be a pitching staff that returns starters Ryan Kellogg, Darin Gillies and Brett Lilek, who is on the Golden Spikes Award Preseason Watch List, and relievers Ryan Burr and Jordan Aboites from a team that finished third in the Pac-12.
ASU lost two of its most productive bats in Drew Stankiewicz and Nathaniel Causey but returns junior Johnny Sewald, who led last year's squad with 44 runs, and RBI machine R.J. Ybarra, among others.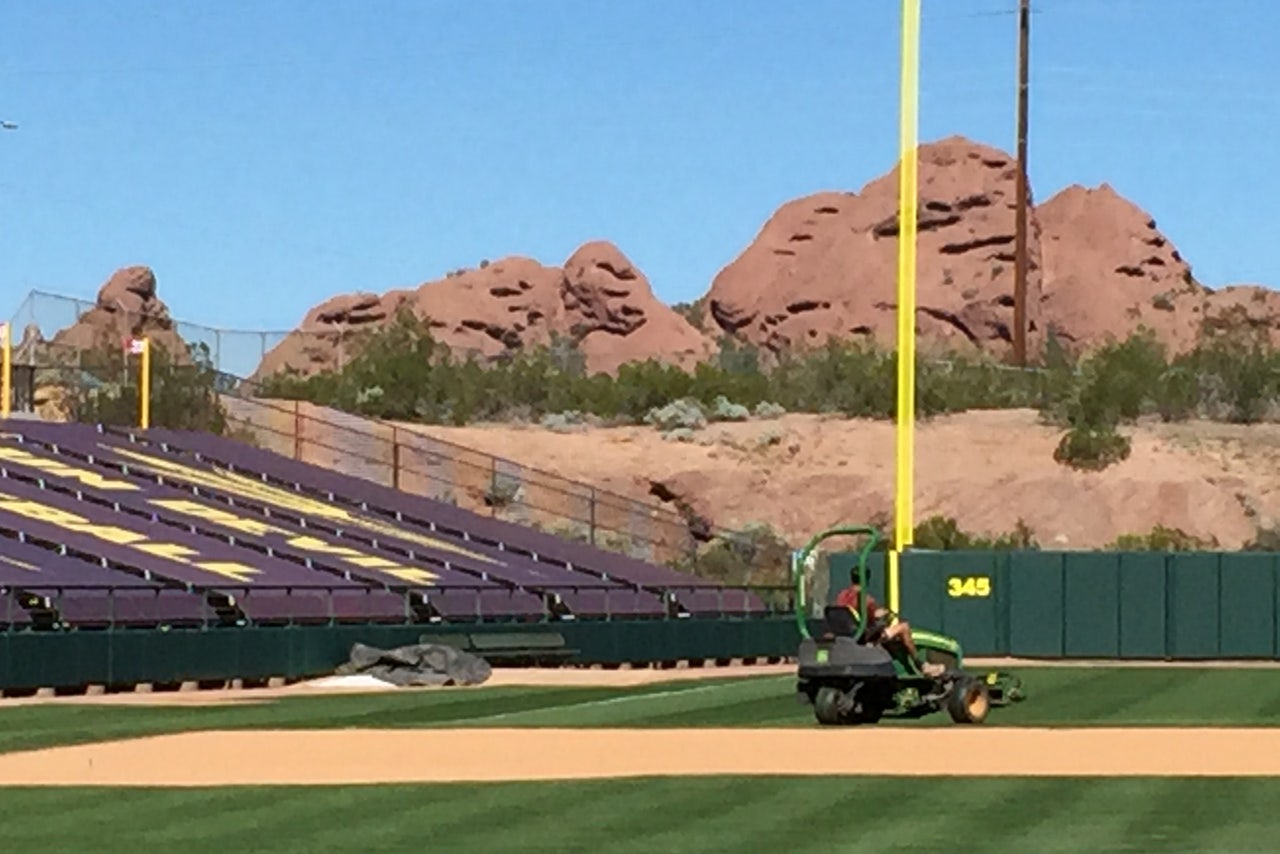 The backdrop to Phoenix Municipal, which has ASU logos in place.
Other familiar faces include outfielders Jake Peevyhouse and Trever Allen and infielders Christopher Beall, Dalton DiNatale and Colby Woodmansee.
Those players will take the field for the first time under Smith's direction Friday when ASU hosts Oklahoma State in the Sun Devils' first game away from their old home, Packard Stadium. 
The high for the three-game series against the Cowboys should sit in the 80s. For Smith, there are no more openers in sub-freezing temperatures. 
"I'll also say I got tired of fighting the cold," Smith said, "I really did."
Former ASU coach Tim Esmay, under the heavy expectations of Sun Devil fans, resigned after a 33-24 campaign and early exit from the 2014 postseason. Smith takes on those pressures, and his job heading into the season opener has been attempting to get the Sun Devils focused on what they can control.
The team's on-field identity is to be determined, but keeping out the unnecessary noise is what ASU hopes to pride itself upon. Smith has challenged his players' focus. 
"If we get caught up in the fan expectations and everybody's expectations, then you're losing sight of what you're supposed to be doing, which is fielding the ground ball, making the quality pitch," Smith said. "We talked about narrow the focus and understand and trust, and we play for each other in this room."
Smith might've gotten that point across following a disappointing scrimmage on Saturday. The first-year ASU coach didn't like what he saw.
So what did he do?
"We took a ton of reps on defense and we made sure every rep was perfect," said Ryan Lillard, a freshman infielder from Urbandale, Iowa, who was Smith's first Sun Devil recruit. "If it wasn't perfect, we'd start all over, had a certain amount of reps we had to get ... (it) improved our concentration levels."
Smith has pushed his players to get comfy in their new home.
Players are expected to take the utmost advantage of the facilities. Aboites, a junior, said they've embraced coming in on off days to work on their game. And team practices are faster-paced than they were under Esmay. Efficiency is important to Smith.
"It just feels a little different in terms of, you know, the urgency," Aboites said. "Everything is really fast-paced. We don't waste any time in practices. Everything is one after another, not a lot of rest time. He expects perfection."
Smith likes this group of players, even though a good amount are Esmay's recruits. There's been buy-in, and Smith said "that has shortened our learning curve."
The Sun Devils likely won't be paying attention to their ranking (that ranges from 18th to 21st across the major polls), and Smith isn't overly concerned about an in-depth scouting report on Oklahoma State. He's just excited to see what he's got in his new team.
"Our goals are to play hard every day," he said. "I'm not a hey, come in and promise ... championships. I don't talk about all that stuff. That stuff is going to come if you do all the things right on a daily basis. With that talent, with that trust, with that relationship with the team, all the things that the fans want, all the things that I want and the players want, that'll come."
-- ASU returns to Phoenix Municipal for the first time since playing there from 1964-74. The old spring training facility of the Oakland A's has been repackaged with ASU banners and will include the "Inferno" student section.
-- Lillard on his recruiting visit and the new stadium: "I really had no idea about the new stadium. Once I took my visit here and they brought me over here, I was just sold right away. Now that I'm seeing everything take shape, it's unbelievable."
-- Phoenix Muni has a deeper outfield than Packard Stadium. Along the lines, the outfield walls for the Sun Devils' home moves back from 338 feet in Packard to 345 at Phoenix Muni. At center field, it increases from 395 to 410 feet. The infield is expected to help ASU cut down on fielding errors. "It plays a little different," Aboites said. "It's a little bit of a deeper part, infield's a little smoother, a little more level. It's definitely something really exciting to all of us and we're really pumped up about it."
Follow Kevin Zimmerman on Twitter
---