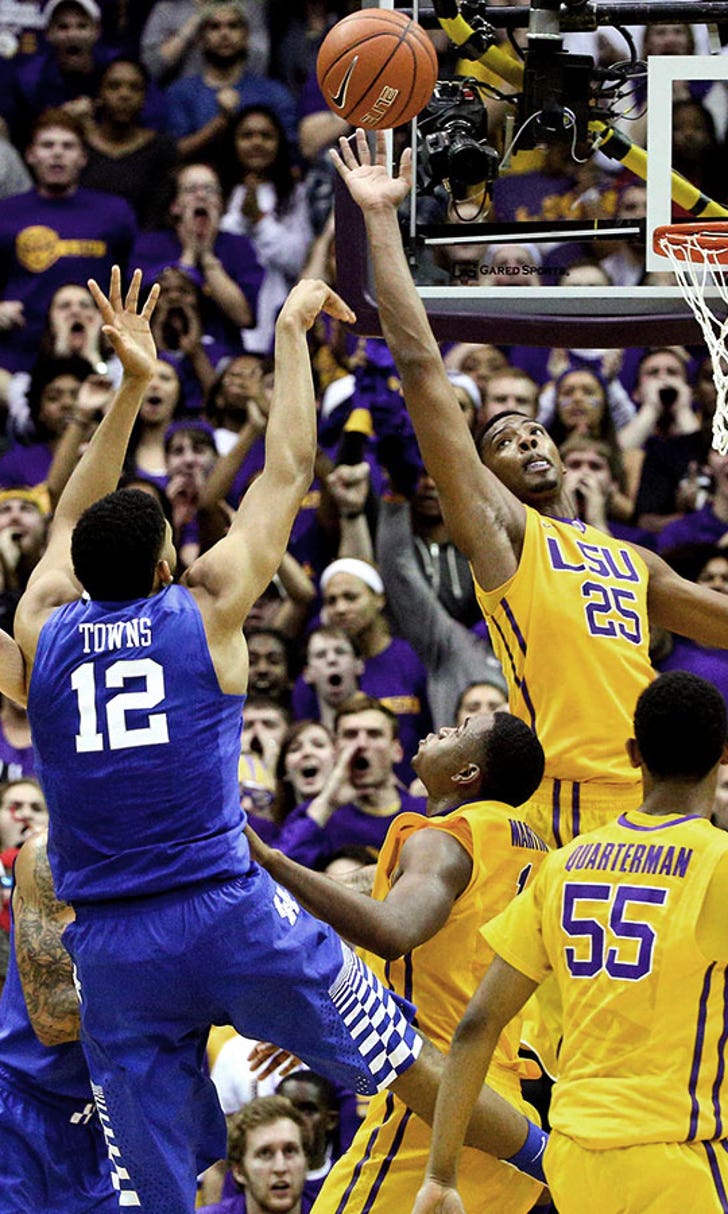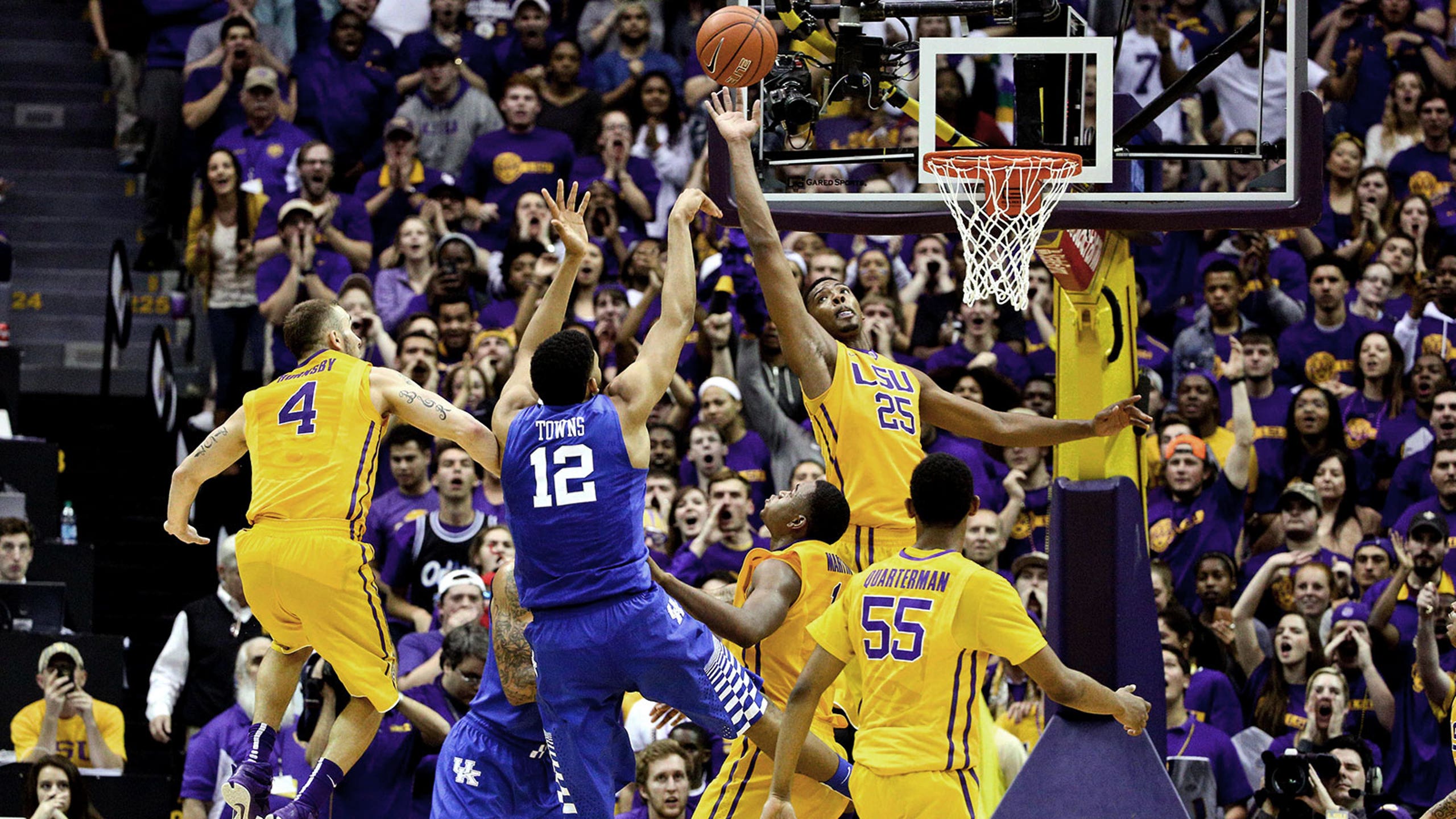 Towns shakes off technical, helps No. 1 Kentucky rally past LSU
BY foxsports • February 10, 2015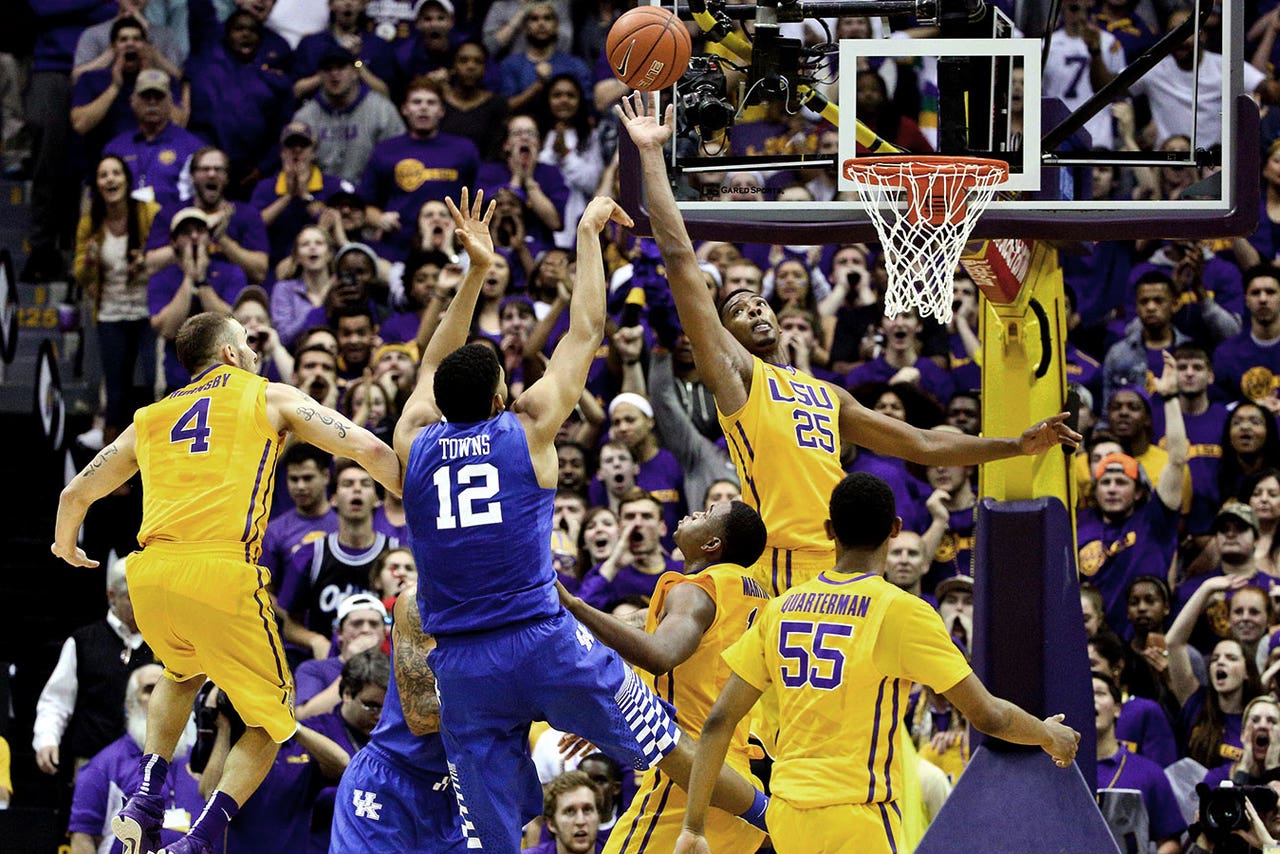 The stage was set for the upset of the year ... and perhaps the shocker of the decade, relative to SEC basketball.
With less than eight minutes remaining, unranked and unheralded LSU -- still riding high from an absurd 21-2 spurt in a five-minute span -- was suddenly positioned to knock off No. 1 Kentucky and dash the vaunted Wildcats' hopes of a perfect season.
But a funny thing happened on the way to the Tigers' post-game coronation as giant killers.
The top-ranked Wildcats, buyoed by an enigmatic freshman who had been partially responsible for Kentucky's reversal of (mis)fortune earlier in the second half, sparked UK with the unlikeliest of moves in his vast arsenal:
A top-of-the-key jumper (long two-pointer) while tumbling to the ground.
This ambitious shot breathed life into a Kentucky club that had won 14 of its first 23 games by 15 points or more and desperately craved some positive mojo during crunch time. It also served as the signature positive moment from the Wildcats' 71-69 road victory in Baton Rouge, La.
Which brings us back to freshman Karl-Anthony Towns, who just a few minutes earlier, had been chewed out by Kentucky coach John Calipari on the long walk back to the bench (more on that later).
Yes, it was an odd, perhaps surreal night for Towns. On the positive side, the 6-foot-11 dynamo corralled 12 points (including the go-ahead jumper with 1:33 left) and 13 rebounds (including one on offense that forced LSU to foul Devin Booker with 14 seconds left).
On the negative end, it can be argued LSU doesn't even rally from a double-digit deficit in the second half, if Towns -- one of the nine prep All-Americans on the Kentucky roster -- doesn't commit a needless technical foul off his own shot, the result of hanging on the rim, long after the miss clanged out of range.
(Cue the caught-on-TV scolding from Calipari, who was celebrating his 56th birthday on this night.)
At the time (10:48 left in the second half), Kentucky owned an eight-point lead and had seemingly absorbed LSU's biggest punch of the night. And the capacity crowd at LSU's Maravich Center, nationally hailed as The Deaf Dome, might have had that sinking feeling, as well.
But a Keith Hornsby free throw and subsequent three-pointer just a few seconds later had quickly trimmed LSU's deficit to four. That spurred on another cluster of Tigers points, with Jarell Martin, Jordan Mickey, Josh Gray and Hornsby (the son of musician Bruce Hornsby) vaulting LSU to a lightning-fast 66-60 lead.
In a flash, a game with no hope had become one full of promise for the LSU faithful ... and it might have stayed that way, if Towns doesn't hit the long two-pointer with his club down six.
* * *
Kentucky (24-0, 11-0 in SEC) still had plenty of work to do after Towns' extended-range basket.
Down three with four-plus minutes left, the Wildcats coaches expertly set up a half-court play that involved guard Tyler Ulis getting a decent look in the paint.
But the ball never found the basket ... at least until junior Willie Cauley-Stein (15 points, seven rebounds, three blocks) jammed home the offensive board.
Fast forward three-plus minutes, after LSU and Kentucky had exchanged scores: Towns rose to prominence once again, burying a short-range jumper that inevitably pushed Kentucky over the edge -- in a good way.
The Wildcats would need to stop LSU one last time, of course, forcing the Tigers into an awkward-looking three-point try with 4 seconds left.
Coming out of the timeout, LSU seemingly had designs on riding Martin (21 points on 8 of 11 shooting, 11 boards) or Mickey (16 points, seven rebounds) for the game-tying score.
Instead, Hornsby was slow to roll off a backside hedge screen and subsequently forced an off-balance jumper from beyond the arc -- one that would have won the game ... but essentially had no chance of finding the net.
Ballgame.
Crisis averted for a Kentucky team that now owns three close-shave wins over middling teams from the SEC West -- Ole Miss (overtime), Texas A&M (double overtime) and now LSU (17-7, 6- 5) -- and yet, still warrants mention as perhaps the greatest team of the last 20 years.
These are the perks of a perfect team that may never trail on the final scoreboard throughout the regular season.
Of course, it's also the potential curse of a supremely talented, but offensively flawed club that occasionally plays down to their competition.
In other words, the Gonzagas, Arizonas, Virginias and Dukes of the college-hoops universe cannot get here soon enough for Kentucky.
In March ... or April.

---