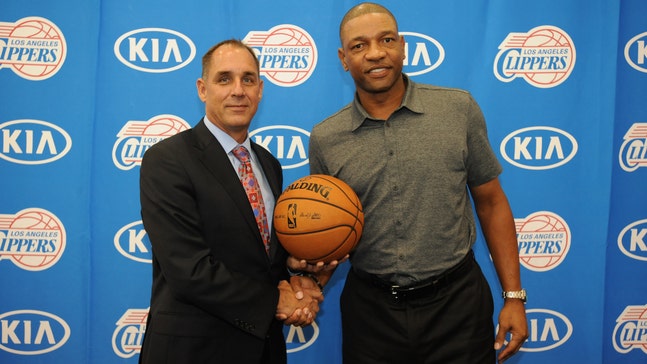 Top Clippers exec Roeser taking leave of absence
Updated
Mar. 5, 2020 12:28 a.m. ET

LOS ANGELES (AP) -- Los Angeles Clippers President Andy Roeser is taking an indefinite leave of absence while the NBA restructures the franchise in the wake of owner Donald Sterling's lifetime ban.
Roeser's immediate departure was announced by the NBA on Tuesday. The league announced plans last week to appoint a CEO to oversee the franchise in Sterling's absence.
"This will provide an opportunity for a new CEO to begin on a clean slate and for the team to stabilize under difficult circumstances," NBA spokesman Mike Bass said.
NBA Commissioner Adam Silver banned Sterling for life, fined him $2.5 million, and urged owners to force him to sell the Clippers a week ago, responding to league-wide outrage over racist comments made by the 80-year-old real-estate mogul.
Sterling is the NBA's longest-tenured owner after buying the Clippers in 1981. Roeser, one of the Clippers' alternate governors, is one of the league's longest-tenured executives, having just completed his 30th season with the team.
The announcement of Roeser's leave surprised Clippers coach Doc Rivers while he prepared the team for Game 2 of its second-round playoff series in Oklahoma City.
"I knew they were going to bring in a new CEO eventually, but it is (a surprise)," Rivers said. "The NBA is doing their job, and we're just trying to keep this thing together."
Roeser has been a loyal frontman for Sterling since the franchise's days in San Diego, and he stood by Sterling during every controversial period of the owner's career. Only radio and television play-by-play announcer Ralph Lawler has worked for the Clippers longer than the 54-year-old Roeser, who became team president in 2007.
But Roeser infuriated many longtime Clippers employees last week after Sterling's private conversation was made public by TMZ.
While nearly everyone else was reacting with outrage, Roeser released a statement questioning whether the recordings of Sterling were legitimate, while simultaneously apologizing on Sterling's behalf for sentiments about Magic Johnson on the recordings. Roeser's statement was sympathetic to Sterling and criticized V. Stiviano, Sterling's longtime associate and the other voice on the recordings.
Rivers said Roeser's statement upset many loyal Clippers employees who were horrified by Sterling's comments. Rivers held meetings with much of the Clippers' front-office staff last week while Sterling was ousted, encouraging them to keep working for the franchise.
"That rubbed a lot of people the wrong way," Rivers said. "Andy right away said that was the wrong statement, so he apologized for that, and then we moved on."
---
---